As you are out there enjoying your fishing expedition, your face and neck need protection from the harmful rays of the sun. If you go for fishing frequently and do not use a face mask then it is high time that you get one as constant exposure to the sun can cause premature wrinkles, age spots, and even skin cancer. So, let us take a look at some of the best fishing face masks of 2020 that will not only keep your face hydrated but will also protect it from the harsh weather.
Quick Overview - Best Fishing Face Masks 2020
Getting a good face mask will ensure that you are protected from the sun, especially in combination with decent fishing sunglasses and also stay warm when its chilly outside. Read on to know what features should you look for while investing in a fishing face mask.
The Best Fishing Face Masks – Our Top Picks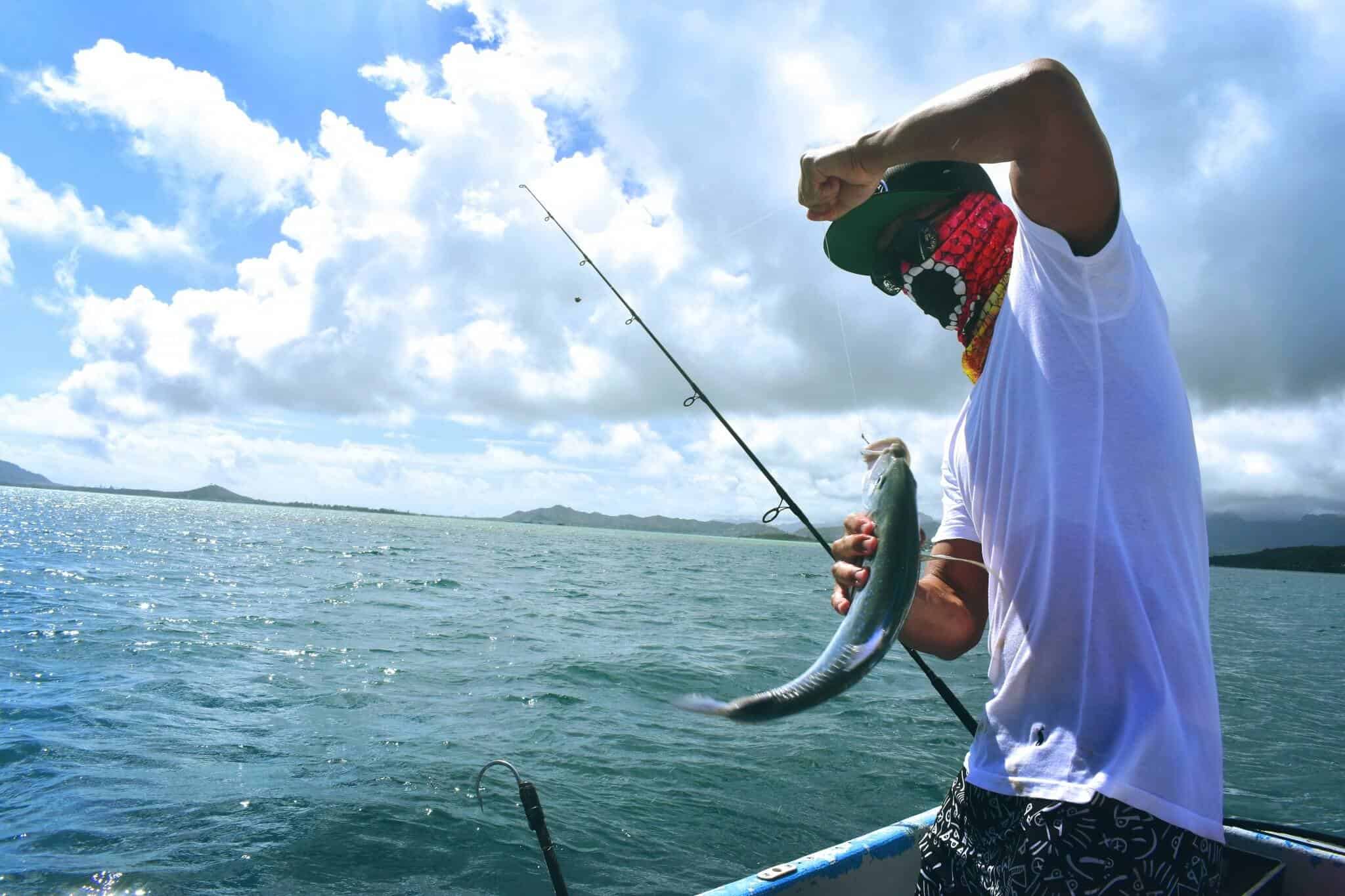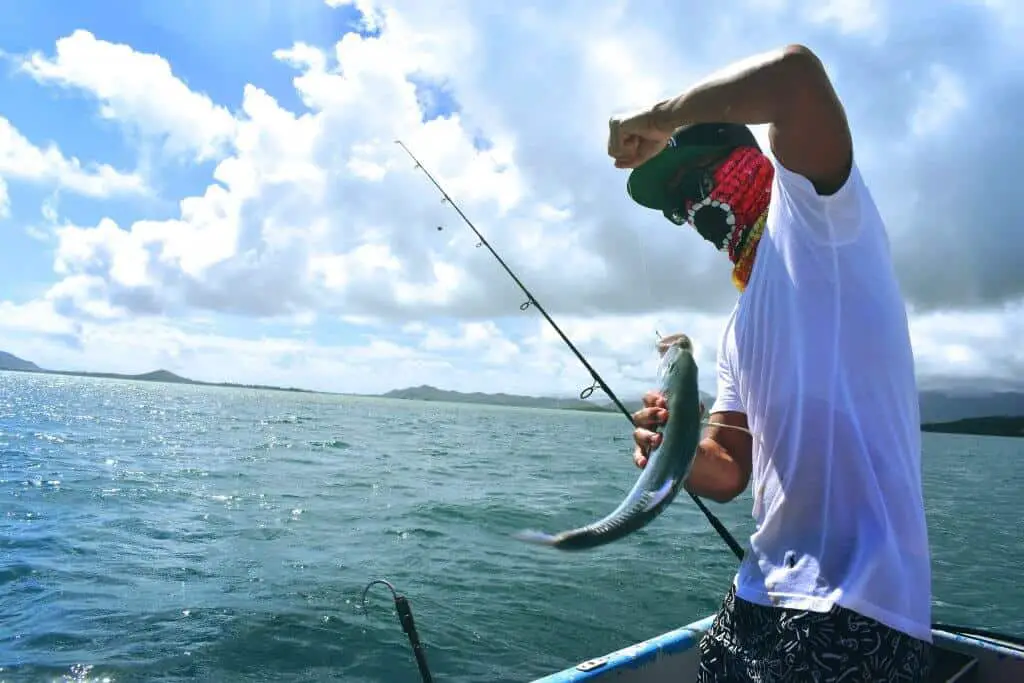 The Best All Around Fishing Face Mask
Made up of light-weight breathable fabric
Provides excellent protection from the sun
Organic shapes and textures for camouflage
May be loose to stay on your face
This mask provides good UV protection and is made from breathable poly-spandex material. It has a multipurpose design and can be worn in 13 different ways so you won't get bored from it. You can wear it as a UV protection face bandana mask, hood, fishing sun scarf, balaclava, neck gaiter, head band, or any other way that you like. So, it is the perfect gear for all your outdoor sports.
Kastking Sol Armis Neck Gaiter is primarily designed for anglers who are out in the sun for longer hours. It not only protects you from the harmful UV rays but also ensures that your face stays cool in the hot weather. The mask is designed to fit on your face perfectly as it is made of 4 way stretch material. Kastking Sol Armis Neck Gaiter ensures that you stay protected from the sun in style. With its multipurpose design, excellent quality, and decent price this is overall the best fishing mask available online.
Rated UPF 50 and provides excellent protection from the sun
4 way stretch material
Multipurpose design as can be worn in 13 different ways
The Best Value Fishing Face Mask
UV Protection
Insect Deterrent
Stretchable
Outstanding Price / Value
The mask is very thin and might not stretch significantly
These gaiters provide you protection from the harsh weather elements and ensures that you are mission ready all the time. So, whether you are geared up for fly fishing or are planning to ride a motorcycle, these masks are your perfect outdoor companions. Unlike many masks that fall off your face these are made with fabric wielding technology that ensures that your masks stick to the face even while performing the most strenuous activities.
The Terra Kuda Face masks are specially designed for wicking moisture and are perfect for summers when you are sweating under the sun. The mask keeps you cooler and dries out quickly. Apart from this, you can also use it to protect yourself from dust, wind, sand, insects, and bugs during all your outdoor adventures. It is available in a variety of colors so you can match them with your favorite outfit. The Terra Kuda Face masks are available at a reasonable price and do not burn a whole in your pocket. So, if you are looking for a mask that provides best value for money then this is the perfect choice, as t is a relatively cheap fishing face mask!
Dimensions: Approximately 18.5 inches x 10 inches
Provides UV protection up to UPF 20
Fabric Welding technology to ensure the masks don't slip off
The Best Fitting Fishing Face Mask
Stays dry with enhanced moisture wicking qualities
Flexible four-way stretch fabric
Flatlock seams and comfortable fit
Reduced breath fog on glasses with fabric that's easy to breathe through
Durable design featuring stretch-seams sewn at open ends to reduce curling and fraying
Five different sizes available
May leave behind little rubber dust like particles
As compared to the one size fit for all masks, Aqua design fishing hunting masks are available in five sizes so you can choose the one that fits you the best. It comes with a UV blocking feature and wind-protected barrier so that your face and neck are completely protected while you are busy catching some fish. This mask can also be used for outdoor activities such as lawn mowing, windsurfing, kayaking, and boating.
The Aqua Design Fishing Hunting Mask is made from 85% polyester and 15% spandex. In case you are wondering whether this mask provides adequate protection from the sun, you need not worry as it has been tested and certified from a US lab for its ability to provide skin defense throughout the day.
The mask is available in skyward swirling colors that provide a good camouflage when you are in the water and the fish do not get scared. Moreover, the material is designed to protect you in both cold and hot temperatures. The Aqua Design Fishing Masks are available in a variety of colors so they co-ordinate perfectly with your fly-fishing wear. The best part is that these asks are comfortable to wear, quick to dry, and perfect for all outdoor activities. With their excellent quality and reasonable price, The Aqua Design Fishing Masks are the best gift for a family member who loves to go on outdoor adventures.
Protects your head, neck, face, and ears with UPF 50+ coverage
Stays cool with breathable 100% AquaPoly Microfiber fabric
Frequently Asked Questions (FAQ)
The purpose of having a face mask is to shield your face from prolonged exposure to sun, wind, or cold. Moreover, fishing masks are a good alternative to sunscreen lotions that stop working after a couple of hours. So, what are you waiting for? Pick out a mask that provides maximum comfort and protection and say yes to a great fishing experience!