Your most preferred line for trout might not be the same as what your buddy uses. Target species, casting proficiency, and current water conditions are some of the determinants of the type of line that you will use. Talking of target species as a primary consideration, the best fishing line for trout has to load pretty easily, shoot, and cast well.
Mending and line management on the water has to be easy for drag-free drifting. Of course, the trout lines have been designed to reel in these buddies better than the other competing lines in the current market.
Quick Overview – Best Fishing Line for Trout
Quick Comparison – Best Fishing Lines for Trout
Preview
Mono
Fluoro
Braid
Title
Berkley Trilene® TransOptic®, Clear Gold, 20 lb Test
P-Line Floroclear Fluorocarbon Coated Low Memory Copolymer Filler Spool, 8lb-300yd, Clear, 8-Pound, 300-Yard
Piscifun Onyx Braided Fishing Line Advanced Superline Braid Lines 300Yd 20lb Green
Strength Options (lb)
2 / 3 / 4 / 6 / 8 / 10 / 12 / 15 / 20 / 25 / 30
6 / 8 / 10 / 12 / 15 / 20 / 25 / 30 / 40 / 50 / 65 / 80 / 100 / 120 / 150
Mono
Preview
Title
Berkley Trilene® TransOptic®, Clear Gold, 20 lb Test
Fluoro
Preview
Title
P-Line Floroclear Fluorocarbon Coated Low Memory Copolymer Filler Spool, 8lb-300yd, Clear, 8-Pound, 300-Yard
Strength Options (lb)
2 / 3 / 4 / 6 / 8 / 10 / 12 / 15 / 20 / 25 / 30
Braid
Preview
Title
Piscifun Onyx Braided Fishing Line Advanced Superline Braid Lines 300Yd 20lb Green
Strength Options (lb)
6 / 8 / 10 / 12 / 15 / 20 / 25 / 30 / 40 / 50 / 65 / 80 / 100 / 120 / 150
Properties of a Trout Fishing Line
Before listing the best lines for trout fishing, it will be crucial to know how to correctly select one. First, a trout line needs different properties from say a walleye line or a crappie line. Second, there are various techniques and styles of fishing for trout.
However, knowing the permutations before buying these lines is vital too.  Trout live in the rivers, ponds, lakes, streams, and the sea. Depending on where trout reside, you have to match the environment with a correct line for more success.
Line Rating
You will have to match your rod with the appropriate line weight. Most modern rods come with the ratings stamped or engraved on the butt area. It gives an angler an easier time to match the rod to the best line, load then flex it properly. For instance, if your fly rod is marked 6-7 you can match it to a 6 or 7 weight line. 6 on the line will mean having a double taper line and 7 represents a weight forward line.
Density
This is the depth the line is fished from and ranges from full floating to a fast sinking depth. Currently, some brands are designing trout lines with double densities and a few with triple densities. Once you are a pro angler, you can consider such lines with higher densities. A good example is the 15' Cortland Ghost Tip with a transparent slow sinking tip for trout that are easily spooked.
Color
Trout lines come in various colors. For easily spooked trout, consider purchasing lines with neutral colors. However, there should be a different color on the running line to aid in loading your rod. Some fishermen/women prefer brightly colored options for full floating lines. These act as indicators for detecting takes because the line will twitch when the trout eats your fly.
Profile
This explains the taper of the line. The taper is mostly on the head section and depending on the type, it can be fast for casting for distance or gentler for those delicate presentations. The weight of your line will be described by the weight of its first 30 feet while the profile is explained by how the 30 feet are tapered.
Diameter
Lines that start with smaller diameters in the tip arrears and are thicker towards the middle are excellent for delicate presentations. Thicker ones at the tip are casting farther for distance.
Loops
Loops on a trout line could be two, one, or one. These are found at the farthest ends of the lines. Novices will find ready-made loops advantageous as it is easier to attach their leaders and backing lines.
Types of Trout Fishing Lines
There are three primary types of lines that can be used for fishing trout. Each has its characteristics and areas of use. So, the type of trout fishing line you use will influence the method of fishing. Also, if you are a fly angler on the hunt for trout, you should consider different lines that are best for this technique.
1. Monofilament Lines
An upside of using monofilament lines when fishing trout is its stretch aspect. Trout are naturally lively and once hooked, they will try to jump out of the water to unhook themselves. The stretch factor absorbs all the thrashing and tries to counter the shaking. You will hardly lose fish with this line. Trout hardly see mono lines and for the spooky species, you will have more luck with this one. A 3-4lbs monofilament line will be great.
Use them as leader lines because of their floatation quality when fly fishing and need to make fly presentations on the surface. You can have almost any type of trout bait and use any technique to fish this line.
2. Fluorocarbon Lines
Trout fishers love fluorocarbon lines because of their near-invisible characteristic when underwater. Most trout fishing is done in clear waters and trout are easily spooked. It makes sense to use a fluoro line. Note that these lines sink and can be used with any sinking lures and baits for trout. It lacks the stretch factor found in monofilament lines hence boasting more sensitivity. You can feel smaller bites easily and can set your hook harder.
However, lacking stretch means that it is easily thrown about when fish get hooked and are thrashing. Fishermen/women are countering this by pairing fluoro lines with medium to medium-fast action rods. The tips of these rods absorb most of the shakes. These lines are on the higher side than monofilament options. You can use the fluoro as your leader line if you can't as the primary line.
3. Braided Lines
Some trout fishing techniques won't need braided lines. Since most trout fishing is in clear waters, these can be easily seen by the chaps, and hardly will they eat your lure, bait, or fly. Braided lines can work when you are using fluoro or monofilament leaders.
For instance, when trolling for trout with deep-down riggers. Jigging in deep waters in lakes will need these lines. The braids are extremely sensitive and allow the fisher to feel every bite. Pair your braided line with a fluorocarbon leader and get your lures deep. The results might shock you.
Fishers targeting stocked trout can use these lines as they aren't spooky. Have this as the primary line and either a fluoro or a mono as the leader line.
The Best Fishing Line for Trout – Our Top Picks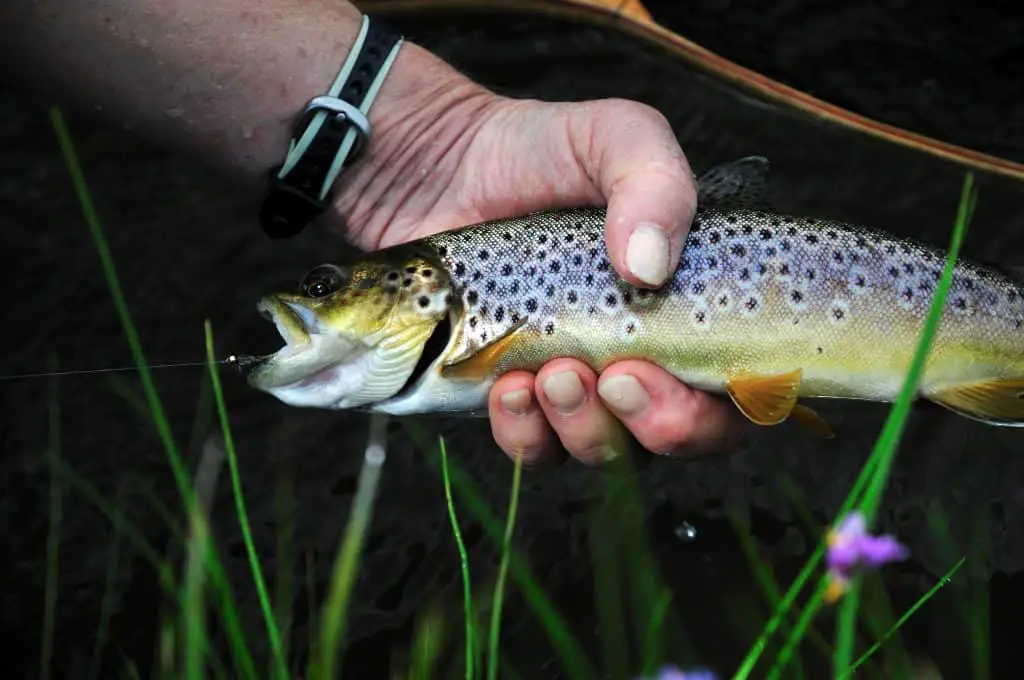 The Best Mono Line for Trout
Pros
No line memory
Undetectable underwater
Does well for steelhead fishing
Super strong
Cons
A thicker line that is highly susceptible to wind
You might be used to clear monofilament lines for stealth when fishing for trout. This changes from clear to gold when in sunlight. You can spot the clear side below the line and the High-vis gold color above the line. Made from nylon, it has a reasonable weight to offer more shock strength. When you hook a trout and it threatens to dislodge the hook, the strength makes it harder for your new buddy to escape.
You might love its versatility if you are a trout fisherman/woman that loves to experiment with various trout lures and baits. The line weighs 6lbs and measures 220 yards and will spool up pretty well with most reels. Since it is made from monofilament, it is prone to damage by UV rays. To counter this, you can cover the line with a cloth bag or a sock once you have spooled it.
Amazon
The Best Fluoro Line for Trout
Pros
A UV-resistant line
Greater sensitivity to terrains, strikes, and bites underwater
Great castability
Cons
Some fishermen have noticed twists and tangles in recent lines. This looks like a batch problem.
Released into the American market in the early 1980s, P-Line was designed to solve the problem of pathetic trout fishing lines. So far, so good as it can be used in fresh and saline waters. It uses the copolymer technology that gives the line a thinner diameter with a soft and supple line. You can use it to cast for distance and its capacity is more than that of conventional lines. It gives better natural presentations with most trout lures and baits.
The pure fluorocarbon crystals prevent line knotting and breaking. Other benefits are virtual invisibility when underwater, little memory, low stretch, greater sensitivity, and UV resistance.
Amazon
The Best Braided Line for Trout
Pros
High sensitivity
More durable
Boasts abrasion resistance
Tougher knots to prevent fish from coming off
Cons
Disabling continuous wind knots
Some anglers have experienced slight strength
Piscifun Onyx Braided Fishing Line comes in handy for low resistance fishing. Braided lines can handle surface friction and low resistance and this extends its life. If you have fished this line, you can agree that it has very minimal stretch and has done well in areas that are hard to detect strikes. This fly line is available in any test needed from 6 pounds to 150 pounds.
The abrasion resistance comes from the epoxy coating technology while the fiber material and four strands allow for the fisherman/woman to tie stable knots. The line cuts through the water pretty fast with a smoothness that prevents backlashes.
Amazon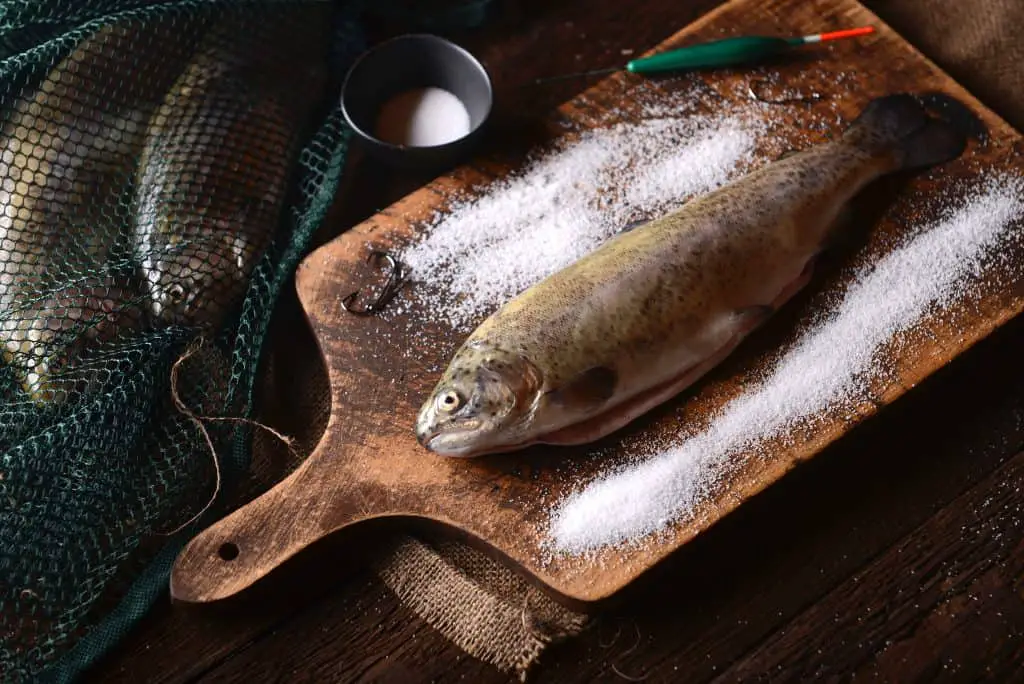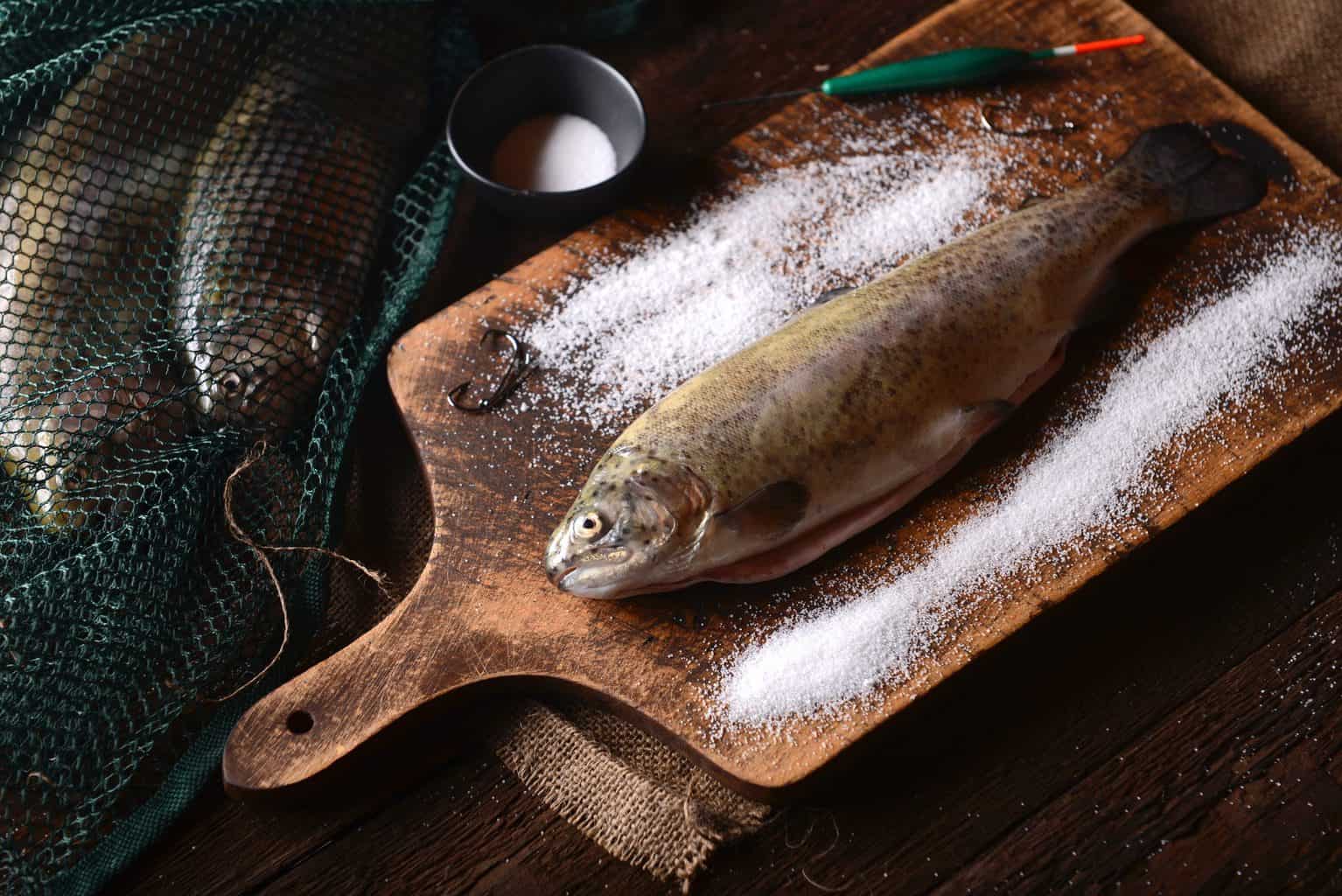 Happy Trout Fishing
Can you now identify a trout line from the collection in your garage? You should by now. We might not have gone into the details of tapers and weights but the brief guide on overall trout lines will help. Trout are shy fish and for the best fishing line to hook them, it drips down to the method of fishing you choose to use.
Trout fishing and salmon fishing is similar, and what works for you in your waters might disappoint me when combing my holes. However, fluorocarbon lines are the commonest followed by monofilament lines. This shouldn't limit you from trying out braided lines where needed. As long as your fishing rod has been correctly paired to the right line, get a method that suits your combo.