For any ice fisherman, there are numerous types of fishing gear that you will eventually consider getting. Among them is an ice fishing tip-up. This gear contributes a lot to how effective your fishing will be and having a suitable tip-up will effectively advance and improve your fishing operations and generally affect your catch output positively.
However, with the different choices of tip-ups, every tip-up has its own conditions and components which influence its performance. Here is a deep review of the top reviewed ice fishing tip-ups in various categories.
Quick Overview – Best Ice Fishing Tip Ups
Quick Comparison – Best Ice Fishing Tip-Ups
Preview
Best All Around
Best Value
Title
Beaver Dam Ice Fishing Rail Tip-Up in Original Clear Wood Finish - Legendary Ice Fishing Tip-Up Built to Last a Lifetime (BDTP-CL)
Frabill Arctic Fire Tip Up Yellow, One Size
Frabill 1664 Classic Tip-Up Wooden Boxed
Frabill 1674 Blackhawk Assault Tip-Up
HT Enterprise PTE-200 Polar Therm Extreme Tip-Up W/ 200 ' Spool, Orange - Built in Tackle Box, Multi, one Size
HT Enterprise TU-1 Windlass Tip-Up TU-1 500 Foot Spool Black with Drag
Best All Around
Preview
Title
Beaver Dam Ice Fishing Rail Tip-Up in Original Clear Wood Finish - Legendary Ice Fishing Tip-Up Built to Last a Lifetime (BDTP-CL)
Best Value
Preview
Title
Frabill Arctic Fire Tip Up Yellow, One Size
Preview
Title
Frabill 1664 Classic Tip-Up Wooden Boxed
Preview
Title
Frabill 1674 Blackhawk Assault Tip-Up
Preview
Title
HT Enterprise PTE-200 Polar Therm Extreme Tip-Up W/ 200 ' Spool, Orange - Built in Tackle Box, Multi, one Size
Preview
Title
HT Enterprise TU-1 Windlass Tip-Up TU-1 500 Foot Spool Black with Drag
Buying Guide
Tip-Ups of all brands are built to do the same thing. When the fish comes in contact with the hook, it activates an alert for the fisherman. Most of the designs of tip-ups are the same as well, including a hook, a flag, and a spool that is connected to the secured waterproof cylinder-shaped fine rod. To keep it safe from freezing, it is covered with a freeze-proof emollient.
When the fish comes in contact with the line, the spool motion is conveyed to the rod, which will alert the fisherman, who will then start reeling it in.
What makes the Tip-Ups that we have reviewed different is the technique of their foundation design and the good quality parts being used.
How do Tip-Ups Work?
The first task is to drill a hole in the ice using the ice auger. After the hole has been drilled, attach the device with the tip-up line at the end. Now add the barrel swivel along with the leader to make the line of the gear manageable without it breaking apart.
It's time to insert the hook at the end of the tip-up line that will catch the bait in the ice fishing. Now it's time to wait for the fish to cook and bite.
Ice Fishing Tip-Up Styles
Buying Tip-Ups seems like a very simple job, but it's not as simple as it looks. There is a whole procedure of buying and selecting the right Tip-Up that suits both your pocket and fishing style. Fishermen have a variety of options to choose from.
Below are listed some of the most famous Tip-Up style types. This can help you a lot in buying the best ice fishing tip up that helps you on your next fishing trip.
Pro-Thermal Tip Ups
This is the first in this list. Insulation is the prime concern of these Tip-Ups. After drilling the hole in the ice, the device is inserted into the drilled hole.
The device entirely covers the hole by its padded material. Sunlight can not peek through the hole so that the fish can be caught easily. Fishes are most likely to get trapped this way easily.
Being freeze-proof, the hole is covered by the insulating material so, the hole stays where it is being drilled. It does not melt or freeze back. In short, pro-thermal tip-ups are the best choice for the places where the weather condition quite unusual and harsh.
Windlass Tip Ups
If you want that the fish you are going to catch takes a keen interest in your lure, then the windlass Tip-Up is the best pick. It's the hand-free fishing method that enables your lure to move without any directions being given or to change the pole position.
It operates just like the kite or sailboat; it allows the wind to move the lure without letting angler change the position of the pole.
The lure can move freely no matter what wind direction is or the weather conditions. This pure movement of the lure attracts the fish. This kind of free-motion enhances the probability of catching the fish without extra effort from the angler side.
Hardwood Tip Ups
These tip-ups are the most authentic and the first one in the market. Anglers are using these over and over again. They are the most frequently used tip-ups in the market.
It has a simple design with a wooden foundation, a flag that alerts you when the fish are poking the lure. It also has a handle that pulls the fish out of the water. These are the most trustworthy type of tip-up. The only drawback is the high cost.
Pop-Up Tip Ups
This is one of the types that do not have a flag that alerts the anglers when fish is being trapped in the hook. No doubt, flags are the best way to know for the angler that when fish is being trapped in the hook, but they are not your friend on the windy days.
Because it will be difficult to tell which flag alert fish is being trapped and which is just the flag alert by the wind. It eradicates this unsureness by using the magnet. The magnet on the spool is disconnected when the fish bites the lure, which then starts the alert of fish being trapped in the hook.
Auto-Set Rail Tip Ups
This device has leveled up the game of hands-free tip-ups and is far better than the other regular tip-ups. It has a different technology that when the fish is trapped in the hook and try to swim away from the hook with the lure, the rig being spring-loaded bring back the fish closer to the real place.
When there is too much congestion of hooks in the water, each having fish, this Tip-Up can save you from the headache of crawling to the pole to pull the fish before the time runs out.
Cross Style Tip-Ups
Cross style tip-ups are the most budget-friendly if it's your first time investing in the fishing gear. They are portable, compact, delicate, and just the top-notch choice for fishing trips.
But they are just for the beginners or hobbyist anglers, not for the serious ones. This tip-up has a flag like many others in the market. Old models have wooden flags, whereas the new ones have a plastic flag.
Tip-Up Features and Specifications
Material and Quality
The components and value of a tip-up greatly determine its durability. With the various materials used like plastic, wood, and metal, wood outstands all. It is very tough compared to the other materials.
Plastic is mainly preferred for its light and inexpensive nature. Such tip-ups are mostly equipped with brightly colored components, thus being easily visible from miles.
The old tip-ups usually have wooden bases. Wooden models are more expensive than the new plastic ones. No doubt, plastic models are very affordable, but they come with drawbacks too. The wind can easily break light in weight tip-ups.
Stability
It does not matter which type of tip-up you are picking as long as it is stable and ideally has a wide foundation. If the base is not stable, the fish can escape with the bait.
Round thermal tip-ups are far better than the planks. And the bow tie planks are finer than the narrow planks.
Trigger Bar
The trip bar is the one that creates rigidity between the flag and the spool. The tip-us can be adjusted from light to heavy. Heavy tips are used to catch bigger fish or when the wind is a bit harsh. For more trouble-free and relaxed fishing, the trip machinery must be better.
Flag Type
No matter how minor it might seem, this is still a crucial factor, as you will want to still be able to see your tip-up in adverse weather conditions. For this, first ensure your pole is relatively long and the flag size is sufficiently large. A flag and pole visible from 100 yards (ca. 91 m) would be a great choice.
Also, going for a brightly colored flag like red or yellow will improve its visibility. Keep in mind that a yellow flag may look white from far compared to from up close. Thus you might want to choose a different color if you are planning on using the tip-up for large distances and want to ensure being able to see it from the comfyness of your
ice fishing shelter.
When the fish is trapped in the hook, the flag pops up. Flags with bright colors are more effective and catchier for your eyes. You can see them from a far distance as well. You can also decorate the flag. It has to be made from a long-lasting and sturdy material.
Bait Clip
Bait clips are best when choosing heavier. The bait clips hold the line and block the false alarms.
Portability and Storage
In case you have various tip-ups, weight and size will be a necessary consideration to avoid unnecessary bulkiness. Getting a tip-up that can be disassembled or a compatible one will ease your packing.
Fishermen use multiple tip-ups at the same time, and they all are storage-friendly. The old classic tip-ups have plenty of storage capacity to store flags, spool, rods, and can be placed safely.
Smooth Operation
The most crucial part, the spool should be so smooth that there is no resistance between the line and the fish.
Cost and Value
You really do not have to break your bank to get a tip-up. Contrary to popular belief, value does not necessarily come from spending more. What you do require instead, is a tip-up that is closely compatible with your preferences.
The Best Ice Fishing Tip ups – Our Top Picks
Fishing comes in different types, and ice fishing is one of the very famous ones. For ice fishing, you have to be on a frozen lake, river, or stream, and it can be an exhilarating family trip or a hangout with your friends. For ice fishing, you need to have the appropriate tools, and it is very challenging to find the best tool and invest in it.
These fishing tools are going to be with you for a very long time. The model that best suits your needs and is also pocket-friendly is only found after a lot of research. While buying tip-ups, there are plenty of important points you should keep in mind.
It's better to invest in gear that is a little more expensive but better and more durable than a cheap and inferior one, especially since even the more expensive tip-ups are not that expensive. Look for the surrounding conditions of the place you will be fishing in.
Don't look at only the climate conditions but also the type of fish you are going to catch with that specific gear. The attributes like load capacity, spool length, joints material, and finish must be taken into consideration before buying the particular gear. All these traits will help you select the right one and enjoy fishing.
We have reviewed the best tip ups for ice fishing. Let's take a look.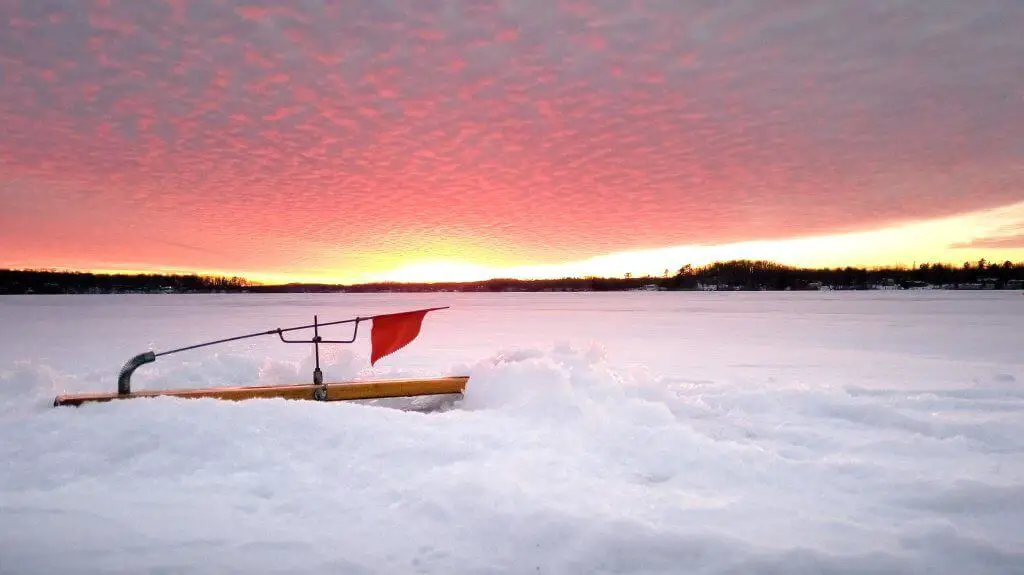 The Best All Around Ice Fishing Tip-up
Pros
Hand-designed
Freeze and wind resistant
Great flag visibility
Ease of use
Smooth spool
Long-lasting
High-end quality product
Cons
Pricey compared to other brands
Single trip position setting
What's more carefully made than a hand-made tip-up? Beaver Dam's Tip-Up is an amazing hand-made tip-up with great build and quality. The pine foundation is 23-inch, featuring aluminum pipe bearings and a cylinder that is made of stainless steel. They are long-lasting and well-secured. In case of exposure to adverse conditions, its freeze and wind resilient features keep it from these hostile effects.
It has a natural long-lasting coating and a clear red flag pointer which is visible from afar. With this tip-up, a huge catch is possible due to its structural capabilities to deal with fish of different sizes and weight. Its line spool is smooth with an easy ring that helps insert your line in a minute.
Beaver Dam Tip-Up has a 150-foot line capacity. If you are an experienced angler, then it's an easy task to use this tip-up. The spool on this product is smooth. They are tightened in the place but never need any kind of oiling.
Flag rises to 17.5-inch and is of great quality. The trip joint has the only single setting, but old anglers or users know how to avoid this single spot notch and can catch lightweight panfish easily with it. Secondly, the lure clip is simple but is slightly hard to operate when a tackle is linked to the line. It is a lightweight tip-up built from plastic, but it comes with great longevity and toughness.
Amazon
The Best Value Ice Fishing Tip-up
Pros
Well designed to minimize wind flags
Stable
Allows for various settings
Great Price / Value
Cons
Not Completely Freeze Resistant
For a quality value, operation driven, but still cheap ice fishing tip-up this is your perfect choice. Frabill arctic fire tip has been tested to adapt to any weather conditions. It has superior gear that won't halt even in quite cold conditions.
Its quality is strengthened by the brass and a tough plastic body. Due to its lack of freeze-resistant components, its life-span is somewhat shorter than that of the Beaver Dam tip-up.
Amazon
The Best Wooden Ice-fishing Tip-up:
Pros
Detachable shaft
Shaft-in shaft made for easy greasing
Modifiable trip light and heavy options
Double trip options
Cons
Not Completely Freeze Resistant
For an avid angler, this wooden tip-up will do the magic, as it shines especially with regards to its versatility. It is constructed with a strong body and all of it is made of high quality. Within its package is a sub-zero grease to retain its operation even in bone freezing conditions.
It comprises large volume metallic spools and double balance crank toffs that aid in reducing vibration. The trip ranges can be changed to your preferred settings ranging from light to heavy. Its ultra-glide shaft ensures you have a friction-free operation. The shaft in shaft construction enables you to comfortably lubricate the tip-up.
Amazon
The Best Plastic Ice-fishing Tip-up
Pros
Molded base to improve durability
A fixed bait clip
Removable shaft
Very long-lasting for a plastic tip-up
Cons
Metallic guides with rough spots that may snag braided line
Not easily modifiable
For a long-lasting plastic tip-up, Blackhawk with a robust molded bottom is guaranteed to serve you well. It consists of an ultra-glide spool shaft for friction-free spooling operation on ice. In extremely low temperatures, this icing tip is suitably designed hence won't slow its operation.
It has a bait clip characteristic and detachable spool shaft. It also features twin trip selections (light and heavy) for incredible sensitivity. Its flag size is 17 ½ inches.
Amazon
The Best Thermal Ice-fishing Tip-up
Pros
Easy to Use
Patented freeze-resistant trip mechanism
The spool is present in two sizes
Double trip settings
Well-devised bait trap
Windproof and stretchable flag
Cons
As can be inferred from its name, this tip-up is intended to work even in cold weather settings. It has an original trip system that aids in minimizing freezing. A 12-inch diameter plastic bottom that accommodates 10 inch (ca. 25 cm) holes helps keep snow at bay. It is packed with a small tackle box for additional hooks, leaders and a terminal hook.
For an angler with numerous tip-ups, this tip-up's wide base enables you to stack up to 12 tip-ups into its 5-gallon pail. A telescopic flag pole that clutches on to the bottom permits you to comfortably stack the tip-ups. With its hole protection frame, you are assured no snow, ice or slush will blow.
The foundation of this tip-up is round and can be used to store plenty of things. Its portable and the trouble-free transport makes it a special bundle of joy for anglers.
Just like any other HT Tip-Up, it supports two spools sizes: 200-foot and 500-foot. The longer spool can hold a fishing line heavy enough to fish lake trout and pike.
The first-rate smooth spools and extremely well-devised bait clips are its main characteristics. The flag on HT is less susceptible to the wind because of its composition.
Amazon
The Best Windlass Tip-up
Pros
Robust 13-inch bottom
Adaptable drag on the spool
Suitable for catching various species
Cons
Prone to low temperatures
The windlass tip-up is uniquely intended to allow continuous jigging movement to your lure. All it requires is a gentle waft to blow it. The wing-driven method is induced in a trivial metallic sail fixed to a bracket fitted to the tip-up. This sail traps the breeze and transmits the motion over the spring-adjusted bracket to offer the jigging movement.
It has a plastic-framed high blaze flag to offer durability and visibility. A unique spring-adjustment bracket is attached to enable use with various weight lures. Many anglers adore its effectiveness with claims it catches more fish compared to an old-style tip-up.
Amazon
Frequently Asked Questions (FAQ)
It is used to do ice fishing. The procedure starts with the tip-up gear hanging in the water at the desired height through the hole. The hook has a bait to catch the fish.
When the fish bites the bait, it gets trapped. Then after the fish gets trapped, the flag pops up.
You could consider using an ice fishing flasher to scan the lake area you are planning to set up on.
Also, make sure your hands and feet stay warm by wearing ice fishing boots, socks and gloves and get some thermal underwear and an ice fishing jacket or bibs for your body. Safety first!
It's a very simple technique. Connect the spool with the line. The line is then attached to a swivel that is further joined to the hook. The bait is used on the hook. In the end, the bait hangs in the water through the drilled hole using ice tips.
Unlike the common myth, tip-ups are flexible for every fish type. Their ability to trap every fish type marks them as a multi-use fishing gear. Tip-ups also tend to cover more water. This will then aid to increase your catch.
Start by filling the line spool with bait. After this, attach a swivel at the end of the line and hook at the other end of the leader to fix it with bait. Tie an arbor nub using a fishing line around the tip up reel.
Cloak the line uniformly in a clockwise direction ensuring the line can withstand the load of the fish you aim to trap. At last, set the bait to your desired depth in the water through the hole.
Happy Ice Fishing!
After a little bit of hard work, you will find the tip-up that best matches your style and is budget-friendly. And hopefully, the details mentioned in the article helped you a lot in selecting the right gear. Ice fishing tip-ups are the best choice to catch more fish underwater.
If you find the best one, then your fish trip ends up being an excellent one. Read the features before buying the product to get the best one for yourself.
Cross style model is perfect for the beginner. Pro-thermal style is best for expert anglers. Knowing these factors can guarantee that you make the right decision and help you catch more fish.
Happy Fishing, Folks!