Whether you want to cut the line or remove the hook from your freshly caught fish, whether you plan to make a mouthwatering meal out of it or going for catch and release: Solid, durable and corrosion-resistant fishing pliers are one of the most essential tools for a successful saltwater fishing trip!
Looking for the best saltwater fishing pliers? You have come to the right place!
Quick Overview – Best Saltwater Fishing Pliers
Quick Comparison – Best Saltwater Fishing Pliers
Preview
Best All Around
Title
Madbite 7.5" Aluminum Fishing Pliers – Braid Cutter - Hook Remover Spring Loaded Line Cutter with Super Sharp Tungsten Cutters
Manley Professional Saltwater Fishing Pliers - 7.5" Anodized Aluminum - Tungsten Carbide Cutters
Best All Around
Preview
Title
Madbite 7.5" Aluminum Fishing Pliers – Braid Cutter - Hook Remover Spring Loaded Line Cutter with Super Sharp Tungsten Cutters
Preview
Title
Manley Professional Saltwater Fishing Pliers - 7.5" Anodized Aluminum - Tungsten Carbide Cutters
Buying Guide
Pliers come in all shapes and jaw widths with different specialties. The task is to find a product that is best for you and is also durable and long-lasting. Pliers may seem like a rather easy thing to buy when compared to other fishing equipment. But pliers too have a bunch of check-marks that you have to check before agreeing on a product.
Now the question remains, which fishing pliers to buy? What brand to choose? What makes a plier good? What feature to look for in a fishing plier? Don't worry; we are here to answer all these questions of yours and a lot more.
The following are a few points you should keep in mind when you're out and about looking for good fishing pliers especially for saltwater fishing.
Material
Just like any tool, the construction and material of the saltwater fishing plier matter the most. You need to look for a plier that makes snapping wires and cutting off hooks from wires easier and requires less force.
Moreover, since you are going to be fishing in the ocean, you need a saltwater fishing plier that is corrosion resistant. Usually, when pliers get rustic, they screw themselves shut.
Keeping this in mind, it is most plausible to look for aluminum, especially aerospace-grade material in pliers. This will not only keep the plier rust free but also make pliers easy to be used by one hand.
The use of aluminum makes the pliers light-weight as well. This makes them easy to carry. Not only that, but the stainless steel coated titanium is also the right choice as it will also be corrosion-free. Thus you can use it in seawater.
Line Cutter
It is necessary to look for a multipurpose plier that gets the job done perfectly. Pliers are mostly used to cut
fishing lines. Pliers ideally need to be able to cut through all types of wires, be it braided lines, backing lines, main lines, etc.
To meet this demand, line cutters need to have high tensile strength. If pliers were used for only mono-filaments or thin wires, any plier would do, but if braided wires are in question, a sharp and hardened cutter should be used.
Handle
Handles are also an important part of pliers. You need to have a firm grip on the pliers to be able to use them with force to cut wires or release hooks. Mostly, silicone is preferred as it provides the least slippage and maximum comfort to the hand even after a long day of fishing.
Rubber and CNC are also nice and provide excellent grip, but they do tend to cause pain in hand after a long day fishing. Handles need not only to provide excellent grip but also comfort. When pliers are used, again and again, they tend to put a strain on the hand, and your hand might become strained after a long day of fishing.
Nose Length
Nose length is a vital feature to look out for when dealing with saltwater fish. Not only do you need an anti-corrosion material but also one with a longer nose than regular pliers. The longer nose will make it easier for you to pull out hooks from the fish body.
Also, saltwater fish are usually big with larger teeth set. Long-nosed pliers will help to remove the hooks that are really deep in the fish's body. So longer and narrower nose pliers or needle-nose pliers are preferred, especially if you plan on doing
catch & release.
Side Cutters
Instead of getting another heavy-duty side plier, it is obviously preferable to buy one fishing plier that gets the job done. Side cutter feature allows you to tear through hooks and thickly braided wires pretty easily.
Usually, small and inexpensive pliers break when they are subjected to pressure when cutting a hook. Side cutter feature allows you to easily cut heavy-duty wires and tools, making sure that the plier does not break under pressure or hurt your hand.
Split Ring Instrument
Another feature to look for is the split ring tool that is present on the tip of the plier's jaw. As the name implies, the little nook helps to spring open the split rings present on hooks and lures. You may need to change the lure or replace it for which split rings instruments will be extremely helpful.
Without this feature, you'll be stuck using your fingernails, and that is not pleasing, trust us. The ring end might get stuck under your nail and hurt you, and the use of a knife may be unsafe. Tiny nook at the end of the plier will prove to be very helpful.
Lanyard
This may seem like an unusual thing to look for, but it will be a handy feature. Most good products come with lanyards. So, what is a lanyard? A lanyard are thin ropes that keep the fishing pliers attached to you when fishing.
We've all been there, looking for something in an emergency and not been able to find it. With the help of a lanyard, you will always be able to keep track of your plier. The lanyard comes with collapsible hooks on each end of the plier that you can attach to your vest, pants, sling pack or backpack.
Sheath
Sheaths are covers for your pliers that keep them safe in their designated place. These pliers have sharp and pointed tips that may cause cuts and abrasions on your skin when you're rummaging through the bag to look for them.
They may also cause cuts and tears in your fishing bags. So, keeping them inside a sheath helps eliminate all that. This sheath can be attached to you or your bag so that the pliers remain close to you when you need them, all the while keeping you and the pliers safe.
Things last longer when you take care of them, so you should take care of your pliers as well.
The Best Saltwater Fishing Pliers – Our Top Picks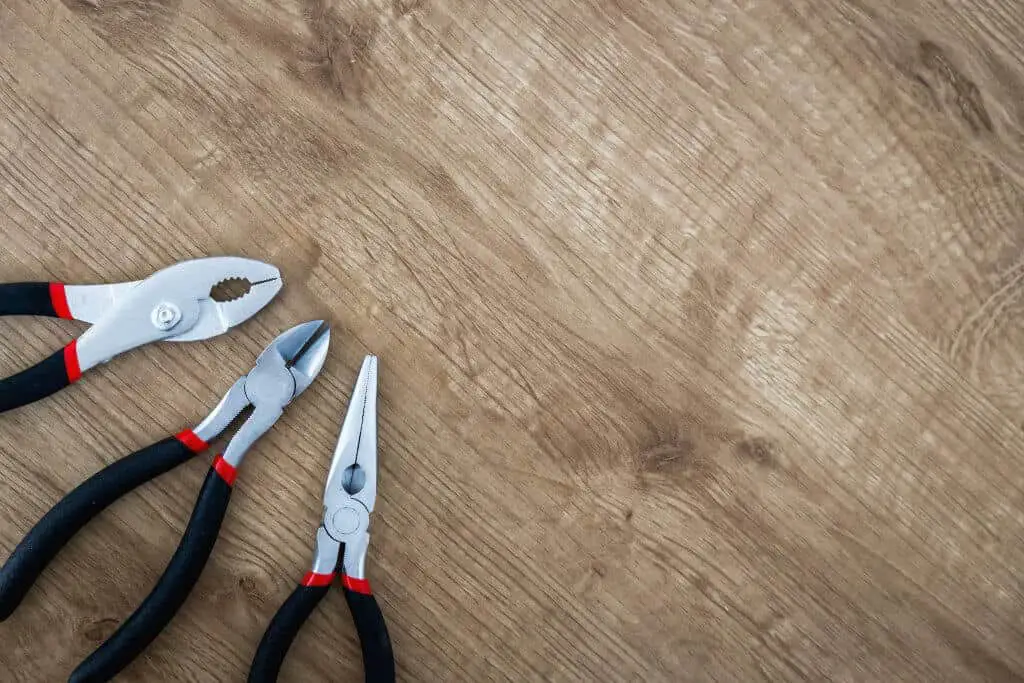 The Best All Around Saltwater Fishing Pliers
Pros
5-year warranty
Durable
Silicone grip
Corrosion-free
Comes with a case
Cons
Cutter struggles with braided wires
This heavy-duty fishing plier has a perfect design for night time fishing. These pliers come with LED light at the bottom of the handle of the pliers that helps it easy to use them even at night time. The anodized aerospace-grade aluminum body ensures durability and longevity of the product.
These pliers are 7.5″ long and have a jaw that has a width of 3.2″. The pliers are also rust-resistant, so they are perfect for saltwater fishing but can also be used for freshwater fishing.  The fishing pliers are spring-loaded and have sharp tungsten carbide cutters that results in sharp and pointed teeth. These teeth are specially cut in so that they quickly cut a wire and can twist and turn it too.
They have slip-free silicone handles that provide secure and firm grip even with gloves or wet or clammy hands. Unlike cheap grade plastic or rubber, these silicones grips are less prone to cracking and breaking or just slipping off.
The handles are also odor-free and rust-free. The pliers come with a wired lanyard that keeps them attached to you.
Amazon
The Best Value Saltwater Fishing Pliers
No products found.
No products found.
Pros
30-days warranty
Durable
Split ring tip
Comes with a case
Cons
CNC handles do not provide as a safe grip as silicone handles
The PISCIFUN fishing pliers are made up of aerospace-grade aluminum that means that these pliers are efficient as well as light-weight. Aluminum construction indicates their corrosion resistance and anti-oxidation properties.
This means that this product will remain in your fishing bucket for a long, long time. Usually, domestic nose pliers have narrow teeth that rust with time and sometimes screw shut. But, these fishing pliers are specially designed so that they don't rust as quickly as regular nose pliers. Combined with its price, they are THE option for cheap saltwater fishing pliers!
The plier teeth are cut via tungsten carbide cutters. This plier can easily cut through any braided wire, be it a flying line or backing line. The jaw of the plier has titanium coating that makes it resistant to rust and corrosion.
The tip of the jaw also has a split ring tip that allows for easy cutting of hooks. These pliers are spring-loaded, just like the previous ones. Spring-loaded pliers can easily be used single-handedly. They remain open rather than closing shut.
This pier also comes with CNC cut handles with finger grip marks will provide excellent grip. These come with a wired lanyard that will help you to keep them close to you and not lose them.
The Most Durable Saltwater Fishing Pliers
Pros
Durable
Light-weight
Rust-free
Cons
Manley Professional Saltwater Pliers are made of aerospace-grade anodized aluminum. Due to its construction, it will be a durable, light-weight, and rust-free design. These pliers are also spring-loaded and provide excellent control over the pliers.
These help to easily cut through small hooks and fishing lines and quickly. They are 7.5″ long, which is pretty standard for fishing pliers. These pliers have an anti-corrosion coating on them that helps to increase their longevity. This coating allows it to be included in our list of best saltwater fishing pliers as they won't corrode easily.
The teeth of these pliers are also carved by tungsten carbide cutters that provide sharp and strong teeth that will cut through any braided wire like a knife through butter. It comes with a sheath and lanyard that will help to keep the pliers with you and not lose it by forgetting where you last put it. It is available in a shiny and lustrous silver color.
Amazon
Best Saltwater Fishing Pliers – Frequently Asked Questions (FAQ)
Pliers are multipurpose tools. They can be used to pull out hooks in the fish. Moreover, they are also used to cut wires, braid, fishing lines after you spooled them onto the reel or if you do catch & release but the hook won't come out, etc.
Fishing pliers are a convenient tool and help you do various tasks while you are out fishing that you'd have done by hand.
Silicone handles are the most reliable as they provide less slippage and max. Comfort. Rubber handles tend to tear open and come off while plastic handles are not as comfortable.
Saltwater fish are big with larger teeth. Hooks usually get stuck really deep in them and require longer pliers to be used to pull out the hooks.
Additionally, saltwater fishing pliers are corrosion-resistant in that due to their material composition, saltwater does not let them rust as easily as other metal tools. If you are out for normal pliers, consider getting a multi tool that includes pliers!
Plier needs to be pointy so that they can pull out hooks that are stuck deep in and also open split rings for changing and replacing lures.
Happy Fishing!
Professional anglers know why pliers are a crucial part of fishing, that you can easily take with you in your tackle box. The pliers come in very handy when trying to twist, turn, or breaking a wire and lines, removing lures and hooks, etc. Consider using them together with fish lip grippers, if you experience trouble reaching the hooks!
There are various types of saltwater fishing pliers available in the market, and it gets difficult to choose the perfect one. Hopefully, after reading this article, you will able to choose the best saltwater fishing pliers very easily.
Happy fishing!