Are you looking to buy the best ultralight spinning reels? Can't find one that is up to your standards? Worry not, we are here to help you!
Quick Overview – Best Ultralight Spinning Reels
Quick Comparison – Best Ultralight Spinning Reels
Preview
Best All Around
Best Value
Title
okuma Ceymar Spinning Reel Size 10 - 5Lb Max Drag Pressure, Black/Red
Daiwa D-SPIN1000-B D-Spin Ultralight Spinning Reel, 1000,Black
Best All Around
Preview
Title
okuma Ceymar Spinning Reel Size 10 - 5Lb Max Drag Pressure, Black/Red
Best Value
Preview
Title
Daiwa D-SPIN1000-B D-Spin Ultralight Spinning Reel, 1000,Black
Preview
Buying Guide
For a fantastic fishing venture that is worth remembering, we have reviewed our top 3 best ultralight spinning fishing reels that are light in weight, making your experience tireless.
So are you ready to find some of the best features of our fishing spinning reels? You better be! Knowing the specs of different fishing reels is necessary as it opens up a wide range of options and choices, and you can easily decide what you want depending upon your need and requirement.
Several factors have to be kept in mind before hitting your wallet and ordering the final spinning fishing reel. You just cannot buy one without considering different factors and features of a product. This might seem hectic in the start as getting accurate information from the market demands a lot of work. But here we are for your guidance.
The following are some of the factors that demand your attention while buying the best ultralight fishing reels.
Bearings
Bearings play an important role while you are looking for ultralight spinning fishing reels. The pressure that you are going to apply on the fishing line produces a considerable amount of friction, which in return causes heat. The production of large amounts of heat means that the spinning reel is going to fail you.
When bearings are considered, you need to note that the more the bearings, the smoother your fishing reel will be. Corrosion-resistant ball bearings, which are usually manufactured from stainless steel, have more durability and last longer.
Therefore, before you order spinning fishing reel, consider the bearings as they can ruin your fishing trip or make it the best fishing experience of your life.
Fish Species
The choice of ultralight spinning fishing reel is mostly based on the type of fish that you have to catch. Some reels are utilized for regular fish and others for comparatively smaller fish. Furthermore, there are reels especially made for e.g. trout or bass. The more the weight of the fish, the heavier the reel should be. This will increase the overall weight of the product.
The large fishing reels make fishing very hectic and tiring. Hence, be sure about the fish that you are looking to catch before getting yourself an ultralight spinning fishing reel.
Materials
The materials also play a vital role while buying a fishing reel. It is essential to have the know-how of elements that make up a fishing reel because it impacts the durability as well as its weight. Fishing reels have to be lightweight so that the fishing trip doesn't turn into an extraneous exercise.
Carbon fiber coatings are the real answer to this problem. They provide strength to the fishing reel without adding too much weight. Graphite coatings also give smoothness to the reel and offer durability as well as weighs less. Hence, you must keep this factor in your mind before buying reels.
Weight
While buying ultralight spinning fishing reels, weight is a vital component to consider. Fishing doesn't have to be a strenuous exercise. To make fishing a tireless experience, it is advised that low weight fishing reels are bought.
The use of heavyweight reels can disrupt the entire functioning of the fishing line. The rod, line, and tackle all are manufactured to weigh less to give anglers an excellent fishing venture. But, the use of the wrong reel(heavy reel) can ruin all your fishing mood.
Hence, make sure you put your thought into the weight of spinning fishing reels before you hit your wallet!
Drag
The right drag will enable you to land large fish on a light line. Whereas the wrong drag will make even the smallest fish fall off. The drag has to be smooth, and the drag system has to be oiled regularly to avoid any friction. The fishing reel should be easy to adjust.
The drag system plays a vital role in reels. With the right drag, your fishing expenditure can become a lifetime of fishing experience.
Gear Ratio and Line Retrieval
Gear Ratio and Line Retrieval are the two significant factors that anglers often do not take much into account. They really control your fishing experience. These factors have to be considered as they rule the speed at which you are reeling with your fish.
Gear ratio is the measure of a number of revolutions at which the bail rotates with every movement of the handle, which in return determines the line retrieval. You should make your decision depending on your method and the size of the fish you want to be your next meal.
Cost
Cost is an essential factor you have to take into account as you are willing to get yourself a fantastic spinning fishing reel. As far as the price is concerned, you have to know how much time you will be spending fishing. There are several reels that you can find at a very reasonable rate as low as 20$.
The more you pay, the more features and durability generally will be offered. But, while you take a shot on your wallet, make sure you compare the time you are investing in fishing and the cost you have to bear!
The Best Ultralight Spinning Reels – Our Top Picks
In the mood to take off a day for a fantastic fishing expedition? Feel like going out and get some fish for your next meal, but you don't know the best spinning reel for the purpose? Want to buy the best spinning reel that will give you the best experience when you are out there? You are in the right place.
We always look for the best fishing gear whenever we go out so that our fishing adventure starts with butterflies in our stomach and ends with our heart skipping a beat. For fishing, we seek the best ultralight spinning reels. For the winding and stowing of the fishing line, a spinning reel is a cylindrical device attached to the fishing rod.
All fishing enthusiasts know the agonizing pain that wrong fishing gear brings, but trust me, these top 3 ultralight spinning reels are here for your service as they are lightweight and will make your venture worth remembering!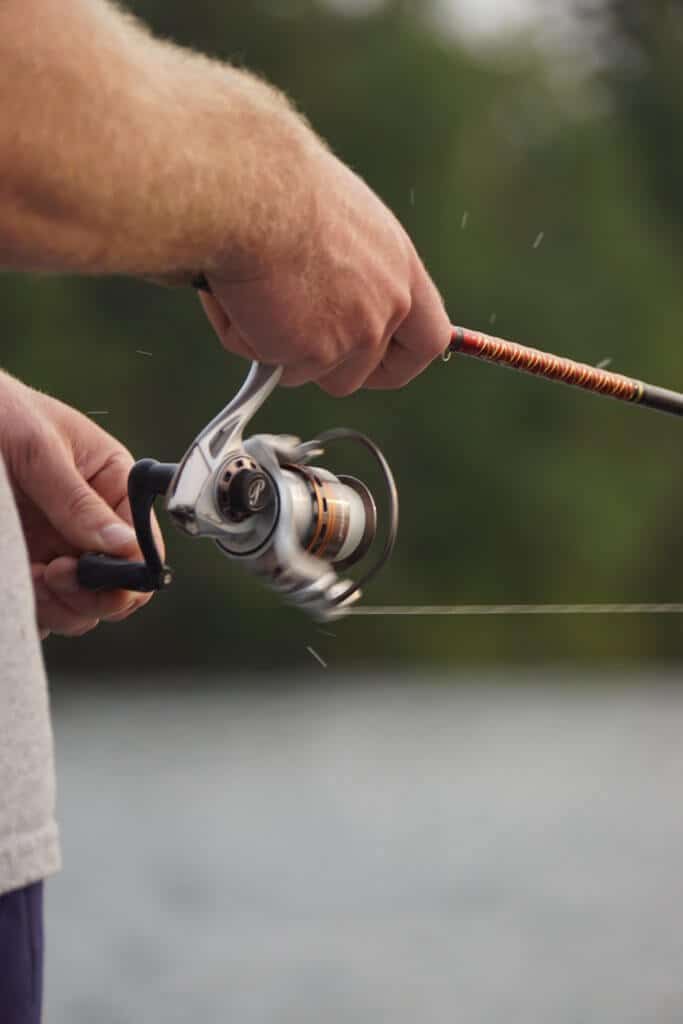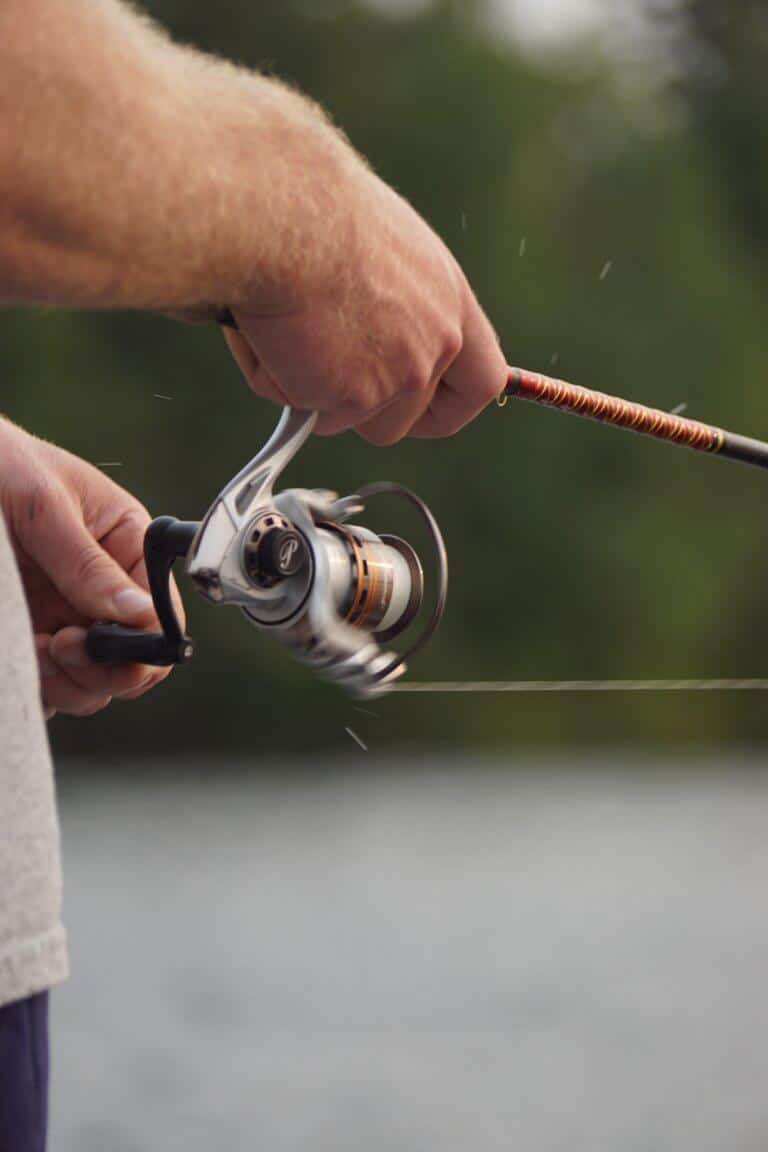 The Best All Around Ultralight Spinning Reel
Pros
Strength
Lightweight
Durable
Smooth
Reduced Wobble
Cons
The first ultralight Spinning Fishing Reel is doing wonders in fishing. Okuma Spinning Fishing Reel has a shiny, polished design with the smoothness that every angler longs to have. With the precision of Okuma elliptical gearing and an 8-bearing drive system, Okuma Ceymar Spinning Reel is preferred over other fishing reels that teems up in the market. Ceymar delivers a full line-up of advanced performance features. It has a durable aluminum machined spool that is its base for strength and durability.
The heavy-duty solid aluminum bail wire offers efficient performance over time. The rotor system uses computer balancing so that when the fishing reels are used even at high speeds, they don't wobble.
One of the features of fishing reels is the Blade Body Design, and professional anglers notice this feature in seconds. Okuma Ceymar provides this feature to anglers. With this feature in hand, the size of the fishing reel is minimized, making the fishing experience even better and smoother.
Features and Specs
The strong multi-disc drag system
7BB + 1RB for smoothness
Anti-reverse roller bearing
Precision
Machine brass pinion gear
Corrosion-resistant
Aluminum machined spool
C-65 size
The Best Value Ultralight Spinning Reel
Pros
Smooth
Durability
Speed
Power
Lightweight
Outstanding Price / Value
Pro-caliber performance
Cons
The second product we have is Daiwa D-Spin Ultralight Spinning Fishing Reel. It has great significance in the market. Daiwa has set up its reputation in the market as one of the best fishing reel manufacturers for casting. These ultralight reels feature a reformed spool size that helps in achieving long casting distances.
With its Digi-gear digital gear design, the durability, speed, and power of the reel are improved. The smoothness of the Daiwa reel makes it preferable over all the other fishing reels in the market  at its price. It is truly the best choice for a cheap ultralight spinning reel!
Daiwa D-Spin Ultralight Spinning Fishing Reel has another thing that gives it a different place in the business. It has composite housing. It is available in both 500 and 1000 sizes.
Features and Specs
Smooth
Ball-bearing drive
Digi-gear digital gear design for speed and power
Composite Housing
Amazon
The Best Quality Ultralight Spinning Reel
Pros
Durable
Strength
Longer casting distances
Advanced reel design
Reasonable price
Lightweight
Cons
Missing toggle switch
Once it gets wet, and it causes difficulty in reeling
The third ultralight spinning fishing reel we have is Shimano Sedona Fl: Freshwater Spinning Fishing reel. This fishing reel consists of HOGANE GEARS, with a new and advanced reel design. It captures the attention of anglers because of its remarkable performance upgrades, and that too at a fair price.
These fishing reels are used in both offshore and inshore fishing, and it requires a significant amount of strength. The Shimano Sedona Spinning Fishing Reel offers strength, durability, and smoothness making fishing a fun experience for anglers.
It also consists of a Propulsion Line Management System by which longer casting distances are ensured. It also halts the process of backlashes. For the purpose of enhanced line capacity, it has the feature of double-anodized machine spools.
Features and Specs
Max Drag: 7 lbs.
Gear Ratio: 5.0:1.
Weight: 7.6 oz.
Line Retrieve 26″
Bearings: 3BB + 1RB
Power Pro-Line Cap: 15/85, 20/65
Mono Line Cap: 2/270, 4/140, 6/110
Amazon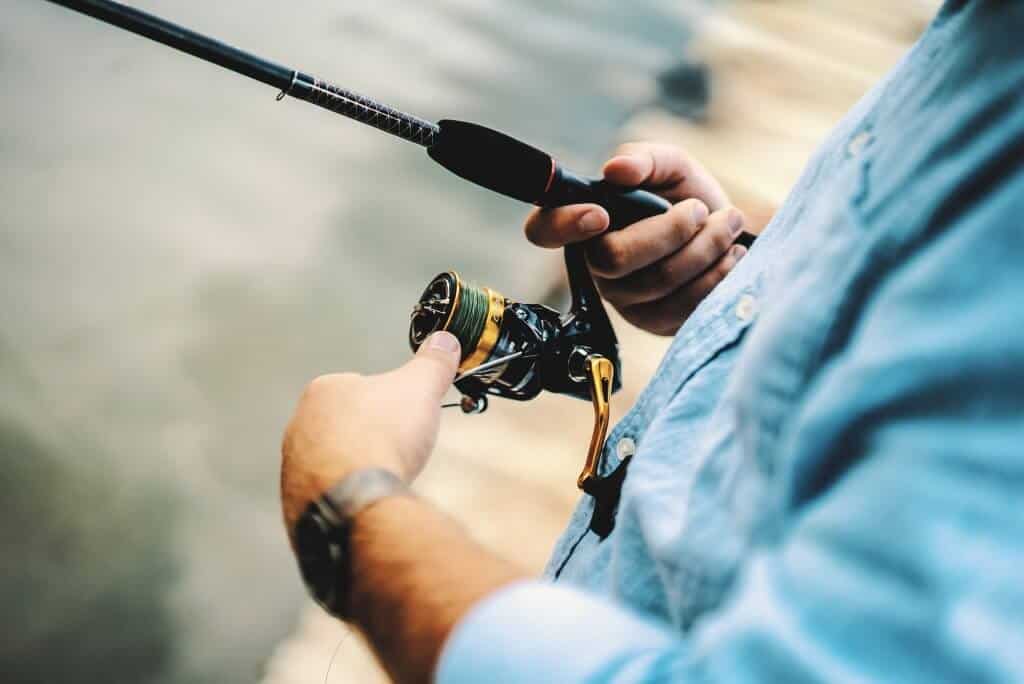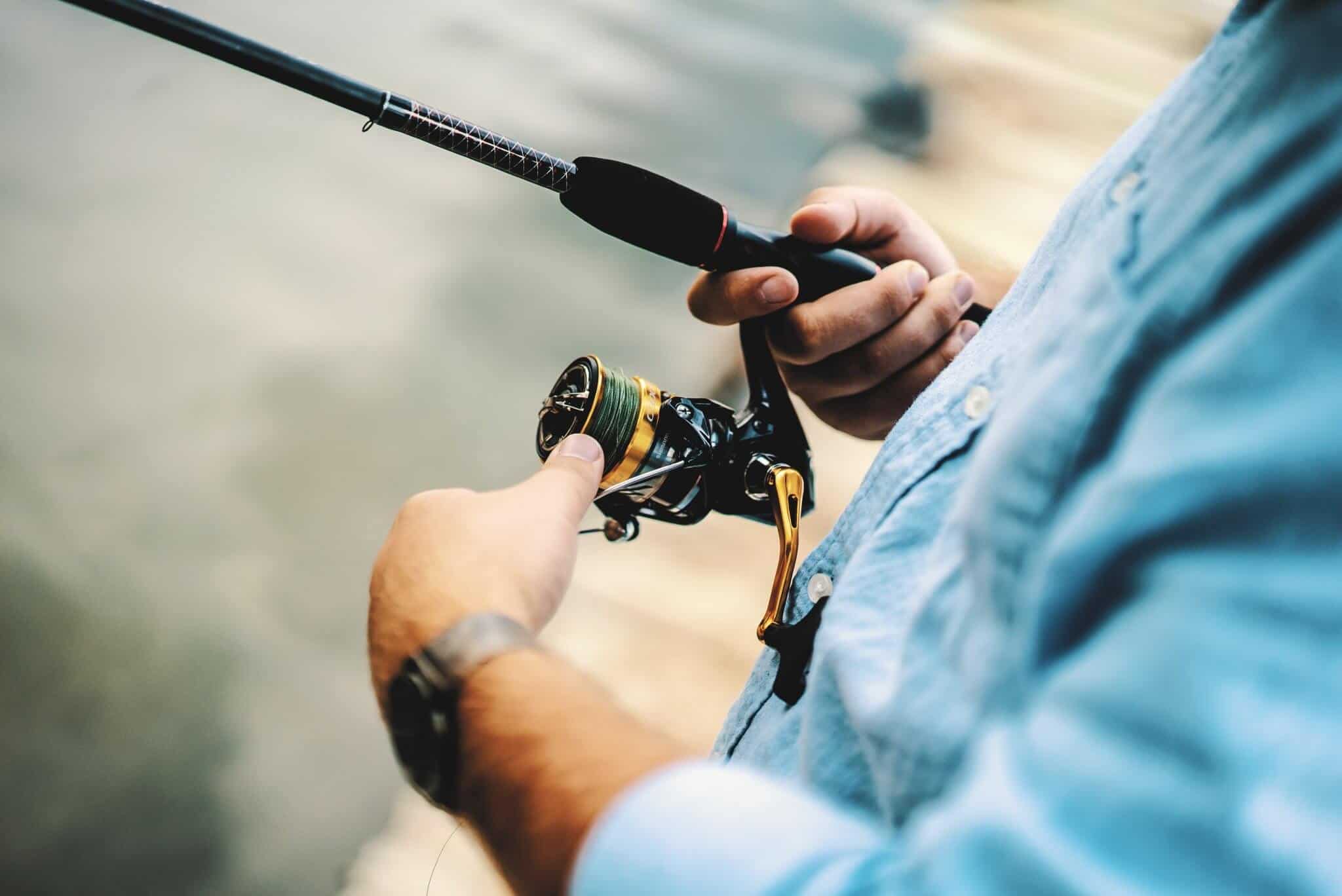 Frequently Asked Questions (FAQ)
Front drag reels have larger discs and have the strength to run a lot more smoothly. Rear drag reels are more comfortable to change spools, so there is a trade-off here.
The difference is not extreme and isn't something that should matter.
Spinning reels are easy to use as compared to the Baitcaster. Hence, it is preferred by beginners to have an exciting fishing experience. Baitcaster, on the other hand, is more accurate and requires technique.
Therefore, it is a matter of preference and skill which reel to choose for fishing.
Spinning fishing reel work in a way that has a drag system on its top. The function of the drag system is to add or remove tension from your fishing line.
Another component called a knob is also present that helps to adjust the frictionless plates based on the friction in your fishing line.
Have a look at our article on the best spinning reels under $50! Or for saltwater fishing, these options for under $100. If you are just starting out, you could also consider going for a baitcasting reel for beginners.
Happy Spin-Fishing!
Starting from simple schoolwork to our tough and strenuous jobs, we want to feel good as we go through things in life. Fishing is an adventurous sport that can change moods. Who doesn't enjoy fishing? Therefore, to have the best fishing expedition, you need all the best tools.
In this article, we tried our best to cover our top 3 ultralight spinning fishing reels so that you do not have any problem in choosing what to buy for your next trip to Utah! Speaking of which, if you do travel a lot, have a look at telescopic fishing rods or even specialized traveling rods, which both combine well with an ultralight spinning reel.
Fishing reels are the best tools that are attached to the end of your fishing rod to make your fishing less tiring. All the above 3 mentioned spinning reels have great performances. They are durable, lightweight, and so smooth that the anglers do not want to stop fishing!
Choose wisely depending upon the factors that are also mentioned above so that you buy what you need. Or if you haven't found what you are looking for yet, check out our article on the best microspinning reels!
Good luck with your fishing endeavors!