If you're a fishing enthusiast and live in or plan to visit the beautiful state of Colorado, then you'll need to make sure that you have your colorado fishing license. Fishing is one of the most popular outdoor activities in this area so it's no surprise that there are many regulations for taking part as active anglers.  
In this article we will discuss everything about the colorado fishing license including what it covers, how much it costs, where to get one and more!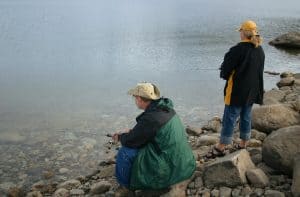 Who needs a Colorado fishing license?

 
Colorado residents and non residents 16 years old or older are generally required to have a colorado fishing license when going fishing. Going for small game fish is not excepted from this. 
You will need your social security number, proof of age and residency (i.e., driver's license) and pay the license fees. You also need to obtain a wildlife habitat stamp, but this comes with the application usually. 
Who does not need a fishing license for fishing in Colorado?

 
There are some exceptions for anglers who neither need to get the fishing license, nor the wildlife habitat stamp. 
First, children under the age of 16 are not obligated to have a license to fish in Colorado, though they should be accompanied by an adult who does. 
Second, veterans wo are either Colorado residents and on active duty can fish for free for 30 days or who are more than 60% disabled from their service can get a free combination fishing license. 
Third, Colorado state residents with disabilities can get a free fishing license. Check out this PDF from Colorado parks and wildlife for further information on it! 
How much does a fishing license cost in Colorado?

 
As of 2022, these are the current fees for fishing licenses in Colorado, both for residents and non residents: 
License & Other Fees​

 
License & Other Fees​
Resident
Nonresident
​Annual Habitat

 Stamp​

​​$10.40​
​$10.40​
Annual (18+)
$36.08
$100.57
Small Game & Fishing Combination (If born after 1948, you must show hunter education card)
$51.68
N/A
Senior Annual (65+)
Colorado residents only
$10.07
N/A
​Senior Low Income Lifetime Fishing (64+)
Colorado residents only
​$9.85
​N/A
​​Senior Lifetime Fishing Upgrade (65+)

Colorado residents only
Valid only for Senior Lifetime Disability and Senior Low Income Lifetime Fishing license holders

$22.18​
​N/A
Senior Annual Small Game & Fishing Combination ​(65+)
Colorado residents only
$30.50​
N/A​
Five-day
N/A
$32.95
One-day
$14.23
$17.35
​Additional-day
​$6.95
​​$6.95
2nd Rod Stamp (Available to licensed residents, licensed nonresidents and youth under 16 years, licensed or unlicensed.)
$11.11
$11.11
Youth (16-17)
Second-rod charge still applies.
$10.07
N/A
(same as non-resident adult)
​Annual Aquatic Nuisance Species Stamp
$25.00​
​$50.00
Keep in mind to add $10.40 more for the compulsory habitat stamp, or you might consider the $312.30 lifetime habitat stamp.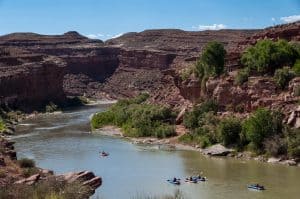 Where you can buy fishing licenses in Colorado?

 
The license purchase process is incredibly easy and anglers have several options. 
Online

 
If you order your license from home through the Colorado Department of Wildlife's self-service system, you avoid the hassle of trying to reach a person by calling. Just go to their page and follow the online information and process. 
https://cpw.state.co.us/buyapply/Pages/Fishing.aspx 
By phone

 
To order a license by phone, call 1-800-244-5613 to speak with a sales representative. They can walk you through the application process step by step and give you more information if needed. 
In an office

 
Head to any of the Colorado parks and wildlife vendor locations, including sporting goods stores and hardware shops for license purchase in person. 
https://cpw.state.co.us/buyapply/Pages/LicenseAgentsList.aspx 
Walmart

 
Yes, the hardware shops where you can get a Colorado fishing license also include Walmart! 
The best fishing season in Colorado

 
You are now a proud owner of one or more fishing licenses. So finally, here are some fishing tips specific to the state of Colorado so that you and your fellow anglers catch something to put on your menu after going through this process. 
The best fishing season in Colorado is from May to September. My suggestion would be to pick the right location, like Lake Granby for trout or South Boulder Creek for rainbow and brown trout, and arm yourself with a fly-fishing rod because these species are hard to catch but worth it. You can also take your boat out on any of our large lakes so you have plenty of space when catching gamefish. 
Thanks in part to stocking programs, you can find a lot if different fish populations in Colorado state, from small game to walleye, yellow perch, pike, largemouth bass and of course trout. 
Common other questions regarding fishing license Colorado

 
How do I renew my fishing licenses in Colorado?

 
You can either mail a renewal form to the Colorado parks and wildlife Headquarters address, fill out and submit an online application on their website (or you can choose to do so at any of these locations) or call in your fishing license renewal by phone. 
How long does a Colorado fishing license last? 

 
It lasts for one full year from the date of purchase. 
Are there any free fishing days in Colorado?

 
Fishing in Colorado is free during the first Saturday and Sunday of June, meaning you do not need a hunting or fishing license on these specific days. Be mindful of other fishing regulations though, as size and catch limits are still valid. 
Some anglers told me I must show hunter education card to fish?

 
This is wrong information, there is no need to show hunter education card to be allowed to do fishing in Colorado, no matter if you are a resident or non resident. If you want to be hunting game in addition to going fishing, you can get a combination fishing license for that purpose.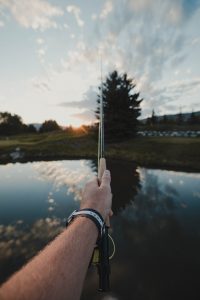 Conclusion

 
It's time to get your Colorado fishing license! This is a great opportunity for you and your family or friends to spend some quality outdoor time together, while also helping protect the environment. Your money for the licenses and habitat stamp will go towards the search and rescue fund as well as conservation and disease prevention efforts that help keep our fisheries healthy in many different ways.  
The state of Colorado really has amazing fishing, especially if you are looking to go for small game fish. If you don't know where to go yet at all, my personal favorite is the Lake Pueblo State Park. Plus, it's easy and not expensive to get your license – just about $6 bucks per day of fishing even for a non resident visiting for 5 days. 
What other things should people keep in mind when buying their fishing licenses? Get in touch and let us know, so we can add it!