Have you ever been bitten by a fish that you just reeled in? Well, I have and let me tell you, it is NOT pleasant. Many anglers have faced this problem and the best solution is to invest in a pair of fish lip grippers that keep you safe. Grippers help you control the fish that you just caught and prevent biting disasters. Also, if you intend to release the fish back in the water then grippers help in holding the fish without causing any damage.
So, you can release the fish back into the water without causing it much discomfort. Here is our selection of the best fish lip grippers of 2021 that are sure to help you out for a long time.
Quick Overview – Best Fish Lip Gripper
Quick Comparison – Best Fish Lip Grippers
Preview
Best All Around
Best Value
Title
Piscifun Fish Gripper with Digital Fish Scale, Memory Function Fishing Scale, Save Up to Most 10 Set of Weight, Saltwater-Resistant, Portable Stainless Steel Fish Lip Gripper, Fishing Gear Gift, Blue
Piscifun Fish Lip Gripper with Scale 28lb Camouflage Fish Grabber
Rapala 9" Floating Fish Gripper 9", white/black
Weight Capacity
Medium Fish - up to around 30lb
Best All Around
Preview
Title
Piscifun Fish Gripper with Digital Fish Scale, Memory Function Fishing Scale, Save Up to Most 10 Set of Weight, Saltwater-Resistant, Portable Stainless Steel Fish Lip Gripper, Fishing Gear Gift, Blue
Best Value
Preview
Title
Piscifun Fish Lip Gripper with Scale 28lb Camouflage Fish Grabber
Preview
Title
Rapala 9" Floating Fish Gripper 9", white/black
Weight Capacity
Medium Fish - up to around 30lb
Buying Guide
Trying to catch a large fish with its lips can lead to bloody thumbs so it is wiser to invest in a gripper that will make your job easy. We have come up with some features that you should look out for before buying a fish lip gripper. So, let's read on to know more about each of these features.
Material
Fish grippers are available in materials such as aluminum, stainless steel, and plastic. Each material has its benefits. If you go for a plastic gripper it will last long and will not get damaged by saltwater conditions. Moreover, plastic grippers are usually inexpensive but you may find that some of them are flimsy so go for trusted brands that manufacture superior quality plastic grippers. It is good to check the product description and read customer reviews to know which product matches your requirements.
Aluminum also works similar to plastic and is very durable and effective. However, it is more expensive as compared to plastic. Stainless steel grippers are of the best quality as they can be used both in freshwater and saltwater. Moreover, they are resistant to corrosion and are easier to clean although they are more expensive than their counterparts.
Style
There are three different styles of fish lip grippers available in the market. The traditional grippers are made of stainless steel or aluminum and have a T-shaped handle. This gripper helps you to use your fingers to manage the jaws of the gripper.
Next is the pistol gripper that is shaped like a handgun. When you pull the trigger, the jaws are released and they clamp on the mouth of the fish. These grippers are easy to use as they do not require you to put a lot of pressure.
The floating grippers are generally made of plastic and are designed for smaller fish that are not heavy. These grippers float on water but they cannot be rotated 360 degrees like the other stainless steel and aluminum grippers.
Handle
Look out for a handle that is made of a material that is non slippery such as rubber. It is because fish are slimy and your hands also become slippery when you are constantly in contact with water. So, you should select a handle that gives a firm grip as it will be easy to maneuver.
Nose Length
Nose length is a vital feature to look out for when dealing with saltwater fish. Not only do you need an anti-corrosion material but also one with a longer nose than regular pliers. The longer nose will make it easier for you to pull out hooks from the fish body.
Also, saltwater fish are usually big with larger teeth set. Long-nosed pliers will help to remove the hooks that are really deep in the fish's body. So longer and narrower nose pliers or needle-nose pliers are preferred.
Size
The size of the gripper is another important consideration because a small gripper may not work well when you are catching large fish. So, keep in mind your fishing needs before selecting the size of the gripper and the size of the fish that you are willing to catch.
The Best Fish Lip Gripper – Our Top Picks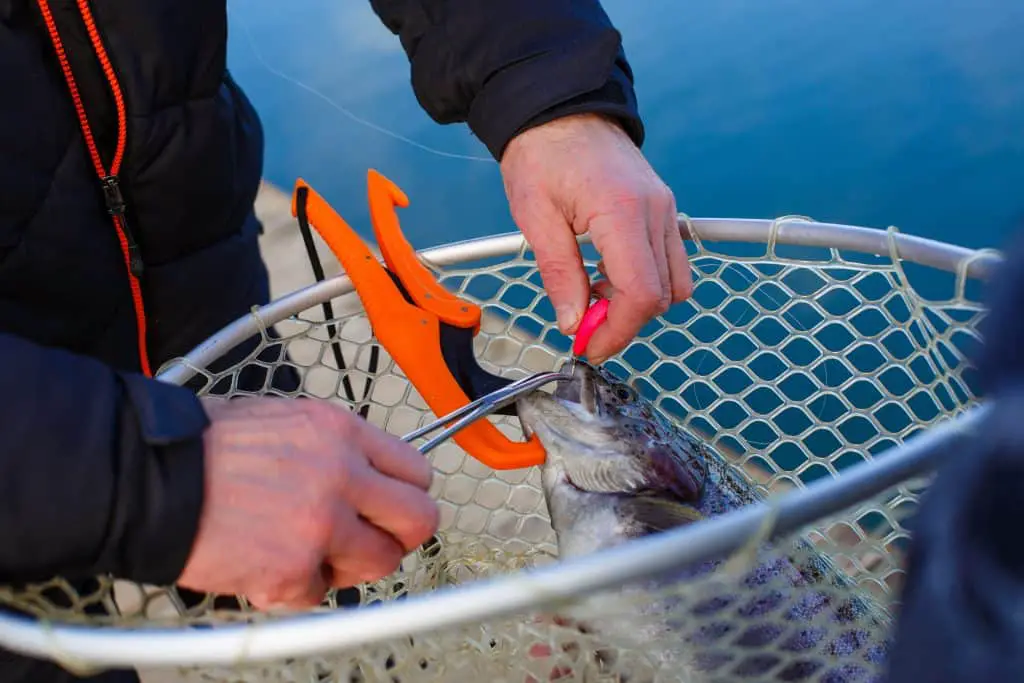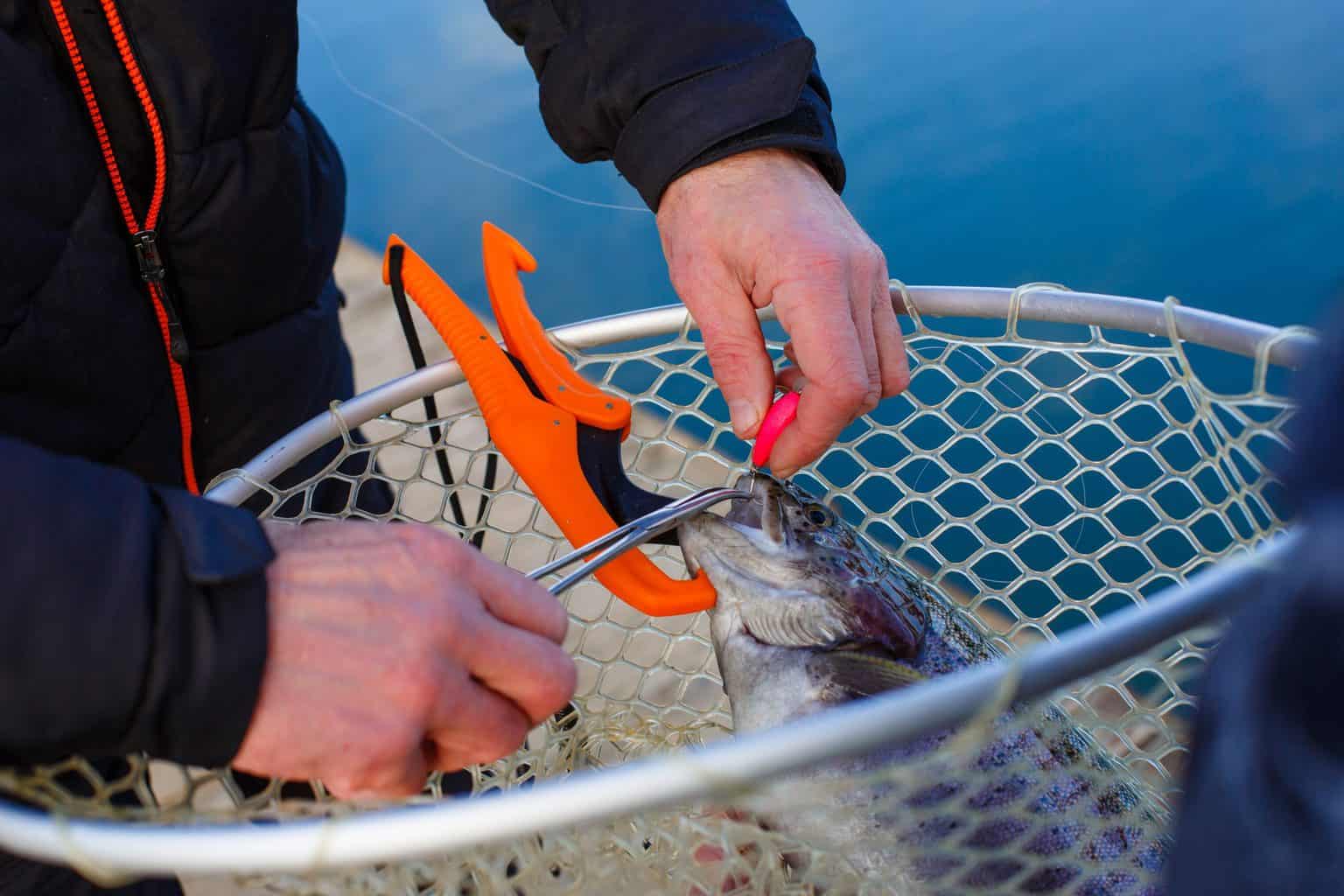 The Best Fish Lip Gripper
Pros
The 360° rotatable handle helps in weighing the fish easily
High-grade stainless-steel construction works well for freshwater as well as saltwater
Movable display makes it easy to read when you are weighing your fish
An adjustable wrist-strip ensures that you don't lose the gripper overboard
Cons
There is no way to calibrate this gripper and so sometimes the reading may be slightly off
The Piscifun Fish Lip Gripper comes with a digital scale that has a built in LCD light so that you can effortlessly place the gripper at night or in places that do not have adequate light. You can read the display easily and the best part about the scale is that it rotates a full circle so that you can control it easily.
However, that's not all. The digital scale also has a memory mode that helps save and display up to 10 weight readings. The push button helps you select pounds/ounces or kilograms and also provides a power saving auto-shut off that also indicates whether you have a low battery. Both the scale and LCD are powered by (2) AAA batteries.
This gripper is made up of good quality stainless-steel that works well in both freshwater as well as saltwater conditions and has a loading capacity of up to 60 lb. As the gripper will often come in contact with the water, the manufacturers have conducted an immersion test to ensure that it works well in extreme weather conditions and is 100% waterproof. Moreover, you get one-year warranty in case there is any issue with the gripper. Because of its excellent quality and affordability, we have rated the Piscifun Fish Lip Gripper as the best one.
Features and Specs
Item Weight: 10.2 ounces
Shipping Weight: 11.7 ounces
Up to 60lb/27kg loading capacity
Scale and LCD are powered by (2) AAA batteries.
360° Rotatable handle
Gripper made of 304 stainless steel
Adjustable wrist-strip
The Best Value Fish Lip Gripper
Pros
Precise tape and clear scale
Rust Free Use
Adjustable stainless-steel material allows for both hot and freezing cold weather
A rubberized grip gives you a firm grasp
Cons
The scale is not very sensitive
If you are looking for a cheap fish gripper that helps you in catching and releasing toothy fish safely then you should go for Piscifun® Stainless Steel Fish Lip Gripper. This one is a handy tool that protects your hands from a tooth snag or a nasty slice. This gripper is made up of stainless steel and makes it easier to handle even small fish as it has an excellent grip. Also, it works well in handling some of the fish you would not want to touch such as a sucker carp or a buffalo. If you are someone who hates the slime then investing in this gripper is a good idea.
The scale is easy to read and withstands up to 15kg or 33 lbs. The measuring tape is narrow and soft to ensure that the fish do not get harmed as you catch and release them back into the waters. The length of the tape is 1m or 3 feet. Also, the Piscifun Fish Lip Gripper works well both in freshwater as well as saltwater as it has a stainless-steel tube that does not rust. So, go ahead and enjoy your stint in the rivers, lakes, and ponds.
There are many plastic grippers that you might have come across in the market and they are relatively cheaper but cannot withstand temperature extremes. This stainless-steel gripper on the other hand allows for hot and cold weather so you don't have to worry about the temperature as you are busy fishing. Moreover, you need not worry about thrashing fish as a rubberized grip helps in making a firm grasp.
You don't need to use both your hands to operate this gripper and it grips the lower jawbone of fish causing no damage to its slimy layer. So, if you want to shoot your favorite catch on camera before releasing it back, this gripper enables you to take a quick snap without causing any harm to the fish. The best part is that it has an extended handle that provides an optimum way of handling different variety of fish.
A trigger sleeve provides fast opening by sliding across the main tube. The cost of this gripper is reasonable, the quality is great and it is because of this reason that we have listed it as the best value gripper available in the market. Also, it is great for sustainability as you have to invest in this gripper one time and be assured that you don't need a new one any time sooner.
Features and Specs
Material: Stainless steel
Weight capacity: 15kg/33lb
Item length: 24cm/9.5in
Item weight: 241g/8.5oz
The Best Corrosion Resistant Fish Lip Gripper
Pros
Land and release your catch without harm to you or the fish
Securely hold fish with one-hand
Quick release mechanism holds strong and releases with ease
Corrosion resistant
Includes a wrist lanyard
Cons
There have been some instances of a defected gripper shipped to customers, however the manufacturer has taken care of the complaints
The Rapala 9″ Floating Fish Gripper 9″ has an amazing quick release mechanism that helps you catch and release the fish without causing any harm. Moreover, the gripper has a strong hold on the fish and makes releasing effortless. The best part about this gripper is that it provides great corrosion resistance as it is made from durable heavy-duty plastic.
There is also a wrist lanyard that provides security. This gripper is made with premium quality material and has a great design. So, if you are looking forward to get a good gripper that stands the test of time then you should invest in Rapala floating gripper.
Features and Specs
Product Dimensions: 9 x 1 x 1 inches; 5.1 ounces
Shipping Weight: 8 ounces
Specifications: – Size: 9″ – Pack Quantity: 1
Amazon
Best Fish Lip Gripper – Frequently Asked Questions (FAQ)
There are three different styles of grippers i.e. traditional, pistol, and floating gripper. You can choose the one which best matches your requirements. In terms of ease of operation, the pistol gripper works best because it requires minimal pressure from your hand.
A fish lip gripper is used by anglers to prevent damage to the fish so that they can safely catch and release it. Grippers have smooth jaws that just clap the fish's lips without causing them any damage.
Yes, some varieties of plastic fish lip grippers float on the water. However, if you go for the metal grippers, they are heavy and tend to sink.
Final Verdict
We hope that you have gotten enough info to decide which fish gripper works the best for you. Go for the best fish lip gripper that matches your requirements and have an amazing fishing experience! Want to know how much your catch weighs in addition to a fish lip gripper?
Check out these digital fish scales with fish lip grippers included!