Fishing is a great way to get outside and enjoy the fresh air. However, it can be difficult if you are sitting on the ground, especially as it can take hours and hours. This is why portable fishing chairs are so popular! They offer comfort and convenience while also being lightweight and easy to store when not in use.
We have compiled our list of best fishing chairs reviews with hopes that this will help make your search easier!
Quick Overview – Best Portable Fishing Chair
Quick Comparison – Best Foldable Fishing Chairs
Preview
Best All Around
Best Value
Best Ice Fishing
Title
GCI Outdoor Freestyle Rocker Portable Rocking Chair & Outdoor Camping Chair, Cinnamon
Coleman Portable Camping Chair with 4-Can Cooler - Perfect for Camping, Tailgates, Beach, Sports and More
Eskimo Folding Ice Chair, Standard, Buffalo Plaid Adjustable Height, Alloy Steel Red/Black
Best All Around
Preview
Title
GCI Outdoor Freestyle Rocker Portable Rocking Chair & Outdoor Camping Chair, Cinnamon
Best Value
Preview
Title
Coleman Portable Camping Chair with 4-Can Cooler - Perfect for Camping, Tailgates, Beach, Sports and More
Best Ice Fishing
Preview
Title
Eskimo Folding Ice Chair, Standard, Buffalo Plaid Adjustable Height, Alloy Steel Red/Black
Buying Guide
Fishing requires a lot of patience and a whole lot of waiting. Now, imagine you are in a beautiful and peaceful fishing spot, the weather is pleasant, but you are sitting on an uncomfortable chair. Not only does this make you uncomfortable at the moment, but it also gives you back and neck aches.
A wobbly or unstable chair can also cause you to lose a catch, which is not something any fisherman wants. So, a pleasant and comfortable fishing chair is just as important as a good fishing rod. You will need a foldable, light, stable and comfortable chair to unfold and sit on as you wait for the fish to bite.
Like everything else, a step by step guide for the perfect fishing chair can help you better understand what features to look for and what fits your particular needs.
Portability
Portability is one of the essential features when it comes to the best fishing chairs. There are several comfortable and relaxing fishing chairs out there. While these might be great in many ways, they often lack portability, not being easy to transport.
When you go out fishing, you need to carry a lot of gear and equipment with you. It would be ideal to be able to pack a foldable, easy to transport and lightweight fishing chair, place it in your car, and get going. However, a heavy or non- foldable chair would have to stay behind.
The best fishing chairs are all of that and more. They are either a folding chair or the chair features include a carry bag, storage pouch, carry strap or shoulder strap.
Ease of Assembly
There are different types of foldable chairs. While some collapse on themselves and fold, others have collapsible tripod legs and slim profiles. These foldable chairs can then easily be packed in a backpack and carried. This makes them ideal for traveling.
There also needs to be a proper assessment of the folding mechanism. Some collapsible chairs take a little longer and a bit of effort to assemble. So, you should pay extra attention to the type of mechanism and choose what you prefer.
Rod Holders
The best fishing chairs are not just regular camping chairs. They are unique and specifically designed to fit the needs of a fisherman. Some have a rod holding feature. This means that these chairs have a rod holder where you can place your rod after throwing the bait in the water.
This will prevent your arm from getting tired and give you a bit of free time to eat or drink. However, you would have to keep sitting during this time as the chair alone won't be able to keep the rod from getting in the water if a fish tugs at it.
If your choice of a good fishing chair does not come with a rod holder, check out some options for those here!
Back Pockets
Some fishing chairs feature back pockets. This provides extra storage space for you to keep your bait, nets, reels, food, or anything really. This helps you stay a bit more organized and prevent you from having a lot of things cluttering around you when you do your outdoor fishing.
Cup Holder
Some chairs feature a cup holder to hold your beverages while you reel in your fish. All this depends on what you deem a necessity. All these features are available for you and you can choose the one that is right for you.
Comfort
The comfort level is the first and foremost thing to think about when looking for the best fishing chair. There are multiple varieties of chairs available for everyone, but the ones with a comfortable cushion and proper back support are ideal.
To have a comfortable base and a comfortable back is probably the most important feature, a portable fishing chair can have. The last thing you need while you are fishing is a sore back due to an uncomfortable chair that cannot compensate for an uneven ground.
Adjustable Height
Some chairs also feature adjustable back height to fit all different types of torsos. Hammock style fishing chairs are all the rage right now as they can offer back support and are pretty comfortable.
There are also cushion based chairs that have metal or plastic backs. Adjustable legs are great for being able to change the height, but can potentially be weak spots in the structure.
Durability
The longevity of the chair is something you must consider as well. Fishing chairs will be subjected to a bunch of harsh conditions. When you are standing in the hot summer sun, so will be your chair. Similarly, if you are getting splashed with salt water, so is your chair. If you are looking to do ice fishing, of course your definition of what the best fishing chair looks like will be different in that its materials should withstand typical ice fishing conditions.
An ideal chair should be able to withstand these conditions for a reasonable amount of time. Metal is the least ideal material in this case as it may rust or rot with time. A powder coated steel frame is ideal for withstanding environmental impacts, but an aluminum frame is also decent. Hinges of the chair should also be durable.
The chair's material should also be a bit stretchy to support a person's weight while still keeping the person comfy. Polyester fabric is great for that. Watch out for how much weight your fishing chair is constructed to support.
Weight
Always opt for a lightweight chair. A lot of fishing chairs are made up of aluminum to make the chair lightweight. Even if you have a car to carry all the stuff for you to the destination, you will have to carry all the stuff yourself from the car to the fishing spot. This is where you will appreciate the lightweight chairs and will wish for a simple camping chair if you chose a heavy model.
Stability
Whatever type of chair you're looking for, wobbly ones are just not it. You never know what kind of surface you will have to place the chair on. It wouldn't do if your chair started wobbling as soon as you set up at your favorite fishing spots and catch a fish, now would it?
To counter this adjustment problem, rubber ends should be present at each leg's end. This makes sure that the chair does not slide. It will give you stable support, and you can sit comfortably.
Some companies have also introduced an adjustable leg system in fishing chairs. This feature will help you adjust the legs at different lengths and easily counter uneven ground.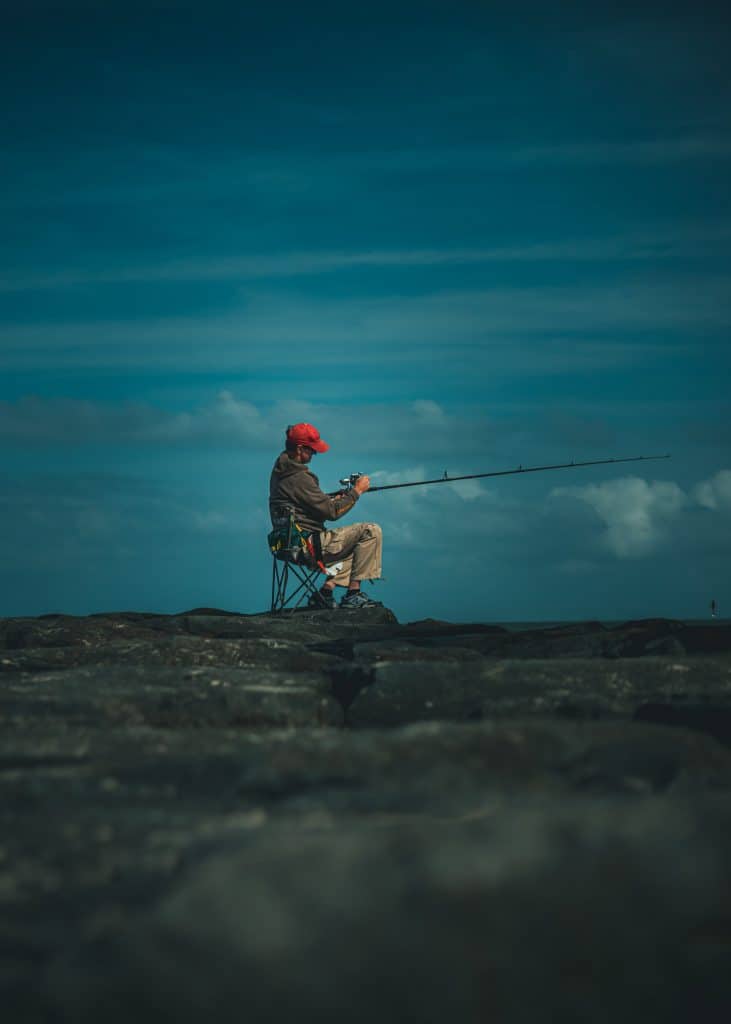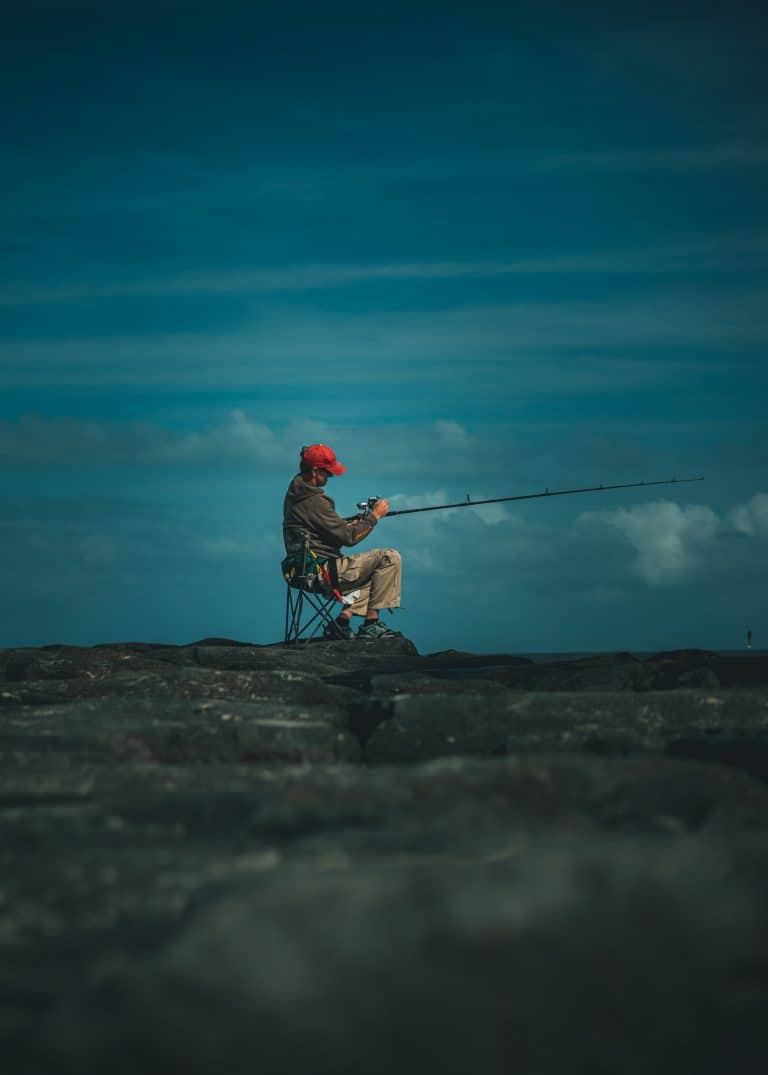 The Best Foldable Chair for Fishing – Our Top Picks
Fishing is a great experience, even if it requires a lot of patience and waiting. If you get a comfortable fishing chair, your fishing experience will get better. To able to relax in a comfy chair while waiting for the fish to take your bait sounds heavenly, right?
We've handpicked 4 of the best portable fishing chairs for you.
The Best Portable Fishing Chair
Pros
Superior stability
Premium quality
Rocking functionality
Easy to carry and set up
Foldable design
Limited lifetime warranty
Cons
Heavier than other models
No rod holder
The GCI Outdoor Freestyle Rocker Portable Folding Rocking Chair is a great portable chair for a day out on or at the water. This is because it meets all of your fishing needs with its foldable design, portability and comfort to spare. There is a reason this chair will come up as one of the first when you search for amazon fishing chairs.
The lightweight design makes this one easy to carry and store in small spaces if need be. The armrests provide enough stability while you fish or relax in general. It features premium quality materials such as a powder-coated steel frame ensuring durability, which is further supported by its lifetime warranty. It also has a rocking functionality, which many people came to love including me!
Overall this model provides an excellent value-for-money product that can help anyone enjoy their time outdoors even more than before. There will always be something new to catch when you have a fishing chair in tow.
Amazon
The Best Value Fishing Chair
Pros
Very lightweight, but still heavy duty
Built-in cooler
Cup Holder
Easy to assemble
Great price
Cons
Not as durable as the other options
No rod holder
Coleman is a well-known brand in the fishing and other outdoor activity community. It is known for its user-friendly and durable products. A collapsible fishing chair is one of the products of this company.
Coleman fishing chairs feature a collapsible design that allows you to easily fold and pack the chairs in a given rucksack bag and travel with them. The chair has a padded back and a padded and adjustable armrest that provides maximum comfort.
The best feature of this fishing chair is the drink cooler pouch located at the left armrest. This cooler pouch can hold 4 cans at one time. So, even in super hot weather, your drink will remain cold for a refreshing feeling.
There is also a mesh cup holder on the armrest to hold your drink while you fish. Small pockets on either side give extra storage. The heavy-duty polyester fiber and steel tube provide the chair with much-needed sturdiness. This chair has a weight capacity of about 300 pounds.
Amazon
The Best Fishing Chair with Insulated Cooler
No products found.
No products found.
Pros
Easily supports up to 350 pounds
10 gallon insulated cooler
Sturdy construction
Shoulder carry strap system
Despite its plastic construction resistant to the elements
Cons
No armrest
No cup or rod holder
The camouflage color and massive storage space of this fishing chair are the first things that you see when you look at it, but that's not all. This compact fishing chair comes with a lot of useful features. First and foremost is the non-sag and lightly padded seat.
This seat can withstand the weight of around 350 pounds. The backrest of the chair is also padded for a comfortable experience. The chair's seat has an insulated cooler underneath that provides 10 gallon storage space to keep your food, drinks or freshly caught fish. This allows you to remain organized throughout the trip.
It might not be the most comfy chair in the world seeing that it lacks armrests, but is easy to transport and guaranteed to last you a long time.
Amazon
The Best Ice Fishing Chair
Pros
Cheap
Lightweight and easy to carry
Instant set-up
Durable
Stable
Cons
Only rated to support 200 pounds, though heavier people report it works just fine for them
No frills simple chair, thus no cup or rod holder
There is not much to be said about the best ice fishing chair and its manufacturer Eskimo. The company is very well known in the scene for their quality products and this chair is no exception. It is a really basic, no-frills model, that offers a heavy duty construction.
Its main selling points are that it is incredibly easy to take with you and set up, plus it comes at a really attractive price point. If you are looking for an ice fishing chair without the need for extreme comfort and accessories, this is the chair for you!
Amazon
Is it okay to set the fishing chair in the water?
A chair specially made for fishing will have a protective covering on the chair's legs to make sure it doesn't get damaged. Mostly metal-based tubes are used, and they are coated with rust-resistant material.
After some time, you might want to apply some waterproofing spray, but that is quite optional.
Do I need a separate chair for the boat and the shore?
Usually, yes. Some fishing chairs are specifically made to be used on the shore as they have spikey legs. These chairs won't work on boats. Other chairs, usually rubber ended chairs, can work on both the shore and the water.
Is a lightweight chair better?
Lightweight chairs are better as more massive chairs are too difficult to travel with. Several lightweight chairs are very sturdy and durable.
These chairs have a bold or foldable system that makes them easy to travel with and easy to carry. So pack your fishing backpack and bring a traveling rod and let's go!
Happy Fishing!
While it certainly is a matter of preference, most people like to sit down at least at some point on a regular fishing trip. Therefore, the perfect fishing chair is a necessity when it comes to fishing gear.
The best fishing chairs can enhance the fun and make the fishing experience pleasant for you. Back and leg cramps from standing for too long are easily eliminated.
Comfortable chairs are a blessing when you are fishing because you have to wait for a look time for the fish to bite. So why not wait comfortably?
Hopefully, these guidelines and recommendations will help you in finding the best portable fishing chair that suits your taste.