If you've been fishing for a while or even if you're just starting, you know that fishing is not something that takes a couple of minutes. It takes hours and hours of wait and patience. Standing up and holding a fishing rod for hours and hours on end is not an easy task. A comfortable chair is all you need at this point—a chair where you can sit back and relax while waiting for a fish to catch the hook.
Therefore, we have reviewed the best portable fishing chairs for you to make your fishing adventure even better!
Quick Overview - Best Portable Fishing Chair 2021
Quick Comparison - Best Foldable Fishing Chairs 2021
Preview
Best All Around

Best Value


Title
Coleman Camping Chair with Built In 4 Can Cooler, Black
PORTAL Extra Large Quick Folding Tripod Stool with Backrest Fishing Camping Chair with Carry Strap
PORTAL Lightweight Backrest Stool Compact Folding Chair Seat with Cooler Bag for Fishing, Camping, Hiking, Supports 225 lbs
Best All Around
Preview

Title
Coleman Camping Chair with Built In 4 Can Cooler, Black
Best Value
Preview

Title
PORTAL Extra Large Quick Folding Tripod Stool with Backrest Fishing Camping Chair with Carry Strap
Preview

Title
PORTAL Lightweight Backrest Stool Compact Folding Chair Seat with Cooler Bag for Fishing, Camping, Hiking, Supports 225 lbs
Fishing requires a lot of patience and a whole lot of waiting. Now, imagine you are in a beautiful and peaceful fishing spot, the weather is pleasant, but you are sitting on an uncomfortable chair. Not only does this make you uncomfortable at the moment, but it also gives you back and neck aches.
A wobbly or unstable chair can also cause you to lose a catch, which is not something any fisherman wants. So, a pleasant and comfortable fishing chair is just as important as a good fishing rod. You will need a foldable, light, and comfortable chair to unfold and sit on as you wait for the fish to bite.
We've put together a guide and even a few of our favorites to help you get better acquainted with fishing chairs and suit your needs best. So let's get started.
Like everything else, a step by step guide for the best portable fishing chairs can help you better understand what features to look for and what fits your particular needs. This guide is uniquely designed to help you in choosing your perfect fishing chair to make your experience more pleasant and comfortable, along with fun and fulfilling.
Let's get into it.
The Best Foldable Chair for Fishing – Our Top Picks 2021
Fishing is a great experience, even if it requires a lot of patience and waiting. If you get a comfortable fishing chair, your fishing experience will get better. To able to relax in a comfy chair while waiting for the fish to catch your bait sounds heavenly, right? We've handpicked 3 of the best portable fishing chairs for you.
Let's take a look.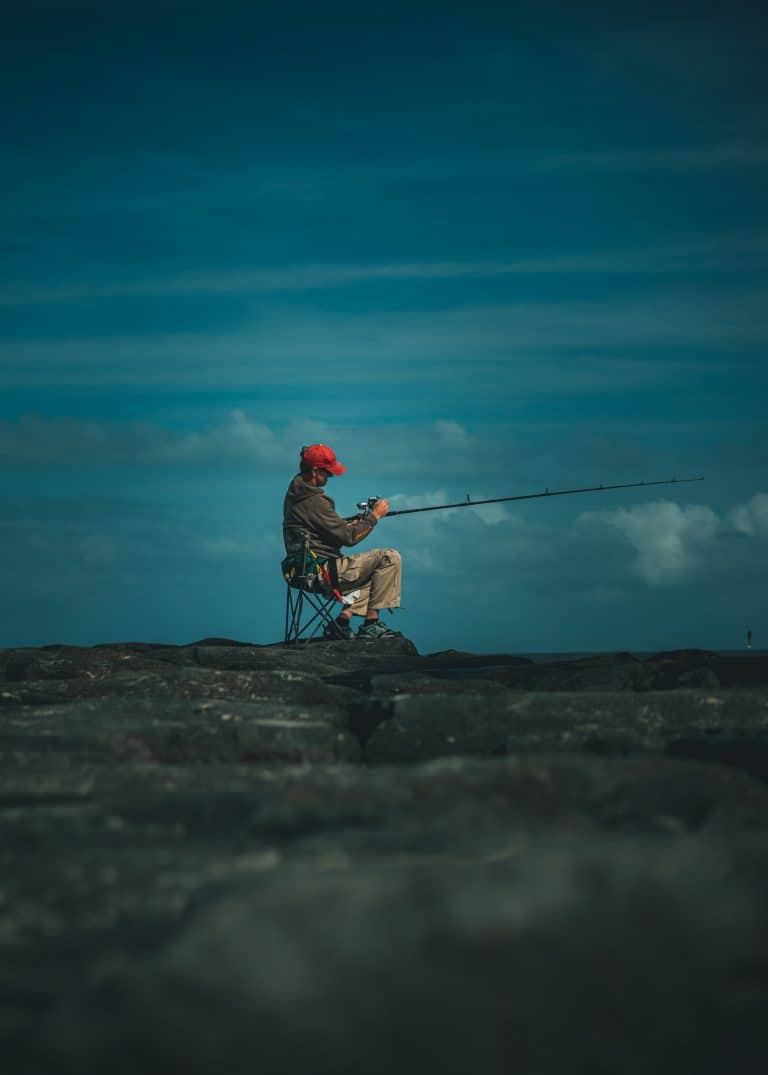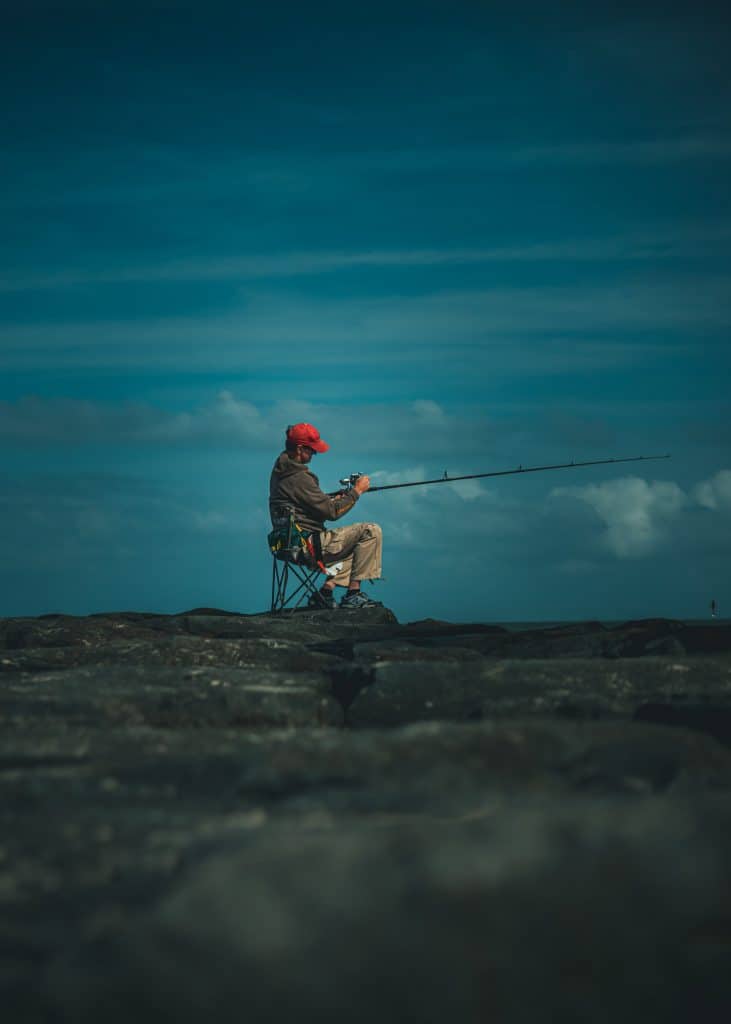 The Best All Around Portable Fishing Chair
Cozy chair
Heavy duty
Built-in cooler
Foldable design
1-year warranty
Pricier than others at the time of review
Coleman is a well-known brand in the fishing and other outdoor activity community. Coleman company is known for its user-friendly and durable products. A collapsible fishing chair is one of the products of this company.
Coleman oversized fishing chairs feature a collapsible design that allows you to easily fold and pack the chairs in a given rucksack bag and travel with them. The chair has a padded back and a padded and adjustable armrest that provides maximum comfort.
The best feature of this fishing chair is the drink cooler pouch located at the left armrest. This cooler pouch can hold 4 cans at one time. So, even in super hot weather, your drink will remain cold for a refreshing feeling.
There is also a mesh cup holder on the armrest to hold your drink while you fish. Small pockets on either side give extra storage. The heavy-duty polyester fiber and steel tube provide the chair with much-needed sturdiness. This chair has a weight capacity of about 300 pounds.  
The Best Value Portable Fishing Chair
Durable
High quality
Sturdy design
Padded backrest
Easy to assemble
Great price
PORTAL Folding Tripod Chair Seat, as the name suggests, feature tripod legs. This chair has a sturdy structure and is made of high-quality polyester fiber. The robust framework of steel tubes and durable polyester allows the chair to withstand about 225 pounds of weight.
The use of steel also makes these chairs anti-rust and weather safe. This chair has padded backrests. It provides a comfortable and pleasant experience and allows you to sit comfortably for several hours. The chair also features a shoulder strap that makes it easy to carry this 4.5-pound chair around with you easily.
The chair also features a mesh side pocket to hold your phone and other small items, and a cup holder to hold your beverages.  The chair is foldable, portable, and is very easy to assemble. If you are looking for a cheap fishing chair, that is no-nonsense, then this is it.
The Best Portable Fishing Chair with Cooler
Comes with a Cupholder
Zipper pocket
Comes with a bag with straps
Durable
Lightweight
The bold and dark color and massive storage space of this fishing chair are the first things that you see when you look at it, but that's not all. This compact fishing chair comes with a lot of useful features. First and foremost is the non-sag and lightly padded seat.
This seat can withstand the weight of around 250 pounds. A piece of fabric is also spread across the backrest of the chair for a comfortable experience. The chair's seat has a bag underneath that provides large storage space to keep your baits, lines, reels, and even food. This allows you to remain organized throughout the trip.
The frame structure comprises of stainless steel with powder coating, which provides both anti-corrosion and anti-rot protection. A cooler pocket below the chair is another beneficial feature. This cooler pocket allows you to store your beverage in it, and the pocket will keep it cool for you.
The bag under the seat also has an additional zipper pocket and a cup holder to hold your drink while you reel in the fish!
Best Portable Fishing Chair - Frequently Asked Questions (FAQ)
A chair specially made for fishing will have a protective covering on the chair's legs to make sure it doesn't get damaged. Mostly metal-based tubes are used, and they are coated with rust-resistant material. After some time, you might want to apply some waterproofing spray, but that is quite optional.
Usually, yes. Some fishing chairs are specifically made to be used on the shore as they have spikey legs. These chairs won't work on boats. Other chairs, usually rubber ended chairs, can work on both the shore and the water.
Lightweight chairs are better as more massive chairs are too difficult to travel with. Several lightweight chairs are very sturdy and durable. These chairs have a bold or foldable system that makes them easy to travel with and easy to carry. So pack your fishing backpack and bring a traveling rod and let's go!
While it certainly is a matter of preference, most people like to sit down at least at some point on a regular fishing trip. Therefore, an excellent portable fishing chair is a necessity. A comfortable fishing chair can enhance the fun and make the fishing experience pleasant for you. Back and leg cramps from standing for too long are easily eliminated.
Comfortable chairs are a blessing when you are fishing because you have to wait for a look time for the fish to bite. So why not wait comfortably? With several products out there in the market, it gets hard to choose the perfect one.
Hopefully, these guidelines and recommendations will help you in finding the best portable fishing chair that suits your taste.