For some anglers, having the right fishing gear is not enough when they plan to eat their catch. Thus, knowing the perfect cooking tools is just as important.
There is a multitude of cooking apparatuses known to mankind, and one of the must-haves is a grilling basket if you are into preparing fishes. Now, you should not be surprised to hear that hundreds of options are available on the marketplace when choosing the finest grilling basket. That said, I have written this best fish grilling basket review in hopes of helping you shop for the product that suits you perfectly.
Quick Overview – Best Fish Grilling Basket
Quick Comparison – Best Fish Grilling Basket
Preview
Best All Around
Best Value
Title
Weber Large Fish Basket in Standard Packaging
Grill Basket AIZOAM Grill Basket Stainless Steel BBQ Grilling Basket Large Folding Grill Basket with Removable Handle. Grill Basket for Fish,Vegetables . Grill Accessories BBQ Accessories Grilling Gifts for Men Dad .
Grill Basket, Barbecue BBQ Grilling Basket , Stainless Steel Large Folding Grilling baskets With Handle, Portable Outdoor Camping BBQ Rack for Fish, Shrimp, Vegetables, Barbeque Griller Cooking Accessories
Best All Around
Preview
Title
Weber Large Fish Basket in Standard Packaging
Best Value
Preview
Title
Grill Basket AIZOAM Grill Basket Stainless Steel BBQ Grilling Basket Large Folding Grill Basket with Removable Handle. Grill Basket for Fish,Vegetables . Grill Accessories BBQ Accessories Grilling Gifts for Men Dad .
Preview
Title
Grill Basket, Barbecue BBQ Grilling Basket , Stainless Steel Large Folding Grilling baskets With Handle, Portable Outdoor Camping BBQ Rack for Fish, Shrimp, Vegetables, Barbeque Griller Cooking Accessories
All About Fish Grilling Baskets
Before diving straight into the options, you first need to have enough background knowledge about fish grilling baskets to ensure that you will end up with a well-rounded decision. That is the reason why I prepared several basic details to prepare you better when you finally hit the market.
What exactly is a grilling basket?
A grilling basket comes in two types: a mesh cage or a bowl-shaped basket. The mesh cage, which is the traditional kind, is commonly built like a clamp with two rectangular wire mesh panels joined together by a hinge on one side. Meanwhile, on the other side, there is a handle that makes the grip more secure.
Cage baskets are frequently utilized for fish grilling because they can keep the food in place. This works by closing the two panels together so that the fish becomes stuck in between. Furthermore, the food is more directly exposed to heat when cooked using cage baskets. Excess marinades and oils can also trickle down through the wire mesh without the risk of dropping the fish onto the open fire.
On the other hand, bowl-shaped baskets or grill woks are shallow, open pans with elevated sides pierced with many holes. They are made of stainless steel and used more often to
grill vegetables
than fishes since they offer less direct heat exposure.
Why do you need a fish grilling basket?
If you like being organized, a grilling basket gets handy as it promotes cooking by batch with its sturdiness and wide space that can accommodate an average of four to six servings. Moreover, its long handle boosts safety in the kitchen, keeping your hands away from hot surfaces.
Grilling baskets also have their share of contribution in enhancing the flavor of food. The gaps present in cage baskets help give the meat that char and smokey flavor, while the bowl shape of grill woks allows for the juice and sauce to stay in the pan and improve the taste of the food.
Most appealingly, with grilling baskets, flipping food is made less complicated. By merely turning cage baskets by the handle in a single, swift motion, you can flip fragile food, such as fish, without damaging it.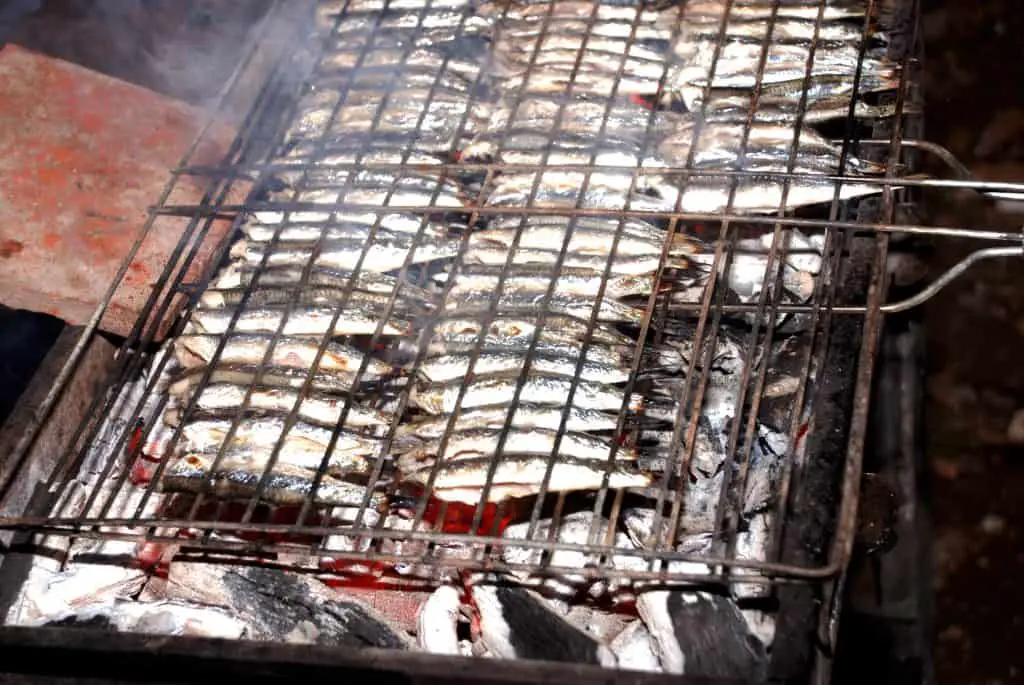 How do you choose the perfect fish grilling basket?
Some things need to be considered when looking for a grilling basket. Like fishing rods and other cooking tools, the best basket always boils down to your specific preferences. Regardless, allow me to highlight the factors that you should be mindful of.
On top of the list is the construction materials. You want your basket to withstand exposure to high temperatures for a long period so make sure that it is made of stainless steel of high-quality metal. Non-stick coating is also essential to prevent the food from sticking to the basket.
Secondly, the holes in grilling baskets play an important role in flavoring, but they should not be too big. Unless you enjoy seeing your food fall under the grates, you must pick those baskets with average-sized holes. Likewise, I highly recommend items with handles built with heat-resistant components for safe and convenient holding.
Furthermore, the size and depth of the grilling basket must be taken into account to suit your needs better. In most cases, both depend on the quantity of servings you will need and your grill's dimensions. Finally, to minimize your duties, you may be interested in baskets that can be easily cleaned or those that fit in the dishwasher safely.
The Best Fish Grilling Baskets Review – Our Top Picks
So far, this article has discussed most of the fundamental facts you should need to make a sound choice when shopping. It is time for you to have a glance at the three best fish grilling baskets present on the market.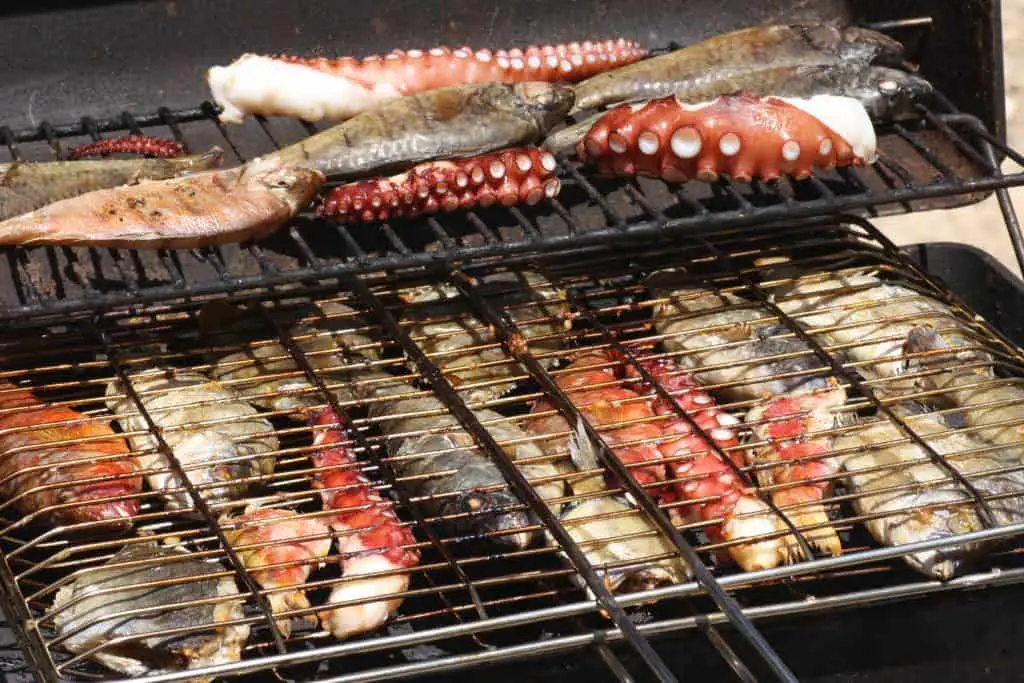 The Best Fish Grilling Basket
Pros
The grilling basket has a wide space that is perfect for family-size servings.
Delicate food will not be crushed when sandwiched between the spring-like mesh.
It is lightweight and easy to flip since the mesh design is flexible and locks.
It is dishwasher-friendly.
Cons
Since the basket does not have a handle, you may need to wear gloves to flip it.
It cannot be used on small grills.
Produced by renowned brand Weber, this grilling basket measures 18 inches in width and can cater to six fishes at the same time. This is unique to other mesh cages due to its spring-like mesh that can secure the meat in place way better. Moreover, the mesh's distinct style allows for a graceful and safer flipping since it is considerably less bulky than other products.
One notable feature of Weber Fish Basket is its elevated design, which reduces the risk of the food burning or sticking to the grill. However, this means that achieving those grill marks on your fish is unlikely. Meanwhile, the basket is made from stainless-steel metal that can be cleaned in the dishwasher without damage.
Amazon
The Best Value Fish Grilling Basket
Pros
It can be bought at a budget-friendly price.
The product comes in a package that includes other grilling accessories.
It is made of long-lasting and solid materials.
It can be washed using a dishwasher and is effortlessly cleaned by hand.
Cons
It does not have a non-stick layer to prevent the food from sticking onto its surface.
For those who do not intend to spend too much, the Mr. Barbecue Folding Grill Basket is the item to buy. For an affordable price, not only will you have a grilling basket but also other accessories, namely a basting brush, a glove, and a waterproof bag. The basket is manufactured for both beginners and professional home cooks as it guarantees that the food will be evenly grilled all the way through.
It is also constructed with durable stainless steel that can endure abuses without breaking. Similarly, rust will no longer be a problem because it is equipped with oxidation and corrosion-proof outer coating. This grilling basket is portable as well since it can be transported anywhere, thanks to its light bulk and packaged carrying bag.
Amazon
The Best Non-Stick Fish Grilling Basket
Pros
The product includes a brush that can be used to baste sauces.
It is built with military-grade stainless steel that contributes to its durability.
The non-stick layer keeps the food from getting attached to the basket.
It has a heat-resistant handle that is made of wood.
Both panels can be locked so that the food will not fall when flipped.
Cons
Because of its rather large holes, it is not suitable for small cuts of food.
The AIZOAM Grilling Basket is highly recommended for its non-stick coating that sets it apart from other items. This outer layer makes sure that the food can be removed from the basket without any challenge and damage. Add to that, it also boasts a wooden handle that can resist heat for better grip and control while cooking.
With dimensions of 8.6 x 12.6 inches, this basket can accommodate about two to three servings. It can also cook fishes evenly through its lockable construction that can firmly keep the meat in between for safer flipping. Nevertheless, because of the considerably large gaps on the mesh panels, grilling small pieces of food becomes difficult.
Amazon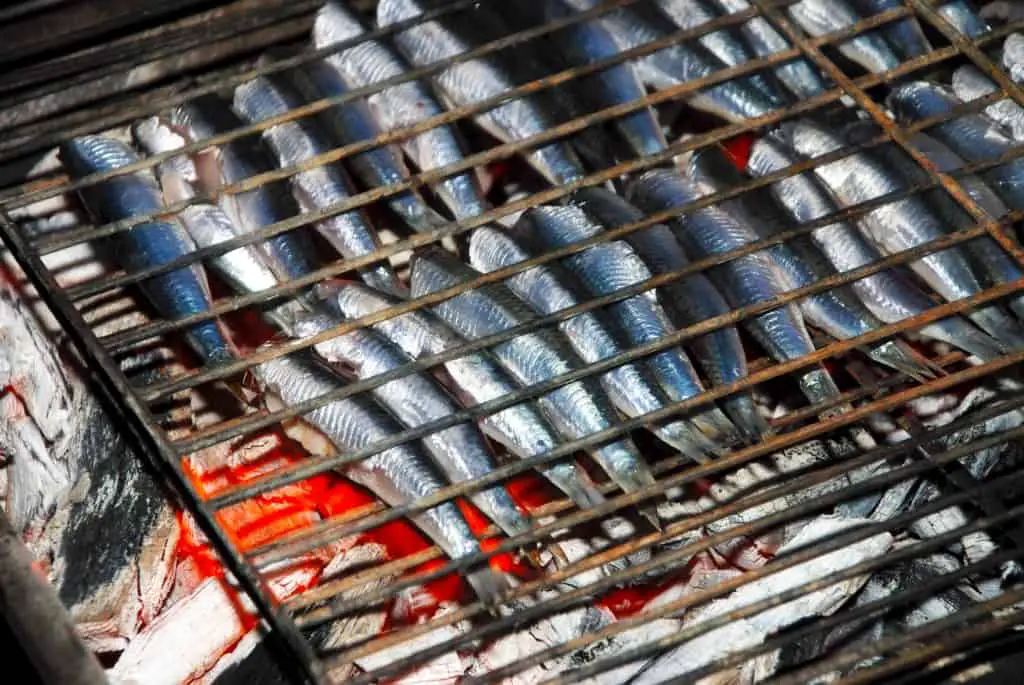 Happy Fish Grilling
It has been quite a habit for many anglers to cook the fishes they catch. That is why it is also vital that they attain the basics of choosing the proper kitchen equipment for cleaning, filleting and finally grilling the fish. In this best fish grilling basket guide, I have shared my understanding with the aim of assisting you so that you know what to watch out for and buy.
No doubt, the Weber Fish Basket is sitting on top of the marketplace for a reason. Besides the fact that it is primarily manufactured for fish grilling, you should grab one already because of its unique design and satisfying performance.
However, if you are on a budget, buying the Barbecue Folding Grill Basket can be the best decision. Your money can get you not just a grilling basket but other kitchen accessories as well.
Finally, the AIZOAM Grilling Basket is the most suitable product if you do not want to deal with food sticking on the basket's surface. Its non-stick coating will surely spare you from that job.
For further inquiries, the comment section below is very much open. I assure you that I will take the time to answer them to the best of my knowledge. May you find the best fish grilling basket out for you, whether you are looking to grill haddock, salmon or trout, bowfin or even tarpon!