Are you looking forward to spend less time in cleaning and prepping fillets before putting them on the grill? Use an electric fillet knife that makes the job easy. Electric fillet knives are not only easy to operate but also save a lot of your precious time.
The skin can be separated from the meat within a few minutes as compared to an hour or more taken by the traditional knife. Moreover, an electric fillet knife does not need to be sharpened that often and is a great machine for filleting small and large fish.
If you are looking for the best electric knives online then you need not worry as we have made your job easy. Let us take a look at some of the best electric fillet knives that will not only work well but are also durable and safe to use.
Quick Overview – Best Electric Fillet Knife for Fish
Quick Comparison – Best Electric Fish Filleting Knives
Preview
Best All Around
Best Value
Title
Mister Twister 120V Electric Knife (Green/Yellow)
BLACK+DECKER Electric Carving Knife, Black
Proctor Silex Easy Slice Electric Knife for Carving Meats, Poultry, Bread, Crafting Foam and More, Lightweight with Contoured Grip, White
Cuisinart Electric Knife,1 Blade, Black,1 EA
Best All Around
Preview
Title
Mister Twister 120V Electric Knife (Green/Yellow)
Best Value
Preview
Title
BLACK+DECKER Electric Carving Knife, Black
Preview
Title
Proctor Silex Easy Slice Electric Knife for Carving Meats, Poultry, Bread, Crafting Foam and More, Lightweight with Contoured Grip, White
Preview
Title
Cuisinart Electric Knife,1 Blade, Black,1 EA
Buying Guide
These days the market is flooded with a variety of electric fillet knives, however, you will find that not all of them are great. Many of these knives have one or the other drawback. So, if you want a good quality electric fillet knife then you might have to spend some extra bucks.
You should read the product description thoroughly to know the different features such as the blade size, design, the power of the motor, and the type of handle.  Let us look at the details that you should keep in mind before investing in a good quality electric kitchen knife.
Size
To know the size of the knife that you need, you should consider the size of the fish that you fillet routinely. Small knives are good for slicing smaller fish such as trout, herring, and tuna. On the other hand, you need a larger knife for slicing bigger fish such as tuna, swordfish etc.
For getting the best cuts, the knife should not be more than 2inches longer than the fish. Generally, a 7-inch knife works best with most of the fish as it is neither very short or very long.
Blade Material
Blade material is another important consideration when deciding which electric fish fillet knife to buy. You should know the type of steel used as it will decide how the knife is going to work.
Stainless steel is the highest quality of steel available while plain carbon steel and alloy steel rust easily and are not a good choice. So, you should go for a blade that is flexible, retains its edges, and is easy to sharpen.
Durability
The durability of an electric fillet knife depends upon the blade, handle, and the motor. Moreover, it depends on how you take care of the knife. You should clean the knife properly after every use and invest in a good quality stainless steel bade that need not be sharpened that often. Also, go through product reviews to see how long the knife has lasted and whether its motor is good enough.
Also, check if the handle is ergonomic. This type of handle design helps you hold the knife comfortably for long hours without getting tired. There are some knives whose handle gets significantly warm while operating them. As it is an electric knife, the handle should be insulated to prevent heating and electric shock.
Speed
One should check if the knife has a variable speed as it is a good feature to have for cutting and slicing different types of meats, breads, and vegetables.
Although this feature is not that common, there are many variable speed hand blenders available in the market that have an attachment for an electric knife. This is good as you don't have to invest in a knife separately but go through the product description and reviews carefully before choosing to invest.
Cord Length
There are cordless electric fillet knife models that make it easier to move round while holding the knife. Also, make sure that the cord doesn't get cut by accident, so it should have an adequate length to provide flexibility that is required while cutting and slicing.
Although you can use an extension with the knife, but it is always good to have something that does not require an accessory.
Safety
Safety is always a major concern when you are buying an electric knife. Choose a knife that helps you stay safe by including a locking safety mechanism. Most knives have a safety button on the handle.
This button ensures that the knife is not turned on accidentally and it makes it safe to use for you and your family. Some buttons are also pressure sensitive and make it easy for overall use.
The Best Electric Fillet Knife for Fish Review – Our Top Picks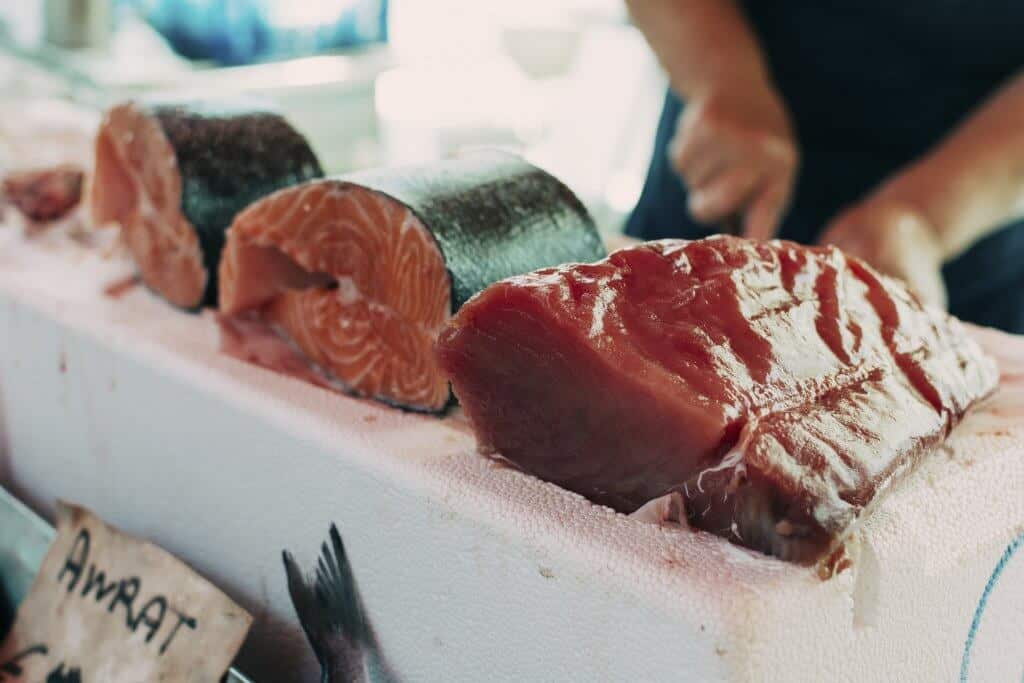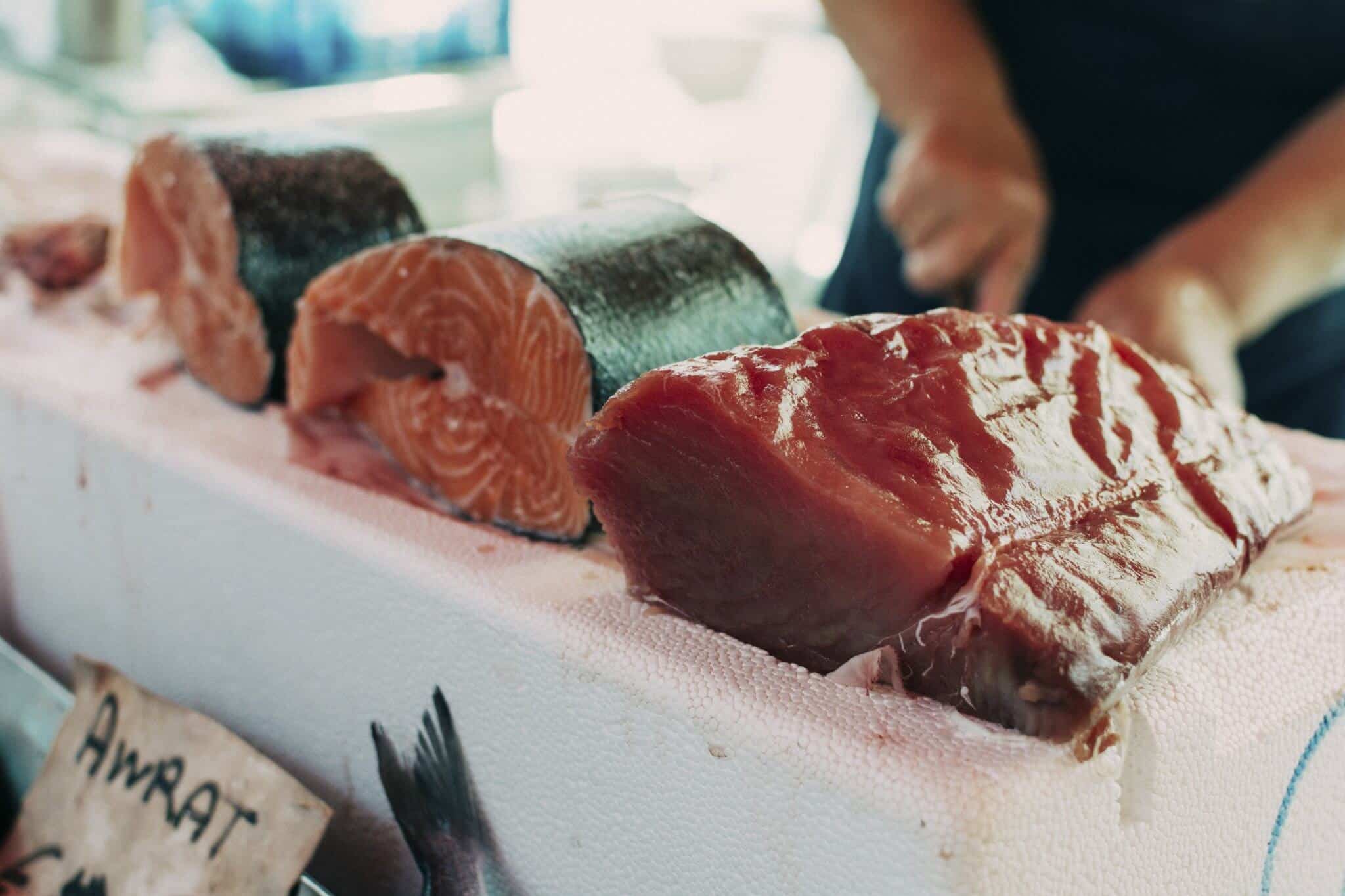 The Best All Around Electric Fillet Knife for Fish
Pros
Legendary Mister Twister action
Features 120V AC
Features a Convenient blade release
Features a safety lock
Cons
It may feel warm even when used for a short duration
The Mister Twister electric knife 120V mister is a new version launched by the manufacturers. This knife and has 30% more power and 50% more torque. It has a relaxed hand design that ensures you can hold the knife for long without getting tired. Also, it has heavy-duty gears and bearing that make it sturdier.
The knife Mister Twister 120V can not only be used for filleting fish but you can also use it for cutting meat roasts, turkey and chicken and get the job done. This knife works for years without replacing the blades. The trigger is designed well and easy to push. You need not worry while making a tough cut as it makes carving dinner a breeze.
Features and Specs
Product Dimensions:8 x 12 x 2 inches
Shipping Weight:1.55 pounds
Amazon
The Best Value Electric Fillet Knife for Fish
Pros
9-Inch Stainless Steel Blades
Comfort Grip Handle – The ergonomic handle gives added control during slicing
Dishwasher-Safe Removable Parts
Safety Lock Button – Prevents the knife from turning on while it's plugged in
Blade Release Button – Unlocks the blades for easy removal
Cons
You must push and hold the safety button in in order for the knife to work. It may be a safety feature but for those who have to use it with one hand it makes it difficult to use
The BLACK+DECKER Comfort Grip 9" Electric Knife makes slicing super easy. The 9" stainless steel blades snap securely into place and there is also an intuitive trigger that turns the knife on and off. You can use this knife for a variety of purposes including carving meat, slicing bread and cutting foam.
The Comfort grip handle makes it super easy to minimize wrist fatigue and has a comfortable and ergonomic design. Moreover, The BLACK+DECKER Comfort Grip 9" Electric Knife is easy to clean as all you need to just hit the button for blade release and then you can comfortably line up the blades in your dishwasher.
The serrated blades are good for sawing fast and evenly through meats, breads, foam, and much more. Plus, they never need to be sharpened. The ergonomic handle is engineered to increase comfort and control as you slice up your favorite meats. All this at a great price, makes this our choice for a cheap electric fillet knife for fish!
Features and Specs
Product Dimensions 9 x 2 x 2.5 inches
Item Weight 12 ounces
Amazon
The Best Lightweight Electric Fillet Knife for Fish
Pros
Perfect for meats and great for slicing breads
Stainless steel blades
Ergonomic handle
Touch-button control
Lightweight
Cons
Although the handle has an ergonomic design, some people might find that it is heavier to use
If you find knives with heavy handles cumbersome then Proctor Silex Easy Slice Electric Knife is the best choice. It is easy to grip and the perfect kitchen equipment for filleting your favorite catch.
Not only this, you can easily slice through other meats, breads, and much more without putting in a lot of effort. If you want to cut foam for your DIY projects then Proctor Silex Easy Slice Electric Knife does the job for you. The stainless-steel blades ensure that you have an even slice and the grip is hand-contoured so that you can easily use it for slicing large quantities of meats.
Even if you are left-handed, the handle works comfortably for you. Moreover, the Proctor Silex Easy Slice Electric Knife is durable and does not burn a hole in your pocket. The manufacturer has come up with a range of electric kitchen knives that are great according to North American Electrical standards. These handy knives help in saving your time and are designed beautifully.
Features and Specs
Product Dimensions: 17 x 2.4 x 2.6 inches
Item Weight:1.5 pounds
Amazon
The Best Versatile Electric Fillet Knife for Fish
Pros
Powerful and easy to use. Cord length: 36 Inches
One-touch on/off operation
Ergonomic handle, comfortable for right and left-handers
Stainless steel blade cuts through meats, breads, vegetables and more
Blade is removable and dishwasher safe
included components: Electric Knife handle
Stainless Steel Blade
Instruction book accompanies the pack
Cons
The case design or case material is not that great and tends to break after a couple of months of usage
The Cuisinart CEK-30 Electric Knife is a great combo of performance and versatility. It is serrated to provide a good cutting action. If you are looking for a knife that cuts your meats and bread with great speed and precision then this knife is the best choice.
The motor is very powerful and the full-size stainless-steel blade cuts through your food evenly. Moreover, this knife is easy to operate because of its ergonomic handle and one-touch on/off control. The best part is the 5 feet cord that can be used to carve the meat on your table.
Cuisinart CEK-30 Electric Knife can be used comfortably for both left-handed and right-handed people and is easy to maneuver.
Features and Specs
Product Dimensions 2 x 2.8 x 11.9 inches
Item Weight 55 pounds
Amazon
Best Electric Fillet Knife for Fish – Frequently Asked Questions (FAQ)
Sharpening an electric fillet knife is easy and all you need is a block knife sharpener. This sharpener is American made and is used specifically for the purpose of maintaining your knives original cutting edges.
You can sharpen any serrated knife with this sharpener and there is no need to remove the blade as well.
Electric fillet knives are easy to use as compared to conventional filleting knives.  They are made in the form of reciprocating saws that have two twin blades mounted next to each other on the handle of the knife. As soon as you turn on the knife, one blade moves forward while the other one pushes backward.
So, you don't need to apply a lot of pressure to remove the skin and flesh of a fish. The best part is that it helps you maintain control in the cleaning and filleting process. If you routinely cut a lot of fish then it is better to invest in an electric fillet knife as it makes your job easy.
An electric fillet knife is better than the conventional knife as it has more efficiency. It has a faster speed so you can fillet twice as fast. A good electric fillet knife helps in cleaning the scales without too much effort, though you might consider buying a fish scaler for this purpose. Moreover, you can make cleaner cuts so that the food looks more appetizing.
If you are filleting larger fish such as salmon and tuna then having an electric fillet knife works wonders as it gets the job done in no time. Moreover, your hands don't get tired and all you need to do is to hold the knife in the desired direction.
You could for example consider getting a saltwater knife, if you are fishing in the ocean a lot and are maybe looking to take it on the trip.
Happy Filleting!
Whether you are looking to eat cod, bass or something more adventurous like bowfin, using an electric fillet knife for filleting and cleaning a fish is easy and quick if you are using the best electric fish fillet knife. However, if you use a poor-quality knife, worst case it can result in an injury and you will surely need to get replacement blades sonner than later.
So, go for one of the best electric fillet knives on the market that provides maximum versatility and can be used not only for fish but also for other meats, breads, and vegetables.