Want to go fishing and catch some really nice crappie? You will need one of the best rod and reel for crappie fishing to maximize your chances of a successful trip!
Don't know which rod and reel for crappie fishing are the best for you? Don't worry! We are here to help you with exactly that!
Quick Overview – Best Rod and Reel for Crappie Fishing
Quick Comparison – Best Crappie Fishing Rod & Reel
Preview
Best Rod
Best Reel
Best Rod and Reel Combo
Title
Lew's Wally Marshall Signature Series 7'0" Light Crappie Rod
KastKing Centron Spinning Reel, Size 2000 Fishing Reel
Zebco Crappie Fighter 102L Combo 6 Lb Spinning
Best Rod
Preview
Title
Lew's Wally Marshall Signature Series 7'0" Light Crappie Rod
Best Reel
Preview
Title
KastKing Centron Spinning Reel, Size 2000 Fishing Reel
Best Rod and Reel Combo
Preview
Title
Zebco Crappie Fighter 102L Combo 6 Lb Spinning
Buying Guide
Crappie is the most common fish that you will find all across North America. It is easy and fun to catch as it hangs around weed beds, boulders, and log all day. Whether you are a fan of the white crappie or the black crappie, you need to know that it is a small and sensitive fish; thus, you require the perfect rod and reel. In order to make your fishing experience comfortable, you need to get the right equipment.
When it comes to buying the perfect product, things get a lot confusing when you look at the sheer number of products available in the market. We have put together this compact yet comprehensive buying guide for you so that you know what factors to look for in the best rod and reel for crappie fishing. Hopefully, this will help you educate yourself on the few factors you must look out for when buying the desired product.
Let's take a look at it.
Rod for Crappie Fishing
As you are looking to fish for crappie, you need a sensitive rod in order to detect the bites of these small fish and good balance to reliably reel your catch in. Other than that, these are the main factors to look for:
Length of the Rod
The length of the fishing rod depends on you. Crappie fish are small; thus, people tend to go for short fishing rods. However, you can get good results with long fishing rods as well, especially if you're going to fish with a boat.
The length of a crappie fishing rod is determined by where you will be fishing and your personal preferences. The further you want to cast, the longer the pole should be.
Typically, a 10 ft. long pole is suitable for use, but people use 16 ft. long crappie fishing rods as well. Keep a balance between the portability, weight, and length when choosing the perfect length.
There are pros to using both the short and long rods. For quick and accurate casts, short rods are nice. They also get into tight areas easily. Crappie fish usually hide in shallow waters, which have lots of rocks and plants to hide under. You will have to avoid caught or tangled fishing line when casting. Thus, you should look for a long rod that will allow you to sneak up stealthily on the crappie, without even casting at times.
Material of the Rod
When it comes to crappie fishing, ultra-light rods are the best. Graphite is a pretty lightweight material and is durable as well. It is hypersensitive as well. This means that you will feel even the slightest bite and nudge from the fish along the entire length of the rod.
Power of the Rod
Crappie are small fishes, with the average being 4-5 inches in size. Therefore, you don't need a fishing pole with a lot of power. Moreover, with more power, the rod becomes less sensitive, which is not ideal for crappie fishing.
Action of the Rod
When the rod is flexed, it takes some time to return to the straight position. This is known as the action of a rod. Normally, there are three types of actions that rods have.
You would think that a fast action rod would be perfect, but that is not the case. Even if you have to compromise on the sensitivity, a low action rod works best for crappie fish since this rod will absorb some of the shocks as you pull the rod out of the water. This will not rip the hook right out of the fish's mouth, which tends to happen if you use a fast action rod for crappie.
Guide
The rings that you place on the pole to keep the line in place are the guides. Good crappie fishing rods come with stainless steel guides as they are durable yet lightweight.
Reel for Crappie Fishing
You can use spinning reels or baitcasting reels for crappie fishing. Each has its advantages. You need to keep in mind various factors such as the gear ration, ball bearing system, durability, etc. when choosing the perfect baitcasting or spinning reel for crappie fishing.
Weight
Weight is an important factor when picking a reel for crappie fishing as it influences a reel's usability. The perfect reel is lightweight & weighs less than 7 ounces. It needs to be pretty comfortable to deal with so that you can use it throughout the day without any difficulty. If you are using a heavy reel, you will end up feeling tired pretty quickly.
Drag System
The drag system in a reel is very important. It provides you with the right amount of resistance required to keep the fish from all of your line off the reel. Usually, reels come with drag systems made of carbon-fiber.
You should look for a drag system that allows you to calibrate the drag according to your needs. You have to apply the drag in a smooth and even manner. Otherwise, there is always the risk of line breaking because of jerky drag.
Ease of Use
You need to get something that is comfortable, well-adjusted and balanced. The reel should be ergonomic so that even if you are fishing all day long, you don't get tired as you cast over and over. Everyone has a different comfort level. Therefore, you need to test and see what it is that you are comfortable with. Read the instructions for using the reel since using a reel the wrong way can cause issues as well.
Left and Right Handed Reels
Some reels are made specifically from the right or left-handed people, while a few are ambidextrous. If you cast with the right hand, you will have to reel in with your right hand. Therefore, you would need a left-handed rod and a right-handed reel. Try to find a reel and rod which can be tweaked according to your needs or get one that is tailored specifically to your needs.
The Best Rod and Reel for Crappie Fishing – Our Top Picks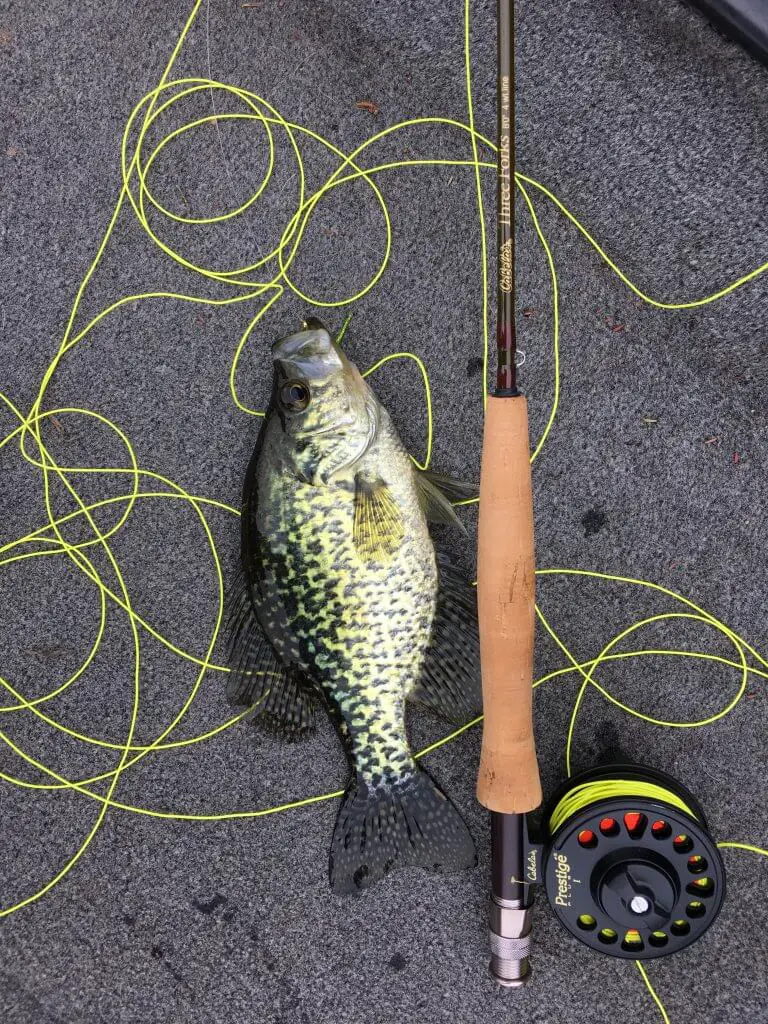 If you're a passionate angler who loves freshwater fishing, then you know that while crappie is one of the most popular freshwater fish to catch, they are pretty skittish. Thus, you need to be careful and stealthy while trying to get a strike. In order to maximize your chancing of catching crappie, you should have the right tools.
When it comes to choosing the best rod and reel in the market, we see a wide range of products that can make picking the correct one an exhausting task. If you have never used or bought rod and reel for crappie fishing before, it can get pretty confusing. There are several factors that need to be kept in mind before buying the one you think best suits your needs and requirements.
This is where we come in. In order to make the buying process simpler & easier for you, we have reviewed only the absolute top 3 best rods and reel for crappie fishing.
The Best Rod for Crappie Fishing
Pros
Long handle
Graphite-construction
Highly sensitive
Great design
Cons
The two-piece setup needs time to setup correctly
Requires a lot of space to cast
When it comes to fishing rods for crappies, Lew's is a famous and renowned brand. The Wally Marshal Pro series rod has the perfect combination of elements required to make an excellent crappie rod. The Wally Marshal Pros is a sensitive and lightweight rod that will be able to detect the smallest of bites from crappie. Even the reel seats are made out of graphite to give you the amount of sensitivity you require to fish crappie.
The pole, as well as the reel seat of this fishing rod, is made with premium-quality IM8 graphite. The spinning guides are constructed from stainless steel. There is a cork handle with extra length that gives better control when you are casting and reeling in a fish. It is 8 ft. long rod with medium to light power and a medium action.
Moreover, you get a stainless-steel hook keeper along with this rod. The length of this rod makes casting easy; however, the rod takes up a lot of space. Thus, you need to make sure that there is ample room in the fishing spot before you take this rod along.
Features & Specs
Power: Medium-Light
Length: 8."
Line Rating: 4-10 lbs.
Lure Rating: 1/32-1/4 oz.
Amazon
The Best Reel for Crappie Fishing
Pros
Quiet
Elegant Design
Smooth operation
Great drag system
Precision Pinion Gear System
Cons
At this price point, really none
The KastKing Spinning reel is a lightweight spinning reel, which is ideal for crappie fishing. It has a super smooth casting, and it is pretty easy to use for beginners and amateurs. The drag system of this reel is pretty stable.
It is a great quality reel for crappie fishing and that too at an affordable cost. KastKing is a reliable company when it comes to fishing supplies. This fishing reel is another great product from the company with its durable and lightweight frame and smooth operation.
You get plenty of features at a low price. The graphite frame, along with the computer balancing system, make sure that you get the best out of this fishing reel. The stopping power of the amazing drag system of this fishing reel is up to 12 lbs.
The hardened main metal shaft, along with the mesh drive gear, makes this reel stand out. The precision-machined minion gear provides the reel with enough power to catch crappie easily. The nine ball bearings, along with the anti-reverse braking system, give a very smooth operation.
Not only does it have a smooth operation, but it also has a sleek and elegant design as well. It has two-color, high-strength anodized aluminum spool. The power launch tip is helpful for farther casting.
Features & Specs
Gear ratio: 5:2:1
Graphite Frame
Maximum Drag: 12 lbs.
Mono Line Capacity: 8 lbs./ 235 yards
Amazon
The Best Rod and Reel Combo for Crappie Fishing
Pros
Ultra-light
Good sensitivity
Smooth operation
Pre-spooled with 6 lbs. of line
Both left and right-hand retrieval
Quick anti-reverse
Cons
If you want to cast easily, then you should look for a long fishing rod, as it would feel more comfortable. Zebco Rod and Reel combo for crappie fishing are perfect in that respect. It is long and ambidextrous, which means literally anyone can use it with relative ease. Since it is a spinning combo, it has balanced bearings and a good gear ratio.
It has a 7 ft. 2 piece rod, which is thicker than a regular ultra-light rod but performs precisely like one. It has a ball bearing drive. The spool in this product is chrome-plated.
The Crappie Fighter Combo has a well-designed spinning reel. There is a set of anti-reverse, along with one bearing. The gear ratio of this reel is 4.3:1, with a retrieval rate of 18 inches/turn. The combo has a pre-installed reel on the left, which you can reverse as per your requirements.
It has an ultra-light, compact spinning reel along with a 7 ft — 2-piece power rod. The rod has a fast action, which helps in catching crappie. The drag system is front-adjustable. This product has a comfortable EVA handle. The blank is made of durable, high-quality glass. With the 18 inches/turn retrieval rate, you will have the fish safely inside your boat before they even know what hit them!
Features & Specs
Gear ratio: 4.3:1
Mono Capacity: 6 lbs./60 yards
Line Rating: 4-8 lbs.
Lure Rating: 1/16 – 1/4 oz.
Amazon
Frequently Asked Questions (FAQ)
The stiffness is basically a measure of the action of the rod. The stiffer a rod is, the faster it will be. The flexible a rod is, the slower the action that it has will be.
Yes there are indeed! We have written extensively about the best ice fishing options for rods and reels to catch crappie.
A crappie pole is a fishing rod that is specifically designed to be used for crappie fishing. They are durable, ultra-light, and very sensitive which makes them perfect for crappie fishing. They are usually longer than normal fishing rods, which allows them to sneak up on the fish and catch them stealthily.
Yes, they can be used to catch fish of other species as well. However, they do work best if the fish are of small size. We have separate articles for the best rods for trout, bass and salmon fishing!
Spinning rod and reel are lightweight and are pretty effective when you are trying to catch crappie with artificial lures and jigs, particularly in the shallow water.  Baitcasting rods and reels also work well for crappie fishing.
In certain situations such as drifting, dipping, trolling, etc. it is easier to drop the lures and baits straight down into the water with baitcasting reels. Therefore, you need to consider the conditions you are going to fish in before making a decision.
Have a look at the best crappie rod holders!
The crappiemasters do a great job of explaining what to look out for in a rod for crappie fishing. If you plan to go fly fishing for crappie, check out these tips!