Are you looking to buy the best salmon fishing rod and reel combo? Can't find one that is up to your standards? Worry not, we are here to help you!
Quick Overview – Best Rod and Reel Combos for Catching Salmon
Quick Comparison – Best Salmon Fishing Rod and Reel Combos
Preview
Best All Around
Best Value
Title
Okuma Great Lakes Trolling Combo with CLX-300La Rod, 8'6"/Medium
KastKing Centron Spinning Combos,8ft Heavy-Full Handle,5000 Reel
Penn SSVI8500701H Spinfisher VI 8500 combo, IXP5 sealed body reel, Black Gold
Best All Around
Preview
Title
Okuma Great Lakes Trolling Combo with CLX-300La Rod, 8'6"/Medium
Best Value
Preview
Title
KastKing Centron Spinning Combos,8ft Heavy-Full Handle,5000 Reel
Preview
Title
Penn SSVI8500701H Spinfisher VI 8500 combo, IXP5 sealed body reel, Black Gold
Buying Guide
How to know which salmon fishing rod and reel combo is the best? By learning the various features that make one product better than the others, of course.
This comprehensive buying guide will take you through the features you should base your final decision on.
Let's get started.
Types of Salmon Fishing
Saltwater Fishing
The first way to fish salmon is by using a boat or alternatively a kayak. You will need a rod and reel combo that can withstand salts present in the water and is anti-corrosion. You can use trolling and drifting to catch salmon via a boat. You would need tackle that doesn't get caught in seaweed or other grass.
Furthermore, you have to balance the weight and go deep into the water to catch salmon. You should keep in mind that a boat needs to be maintained and you will have to spend money on its upkeep.
When you are fishing from a boat, and are planning to troll, then you should get a rod about 7 ft. in length. It needs to be strong as well. Salmon is full of energy and large in size, so you need a rod that can combat that. Even if you have to sacrifice on sensitivity, it doesn't matter since salmon don't nibble, they bite!
The rod needs to be flexible. A heavier rod has some benefits, but you don't want to get too tired after holding the heavy rod. Thus, find a balance between weight and action of the rod.
If you are going to troll, you will require a strong reel. The gear that you use for trolling is heavy, but it complements salmon fishing since salmon are heavy as well.
If you are going to drift, then look for reel sills that will hold against a fighting fish. Since it is not going to be under constant stress, you don't need to look for an extra-strong reel, though.
You can also fish for salmon from the shore. You will again need a rod and reel combo that will not corrode. You don't have to be concerned with weed, etc., in this case.
Your main priority, in this case, is casting far out. If you plan on salmon fishing from the shore, you should use bottom bouncers and crawfish as bait.
If you are fishing from the shore, make sure that your fishing rod is resistant to corrosion. You should also clean your rod and reel combo after every fishing trip. If you buy a good quality rod with anti-corrosive properties and don't clean it up properly, it will be of no use in the long run.
Since you are going to be casting, you should look for a long and lightweight rod. Again, you are going to catch a fish that weighs more than 10 pounds, so look for a strong rod with heavy action.
When casting for salmon fishing from the shore, people tend to use baitcasting or spinning reels. Just make sure that your reel is made of anti-corrosion material. Consider a conventional reel, if you are going for that big catch!
Freshwater Fishing
In freshwater fishing, you can use floats to catch salmon. You can also fly fish in various rivers. Freshwater fishing requires constant casting, and you would need bottom bouncers.
If you are going freshwater salmon fishing, look for a rod that is easy to cast. Moreover, strength is also a factor that will play a role. Use good lures that will attract the salmon.
The main difference between the freshwater salmon rods and saltwater salmon fishing rods is sensitivity. Freshwater salmon rods need to be more sensitive as the salmon in freshwater are commonly steelheads, and they nibble. Therefore, you need a rod that will feel the slightest of bites, making it easier for you to catch fish.
Freshwater reels need to be lightweight so that you will be able to cast easily. Baitcasting reels weigh less than spinning reels. Spinning reels are easy to use and are perfect for beginners.
If you are fishing in shallow rivers and streams, then a fly fishing rod and reel combo would work best. When you are fishing in deep rivers and lakes, then you should get a spinning reel along with a casting rod.
Features of Rod and Reel Combo
Type of the Rod
The type of rod that you use for salmon fishing is essential. The most commonly used rods when it comes to salmon fishing are baitcasting, spinning, fly fishing, and trolling rods. Before you choose one type over the other, you have to consider the fishing technique that you use most often.
For beginners, spinning rods combined with spinning reels work the best. Advanced fishermen need to take a look at baitcasting rods and reels.
Trolling rods employ a method that is used in both saltwater and freshwater fishing. The main advantage of these rods is that they have a pretty durable construction. Fly fishing rods are longer than any other fishing rods. Think about your technical prowess and comfort level, then choose the rod according to that.
Length of the Rod
The length of a salmon fishing rod can be anywhere from 7 ft. to 10 ft. The length of the rod varies on the technique that you are employing to fish.
However, keep in mind that the longer the rod is, the farther you will be able to cast.
Weight of the Rod
The lighter a rod is, the easier it will be for you to handle it. Look for a well-balanced rod if you want a heavy one. This will be good for overall control, plus it will give you better control as you cast.
Material of the Rod
Usually, fishing rods are made of fiberglass, graphite, or a mixture of both. Fiberglass is known for its strength, while graphite is praised for its flexibility.
Go for a composite fishing rod so that you can get both flexibility and strength.
Action of the Rod
The action tells you when and where a rod will bend as pressure is exerted on one end of it. If the rod is medium action, it will bend in the middle. Action is basically associated with the taper on the rod, and taper depends on the thickness of the rod.
Various types of action are used for different sorts of purposes.
If a rod is a fast action, it will bend at the tip. A fast action rod is more sensitive, and you would not need to pull the rod a lot to set the hook.
It is a good option for the single-hook lure.
If you have a slow action rod, it will bend towards the base of the rod. Slow action rods are good when it comes to long casting.
They work perfectly with treble hooks.
Power of the Rod
Power gives the rod the strength to lift the fish. You have heavy, medium, or light power. The weight of the fish line and the power of the rod are related to each other. If a heavy line is used with a lighter power rod, it will damage the rod.
Similarly, a fishing line can break easily if the rod is heavy powered and not compatible with the line.
Responsiveness of the Rod
This is related to the flexibility of the rod. Responsiveness tells us about the speed of the rod when it is snapped. The weight of the rod and the material used in its construction tell us about the responsiveness.
Usually, a fishing rod has multiple layers of construction, so don't judge the responsiveness by the outer layer only. If a rod is light, it will be more responsive, especially at the tip of the rod.
The Reel
Professional salmon anglers prefer spinning reels or trolling reels. You have to remember that salmon is a kind of fish that will fight you.
You will not be able to sit back in your boat and relax as you reel the fish in. If you catch a 25-pound salmon, it is going to leave you breathless for sure.
Durability
The rod and reel combo needs to be light in weight. Moreover, it needs to able to withstand the harsh weather. Salmon is going to fight when you catch it, so the combo has to be durable.
After all, it would not do if your reel breaks or stops functioning, and it results in you losing the catch.
Additional Features
Ball bearings, guides, drag systems, and gear ratios are also important things that you should consider when choosing the best rod and reel combo for salmon fishing.
The Best Salmon Fishing Rod & Reel Combos Reviewed – Our Top Picks
It doesn't matter whether you are looking to catch sockeye salmon or king salmon or whether you go salmon fishing in the morning or at night, you need the right fishing equipment to do so. If you don't have any knowledge regarding salmon fishing rod and reel combo, then you are going to have a hard time finding a reliable product.
To make your buying process more comfortable, we have put together compact yet comprehensive reviews of the best salmon fishing rod and reel combos available in the market today. The buying guide at the top will help you know more about the factors you ought to look at before deciding on the final product.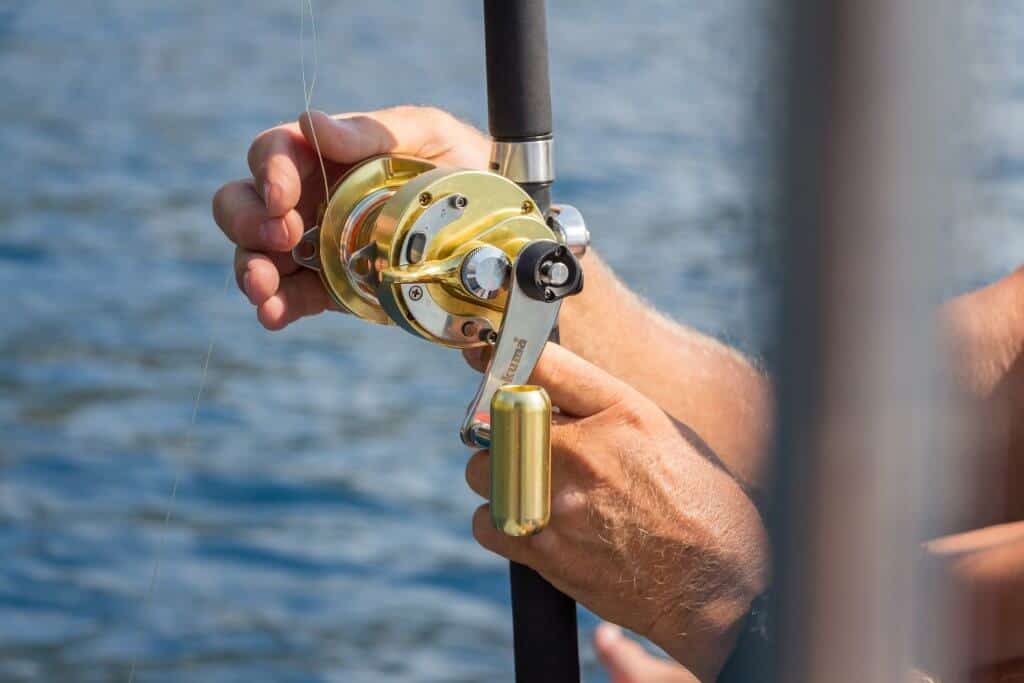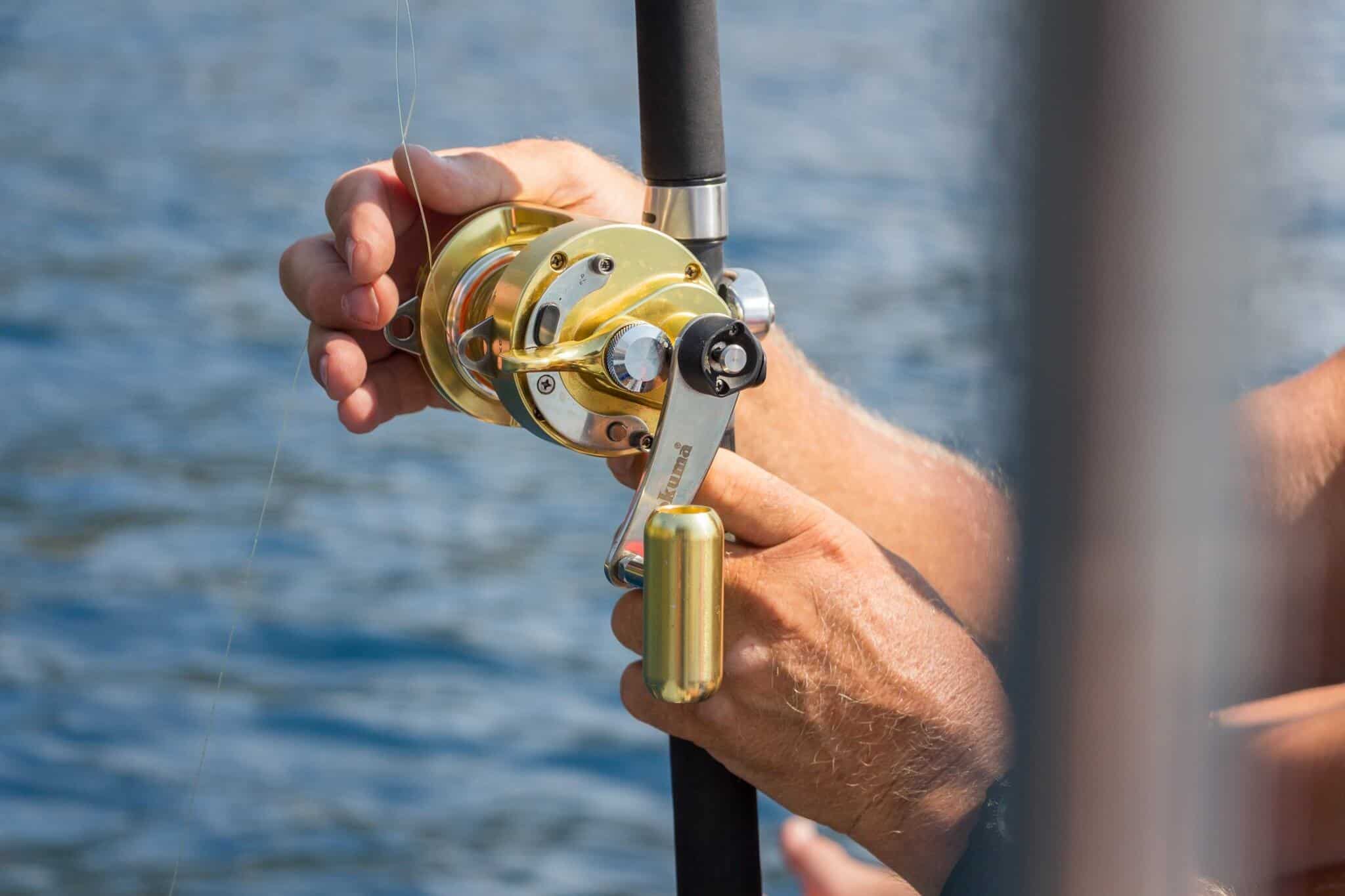 The Best All Around Salmon Fishing Rod and Reel Combo
Pros
2-piece rod
Great build
Power handles give great control
Thick rod
Double-footed guides
Cons
The reel has relatively low drag power
With this trolling rod and reel combo for salmon fishing, you get the maximum strength. This downrigger trolling rod is something that you can count on when salmon fishing. Due to its fiberglass construction, you can rest assured that it can withstand the harsh fishing conditions.
Few brands cater to the needs of modern fishermen perfectly. Okuma is one of them. They have been manufacturing some quality products for fishing salmon and other species for years.
This Okuma Trolling rod and reel combo is a saltwater alternative that can be used safely without the fear of corrosion. Don't let the few negative reviews fool you, they are mostly due to the product arriving damaged. If this happens to you, you can simply return it.
Features and Specs
Guides: Stainless Steel
Blank: Carbon
Handle: Cork/EVA
The Best Value Salmon Fishing Rod and Reel Combo
Pros
EVA rear handle
Durable
Triple-disc drag system
Smooth casting
Outstanding Price / Value
Cons
Some reports of the rod breaking after heavy usage
The KastKing Spinning Rod and Reel combo for salmon fishing are made of durable Toray IM6 graphite. Since it is made of graphite, it is pretty light as well. It is 8 ft. in length and has 5000 size reels. The rod is a 2-piece set. The power of the rod is heavy, while the action is fast. It has a contoured EVA handle. The stainless steel guides are durable and corrosion-resistant. The O-ring inserts work well with both mono and braided lines. Despite all this, it is a relatively cheap salmon fishing rod and reel combo!
The frame of the reel is made of graphite. The spool is of aluminum. It weighs only 13.3 oz. The gear ratio is 1.5:1, and the triple-disc drag system has a stopping power of almost 20 lbs. The 9 ball bearings are corrosion-resistant. There is a reverse ball bearing as well that helps in smooth retrieval and casting.
Features and Specs
Spinning reel: Size 20
Length: 26."
Power: Light
Handle: EVA handle
Guides: Stainless steel
Amazon
The Best Quality Salmon Fishing Rod and Reel Combo
Pros
Sealed Drag System
Nice Build
Durable
Anti-corrosion
Cons
The Spinfisher rod and reel combo is a high-quality product by Penn. The rod and reel combo is not only aesthetically beautiful, but it is also extremely durable and has a great performance.
The spinning reel frame is made of metal. The spool, along with the line capacity rings, is made of anodized aluminum. The reel has 5 stainless steel ball bearings along with one anti-reversal ball bearing.
The best thing about this rod and reel combo is the Slammer drag system that has 3 HT-100 washers. With its watertight design, you don't have to worry about water getting inside the gearbox or drag system.
The blank of the fishing rod is made of tubular glass. It has EVA lightweight grips. The guides are made of stainless steel. The inserts are of aluminum oxide. The rod provides the perfect balance between sensitivity, durability, easy casting, and comfort.
Frequently Asked Questions (FAQ)
Yes, you can find salmon in the Atlantic. After spawning, they migrate from North America in the spring. They usually spend the summer, autumn, and then the winter in the Labrador Sea.
In the spring, they move to East Greenland, West Greenland, Canadian arctic, and Labrador coastal area. The next winter, when they are ready to reproduce, they go back to their native freshwater to spawn.
There are many methods and ways you can employ to land a salmon. But we'd recommend that you sue the downrigger trolling method as it is the most effective. The main advantage of this method is that you can target salmon present at any depth without adding any additional weight.
You can use a fish finder as well with your well-tuned downrigger to catch Chinook salmon or a trophy-size king salmon.
The thing about colors is that as you go deep in the water, they start to dissipate and lose their identity. Red loses its color very quickly. 15 ft. deep into the water, and you will not see a red-colored line, rather a transparent one. So, if you are going for King salmon or coho, both deep-diving fish, you can use a red-colored fishing line.
However, Sockeye salmon will still recognize the line and its red color, so don't use it if you are fishing for them.
Congratulations! Have a look at our guide on cleaning a fish 🙂
Check out our articles on the best trout fishing, best crappie fishing or best bass fishing rods. Looking for some other fish? Contact me and I will look into it!
Have a look at gofishingtackle for even more input on how to choose a salmon fishing rod.
Happy Salmon Fishing!
There are various salmon fishing rod and reel combos out there. You can't look at all of them and then choose the one you think would work perfectly for you. If you know what features to look for, you will be able to make a better, informed decision.
Therefore, we have put together a comprehensive buying guide along with the reviews of the top 3 best salmon fishing rod and reel combos available in the market.
Hopefully, you will be able to find what you are looking for after reading this article. Finally, make sure to check out our 2 factors for successful salmon fishing!
Happy Fishing, Folks!