Are you looking for a fishing rod that will help you catch plenty of fish without your arms getting tired holding it for a long time? Take a look at the 3 best ultralight spinning rods that we have reviewed below!
Quick Overview – Best Ultralight Spinning Rod
Quick Comparison – Best Ultralight Spinning Rods
Preview
Best All Around
Best Value
Title
Daiwa Mini System Minispin Ultralight Spinning Reel and Rod Combo in Hard Carry Case
Ugly Stik® Spinning Combo
KastKing Calumus Ultra-Light Spinning Fishing Rods, Spinning-4ft 6in- Ultra Light-1pcs
Best All Around
Preview
Title
Daiwa Mini System Minispin Ultralight Spinning Reel and Rod Combo in Hard Carry Case
Best Value
Preview
Title
Ugly Stik® Spinning Combo
Preview
Title
KastKing Calumus Ultra-Light Spinning Fishing Rods, Spinning-4ft 6in- Ultra Light-1pcs
Buying Guide
Ask anyone who has tried an ultralight fishing rod, and you will find out that it is not only super easy to use but also easy to control. Not only that, you will have a lot of action when fishing with an ultralight rod. Even catching a smallmouth will give you an adrenaline rush as the fish tries to fight the hook and get away. It is excellent when you want to detect light strikes.
Ultralight rods have great sensitivity than the heavier ones out there.With light lures and lines, there is simply no alternative. But the million-dollar question is: How to know which ultralight spinning rod is the best one from amongst hundreds of other alternatives available in the market.
Don't worry; we are here to help. There are a few features and factors that make one product better than its alternatives. Let's take a look at what they are so that you will be able to make a better and informed choice.
Action
The action of a fishing rod tells you when and where a rod will bend as pressure is exerted on one end of it. If the rod is medium action, it will bend in the middle. Action is basically associated with the taper on the rod, and taper depends on the thickness of the rod.
Various types of action are used for different sorts of purposes.
If a rod is a fast action, it will bend at the tip. They will remain stiff for most of their length and bend only at the tip. A fast action rod is more sensitive, and you would not need to pull the rod a lot to set the hook. It is a good option for the single-hook lure.
The medium action rods will bend in half, and the slow action rods are flexible and bend in a parabolic shape.
If you have a slow action rod, it will bend towards the base of the rod, much closer to the handle. Slow action rods are good when it comes to casting far. They work perfectly with treble hooks.
Ultralight spinning rods are built with either moderate action or fast action. Having a fast action ultralight spinning rod means that they will give you a sensitive, delicate tip that will bend quickly. However, as the load of the fish kicks in, the strength of the blank will be there to support it.
A moderate action ultralight spinning rod will bend somewhat more. This will help you cushion the light fishing line that you are using in case of a heavy fight. You will have to sacrifice a little bit of control, but you will have good shock absorption.
Power
Power gives the rod the strength to lift the fish. You have heavy, medium, or light power. The weight of the fish line and the power of the rod are related to each other. If a heavy line is used with a lighter power rod, it will damage the rod. Similarly, a fishing line can break easily if the rod is heavy powered and not compatible with the line.
Ultralight spinning rods have ultra-light power. This means that under modest loads, your fishing rod will bend. However, ultra-light doesn't mean weak.
Depending on the weight of the lure and the depth of the water in which you will be fishing, most fishing rods work well with ultra-light power if you are catching small fish.
Length of the Rod
One of the major things you have to look at when getting the perfect ultra-light spinning rod is its length. The length of a fishing rod is determined by where and how you are going to use it. A longer fishing rod casts further. Shorter rods are more precise and accurate, but you will have to sacrifice on how far you can cast.
However, when you are using ultra-light fishing rods, you are not going to look for a rod that is built for casting. Most of the fishing you will be doing with an ultra-light fishing rod is with the help of light fishing lines and lures and for small fish. Therefore, a rod that is 7 ft. in length would suffice.
Weight
A lightweight fishing rod will allow you to fish for hours without experiencing tiredness and fatigue. However, you shouldn't compromise of durability and quality. Make sure that you find the perfect balance between durability, quality, and weight.
Material
Another thing that you have to keep an eye on is the materials that are used to build the rod. Brass and stainless steel are strong and long-lasting materials. Fishing rods with fiberglass blanks are also available in the market.
You need a strong and tough rod, which will brave the harsh elements, yet it can transmit the smallest of bites. Most ultralight spinning rods tend to be made of graphite or fiberglass. Graphite has great sensitivity while being light in weight, and it is strong as well.
Fiberglass is strong and durable; however, it is not very lightweight and sensitive when compared to graphite. There are rods with composite construction that have both graphite and fiberglass in them. You should get one of those for the best results.
Guides
The rings that you place on the pole to keep the line in place are the guides. Good ultralight spinning rods come with stainless steel guides as they are durable yet lightweight.
Drag System
The drag system in a reel is very important. It provides you with the right amount of resistance required to keep the fish from all of your line off the reel. Usually, reels come with drag systems made of carbon-fiber.
You should look for a drag system that allows you to calibrate the drag according to your needs. You have to apply the drag in a smooth and even manner. Otherwise, there is always the risk of line breaking because of jerky drag.
Handle
Since you are going to be fishing for a long time, comfort must be a priority. Thus, you need a handle that gives a comfortable and firm grip. Ultra-light spinning rods tend to have foam, cork, or plastic handles.
Cork handles are soft, lightweight, and increase the overall sensitivity of the fishing rod. Some high-quality rods tend to have graphite handles. These are highly sensitive but are very expensive.
A handle with split design makes handling a fishing rod even better. Browse various handles, and choose the one you think will suit your needs and requirements.
Bearing Number
The bearing number of the reel of your fishing rod is also another thing you should look at. Reels have ball bearings that allow them to operate smoothly with reduced friction. The more the number of ball bearings, the smoother the operation of the reel will be.
Reel Selection
Spinning reels are great since they can handle a light fishing line way better than baitcasting lines can. This because spinning reels have less friction. No matter how many bearings are present on a baitcasting reel, the friction will reduce your casting distance.
Ultralight ones are also referred to as microspinning reels. You can even get a decent one for under $50!
Ease of Use
The perfect ultralight spinning rod is easy to use, even in harsh weather conditions. The guides on the rod tend to affect the ease of use of the rod. The more the number of guides on the rod, the smoother will be the line flow, and the rod will bend easily.
The weight of the rod also plays a part in its ease of use. A balanced and comfortable handle also makes a rod more comfortable to use. The eyes on the fishing rod should be aligned with the length of the rod. All these factors combine to make the rod easy to use.
Cost
You are going to fish in all sorts of weather and water conditions. You need to find a fishing rod that is durable and has premium quality. But, you need to do so without breaking the bank. There are great quality ultralight spinning rods that come at a normal, affordable price.
Don't just go for the highest costing rod, thinking that the higher price tag is an indicator of high-quality as well.
The Best Ultralight Spinning Rod Reviewed – Our Top Picks
Ultralight spinning rods are easy to control and use in all sorts of weather conditions. As technology improves, we find more and more models available in the market. It gets hard to choose one that is perfect for you in every regard.
As an adventurous angler, you'd want to pack very little gear with you when you go out to fish. Having gear that is lightweight yet effective is a great plus.
As you feel the drag system of the fishing rod starts to complain under the weight of the fish, the adrenaline rush you feel, knowing that you have a fight on your hand is amazing. Catching trout, bass, and crappie with the help of an ultralight rod will put a big smile on your face.
Let's see the 3 best ultralight spinning rods available in the market. To help you choose the best one out there, we have put together a compact yet comprehensive buying guide for your perusal as well.
Let's get started.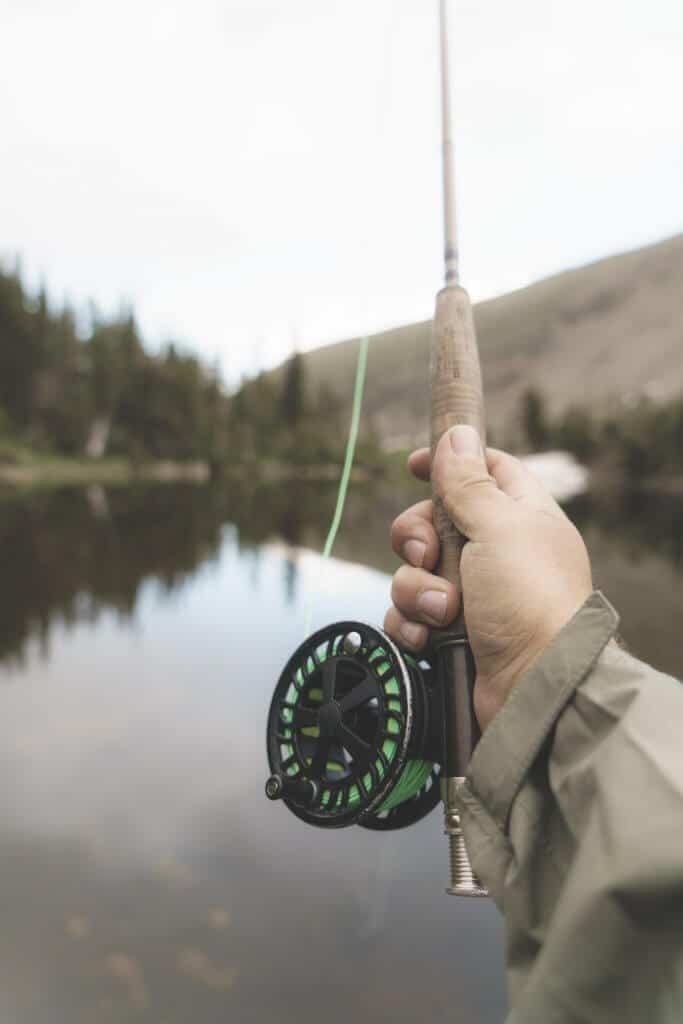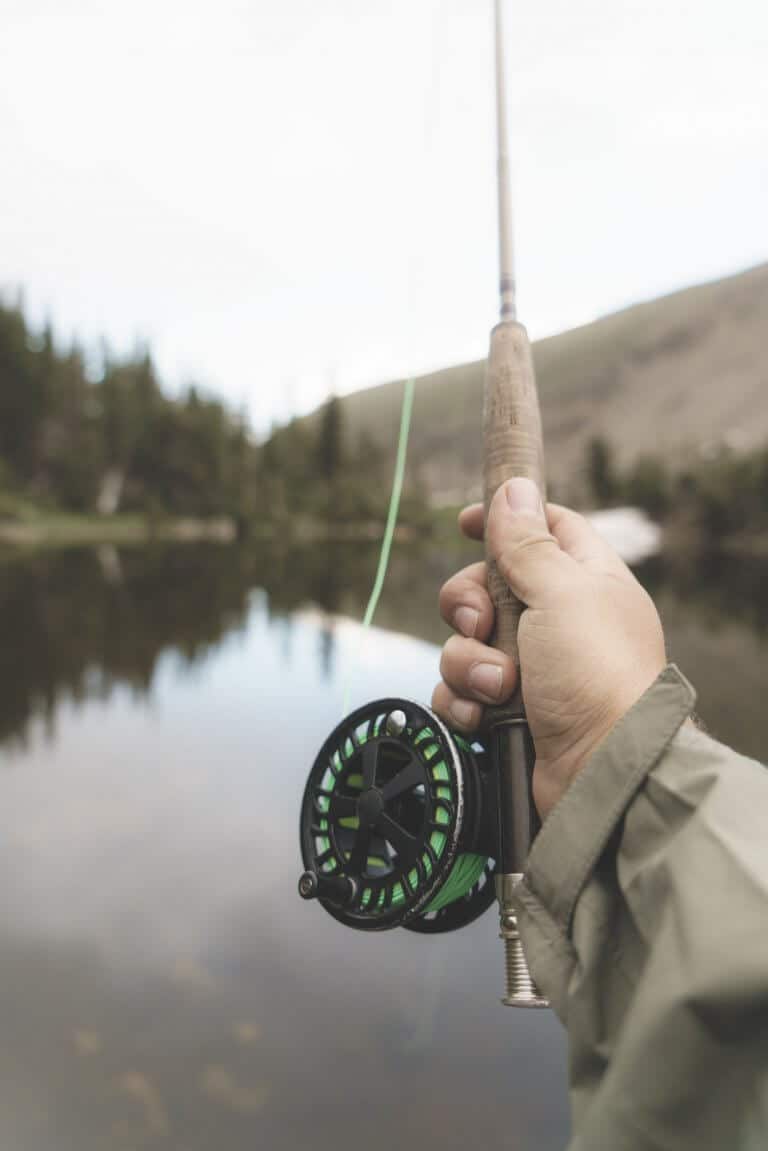 The Best All Around Ultralight Spinning Rod
Pros
Highly sensitive
Great design
Compact reel with Aluminum alloy body
Comes with a carrying case
Cons
Terminal tackle is not included
The first product on our list is the Daiwa Ultralight Spinning reel and Rod Combo. Equipped with an innovative  grip design, this fishing rod is very easy to use and handle. Although it is ultra-light, it is capable of handling walleye and other fish expertly without buckling under pressure.
It comes with a hard carry case that makes it easy for you to carry the rod around. It has an ultralight MS-S500T fishing reel that gives a comfortable casting. Moreover, you ger a manufacturer's warranty on the product as well that ensures that you don't face any problems with your fishing rod.
Features and Specs
1-to-1 retrieve
GyroSpin balancing
Length: 4.5 ft.
Line Weight: 2-6 pound test lines
Lure Weight: 0.0625-0.25-ounce lures
Amazon
The Best Value Ultralight Spinning Rod
Pros
Durable
Comfortable handle
Great balance
Lighter feel
Modern look
Great Price / Value
Cons
Some issues with the reel
The second product on our list is the Shakespeare Ugly Stik fishing combo. The balance and the feel of this product are second to none. Moreover, this fishing rod comes at affordable prices, making it the clear choice when looking for a cheap ultralight spinning rod.
The pole of the fishing rod is made from a combination of fiberglass and graphite. This provides you a lightweight spinning rod that is durable as well. Moreover, with the added sensitivity of the rod, you can rest assured that you will never miss a catch.
With its minimal weight, you will find that the Ugly Stik fishing rod is easy to use and maneuver. Because of its versatile design, you will be able to catch plenty of fish with the least amount of effort.
Features and Specs
Two-piece spinning rod
Length: 5 ft.
7-year rod warranty
Spinning reel: Size 20
Power: Light
Handle: EVA handle
Guides: Stainless steel
Amazon
The Best Ultralight Spinning Rod for Beginners
Pros
Ultralight
Sensitive
Great build
Smooth operation
Great drag system
Cons
Guides are slightly large
The KastKing Calamus Ultra-light spinning rod is ideal for beginners and amateurs. It has a super smooth casting. The drag system of this reel is pretty stable.
It is a decent quality reel for crappie fishing and that too at an affordable cost. KastKing is a reliable company when it comes to fishing supplies. This fishing reel is also another great product from the company with its durable and lightweight frame and smooth operation.
It comes in varying lengths and powers. You can choose the one which fits your requirements and needs. It has an ultra-light IM7 micro-polish blank along with a high-density graphite core. It has a 2-piece SKSS reel seat along with an EVA handle. It has 6 guides that are made of titanium frames.
Features and Specs
Micro polish IM7 graphite blank
Length: 4 ft. 6 inches
Action: Ultralight
Amazon
Frequently Asked Questions (FAQ)
Carbon fiber fishing rods are made of thin fibers of carbon that are bonded together with the help of crystal alignment technology. They are high-performance rods, are incredibly sensitive, and ultra-light in weight.
Moreover, they are strong and durable, as well. This is since carbon has a high strength to weight ratio. But these are highly expensive.
The stiffness is basically a measure of the action of the rod. The stiffer a rod is, the faster it will be. The flexible a rod is, the slower it will be the action that it has.
The lengths of fishing rods vary from 6 to 12 ft. However, increased length means additional weight. Therefore, ultralight spinning rods are usually 7 ft. in length at most.
If you want the best casting ability while maintaining precision and accuracy, then go for a 7 ft. ultralight spinning rod.
Check out ultralightanglers who have put together a great in-depth guide.
Word of Advice
The type of ultralight spinning rod you get will determine the kind of fish you catch and the kind of experience you have out there. To help you have an easy, comfortable, and enjoyable time, we have reviewed the best ultralight spinning rods. Moreover, the extensive buying guide will help you choose the best one on your own.
Ultralight rods have several benefits, especially if you are a beginner.