Going ice fishing and looking for the best ice fishing reel for walleye, crappie and perch that will last you through the tough weather and yield high-quality fish? You are in the right place.
Quick Overview – Best Ice Fishing Reel for Walleye, Crappie & Perch
Quick Comparison – Best Ice Fishing Reel
Preview
Best All Around
Best Value
Title
KastKing Centron Spinning Reel, Size 2000 Fishing Reel
Abu Garcia ICEMAX 4842-1331 Ice MAX Spinning Fishing Reel
Eagle Claw In Line Ice Reel, Carbon, Small
Best All Around
Preview
Title
KastKing Centron Spinning Reel, Size 2000 Fishing Reel
Preview
Title
Abu Garcia ICEMAX 4842-1331 Ice MAX Spinning Fishing Reel
Best Value
Preview
Title
Eagle Claw In Line Ice Reel, Carbon, Small
Buying Guide
Before you buy your fishing reel, there are a couple of things you should look at and consider. These are very important as they will decide whether you will have a successful, fun-filled experience, or whether you will face difficulties in setting up your rod and reel.
Let's take a look at them briefly.
Type of Ice Fishing Reel
There are 3 main types of ice fishing reels:
• Spinning Reels
This is the most common reel when it comes to ice fishing. Ice fishing spinning reels are usually ultralight and have a small size. The small size makes them perfect for use with ice fishing rods that are usually small in size.
• Inline Reels
Inline reels are round, and they hang in line with the fishing rod. This position reel allows the line to run in a straight line with the reel. Moreover, you don't have to worry about line twists.
• Baitcasters
Baitcasters are not very common. They are used for very large fish, or in very deep waters. They shouldn't be used if you are ice fishing for Walleye, Crappie, and Perch.
Weight
Weight is an important factor when it comes to ice fishing reels. The lighter a reel is, the easier it will be to hold the reel for hours while you are fishing and waiting for the fish to strike. Since you are going to be wearing gloves most of the time, it will be a lot more uncomfortable.
So look for a fishing reel that doesn't weigh a lot.
Ball Bearings
Ball bearings reduce the friction created within a fishing reel. This ensures the smooth operation of the ice fishing reel despite the drag load. The more the number of bearings, the better will be the performance of the reel.
Pay close attention to the bearing number on your reel. Even though quantity isn't everything, it definitely matters. Ensure that the bearings are made from high-quality materials. If fewer bearings are present in the reel, you will notice that the line catches when you are reeling in. This results in undue pressure on the line.
If this happens, the line could snap, or the fish could get away. Make sure to get a quality ice fishing line to reduce its chance of snapping.
Construction of the Reel
You need heavy-duty materials to withstand the cold and conditions you will be fishing in. Look for aluminum, stainless steel or graphite reels since they are heavy-duty and durable. Moreover, they are resistant to corrosion, as well.
When it comes to the construction of an ice fishing reel, graphite is a good option. It is lightweight and has great strength as well. Moreover, it can withstand harsh, freezing temperatures.
Anti-Freeze System
Since you are going to fish in harsh, cold weather, you need fishing gear that will not freeze and stop working as the going gets tough. Reels that have an anti-freeze system are best for ice fishing.
Anti-freeze materials are used in the construction of these reels to ensure that they don't stop working in the cold weather. Keep an anti-freeze paste or oil that you can apply on your reel if it doesn't have an automatic anti-freeze system. Moreover, ice fishing reels have covers that keep them safe if you are ice fishing without a shelter.
Design
The design of ice fishing reels is going to be different than other fishing reels. Look for a design and shape that will shield the line from natural elements like snow. The demanding conditions that you will face out there in the cold are not suitable for a normal fishing reel.
If there is a case present over the spool, it will keep the spool for facing the harsh effects of cold and stop functioning.
Spool
In ice fishing, you don't have to throw casts. This means that the spool will be of a different design. Ice fishing spools don't have any twists. This ensures that the line stays on the spool.
As compared to normal spools, ice fishing spools can hold more line since you will be fishing in deep waters.
Handle
You are going to be using gloves most of the time when ice fishing. This means that the handle of the reel should be modified in such a way that you can hold it easily. Handles on ice fishing reels are usually made of a non-slip material that ensures that you don't lose your grip.
The larger the handle, the more will be the reel's cranking power. From a large diameter, you will be able to acquire more torque.
Drag Rating
Another important factor to look for is the drag rating. When you reel the catch out of the water, you will feel a drag. This is basically the tension present on the line while you retrieve your catch. It also determines the size of the fish you catch.
Since you are ice fishing for walleye, crappie, and perch, you should look for an ice fishing reel with medium to high drag capacity. If the drag capacity of the reel is adjustable, that would be an added plus.
Durability
For any product, Durability is pretty important. You are spending your money on a product; you will definitely want it to last for a while. You should expect quality for your money. Ice fishing reels are going to be exposed to ice, freezing temperature, moisture, etc. all the time. These will decrease its performance and durability if it is not a quality product.
The last thing you need is you taking extreme care of your gear, keeping it safe from the slightest bump. Look for fishing reels that have a durable and rugged construction that will last the rough outdoor use. Extreme temperatures and freezing water will harm your gear, so you have to make sure that the fishing reel is made of durable material.
Reduced Friction
Cold weather can negatively affect your ice fishing reels. Make sure that you keep lubricants with you that will reduce the friction in the reel caused due to the extreme conditions.
Cost
A higher price tag doesn't mean you will be getting the highest quality as well. Several ice fishing rods come at an affordable cost and yet are quality fishing reels.
Make sure that you keep an eye on your budget and choose the product that you need without going over-budget. In fact, none of the products we are recommending here are going to break the bank!
Warranty
If a product comes with a warranty, this means that the manufacturer has faith in the quality of the product. Look for fishing reels that come with warranty and will last for quite some time. You don't need to keep buying an ice fishing reel over and over again.
The Best Ice Fishing Reel Review – Our Top Picks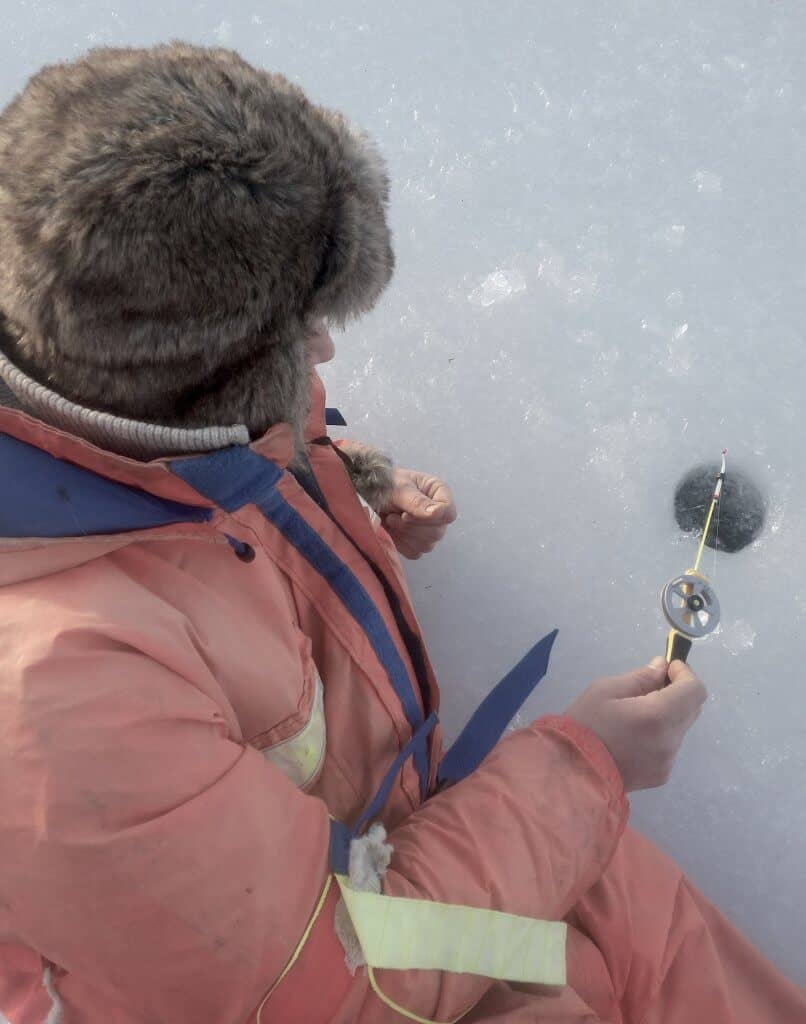 Best All Around Ice Fishing Reel for Walleye, Crappie, and Perch
Pros
Affordable
Precision pinion gear
Lightweight
Anti-reverse system
Corrosion-resistant
Cons
KastKing Centron and Summer Spinning is a beautiful, elegantly designed reel. It is made specifically by keeping those people who are on a budget in mind. Even though the reel comes at an affordable cost, there is no compromise on its quality.
The spool of this reel is made from aluminum that is CNC machined for extreme detailing. It is corrosion-resistant and lightweight. The reel is pretty sturdy and durable and can brave the harsh winter elements. Since the spool is large, it provides you with a large line capacity. Moreover, the internal grooves and the even line lay are very helpful when it comes to lube retention.
The reel has high-quality parts that make it the perfect option for ice fishing Walleye, Crappie, and Perch. The main shaft of the reel is made from strong, hardened metal. The mesh and the pinion gears are also of good quality. These features provide the reel with the power it needs to fight with the fish deep down in the waters.
The drag capacity of this fishing reel is 17.5 lbs. Moreover, the ball bearings are top of the class. This reel comes 9 ball bearings along with an anti-reverse system.
There are various models for you to choose from, depending on your needs and requirements. What makes this spinning reel genuinely great is the ergonomic handle that can be used by both right-handed and left-handed people!
Amazon
Best Quality Ice Fishing Reel for Walleye, Crappie, and Perch
Pros
Affordable
Foldable design
Right and left-handed retrieve
Cold gear lube
Cons
Abu Garcia is known in the fishing circles for assembling the best performing reels. This model from Abu Garcia is no exception. It is made only for ice angling and has the strength and durability required to brave the elements. You can expect this fishing reel to last for many winter angling seasons.
The unit has numerous features at a truly reasonable cost. The rocket spool lip configuration will offer you accuracy and control while angling. The spool is produced using CNC machined aluminum. The bail framework is strong and sturdy.  To make sure that your reel doesn't lock when it is incredibly cold, you get a cold gear lube with the reel.
The reel is designed for both right-handed and left-handed people; therefore, you don't have to make any mechanical adjustments. It is also usually when you start feeling hand fatigue and want to switch hands.
This reel has only 3 ball bearings. The best reels out there have 8 or more bearings. Even though 3 ball bearings are not a lot, but the anti-reverse feature makes the fishing reel worth it. Therefore, you will be able to retrieve pretty well regardless of the number of ball bearings. It will give you a good hold when the drag is engaged.
You just have to push a button and the fishing reel will fold and become a compact reel that is easy to carry. With other fishing reels, you have to disassemble the whole unit to fold it.
Best Value Ice Fishing Reel for Walleye, Crappie, and Perch
Pros
Spool Release Button
Adjustable spool tension
Durable
Non-slip handle
Cons
Inline angling reels provide you with great ice angling experiences. Eagle Claw ECILIR is a cheap inline ice fishing reel. Even though it is some nice features, it still remains easy on the pocket. The benefit of inline fishing reels is that they don't turn and twist the fishing line.
Being an inline reel, the Eagle Claw ECILIR also doesn't twist the fishing line, making it simple to deal with a violent fish trying to escape. This helps you so that you could keep on working uninterrupted. The unit has numerous other features as well. The body of spool and reel are produced using nylon.
The handle is produced from aluminum. It is, hence, strong. Additionally, the handle is intended to be non-slip, making it simpler to hold it. The unit is fitted with a spool release button.
The reel has a smooth Teflon drag system that gives you the ability to adjust the tension on the spool. The reel is designed for left-hand retrieval, but you can switch it for right-hand retrieval as well.
Amazon
Frequently Asked Questions (FAQ)
No, there are several types of fishing reels. We have briefly talked about them above. If you want smooth and continuous performance, you should go for an inline reel.
But, if you want a real professional fishing experience, then a spinning fishing reel would be perfect for you. It is easier and more flexible to use as well.
The number of ball bearings in an ice fishing rod is not constant — the more ball bearings, the better the performance. However, since you are fishing for walleye, crappie, and perch and they are relatively small-medium in size, you don't need a lot of ball bearings. A few should suffice.
Basically, ice-fishing reels hold the line and rewind the line once you have caught a fish. Match the fishing reel with your fishing rod and make sure that they are compatible with each other.
You can use a regular reel, but you should keep it in mind that it will not last for long. The ice fishing reels are built to withstand tough and harsh situations while regular fishing reels are not.
They have additional features as well that make them perfect for ice fishing such as extra-long handles. Therefore, you should not use regular reels for ice fishing.
Finally…
The type of ice fishing reel you get will determine the kind of fish you catch and the kind of experience you have out there. To help you have an easy, comfortable, and enjoyable time, we have reviewed the best ice fishing reels for walleye, crappie and perch. Moreover, the extensive buying guide will help you choose the best one on your own.
Happy Fishing Folks!