Going ice fishing and looking for the best fishing rod for walleye, crappie and perch that will last you through the tough weather and yield high-quality fish? You are in the right place.
Quick Overview – Best Ice Fishing Rods for Walleye, Crappie & Perch
Quick Comparison – Best Ice Fishing Rod
Preview
Best All Around
Best Value
Title
St. Croix Rods Mojo Ice Fishing Rod
Shakespeare Ugly Stik GX2 Ice Fishing Reel & Rod Combo, 26" Light Action Rod, USGXICE26LCBO
fenwick ETICE24ML Elite Tech Ice Spinning Rod,Multi
Best All Around
Preview
Title
St. Croix Rods Mojo Ice Fishing Rod
Best Value
Preview
Title
Shakespeare Ugly Stik GX2 Ice Fishing Reel & Rod Combo, 26" Light Action Rod, USGXICE26LCBO
Preview
Title
fenwick ETICE24ML Elite Tech Ice Spinning Rod,Multi
Buying Guide
The best ice fishing rods for walleye, crappie and perch are sensitive enough to get a feel of what is going on under the surface, yet they are strong enough to handle a stubborn fish that is refusing to surface.
Not all ice fishing rods are alike. The ice fishing rods differ based on the type of fish you're after, the baits and lures you're planning to use, and the weather conditions you will be facing. There are so many factors to consider when you are choosing the best ice fishing rod for walleye, crappie, and perch.
Worry not, for we have put together this comprehensive buying guide for you, which will help you understand what makes an ice fishing rod great.
Let's take a look.
Length of the Rod
One of the major things you have to look at when getting the perfect ice fishing rod is its length. The length of a fishing rod is determined by where and how you are going to use it. A longer fishing rod casts further and with more accuracy. However, when you are using fishing rods for ice fishing, you are not going to look for a rod that is built for casting.
Most of the ice fishing is done with the help of small bobbing or jigging lures. Fishing via a hole in the ice requires a casting setup depending on whether you are inside a shelter or fishing without one.
If you are fishing inside a shack or a shelter, you will be very comfortable, but the length of your fishing rod will be limited. You would need a rod that is approximately 24 to 32 inches in length. Make sure that these short rods are sensitive and strong.
If you are brave enough to face the harsh elements without shelter than you can get a longer rod. A 38 inches long rod will be sufficient to get the most out of the rod. It will give you better control and more power. If you use a rod longer than this, then there will be a risk that you won't be able to control the fish when it bites. Moreover, a shorter rod will help you in making quick directional adjustments as you try to control the fish.
Weight
A lightweight fishing rod will allow you to fish for hours without experiencing tiredness and fatigue. However, you shouldn't compromise of durability and quality. Make sure that you find the perfect balance between durability, quality, and weight.
Power of the Rod
Depending on the weight of the lure and the depth of the water in which you will be fishing, most ice fishing rods work well if they have medium to heavy power. Make sure that the rods are light in weight.
However, if you get ultra-light rods, the chances are that the power of these rods will not be very high. So you will have to strike a balance between power and weight.
Action of the Rod
Most of the ice fishing rods have fast action. This means that the tip of the rod will bend quickly. Rods tend to be slow, moderate, fast, and extra fast. The extra-fast rods only bend at the tip and the rest of the rod remains stiff. Fast action fishing rods bend up to 3 quarters. The medium action rods will bend in half and the slow action rods are flexible and bend in a parabolic shape.
Most of the shorter fishing rods are fast action. They have a rigid shaft and a flexible tip. They are a bit easier to use. Ice fishing rods are usually fast action since they are sensitive to the slightest bite of the fish.
Since you are fishing for walleye, crappie, and perch, you should look for a fast action rod as these fish love lures that jig up and down quickly.
Material
Another thing that you have to keep an eye on is the materials that are used to build the rod. Brass and stainless steel are strong and long-lasting materials. Fishing rods with fiberglass blanks are also available in the market.
You need a strong and tough rod, which will brave the harsh elements, yet it can transmit the smallest of bites. Ice fishing rods tend to be made of graphite or fiberglass. Graphite has great sensitivity while being light in weight and it is strong as well. Fiberglass is strong and durable; however, it is not very lightweight and sensitive when compared to graphite.
There are rods with composite construction that have both graphite and fiberglass in them. You should get one of those for the best results.
Handle
Since you are likely going to be fishing with gloves on, it means your dexterity will be reduced. Thus, you need a handle that gives a comfortable and firm grip. Ice fishing rods tend to have foam, cork, or plastic handles. Cork handles are soft, lightweight, and increase the overall sensitivity of the fishing rod.
Some high-quality rods tend to have graphite handles. These are highly sensitive but are very expensive. A handle with split design makes handling a fishing rod even better. Browsed various handles, and choose the one you think will suit your needs and requirements.
Spool
The spool on the reel of your fishing rod is an important consideration as well. It should be sufficient in size and should have the capacity to bear the length and weight of the fishing line.
It should be weatherproof and should be able to perform in the toughest of conditions. Anti-freezing lubricants are available to ensure that the spool doesn't freeze in the cold.
Bearing Number
The bearing number of the reel of your fishing rod is also another thing you should look at. Reels have ball bearings that allow them to operate smoothly with reduced friction. The more the number of ball bearings, the smoother the operation of the reel will be.
Ease of Use
Having drilled a hole with an ice auger, the perfect ice fishing rod is easy to use, even in harsh weather conditions. The guides on the rod tend to affect the ease of use of the rod. The more the number of guides on the rod, the smoother will be the line flow and the rod will bend easily.
The weight of the rod also plays a part in its ease of use. A balanced and comfortable handle also makes a rod more comfortable to use. The eyes on the fishing rod should be aligned with the length of the rod. All these factors combine to make the rod easy to use.
Cost
Ice fishing rods are going to be used in harsh, tough conditions. You need to find one that is durable and has premium quality. But, you need to do so without breaking the bank.
There are great quality ice fishing rods that come at a normal, affordable price. Don't just go for the highest costing rod thinking that the higher price tag is an indicator of high-quality as well.
The Best Ice Fishing Rods Review – Our Top Picks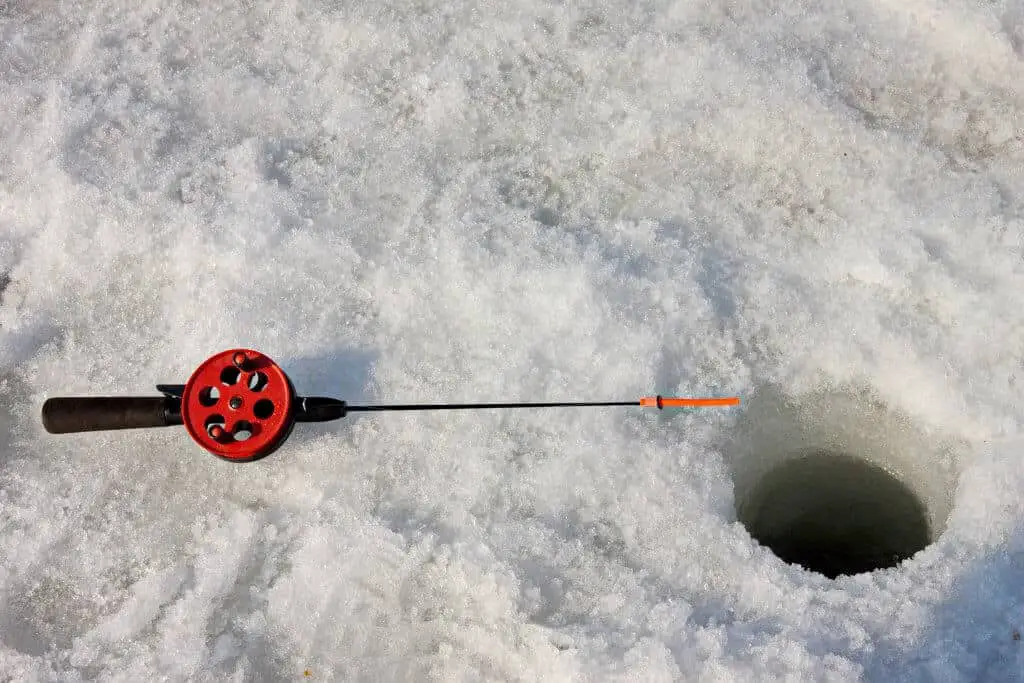 The Best All Around Ice Fishing Rod for Walleye, Crappie and Perch
Pros
Innovative split grip
Durable
Ultra-light
Premium-quality Reel seat
Cons
The first product on our list is the St. Croix Mojo Ice fishing rod. Equipped with an innovative split grip design, this ice fishing rod is very easy to use and handle. Although it is ultra-light, it is capable of handling walleye and other fish expertly without buckling under pressure.
With the help of the exposed design of the rod blank, you can feel even the lightest of bites from the fish in the ice. Because of the stainless steel guides, the rod withstands the harshest of weather conditions. The reel seat has a great locking mechanism. With the custom-designed twist lock, the reel stays tightly pinned to the rod, and there is no chance of the reel moving or coming loose.
Amazon
The Best Value Ice Fishing Rod for Walleye, Crappie and Perch
Pros
Durable
Comfortable handle
Great balance
Lighter feel
Modern look
Outstanding Price / Value
Cons
The second product on our list is the Shakespeare Ugly fish ice fishing combo. The balance and the feel of this product are second to none. Moreover, this ice fishing rod comes at affordable prices. The reel has a size 20 spinning reel that has one ball bearing. The aluminum spool and the stainless steel guides ensure that the ice fishing rod is durable.
With its minimal weight, you will find that the Ugly Stik ice fishing rod is easy to use and maneuver. Because of its versatile design, you will be able to catch plenty of fish with the least amount of effort. The rod works for both right-handed and left-handed people.
The clear tip design of the Ugly Stik makes it stand out from the rest of the fishing rods. The EVA handle is very comfortable, and the reel seat comes with a twist-lock mechanism which makes sure the reel stays in place. All in all, this is a great choice for a relatively cheap ice fishing rod!
Amazon
The Best Beginner Ice Fishing Rod for Walleye, Crappie and Perch
Pros
Incredible sensitivity
Lightweight
Easy to use
Comfortable cork handle
Durable
High-quality materials
Cons
The third product on our list is the Fenwick Elite Ice fishing rod. When it comes to fishing gear, Fenwick is a reputable brand. This ice-fishing rod does justice to the brand name. The ice fishing rod is constructed from high-quality graphite. It is light in weight and is comfortable to use for hours at a time. The incredible sensitivity of the rod makes it possible for you to detect the subtlest of strikes easily. Moreover, it has a strong build which is enough for lifting fish such as walleye and perch easily.
The rod has stainless steel guides along with Zirconium oxide inserts. The locking mechanism of the reel ensures that the reel seat doesn't move around and become loose. The cork handle provides you with epic control and is very comfortable.
The short length of the rod makes it a perfect fit for fishing inside of a shelter. Since you are going after the medium-sized fish like walleye and crappie, the medium power of the rod compliments everything perfectly.
Amazon
Frequently Asked Questions (FAQ)
Like snowboarding, ice-skating, sledding, and all other winter activities, ice fishing is an exciting, fun-filled adventure. The challenges and risks an angler faces while ice fishing makes it worth it.
If you are looking to fish for walleye, crappie, perch, pike, trout, panfish, bluefish, etc., you will see that ice fishing yields remarkable results.
The right size means the right length of the rod, its weight, and its thickness. Ice fishing is going to be tough if you get a rod without knowing its length. If you buy a short rod and you are going to fish without shelter, it is going to be difficult.
Similarly, if you are going to be in a shelter, then a rod that goes out of the shelter will be a bad choice. Thus, you need to know the conditions you are going to fish in and then choose the perfect size in accordance with the conditions.
Carbon fiber fishing rods are made of thin fibers of carbon that are bonded together with the help of crystal alignment technology. They are high-performance rods, are incredibly sensitive and ultra-light in weight.
Moreover, they are strong and durable as well. This is since carbon has a high strength to weight ratio. But this does come at its price.
The type of fishing rod and its various features depend on the conditions you are fishing in, and especially the type of fish you are looking to catch. Walleye, crappie, and perch are small to medium-sized fish.
Rods that are medium in length, with medium to high action and incredible sensitivityare a great choice for them.
Have a look at our dedicated article for exactly that 🙂
Check out this basic guide to ice fishing rods by legendboats.
Happy Ice Fishing!
Fishing in the cold and dreary winter is a rewarding activity, even though it involves staying out in harsh weather conditions and subzero temperatures. Thus, you need the best fishing gear to get the desired results. If you don't have the perfect ice fishing rod for walleye, crappie and perch, then all your efforts might be in vain.
The type of ice fishing rod you get will determine the kind of fish you catch and the kind of experience you have out there. To help you have an easy, comfortable, and enjoyable time, we have reviewed the best ice fishing rods for walleye, crappie, and perch. Moreover, the extensive buying guide will help you choose the best one on your own. Read more about ice fishing lakes in Maine, if you are there ever want to go!
Happy Fishing Folks!