What activity is more refreshing than a moment out in the middle of tranquil scenery surrounded by water? Nowadays more than ever, fishing has propelled itself at the top of everyone's to-do list, with the ongoing pandemic and all limiting socialization.
One of its advantages is that it can be done anytime, even under rainy weather conditions. Of course, I would advise you not to risk going out in a storm, but if it is just a matter of a drizzle or light rain, no problem.
Regardless of the sky forecast, it is a good thing to always be prepared in the event of sudden changes. The outdoors is totally unpredictable, so it makes sense to invest in the best rain jacket for fishing and have it with you at all times.
Quick Overview – Best Rain Jacket for Fishing
Quick Comparison – Best Rain Jackets for Fishing
Preview
Best Rain Jacket
Best Value
Best Cold-Weather
Title
Simms Mens Challenger Waterproof Fishing Rain Coat - Hex Flo Camo Carbon - X-Large
FROGG TOGGS Men's Standard Classic All-Sport Waterproof Breathable Rain Suit, Black Jacket/Black Pants, Large
THE NORTH FACE Men's Resolve Waterproof Jacket, TNF Black/TNF Black, XL
Best Rain Jacket
Preview
Title
Simms Mens Challenger Waterproof Fishing Rain Coat - Hex Flo Camo Carbon - X-Large
Best Value
Preview
Title
FROGG TOGGS Men's Standard Classic All-Sport Waterproof Breathable Rain Suit, Black Jacket/Black Pants, Large
Best Cold-Weather
Preview
Title
THE NORTH FACE Men's Resolve Waterproof Jacket, TNF Black/TNF Black, XL
Getting Your Own Fishing Rain Gear
You have to get ready to get wet when you plan on going fishing. Whether it is the type of water splash caused by a stray wave or the downpour of rain, it doesn't matter. You will still get wet.
It is a fortunate thing that there are different kinds of suits that protect you from all sorts of bad weather. Be it strong winds or heavy rain, these suits are designed to give you the comfort you need when fishing in poor weather conditions. And the great thing about this is that you can choose from various fishing rain gear options suited to your budget.
Guide to choosing a rain jacket
As with any hobby, you need to have the right equipment to make sure things go as smoothly as possible. In fishing, you need to have the right tools, rods, reels, and the right line and bait. But imagine when things start to get fun – and there's a tug on your line, it starts to rain. Not the light rain but the one that threatens to engulf you. What do you do then? Well, it would help if you have your protective fishing rain gear with you.
You have to look at several factors when pondering the best fishing rain gear. With the plethora of fishing rain jackets out on the market today, you might be confused about your choices. Well, this buying and review guide will help clear the air so you can decide, all based on facts.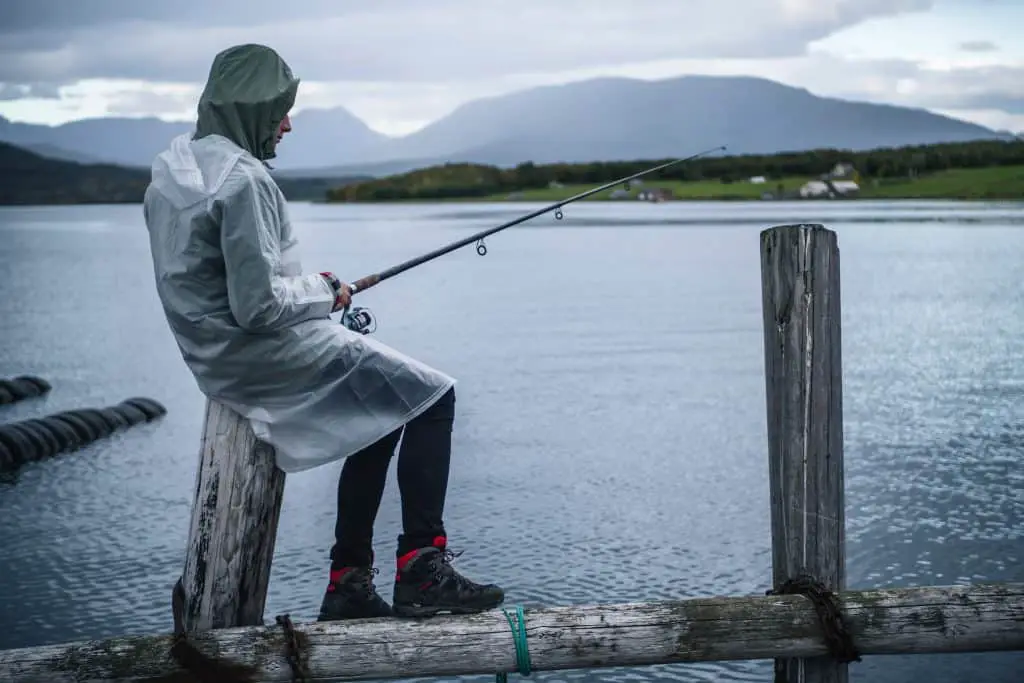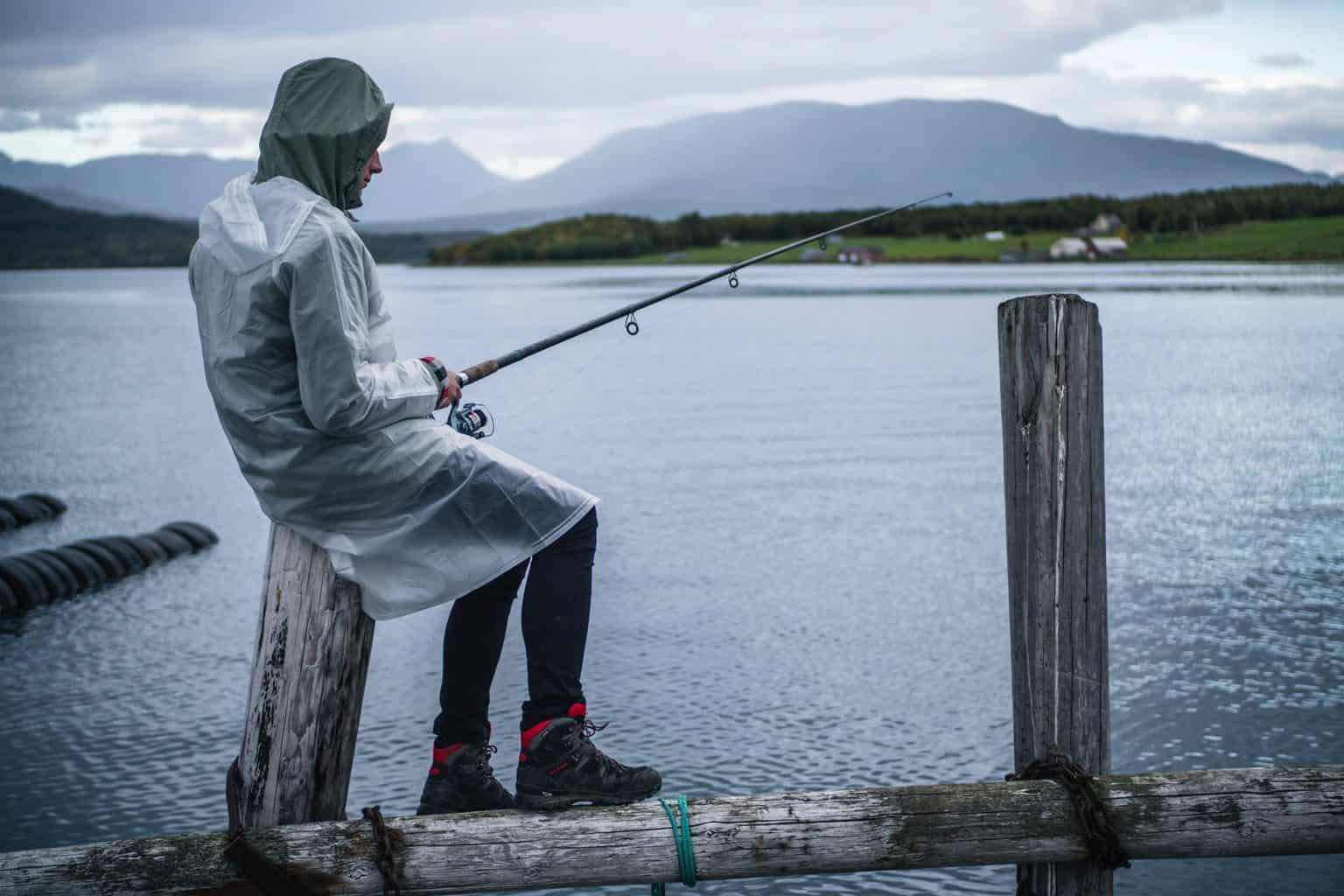 Waterproof yet breathable feature
One essential component to consider when choosing your fishing rain gear is the fabric's ability to allow your perspiration to evaporate while, at the same time, deterring rain. There has to be a laminate or a coating that comprises the material of your rain jacket.
Durability and repellent against water
Most jackets nowadays are advertised as water repellent. This means that precipitation will not be an issue anymore. Do take note, being water repellent doesn't necessarily mean water-resistant. Maintaining your durable water repellent finish is also essential. If this wears off, the jacket's fabric cannot keep water out.
Jacket rainwear layers
Multiple layers are advised for an ideal fishing rain jacket. This ensures added protection against the outdoor elements. Also, it protects against any rough friction and abrasion. In contrast, the innermost layers protect against interior wear-and-tear.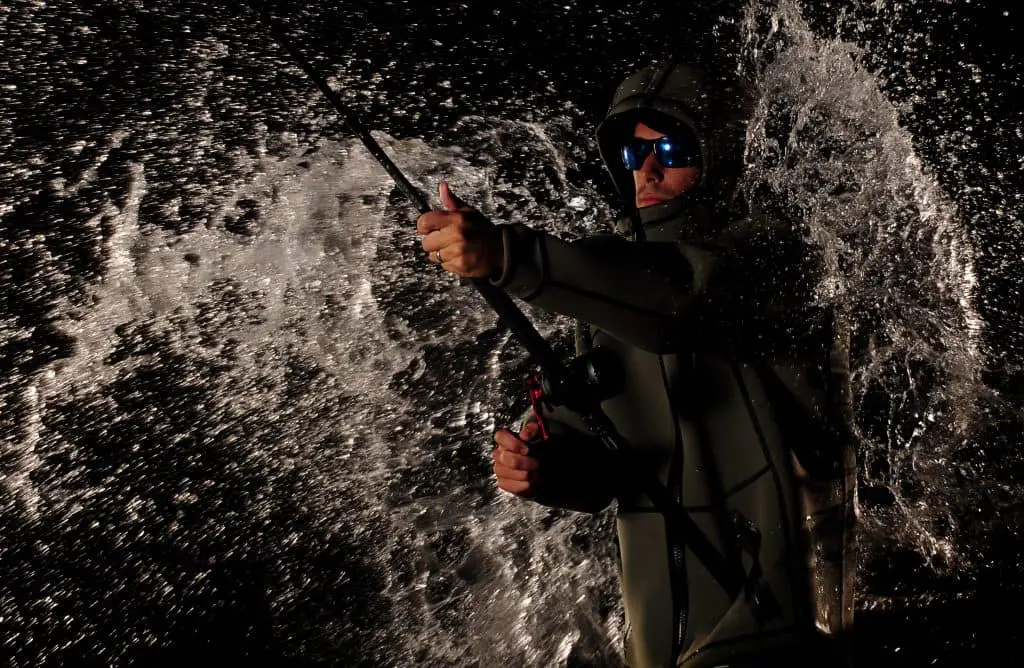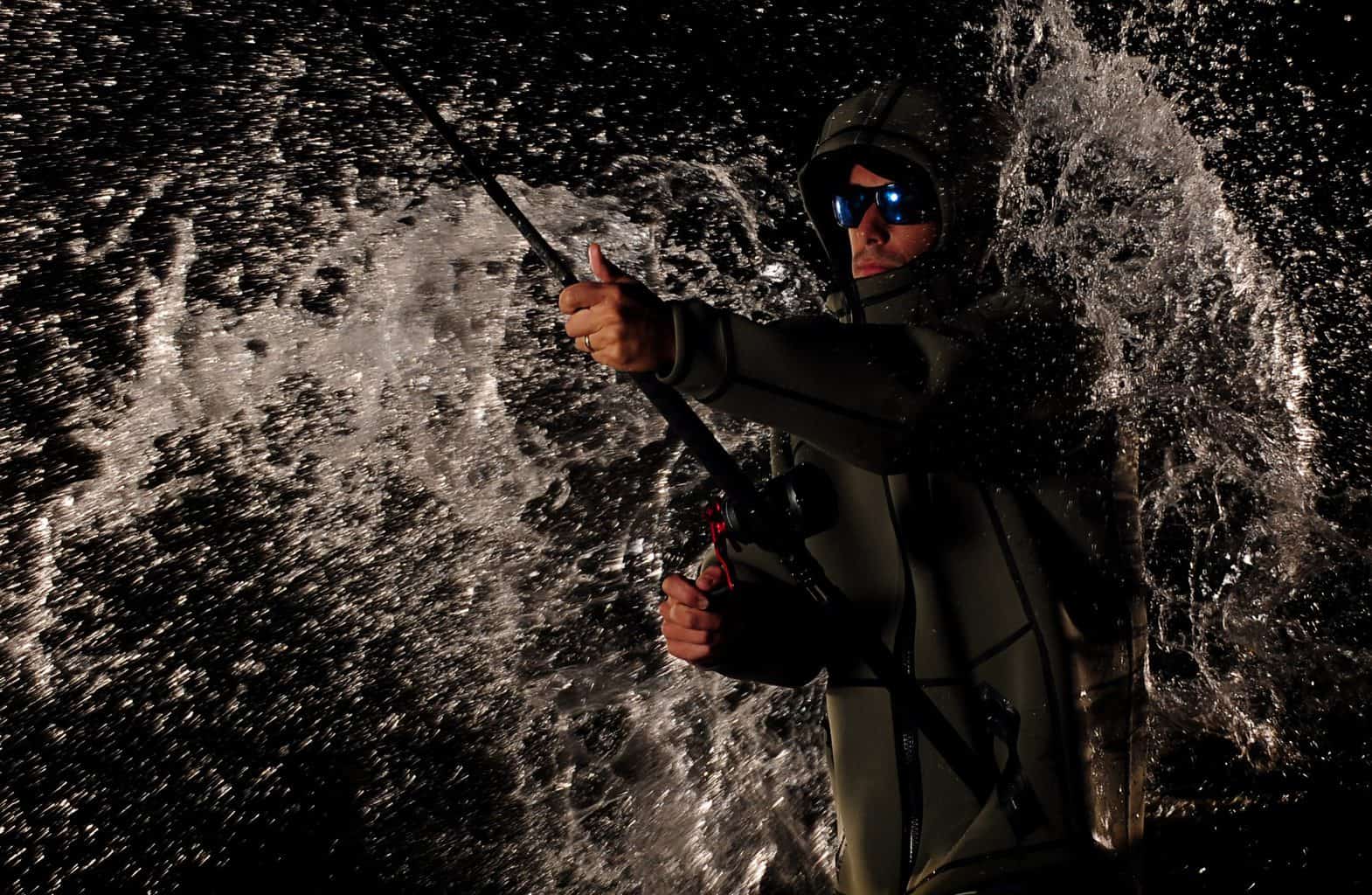 Hood and vent design
More often than not, fishing rain jackets have hoods that can be stowed in the collar or simply rolled when not needed. Also, underarm vents or pit zips help in letting out excess air, contributing to breathability.
Zippers and seam taping
Jackets with several openings and pockets need to have coated or laminated zippers to ensure that liquid does not seep through any cracks. However, this type of zipper is not smooth to zip up and down, so a zipper hut or zipper garage would help. Aside from this, your rain jacket has to be fully seam-taped so that your jacket's components are safe from water penetration.
Packability and adjustment features
Most anglers go for non-bulky fabric and ultralight material on their rain jacket. This makes it easier to pack and store in case of no use. But take note, the more pockets a jacket has, the higher its price.
High-end versus entry-level rain suit
Professional anglers go for expensive yet high-quality rain jackets. Fishing movements will not be limited with these jackets, and expectedly, they are incredibly windproof, waterproof, and breathable.
On the other hand, starting anglers and those taking fishing as a casual hobby are fine with entry-level fishing rain suits. These suits are still windproof and waterproof, yet they come at a more affordable price, minus the breathability features.
The Best Rain Jacket for Fishing Review – Our Top Picks
Fishing has gained many followers recently for its benefits. Thus, it is high time that anglers look at how to be safer and more comfortable in instances of bad weather. So, here is a quick look at what are the best fishing rain jackets of late.
The Best Rain Jacket for Fishing
Pros
Offers maximum comfort and breathability to the wearer.
Its thick fabric keeps you super-dry amid rain and winds.
Multiple inner layers using QuadraLam fabric for better durability.
100% water-resistant features.
No worries about zipper corrosion.
Self-stowing adjustable hood.
Cons
Non-insulated, so layering is still needed in polar vortex weather.
Does not have a D-ring attached on the back for nets.
Requires special care when washing.
Pricey
The Simms Challenger Waterproof Fishing Rain Coat is a good choice for anglers. Its functional features make it ideal for fishing in wet weather. With its waterproof-breathable element, the wearer can keep dry and warm all throughout. This angler jacket blocks water entry, a must when fishing in the middle of rain or uncalm weather. Plus, it has taped seams and YKK water-resistant zippers that offer a rust-free guarantee.
For anglers out there who prioritize comfort while fishing, the Simms Challenger Waterproof Fishing Rain Coat is perfect for you. And thanks to Toray fabric technology, the heavy-duty fabric boasts better durability. Besides these perks, the jacket is one of the most comfortable out there. It has an adjustable bottom and Storm Hood in the collar, along with a zippered chest pocket, a 3-point adjustable zipper Storm Flap, and an attachment loop on the hem to ensure your safety on the watercraft.
Amazon
The Best Value Rain Jacket for Fishing
Pros
Excellent value.
Ranked 1st in men's active and performance jackets.
Pants that come with the jacket are the drawstring and elastic type, so they are easy to wear.
Lightweight material but effective against snow, rain, and water.
Packability is good.
Cons
Material is thin.
Does not come with pockets.
Creates noise with some movement.
The Frogg Toggs men's Classic All-sport Waterproof Breathable Rain Suit is the perfect choice for those looking for more practicality. Though it sells for a lower price than other jackets, its quality is worth praising.
This rain suit is windproof and can protect against wet, windy, and cold weather. The set includes a jacket and pants to guarantee complete body protection. Despite its lower cost, it still provides an ideal shield against the harsh elements. It is also much lighter to wear compared to other rain jackets with heavy-duty fabric.
Amazon
The Best Cold-Weather Rain Jacket for Fishing
Pros
Made of durable material.
Has a breathable mesh lining.
Durable in harsh conditions.
Can be worn over layering clothes.
Cons
No inside pocket.
Effective against the rain but not so much against snow.
Bulky in storage.
The North Face Men's Resolve Waterproof Jacket is made from 100% nylon ripstop DryVent fabric, which ensures dryness all throughout. Since this jacket is made of lightweight material, it can be worn over other zip-up jackets and sweaters, so you get the layering you want.
This North Face Waterproof Jacket comes equipped with an adjustable hood attached or stowed in the collar, depending on the weather. It also has elastic cuffs that can be worn over your gloves, as well as a hem cinch cord that offers a custom fit, especially at the waist. Storage is an advantage too because it has hand pockets, so even while on the go, you can still keep track of your belongings.
Amazon
In Summary
As anglers, things would be so much better if you come equipped at all times. Having the proper fishing rain gear is a must, as you never know when the rain will strike. Knowing valuable things like the best rain jacket for fishing and what fishing rain jacket is good value for your money can help you decide what suits you best. All things considered, do take note of these crucial tips to take your best pick.
Several factors and elements have to be taken into consideration when buying a fishing rain jacket.
Depending on your budget, opt for a fishing jacket that can cater to your fishing and weather needs.
Choosing the ideal fishing rain jacket for yourself can be a daunting task. Still, this guide can hopefully help you make the best decision for your purchase. For any other queries regarding the best fishing rain jackets this season, feel free to drop a comment below.