Fishing from boats, kayaks, drifts, paddleboats, and all those water machines is becoming popular. Also, the tech industry is keeping pace by upgrading tablet and smartphone versions to make angling possible in all aspects. From taking cool shots of the new buddies you catch to synching to your marine electronics.
Even with the rapid growth in advancements in the fishing industry, there are a few essentials that a fervent angler needs. While your reel, rod, and line combo make sense as the most important tackle gear, investing in the best fish finder will make time on the water more productive and fun.
This article will help you in your window shopping escapades, know what to look for when selecting the best castable finder, and sample a few of the most recommended.
Quick Overview – Best Castable Fish Finder
Quick Comparison – Best Castable Fish Finders
Preview
Best Castable
Best Value
Best Portable
Title
Humminbird 410940-1 HELIX 7 CHIRP MDI (MEGA Down Imaging) GPS G3 Fish Finder
Deeper PRO Smart Sonar Castable and Portable Smart Sonar WiFi Fish Finder for Kayaks and Boats on Shore Ice Fishing Fish Finder
Garmin Striker 4 3.5" Chirp Fishfinder GPS (010-01550-00) with Protective Cover
Best Castable
Preview
Title
Humminbird 410940-1 HELIX 7 CHIRP MDI (MEGA Down Imaging) GPS G3 Fish Finder
Best Value
Preview
Title
Deeper PRO Smart Sonar Castable and Portable Smart Sonar WiFi Fish Finder for Kayaks and Boats on Shore Ice Fishing Fish Finder
Best Portable
Preview
Title
Garmin Striker 4 3.5" Chirp Fishfinder GPS (010-01550-00) with Protective Cover
How to Choose a Good Castable Fish Finder
You might be wondering what this jargon means. A castable fish finder is an electronic device used by fishermen/women to see the graphical representation of what is below the water surface. It uses powerful sonar technology and is attached to your cast line.
The technology is for mapping the water body and identifying fish. A fisherman/woman who uses the castable finder knows the right direction to direct their efforts. Here's how to determine the best one.
Range
The performance and connectivity of the fish finder will fall under the range factor. The transducers of fish finders connect in several ways to the tablet or smartphone they are paired with. It could be through Bluetooth or WIFI.
WIFI connectivity models work effectively up to 310 feet and have proven to maintain an excellent connection through any interference or obstacle. Bluetooth on the other hand can go up to 140 feet. A good one should offer dependable connection in long distances.
Depth and Frequency
Castable fish finders detect obstacles, fish, and scenery at the bottom of a water body until the depth that the frequencies of sonar pulses can go. Those with higher frequencies will work best in shallow water and the images will be more detailed. However, they can't reach lower depths.
Manufacturers have designed finders that use more than one frequency allowing them to use different modes for efficiency. Go for a castable fish finder that can view deeper than the depth you expect.
Information Display
Some castable finders are sophisticated while others are not. Depending on how sophisticated the finder is, each shows results differently. The 2D view is the lowest and it uses a functional beam firing below its transducer. This view will reduce the environment under the water into what looks like a 1980 video game. You will notice a difference in readability when it is on a low or a high end.
3D views are the most recent innovation and these create a 3D model of the bottom structure that is very detailed and you can see fish and any obstructions.
Others use bathymetric mapping, a process of putting together the GPS readings and depth measurements. You collect these data from several passes over certain areas to come up with a shaded two-dimensional map of a 3D bottom.
Weight and Size
A heavy castable finder travels farther with every cast. The weight of your castable fish finder will affect your choice of combo. A heavier device needs you to have a stiffer rod and a line of between 10 and 20 pounds to utilize the longer connectivity capability.
Versatility
Some castable fish finders allow you to add accessories to them and mount them onto your watercraft. You can tow the finder behind your kayak if you have attachment points. However, having to use it without a transducer unit is also great. If you don't want a traditional portable finder, choose the boat-mounted type.
Platform and Applications
You need an Android or iOS device to use a castable fish finder. This could mean having a smartphone or a tablet. Manufacturers have free apps that work with traditional fish finders and each has its pros and concerns. The apps come with demonstration modes allowing a buyer to test how the interfaces work.
Advantages of Castable Fish Finders
They have user-friendly designs
Castable fish finders offer great contrast visible when it is bright
They boast excellent features like fish alarms, zoom, and depth function
You can use them for commercial or recreational fishing
More sophisticated ones can differentiate each object at the bottom of the water body
Some have great side scans
You can know the location of your vessel on the water
Usable in various weather patterns
Others come with noise reduction features and temperature gauges
You can make use of the trackback capabilities.
The Best Castable Fish Finder Review – Our Top Picks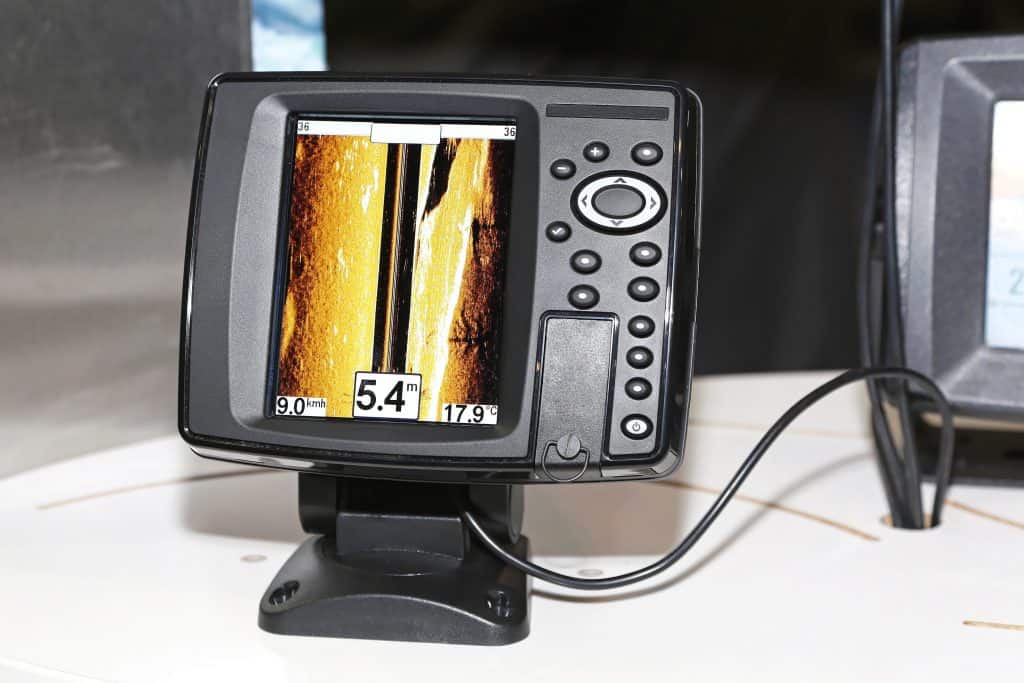 The Best Castable Fish Finder
Pros
Built with the MEGA down imaging system
Uses a dual spectrum chirp
Uses the latest maps from Humminbird LakeMaster
Has a switchfire sonar
Cons
Quite on the higher side if you are shopping on a budget
A few cables are shorter than normal length
The specifications of this fish finder are what attract most anglers to it and so far, so good. It comes with a screen of 7 inches giving a resolution of 800H by 480V with a colored TFT display. For fish finding and viewing other objects under the water, the device has a MEGA down imaging system that can go as deep as 125 feet from below your boat.
The Humminbird 410940-1 HELIX 7 Chirp MDI GPS G3 Fish Finder uses the proprietary low Q-chirp transducer to power. Its transducer uses a sonar mechanism and its dual chirp functions with the help of a spectrum to deliver a vivid dual-beam sonar that offers two different ways of searching.
You can choose to operate it in two modes. The wide one is for maximum and extensive coverage while the narrow one is for maximum detail. You can record all your data using the auto chart live and save it on an SD card for reference. However, this finder doesn't need one.
It uses two types of display modes that allow you to add and remove data. It is easy to watch your lure presentations, check water depth, temperature, and turbulence.
Amazon
The Best Value Castable Fish Finder
Pros
No mobile data is needed
A good one for ice fishing
Great depth and casting range
Comes with a flasher for ice fishing
Perfect for smaller catches
Cons
When using it in an area with other fish finders, you might notice interference
The Deeper PRO Smart Portable Sonar is a sister to the Pro+ that is slightly advanced. The PRO boasts excellent angler-friendly features. Its castable range is 330 feet and the device can take measurements as far as 260 feet deep.
Unfortunately, it doesn't have the GPS mapping feature for onshore fishing. This doesn't prevent it from being effective. The angler can use a GPS feature on the boat or kayak. With the dual-beam sonar technology, ice fishermen/women have found it very reliable. The technology allows it to cover as much water.
Any scans made with this device are synced to the Cloud for future access. Being wireless makes it highly portable and versatile. It measured 6.5cm diameter-wise and a single charge can last you 5.5 hours. The sonar takes 2 hours for a full charge. You don't need cellular data as Deeper will hotspot and connect to your tablet or smartphone.
Amazon
The Best Portable Fish Finder
Pros
Stored waypoints are up to 5000
Plenty of sonar functions
Inbuilt GPS for sensitivity
Has a transducer with a good temperature sonar
Cons
Doesn't have a unit cover
Doesn't have current coordinates
Garmin, through improved technology, makes fish finding easier thanks to the Clear Vu Sonar scanning capabilities that allow you to view what is under the water. The sonar boasts a high frequency and gives detailed images of the object around your boat but under the water. Operating it is a breeze as it has buttons-each with its function. It is easy to assemble and install and can be bought in a 3.5'', 5'', or 7'' display size.
The manufacturer gives it a waterproofing rate of IPX7. This GPS fish finder uses a waypoint map for viewing, marking, and navigating to various locations. It is easy to spot stumps, brush piles, and docks. The maximum depth it can reach is 1600 feet in freshwater and 750 feet in saltwater. It operates on a voltage of 12 and 0.23 amperes.
Built with the chirp sonar mechanism, it sends frequencies continuously. This gives you a set of information to analyze, and decide the hotspots to fish. An inbuilt flasher allows you to read your data in a flasher format. Any ice fisher or angler who loves vertical jigging will love how the Garmin functions.
Amazon
Conclusion
Selecting the best fish finder can be a daunting task but I hope this article gives you ideas on what to look out for. All products described are excellent in quality, performance, and durability but the Garmin Fish Finder takes the crown for being highly versatile. You can use it for ice fishing, freshwater fishing, and saltwater fishing without a problem thanks to its construction.
Some anglers think that using fish finders is cutting corners but having a good one can add a twist to the time you spend on the water. Most importantly, the devices double your chances of hooking a fish.