If you are involved in ice fishing, you will know the benefits of using the best traction cleats. As exhilarating as ice fishing can be, if you fail to maintain grip, this can lead to frustration and possibly dangerous situations. Ice and snow are slippery and your life could be endangered, so you need to get the best to ensure your safety.
Quick Overview - Best Ice Cleats For Ice Fishing 2020
If you are looking for the best traction cleats for ice fishing in 2020, you have to consider several factors.
The Best Ice Cleats For Ice Fishing – Our Top Picks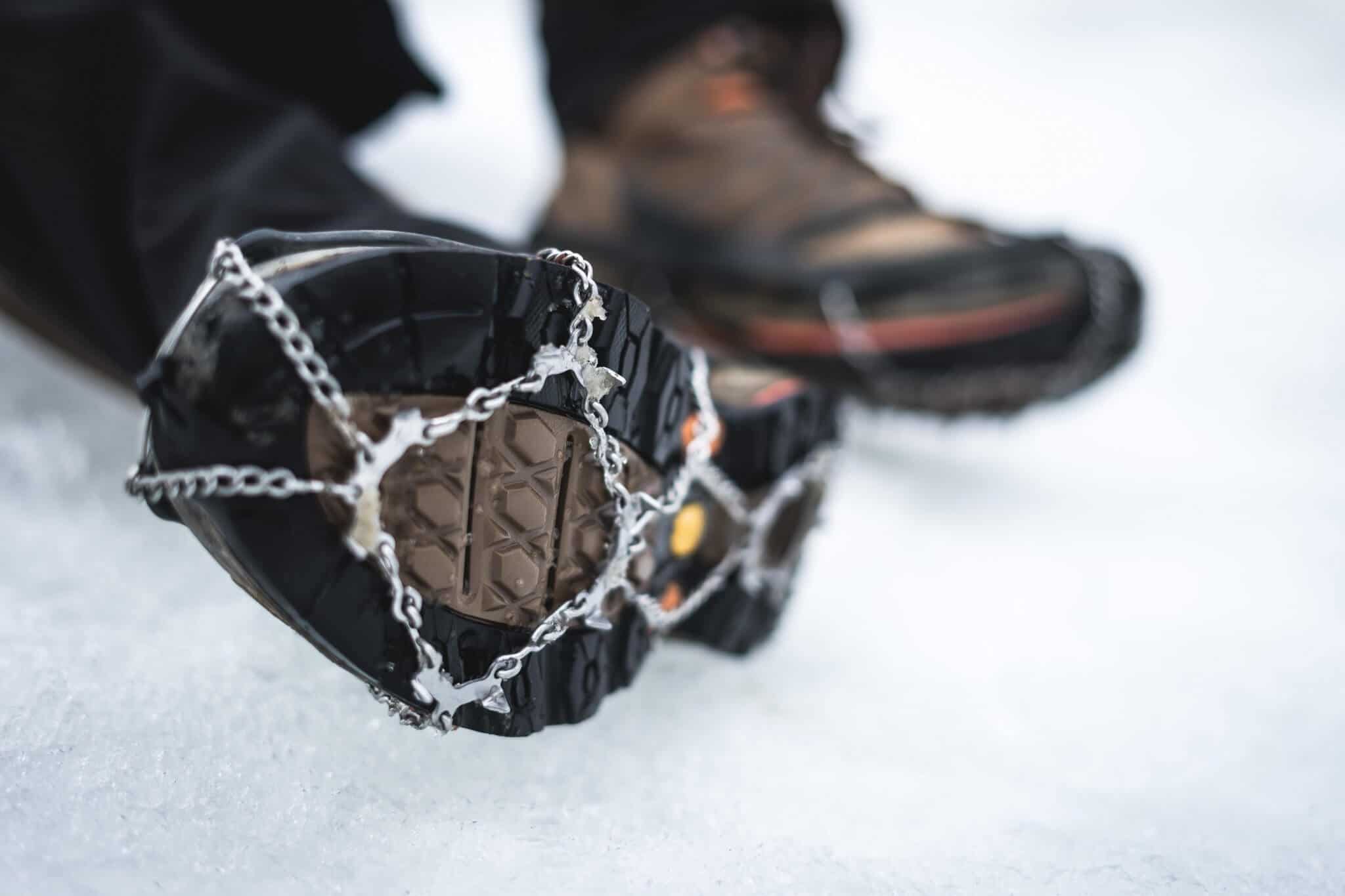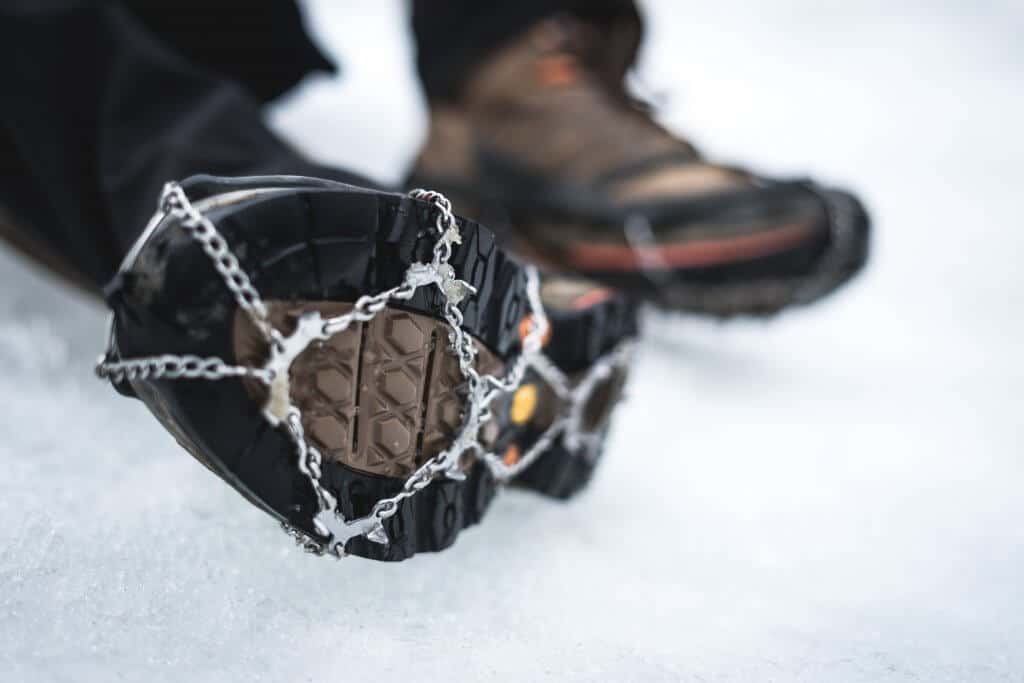 The Best All Around Ice Fishing Cleats
Spike Design
Features Stainless Steel Chains
Easy and Simple to Wear
Comfortable
Durable
This model features twelve spikes for each foot. Apart from that, it is a durable product, as it is produced from the finest quality and well treated stainless steel material. Because of the quality design, it is durable and corrosion-resistant.
The stainless steel chains is an outstanding feature of these cleats. You are sure of better performance when you use it, as it provides great traction.
One of thekey features many buyers consider is durability. It can serve you for a long time because of the TPU inserts, which are used to reinforce it. This is also great from a sustainability perspective. Buy quality, buy less!
To ensure you are safe and secure using this product, it features an integrated toe bail. The benefit of this is the added security. It prevents the user from crashing.
If you want value for your money, you should absolutely buy this product. It provides excellent traction, and you are one hundred percent secure when using this. Its comfortability and user-friendliness make it a great choice.
Best Ice Fishing Cleats for the Money
Very comfortable and fun to use
Can be used for a long time
Safety and security guaranteed
Great performance
Consists of the poor quality chain
The great traction of these cleats will probably win you over. It grips the ground very well irrespective of whether the surface is icy or snowy. Plus, the model is quite durable.
It consists of natural rubber, which is why it is elastic and fits the user well. Because of that, it secures your feet. This is arguably the most user-friendly cleat in the market.
It also consists of patented diamond beads, which is a product of hardened ally steel material. This makes it strong and better in terms of performance.
The beads can swivel on their own and that makes it impossible for snow buildups. The importance of that is that you can easily transit between different surfaces.
If you are looking for a more affordable, but still high quality option with superior performance, you should consider this product. It is designed with the finest rubber and chain materials while not breaking the bank. The perfect choice when looking for cheap ice cleats for ice fishing!
The Best Ice Fishing Cleats for Casual Ice Fishing
Cheap
Easy to use
Traction grants safety
Durable
Not offering the same performance as other options
It features eight rugged and heat-treated carbon steel material. This makes it thicker and durable. Furthermore, it makes for a better grip.
Perhaps the greatest attribute of this product is the ease of use. You can easily put it on and wear it out without difficulties.
Furthermore, the cleat is compactly designed. The importance of this is that it is easy and simple to move it about without difficulties. That it is really lightweight contributes to this.
It can fit very well because of the one-piece stretch design. The rubber is stretchable and it can just cover all your toe, boot as well as heel.
This product makes the list because of its wonderful design and good grip. It is easy, simple to use and also durable. If you are going on an occasional ice fishing trip or have boots that already provide good traction and are just looking to add to this to some extent, this is a good, cheap option to do just that.
The Best Ice Fishing Cleats for Walking on Snow and Ice
Heavy-duty traction
Grips any kind of ice surface
Abrasion resistant
Quality design
If you want to walk comfortably in any kind of glacial ice and snow, you can do that without fears. Winter hikers can always consider this model. It is suited extremely well for this purpose.
The aim is to grip any surface irrespective of the ice thickness. You can comfortably use this on any slope.
Perhaps most importantly, it is lightweight and easy to use even though it is a heavy-duty designed product.
When you are looking for this kind of product, safety is always the topmost priority. It is obvious from the design that this is one of the most secure in the market.
If you are looking for ice cleats that are highly adaptable to different use cases and are looking to do other activities like hiking on various surfaces and slopes, these Yaktrax cleats are a top choice. When it comes to safety and security, it does have an edge and you can use it on any kind of surface with confidence.
How to put on your ice cleats: MICROspikes
Frequently Asked Questions (FAQ)