As a recreational angler, fishing may be one of your favorite outdoor activity. But what about the less fun part of scaling it and preparing it for cooking?  Do you get tired of scaling a number of fish and find it a time-consuming activity? Well you don't need to worry about it as we have reviewed some of the best fish scalers for you so that you can easily prepare your fish for cooking. We have also provided some parameters that you can look at before buying a fish scaler online. So, let's first get started on the best fish scalers in 2020, that we have found out for you.
Quick Overview - Best Fish Scaler 2020
If you have tried scraping fish with a knife then you might know how inconvenient the process is and also there is always the risk of getting your hand cut. Having a fish scraper solves this problem as they are uniquely built to scrape off the tough scales with ease and comfort. They come with sawtooth or ridged metal edges that help in lifting or pulling the scales away.
Fish scalers are generally made of stainless steel, wood or plastic and are great for people who eat fish regularly as it makes scaling super easy and saves your time and effort. So, read on to get the hang of the features that you can look out for as you are looking for a new fish scaler for your kitchen.
The Best Fish Scalers – Our Top Picks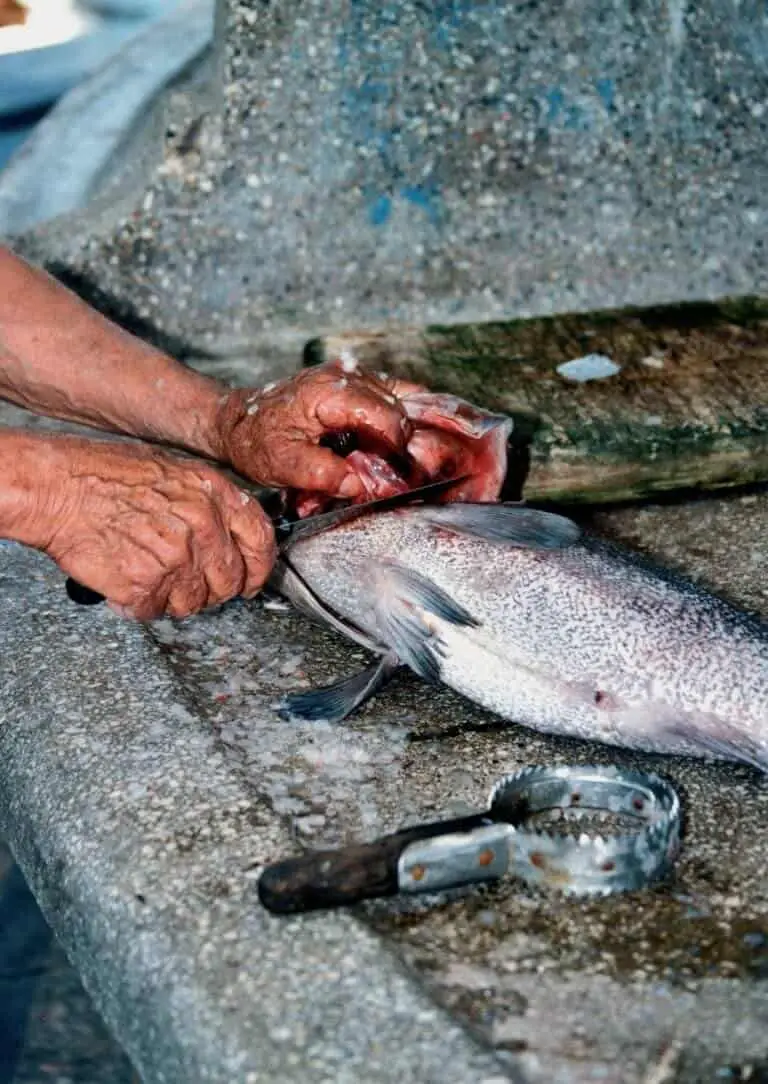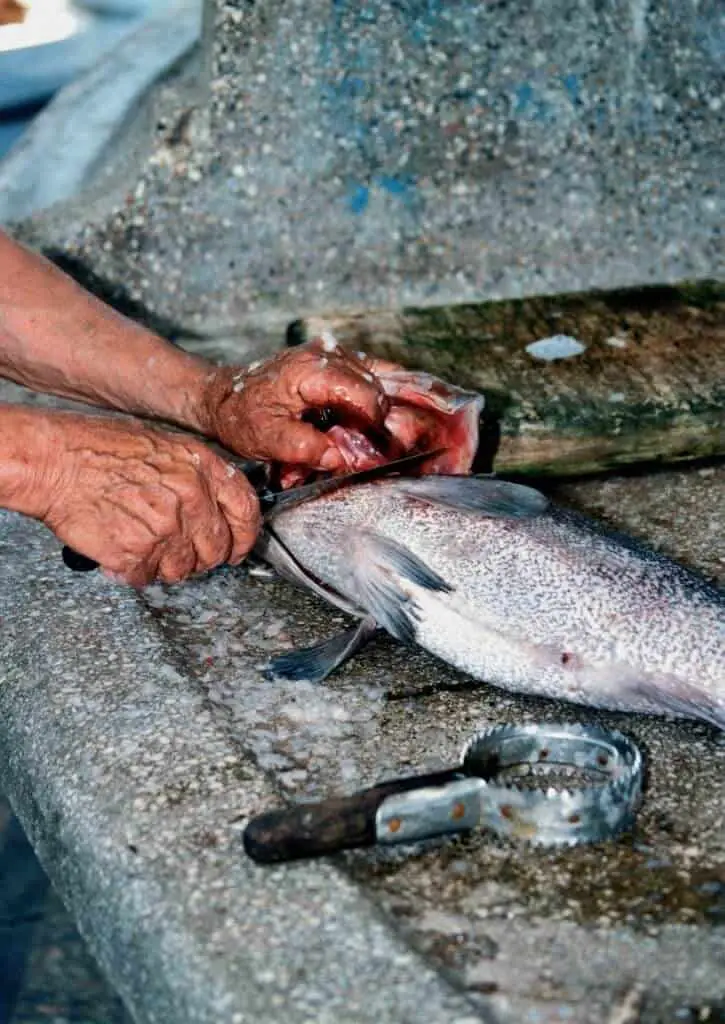 The Best All Around Fish Scaler
30 individual serrated sawtooths allowing you to remove fish scales easily
304 stainless steel material
Ergonomic handle sufficiently offset to avoid dragging your knuckles across the fish
Scaling 4x faster than using the back of a knife
This item seems to be light duty for scaling big fish
The handle is relatively smaller than the one depicted in the pictures
The Comfecto Fish Scaler Remover with Stainless Steel Sawtooth is a Japanese scaler that makes removing fish scales a breeze. The scale scraper has 30 serrated sawtooths that ensure even and complete scale removal. All you need to do is to make a few stroking motions and the scales will come off rapidly with the help of this remover and that too without tearing the skin. The best part about this fish scaler is that the scales do not fly off in all the directions so you would be happy as it doesn't make a mess in your kitchen.
As mentioned, the Comfecto Fish Scaler Remover is made up of fine quality stainless steel that is lightweight and does not rust easily. The handle of the Comfecto Fish Scaler Remover gives you a comfortable grip so that the remover does not fall off from your hand even if you are scaling bigger fish. Usually the belly and the fins are tough spots for scaling but this remover easily scrapes off the scales from these difficult areas as well. Moreover, it does not tire your wrist and arm and you can use it to scale many fish at a time without getting fatigued.
This fish scale tool has a compact size of 7.5 x 1.4 inches and helps in saving the space in your kitchen. Moreover, it has a hook ring at the end of it handle so that it can be conveniently hanged on your kitchen rack.
This knife is so much better than the wooden knives that acquire a bad smell with constant use. With its sturdy construction and ergonomic design this fish scaler is a must have if you like to cook fish regularly. Also, it is the best gift for your husband or father who is an avid fisherman and loves to cook fish as well as it will help them peel off the scales like a pro!
Material: Stainless Steel
Size: 7.5 x 1.4 Inches
Weight: 1.4 ounces
Color: Silver
The Best Value Fish Scaler
No rust fish scale remover
Full stainless-steel grip
Lightweight
Dishwasher safe
FDA approved
Comes with a lifetime warranty
You may not find the grip very strong
Do you often get a cut when scaling fish? If your answer is yes, then the Amison Fish Scraper is the perfect scaler for your kitchen. It is much better than using your knife to scrape the skills. The sawtooths in this scaler are made up of good quality stainless steel and help in removing the scales easily. The sawtooths come in two sizes so that you can scrape your fish faster. Scraping off the corners of the fish becomes a difficult task with your kitchen knife but if you are using the Amison Fish Scraper this job will not seem that daunting at all.
The Amison Fish Scraper is easy to hold as it provides and good grip and fits perfectly in your hand. Moreover, it does not need much storage as there is a hook ring at the end that helps you hang this product on the wall. Unlike many fish scalers available in the market, this one is easier to clean as it has three holes in its head. The best part is that it comes with a lifetime warranty so you don't have to worry about getting a new one. Clearly, given its price tag, it is an outstanding choice for a cheap fish scaler.
Product Dimensions:8.1 x 1.6 x 1.6 inches
Item Weight:2.88 ounces
Shipping Weight: 2.88 ounces
Color: Silver & Size: 8 inch
Made up of 304 stainless steel
The Best Lightweight Fish Scaler
High-quality food safe
304 stainless steel
Non-slip handle is designed with ergonomic design that is sturdy and easy turning without hurting you
May rust with long term use
If you are looking for a high-quality stainless-steel scaler then go for GiniHome Fish Scaler that is lightweight as well as sturdy. As it made up of 304 stainless steel it will not rust easily and even won't break when used constantly. This one has an ergonomic design so the handle is comfortable to hold and does not slip easily.
The GiniHome Fish Scaler is safe to use for you and your family and removes all the scales easily. The manufacturers have a 30-day money back service. So, if you don't like this product for any reason at all, just feel free to get in touch with them and you will get 100% money back.
Package Dimensionn:7.6 x 2.5 x 1.2 inches
Item Weight:2.4 ounces
Shipping Weight:2.4 ounces
Weight: 0.1 lb
The Best Fish Scaler in Terms of Safety
Fast descaling and safe to use
Unique design that ensures no fish scales flying
Very easy to clean
Comfortable to hold and use
Only suitable for small fish as its size is very small
Bring a lot of fun to home life with Gnker Fish Scaler Skin Brush. This fish scaler has a great shape, design and also has lovely appearance. The bottom of this scaler is raised and this makes scaling a breeze. Moreover, it ensures that scraping is clean and sanitary. And if you are tired of making space for new products in your kitchen then this one is for you as it comes with hanging holes so you can conveniently hang it wherever you desire.
The manufacturers have ensured that this scraper is convenient to operate. The cover design is such that the scales do not fly off everywhere in your kitchen but rather can be disposed off in a clean manner. Washing this scaler is convenient, clean and sanitary. Because of its non-sharp design, it does not cut you so it is safe to use.
Package Dimensions: 6.7 x 3 x 1.7 inches
Item Weight: 2.08 ounces
Shipping Weight:2.08 ounces
Frequently Asked Questions (FAQ)
If you want to clean the fish scales without much hassle then a fish scaler is the right choice. Many people prefer to eat fish with the skin as they might find it more delicious. Moreover, you may want to keep the skin on when grilling the fish so that it is juicier. But if you want to leave the skin then you will have to take the scales off.
The first step is to clean the scaler by washing it under running water. The next step is to hold the fish with one hand and then move the scaler up and own over the body of the fish. Move your hand from the tail to the head of the fish while scraping and you will see the scales coming off in sometime. Once all the scales are removed your fish is ready for grilling or filleting with an electric or normal knife. For more info on cleaning a fish, read our article.
Yes you can but it is sometimes common to see a few scales left while scraping especially around the belly and the back of the fish. It is because these areas are the tough spots and the scaler needs to be maneuvered carefully around them. You can also use a pocket knife to get rid of these stubborn scales.
Scaling a fish will become much easier if you follow this guide and invest in the best fish scaler of your choice. Whether you are an amateur or a pro at cooking fish you will not be troubled with scaling provided you invest in a food scaler. So, get ready for an amazing cooking experience with your favorite fish scraper!