Does quality have to be costly? Not necessarily! While more modern and advanced features come at an extra cost, a highly efficient and good quality reel doesn't have to make you break the bank. There are options to purchase fly fishing reel and rod combos that come at subsidized prices.
However, sometimes you might get the urge to build on your reel collection but don't want to go bankrupt. No worries since we have the most work done for you. We have put together this piece on the best fly reel under $200 to make it easier for you to shop.
We understand your concerns about the current market being flooded with crappy and counterfeit fly reels that don't last a session nor a season. As long as you know the features to look for in a good fly reel, you are almost set.
Quick Overview – Best Fly Reel under $200
Quick Comparison – Best Fly Reel under $200
Preview
Best All Around
Best Value
Title
Piscifun Platte Fly Fishing Reel Large Arbor Fully Sealed Drag with CNC-machined Aluminum Alloy Body 7/8 Ice Blue
Redington Run Fly Reel, Lightweight Design for Trout, Freshwater Fishing, Carbon Fiber Drag System, Black, 7/8 Weight
Orvis Battenkill Fly Reels, Ii (3-5 Wt)
Best All Around
Preview
Title
Piscifun Platte Fly Fishing Reel Large Arbor Fully Sealed Drag with CNC-machined Aluminum Alloy Body 7/8 Ice Blue
Best Value
Preview
Title
Redington Run Fly Reel, Lightweight Design for Trout, Freshwater Fishing, Carbon Fiber Drag System, Black, 7/8 Weight
Preview
Title
Orvis Battenkill Fly Reels, Ii (3-5 Wt)
What to Look for in a Good Fly Reel
With the plethora of fly reels in today's market, it can be daunting to land a good one for your angling needs. It might be easier with a fly rod but it isn't on this other side of the store.
It is also important to differentiate marketing gimmicks from manufacturers' facts in the product description. For instance, we know that a powerful drag system is vital but one that describes its system as powerful enough like that of a freight train is pure lies. Forget the hyperboles and run with the facts.
Target Species
Before anything else, get a fly reel depending on the fish species you'd like to chase. A fly reel for grayling or light river rainbows might not be the same for successful fishing in saltwater for steelhead or salmon.
Design / Size
This primarily describes the arbor of the fly reel and they come in three types-standard, mid-arbors, and large arbors. Standard arbors are the traditional kinds and mostly used in fishing small rivers and streams.
Arbor
Mid-arbor fly reels have their performance at the center of the standard fly reels and large arbor fly reels. On the positive side, they amplify the benefits of a standard reel. Large arbor reels boast greater diameters compared to the two designs mentioned above. Some advantages are greater backing capacity, faster retrieval rates, and reduced weight.
Drag System
Fly reels could come with disc drag systems or click and pawl systems. We wouldn't want to despise any for another as each is useful in its required conditions. However, if you are mostly angling in the salt flats and saline waters, sealed disc drag systems are the best options. Click and pawl can be used for combing smaller streams and rivers for young to medium-sized trout and grayling.
Backing
Ensure that your fly reel has enough backing for your chosen rod weight. Luckily, most fly reels nowadays are built for most fly rods and to will suit various fly lines.
Construction
What is the reel made from? What about its components? Some reels are made from machined aluminum, others die-cast aluminum, and others composite. The crafting process will influence the reel's performance, durability, and ease of maintenance. Preferably, a CNC machined aluminum fly reel with stainless steel components will serve you best and longer.
Weight
Your fly reel should be lightweight for portability and easy pairing with fly rods. Fly fishing will need your arms to be flexible and anything heavier of it will ruin what was to be a good day on the water. Also, the weight of the reel will influence the species you chase. 1 to 3 weight fly reels are best for small streams, ponds, trout, and panfish. 4 to 6 weight reels will be ideal for largemouth and smallmouth bass. Carry a 7 to 9 weight fly reel 8if going after larger bass, bonefish, and salmon.
Retrieve System
A fly reel's primary task is retrieving the line. How fast the fly reel retrieves lines is categorized into automatic, multiplying, or single action. Single action reels have been and are still the commonest and most reliable.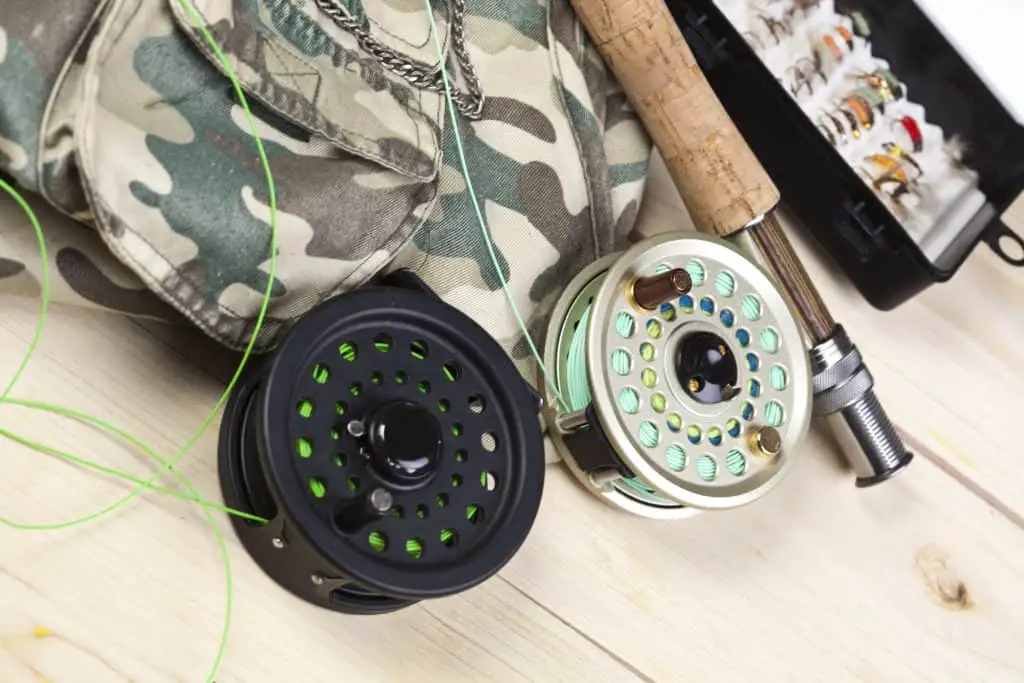 A single-action reel makes one turn of its spool when you fully revolve the handle once. Those with multiplying actions turn the spools twice or thrice with a single crank of the handle. Their upside is reeling in the line extremely fast.
But the problem is frequent breakages of the gears and other crucial parts. Automatic action reels have safety latches for reeling in the fly line. However, they don't hold the backing well compared to other reels.
Are Fly Reels Better than Conventional Reels?
Conventional reels can be used for inshore, offshore, freshwater, and saltwater fishing just like fly reels. They are not so popular among anglers but come in various sizes and can be used for different techniques like kite fishing, deep-drop fishing, pier fishing, trolling, and casting jigs among others. Their designs are straightforward and meant to be used in areas where fish live deeper.
For fly fishing, fly reels are better because of the simplicity in casting as conventional reels don't have magnetic or centrifugal drag systems. You also can't change the retrieve side in these reels like you would in most fly reels.
Advantages of Fly Reels
Easy hand-feeling when it is time to reel in
Reduced weight for portability and prevention of arm fatigue-you fish longer
Proper positioning for arm flexibility and easy reel, line, and rod management
Suitable for faster service
Available in many types and designs
Greater efficiency and reduced palming
Presents flies better
Depending on the size, it can handle larger fish well
The Best Fly Reels under $200 Review – Our Top Picks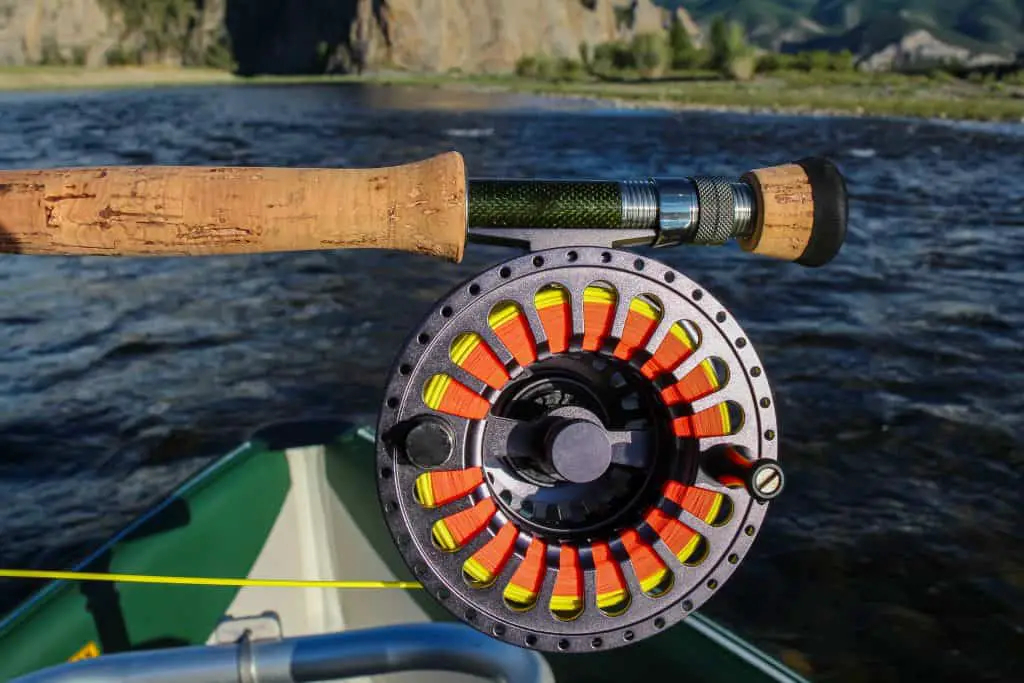 The Best Fly Reel under $200
Pros
Durable construction
Suitable for any environment
Low-maintenance fly reel
Comes in various sizes
Cons
Needs some time to master how to switch to the right-hand side retrieve.
Take it to the salts, it survives. In the fresher waters, it loves it even more. For any novice looking for a straightforward reel that can serve them anywhere at any time, this is it. For advanced and pro anglers, it can make a good backup plan when your main buddy dies on you. It doesn't have the bells and whistles in other reels of its category.
Not doing the usual die-cast construction method, Piscifun opted for a CNC machined reel this time. This means that durability and reliability are nothing to worry about. Its retrieval rates are faster and the CNC machined spool is designed to expose the fly line and backing for faster drying.
The large arbor will pick up plenty of fly line and it performs well on large water bodies. You can use it to chase both small and large species. The sealed carbon to stainless drag system has been built to withstand any abuse and its stopping power is everything you need in a good fly reel.
As you pull off your fly line, the drag system minimizes start-up energy. It comes with an oversized knob to help you make precise adjustments. The knob has knurled edges for good grip even with wet hands.
The Best Value Fly Reel under $200
Pros
Comes in various sizes
Large arbor design
Lightweight with porting
Protects your line better with the rounded reel foot
Cons
Its unmachinable nature needs a little more cautiousness to prevent breakage and dents
Redington makes impressive gear and the Run Reel for the much it goes for takes the crown as a versatile fly reel when on a budget. Besides being extremely lightweight from the choice of processing it does better than its competitors and other high-end die-cast reels.
The drag is pretty much what you need for both a big and small fish. Though you will notice minimal startup inertia, it isn't that much to cause trouble and lose a big fish. It is easy to adjust the drag when the fish tries to bolt off. Both guides and pro anglers who own the Redington Run Reels say that regardless of the brutality they expose these reels to, they remained solid.
Sporting a carbon fiber disc drag system, it will serve you for most angling situations. Compacting the system in the reel was a good way to improve efficiency while greatly reducing weight and lowering maintenance schedules. It features a push-button spool release system which is more modern. If you own the Redington RISE Fly Reel, its spools are compatible with the RUN reels.
Amazon
The Best Click and Pawl Fly Reel under $200
Pros
Great for smaller fish
Ambidextrous
Minimalist design and ultra leightweight
Quality materials and construction
Cons
Not strong enough for large fish
Orvis is a household name in the fly fishing industry and for over a century, only good has come out of it. While there are a few critics here and there, they are minimal. The Battenkill fly reel has proven to be among the most efficient and reliable click and pawl reels. Designed from lightweight and modern aluminum, it boasts great aesthetics and reduced weight.
It produces a low tolerable sound when you hook a fish and it decides to take off. The good thing about the sound, it works as an alarm system but won't be a nuisance. For fishing small streams, rivers, and ponds, works perfectly because the drag strength matches this environment. Pack it if you will be targeting smaller fish.
Amazon
Happy Fishing
It doesn't have to be fancy and expensive-only functional and you are good to go. Not to be confused with a mooching reel, selecting the best fly reel when on a budget still depends on the type of fish you are after. For instance, a trout angler doesn't need bigger reels.
The Orvis Battenkill Reel is perfect for most trout angling but if you'd love to be more adventurous, the Piscifun Platte will do. From its structure to the performance, and durability, there is nothing it can't do. Even with budget reels, proper care and maintenance will go a long way in prolonging the lifespan of your fly reel.