It is that time of the year again where you can finally do some fishing. And what better way than getting hold of a fiberglass fly rod to enhance the experience? Built for durability, flexibility, and smooth fishing, fiberglass fly rods are the perfect fishing rods.
Quick Overview – Best Fiberglass Fly Fishing Rod
Quick Comparison – Best Fiberglass Fly Rod
Preview
Best Value
Title
Riverruns S-Glass Fiberglass Fly Fishing Rods 4pc 6'6" LW3, 7'7" LW4, 8'1" LW5 Ultra Light Classic Medium Fast Action Fly Rods (Light Yellow, 7'7''LW4)
Maxcatch Fiberglass Fly Rod 8'0'' 5wt/ 7'0'' 3wt Three-Piece (Blue/Orange/Transparent) (Blue, 8'6'' 6wt)
3-Piece Fly Fishing Rod and Reel Combo Starter Kit - 97-Inch Collapsible Fiberglass and Cork Fishing Pole with Case and Accessories by Wakeman (Black)
Preview
Title
Riverruns S-Glass Fiberglass Fly Fishing Rods 4pc 6'6" LW3, 7'7" LW4, 8'1" LW5 Ultra Light Classic Medium Fast Action Fly Rods (Light Yellow, 7'7''LW4)
Best Value
Preview
Title
Maxcatch Fiberglass Fly Rod 8'0'' 5wt/ 7'0'' 3wt Three-Piece (Blue/Orange/Transparent) (Blue, 8'6'' 6wt)
Preview
Title
3-Piece Fly Fishing Rod and Reel Combo Starter Kit - 97-Inch Collapsible Fiberglass and Cork Fishing Pole with Case and Accessories by Wakeman (Black)
Buying Guide
Before you decide to purchase one, you should know a few things. Fly fishing rods generally come in three different types built from different materials. These three types are Bamboo fly rods, Graphite fly rods and Fiberglass fly rods. Each has its pros and cons and offers a different fishing experience.
What advantages does a Fiberglass fly rod have over bamboo or graphite ones?
The advantages of using fiberglass fly rods over bamboo or graphite are:
The fiberglass fly rod is the toughest of them all. It does not break easily, and it also generally lasts longer than graphite or bamboo made flying rods.
It is suitable and comfortable for anybody, irrespective of whether you are a beginner or an expert in fishing.
The rod action is extremely versatile compared to graphite or bamboo rods.
Unlike bamboo and graphite rods, you can feel your line's casting when using a Fiberglass fly rod and feel the line's weight.
Fiberglass fly rods generally have better aesthetics compared to bamboo or graphite rods.
Fiberglass fly rod are often cheaper than bamboo or graphite fly rods.
Sensitivity
When it comes to the sensitivity of fishing rods, fiberglass fly rods are not considered to be the best. One of the reasons is that fiberglass fly rods tend to flex in a parabolic arc.
This makes the rod bend a lot from the bottom to the tip, which compromises the line's weight. So despite being durable and flexible, graphite fly rods tend to have better sensitivity than fiberglass fly rods.
Length
Choosing the right length for your fiberglass fly rod is a crucial element for fishing. A lot of it depends on what types of fish you plan on catching, but generally, 8.5 feet is a good length for an all-round fly fishing experience.
If you plan on making long casts and fish in the wind using a heavy fly line, 9 feet is the recommended length. And for shorter casts like fishing in a stream, anywhere below 8 feet should work for some precise casting.  
Blanks
The blank is a crucial component of the fly rod because it is the core that holds the rod. There is a wide selection of blanks you can purchase depending on the rod's length and weight. There are even custom build suppliers if you choose to take that option. Typically, choosing the right blank for your fly rod depends on:
The pulling power of your fishing rod, whether it is heavy, medium or light. The best way to identify the power is to check whether the weights fall in the middle of the rod's rating when you throw. So a heavier rod will need a powerful blank and vice-versa.
The type of taper you have on the rod also matters because it controls the blank's action. So when you select a blank, the blank's action should always match your preferences on the fishing rod.
The type of material that you specifically want on the blank. But there are different price ranges, and it all depends on your budget. So the higher you spend, the better blanks you get built from top-grade materials.
Your rod's length is also an essential factor for deciding and choosing the right blank for your fishing rod.
What does a fly fishing rod consist of?
The fishing rod is the primary component that holds all the other parts together. The different pieces in the rod are:
The top rod with the handle, which is also the most fragile part of the rod. It is prone to breaking if you handle it too roughly.
The tip-top, which is the top end of the rod with a metal component, guides the line into the water and ensures that the line does not get tangled when you reel it in.
The tip of the rod, which is the most flexible part of the fishing rod.
Guides and wings are located throughout the rod so that the line from the tip winds up smoothly on the reel.
The windings help in reducing the friction on the line for a smooth reel in
Ferrules which are the points of multi-jointed rods.
The butt which is the thickest part of your rod and very close to the handle.
You can find the butt cap located at the bottom end of the fishing rod. It helps it reeling in big fishes.
The handle lets you get a good grip on the fishing rod.
Finally, the reel which holds all the line of your fishing rod.
The Best Fiberglass Fly Rods – Our Top Picks
Fiberglass fly rods come in many different types, and each has a specific purpose. The type of fiberglass fly rods you need depends on the kind of fishing you want to do.
If you are looking for an all-purpose fiberglass fly rod, these are some of the best in the market to check out.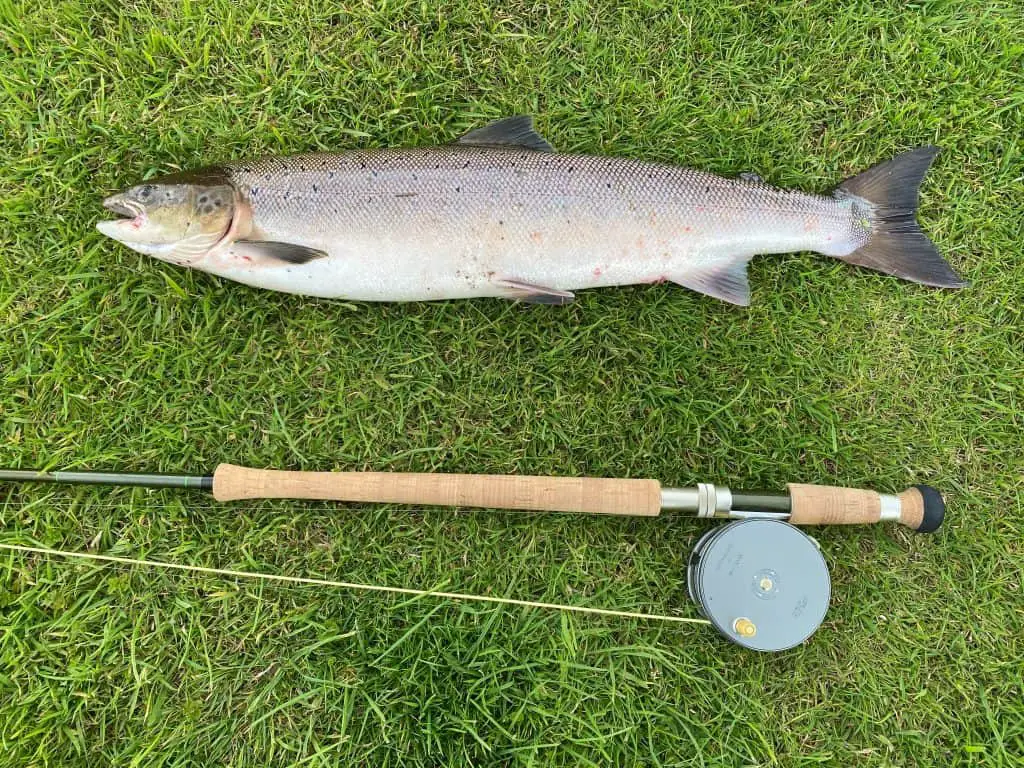 The Best Fiberglass Fly Rod
No products found.
No products found.
Pros
It has a customized burl wood in the reel that delivers a high balanced performance compared to other brands with an aluminum insert
It is a superior build product that is exceptionally light and 20% stronger and 20% lighter than other fly rods
The four-piece structure makes it a very comfortable and portable gear that you can take anywhere with ease
It comes with a one-year warranty and it also makes for the perfect fishing gift for someone
Cons
The section below the brittle is comparatively weaker than other fly rods and might snap
The Goture fly fishing rod is one of the best overall fiberglass fly rods. It is a 9 feet rod that comes in four pieces. And whether you are fishing in freshwater or saltwater for walleye, salmon, trout, etc., it delivers in its performance. You can even use it in streams or rivers, so owning one will get you all covered for an all-purpose fishing experience.
Amazon
Runner Up Fiberglass Fly Rod
Pros
It comes in four pieces, making it compact and easy to handle and carry
It has excellent accuracy for casting
The tip has a titanium coating, so it is strong
The handle has a grade A imported cork which is a Portuguese design.
Cons
Comparatively expensive, because there are no additional accessories provided
The River runs Fly Fishing Rods Z Super Fiber Glass Fast Rod is another excellent option for an overall fishing experience. It offers you the classic lightweight feel and has a medium-fast action.
Despite the price of the product, it is a premium fly rod and delivers excellent performance. And the build quality is premium, so spending a little more won't hurt because the results matter the most.
Amazon
The Best Value Fiberglass Fly Rod
Pros
A high-performance rod that comes with a metal chrome ring in the traditional style
The rod is Maxflexing Glass Bank Technology with unique flexibility
It has a comfortable cork handle with an aluminum steel seat and a burl hardwood insert
It comes in a four-piece design, so it is portable and easy to carry around
Cons
A bit heavy
Sometimes the reel seat does not sit well on some orders
The Maxcatch fiberglass fly fishing rod is the best when it comes to value for money. It comes in four different blue, transparent, purple or orange colors.
You really can't go wrong with M MAXIMUMCATCH Maxcatch Fiberglass Fly Fishing Rod if you are a bit low on budget. There are slight issues on the built, but it still delivers high performance provided you maintain it properly. With this option, you can still experience a premium fishing experience while spending less.
Amazon
The Best Fiberglass Fly Rod for Bass and other Heavy Fish
Pros
It is an ambidextrous fly rod that is collapsible and features a compact design
The fiberglass material makes it lightweight yet a durable and robust rod that you can rely on
You also get reels and other accessories like two dry flies, a tapered leader line, and a pre-spooled 45 feet line
It also includes a carrying case that you can safely carry anywhere
Cons
Some users found that the zipper is fragile and breaks easily
Trying to catch some heavy fish like brass requires specific types of fiberglass fly rods. And it is crucial to get hold of the right one. The Wakeman outdoors fly fishing pole is one of the best fiberglass fly rods if you plan for some bass and other heavy fishing. It has a lot of cool features as well.
This fiberglass fly rod is an excellent choice for bass fishing. And the pre-packed features make it an exceptional value deal.
Amazon
Best Fiberglass Fly Rods – Frequently Asked Questions (FAQ)
Yes, they are some of the best fishing fly rods. The fiberglass used is military-grade, so it makes sure that it stays strong and durable.
With a three wt fiberglass rod, you can easily catch trout. Typically, a three wt fly is ideal for fishing in small streams. If you want to go for bigger fish, consider a versatile 5wt fly rod.
Both fiberglass fly rod and graphite fly rod differ in performance. Fiberglass can handle bigger fishes because they have more play in them, which you don't find in graphite rods. On the other hand, graphite rods are more sensitive to fish bites compared to fiberglass fly rods. If you are unsure, you can check out different options here.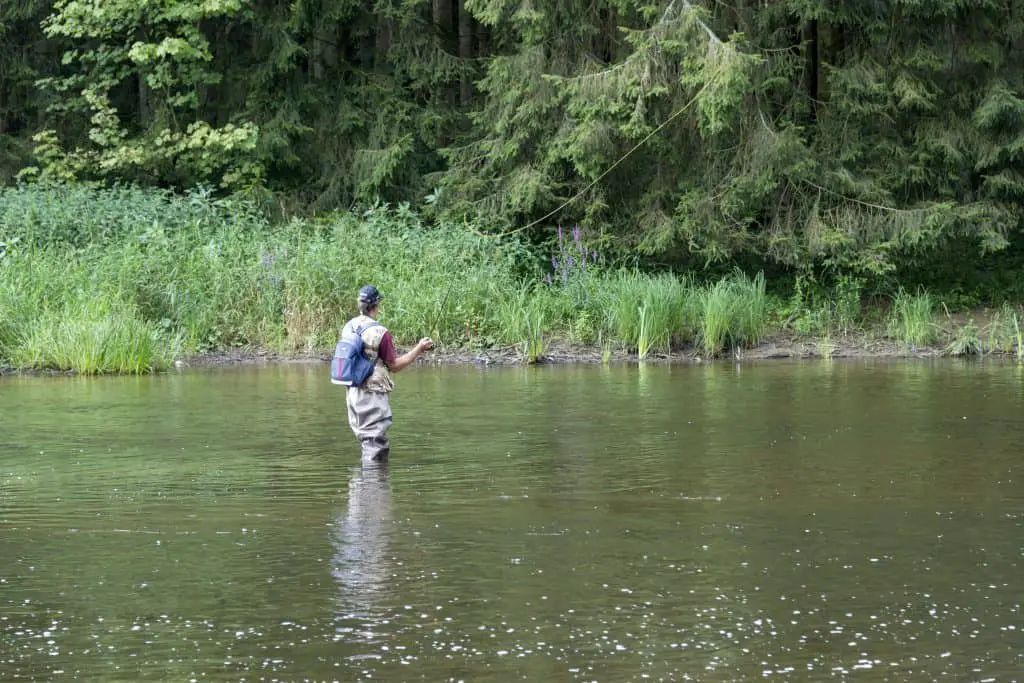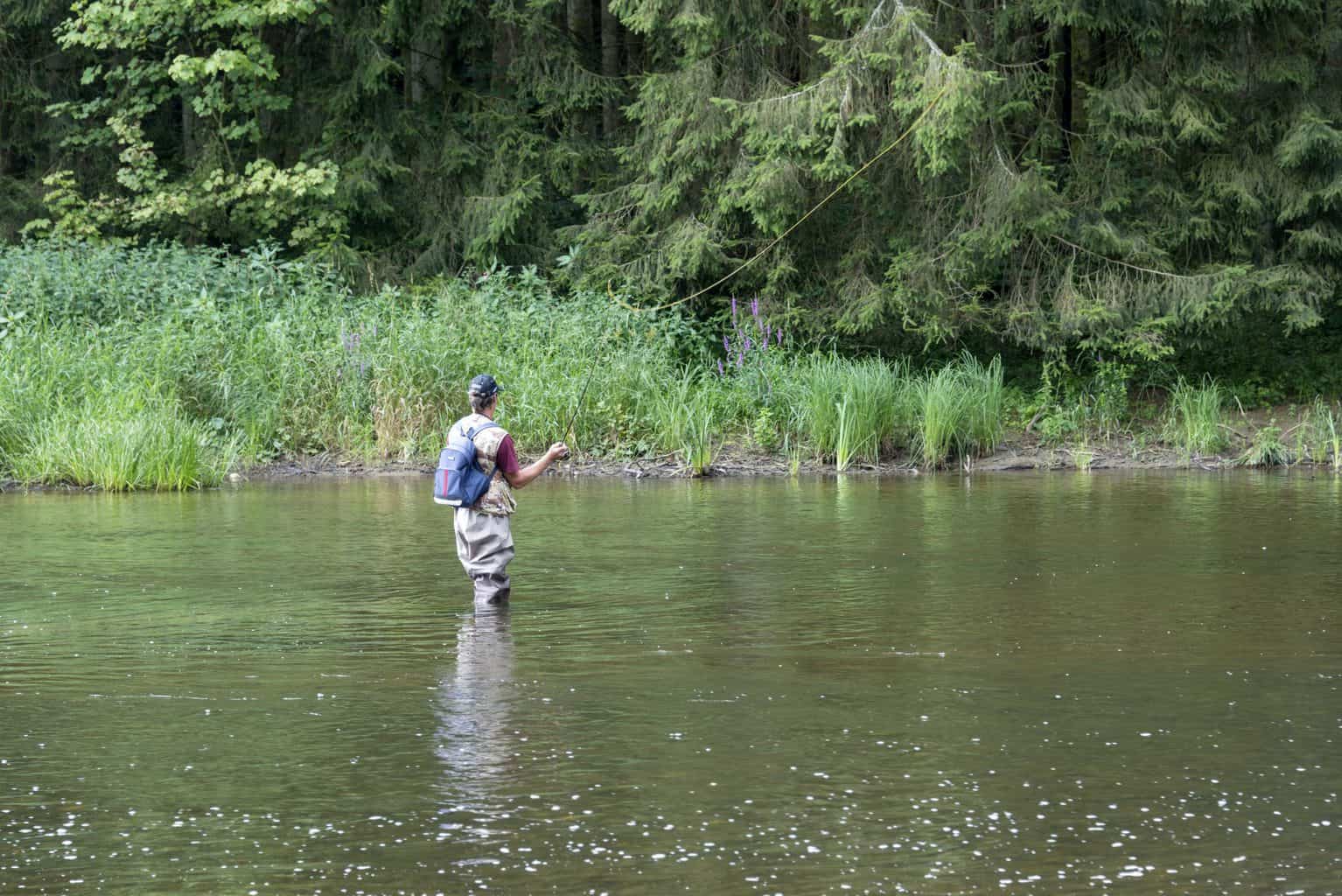 Happy Fly Fishing
For those of us, who prefer fly fishing to spin fishing, going fishing can become an unpleasant experience if you pick the wrong fly rod. Each fly rod made from different materials has different pros and cons.
Depending on what kind of fish you want to catch and the type of environment you plan to visit, you can choose the right fly rod. For some tips & tricks, check out this article!