Inshore fishing is carried out in shallow waters as you look forward to catch smaller fish that usually weigh less than 20 pounds. A good spinning rod used for inshore fishing should weigh less so that you can catch a good size fish.
Spinning rods are a great option for inshore fishing mainly because they can be used by novice as well as experienced anglers alike. There are so many options that you can select from and the cost varies from low to high.
We have selected the best inshore spinning rods for you that are not only under $100 but also durable and have a great performance. We are confident that you will find a rod that matches your needs and has a variety of applications.
Quick Overview – Best Inshore Spinning Rod under $100
Quick Comparison – Best Inshore Spinning Rods
Preview
Best All Around
Best Value
Title
St. Croix TRS50ULM Triumph Graphite Spinning Fishing Rod with Cork Handle, 5-feet
Okuma Nomad Xpress Inshore Rod 3pc 7ft Spin Med Lite
Fenwick HMG Spinning Fishing Rod
Best All Around
Preview
Title
St. Croix TRS50ULM Triumph Graphite Spinning Fishing Rod with Cork Handle, 5-feet
Best Value
Preview
Title
Okuma Nomad Xpress Inshore Rod 3pc 7ft Spin Med Lite
Preview
Title
Fenwick HMG Spinning Fishing Rod
Buying Guide
There are several parameters that you should keep in mind before investing in an inshore spinning rod. We have explained them here so that you are able to make the best choice.
Rod Action
The rod action is the ability of the rod to bend and move back to its natural shape. The rod action provides an indication of the pressure that the rod can take and also its capability to reach back to normal position. The rod action is influenced by a number of factors such as its length, material, and taper.
You have the option of choosing a spinning rod that has slow, moderate, or fast action. If you are interested in casting long distances then you should go for slow action rods that bend across their entire length. The moderate action rods bend in the middle and are a good choice if you are targeting medium-sized species that are located in calmer waters.
The fast action rods on the other hand bend at the end of their length and are therefore are very flexible in rough waters. So, you should go for a rod that matches your fishing requirements.
Fishing Line
You need a proper line that works well with the rod and a good rod line combo will help you achieve great results. Select the line with the adequate weigh for your rod. Your spinning rod will give you an indication of the maximum weight that it can bear in kilograms so accordingly you can go for the right line.
Another important consideration is the material and length of the line. The length of the line depends upon your fishing technique and there are many materials out there, the most common being nylon as it is popular for its strength and durability.
Cost & Durability
There is a plethora of inshore fishing rods out there but you need to strike a balance between its cost and durability. There are many cheap rods out there that snap after being used a couple of times and are a waste of money. So, you should invest in a rod that is reasonable as well as a durable so that you don't end up spending your hard-earned money for a rod that won't last long. Go for a rod that matches your style and other specifications. Read the online reviews and know the credibility of the manufacturer before making an investment.
Efficiency of the Handles
Fishing requires you to be patient and to wait for the right opportunity. This is where a comfortable fishing gear plays an important role as you can easily wait for long hours with an easy to grip handle that does not let you feel tired. The handles of spinning rods are usually made of EVA foam or cork.
Both of these are good however EVA foam is stain-resistant and is slightly more comfortable as compared to cork. Some rods provide increased comfortability by using a combination of EVA foam and cork. However, you should ensure that your hand is in touch with the rod bank so that you can detect movements. A rod with a lesser foregrip will help you with the sensitivity.
Reel Seat Quality
Another important consideration while purchasing an inshore spinning rod is the quality of the reel seat. It is because for a spinning rod to function properly the reel is a crucial element. It is important to choose a rod that is compatible to a plethora of reel types so that you can get the one that can be tightened perfectly as a loose reel is a nightmare for any angler. Also, make sure that the reel that you choose is strong as it has to undergo a lot of stress and strain.
Number of Pieces
In a perfect inshore spinning rod , the number of pieces can vary. Multi-piece inshore spinning rods can be broken down easily and are more portable. As a beginner, this is quite an advantage.
However, single piece rods are more durable since these don't fall apart when you cast, which is a probability with multi-piece spinning rods. A single-piece spinning rod can distribute the pressure evenly and thus can stand more load.
That being said, not all multi-piece rods fall apart, and there are plenty of good quality multi-piece inshore spinning rods out there.
The Best Inshore Spinning Rod under $100 – Our Top Picks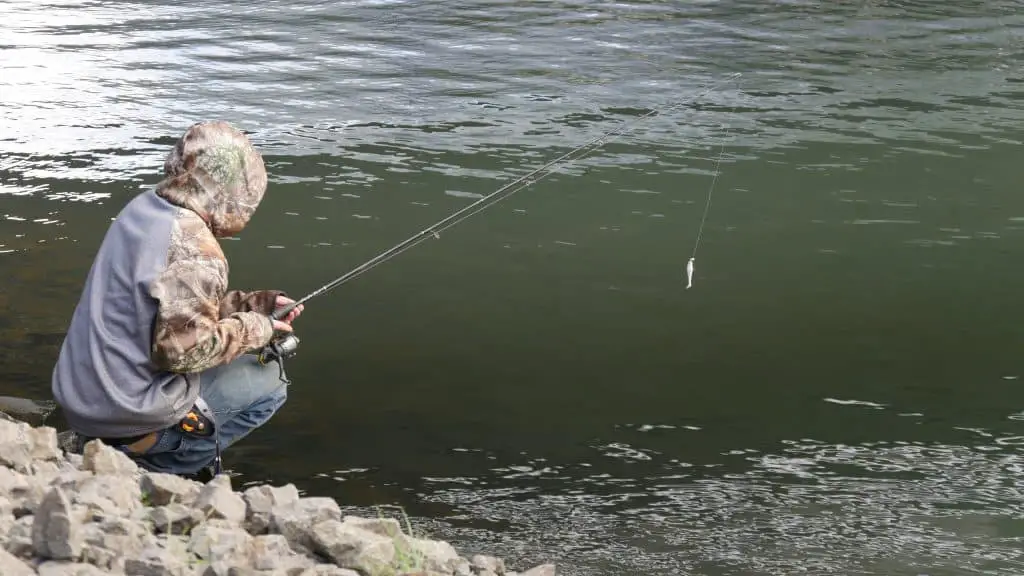 The Best All Around Inshore Spinning Rod
Pros
This rod is great for anglers who like a high-performance rod without spending much
Has a mid-modulus graphite fiber that has a higher strain rate as compared to other common fibers
This rod is lightweight, sensitive, and durable
The premium-grade cork handle ensures that you have a strong grip on your fishing rod
The best part is that this rod comes with a 5-year warranty that is backed by St. Croix Superstar Service
Cons
Most components of the rod are good quality but the reel seat locks are not that great in terms of durability
The St Croix Triumph Spinning Rods ensure that you get to know when your fish bites the bait as it is made up of highly sensitive carbon fiber. These rods are not only used by experienced professionally but are also popular with amateur anglers because of their ease of use and great performance.
Graphite provides strength, durability and also high sensitivity to these rods. Also, its hook-setting power ensures that you get the best catch while you are out there on your fishing retreat. Not only this, the St Croix Triumph Spinning Rods are easy to transport with their two-piece construction that makes it easier to store them.
Features & Specs
Shipping Weight: 4 pounds
Contains hard aluminum-oxide guides with black frames
Fuji DPS reel seat with frosted silver hoods on spinning models
Fuji ECS or TCS reel seat with frosted silver hood on casting models
Two coats of flex-coat slow cure finish
Great strength, sensitivity and hook-setting power
Amazon
The Best Value Inshore Spinning Rod
Pros
Made of highest quality material
Graphite rod blank construction that makes the rod durable and sensitive
European spigot ferrule connection
Accompanied with a waterproof travel bag with shoulder strap
Cons
The carrying case could be further upgraded in terms of quality
The Okuma Nomad Xpress rod features a graphite rod blank construction which is very durable. The rod has 3-section rod blank so that it can be easily stored when travelling.  The European spigot ferrule connection enables the rod to have the feel of a 1 pc rod.
Moreover, this rod comes with a waterproof travel bag with shoulder strap so that you can carry it comfortably on your fishing expeditions. The aluminum oxide guide inserts are backed by a 1-year warranty. The rod power is medium light and the rod taper is medium. This rod is 7′ in length and can handle a line weight of 10-20 lbs. 3-piece rod.
Features & Specs
Product Dimensions: 84 x 1.5 x 1.5 inches; 7.5 ounces
Shipping Weight: 2.1 pounds
Number of guides: 6 + tip
Split EVA butt with Pipe reel seat.
Weighs 6.1. Ntxi-s-703ml
The Strongest Inshore Spinning Rod
Pros
Sea-guide soft touch alien reel seat with positive lock design provides a secure platform for all reels
Carbon bound blanks are spiraled with carbon thread creating unparalleled strength and precise action
Fuji guides with stainless steel deep pressed frames with aconite inserts
This rod comes with a limited lifetime warranty
Cons
A few rods delivered to the customers had bent guides
The HMG has been in business for a long time and they were the first ones to manufacture a graphite rod. Fenwick has now come up with a comfortable and durable HMG that you would enjoy fishing with. TAC Handle gives a good grip in different fishing conditions, which is more durable than cork and also provides an easy grip in wet conditions.
Deep pressed titanium guides help remove the insert pop-out. The carbon bound blanks are spiraled with carbon thread and this provides great strength and precise action. So, if you are looking for a rod with excellent strength then you should go for Fenwick HMG Spinning Fishing Rod. It is also highly durable making it a good option for sustainable fishing equipment as it lasts long and you don't have to invest in a new one anytime soon.
Features & Specs
Fuji Reel Seats
Custom grooved handles with TAC and EVA blend that provide great comfort
AAA cork full grip handle
Amazon
Best Inshore Spinning Rod – Frequently Asked Questions (FAQ)
An inshore fishing rod is designed for fishing in shallow waters and is very similar to traditional fishing tools that were used for fishing in calmer waters. Inshore rods are used for angling within approximately 9 miles of the shoreline. These rods work well for small and medium fish that do not weigh more than 20 pounds.
One of the major differences between an inshore rod and a freshwater rod is that inshore rods can withstand corrosion as they are used in salty waters. On the other hand, freshwater rods get ruined in the ocean water because of heavy corrosion.
An inshore rod and reel selection will depend on the type of fish that you are looking forward to catch. The heavy rods are good for catching redfish, tarpon, cobia, and tripletail. The length of the heavy inshore rods varies between 7 – 7 1/2 feet in length.
There is no particular size that works best as it all boils down to your fishing requirements. Also, all anglers have different heights and so it is difficult to find a size that fits all.
So before investing in an inshore rod keep your height into consideration so that the rod is easy to maneuver. The commonly used sizes among anglers are 6'6 and 7'. These sizes help you cast long distances with ease and also enable you to catch moderately sized fish.
For an overview of the differences, check out our article!
Happy Inshore Fishing
We have provided you with all the details for selecting an excellent inshore fishing rod that is also affordable. However, you need to keep in mind that your rod should be paired with a good reel to get the best results.
So, it is crucial to match the rod and reel properly to get the highest performance that you are looking for. Check out some cheap saltwater spinning reels for example. Happy fishing!