All anglers are different so there's no right or wrong answer to the debate on which type of fishing is better. However, both fly fishing and spin fishing are worlds apart. In fact, I can say that the only similarity between these two sports is that they involve fishing. 
So, which one to go for? This depends upon the environment in which you are fishing and whatever works better for you is the right choice. Check out this graphic on fly fishing vs. spin fishing for a quick overview, before delving into the details with us: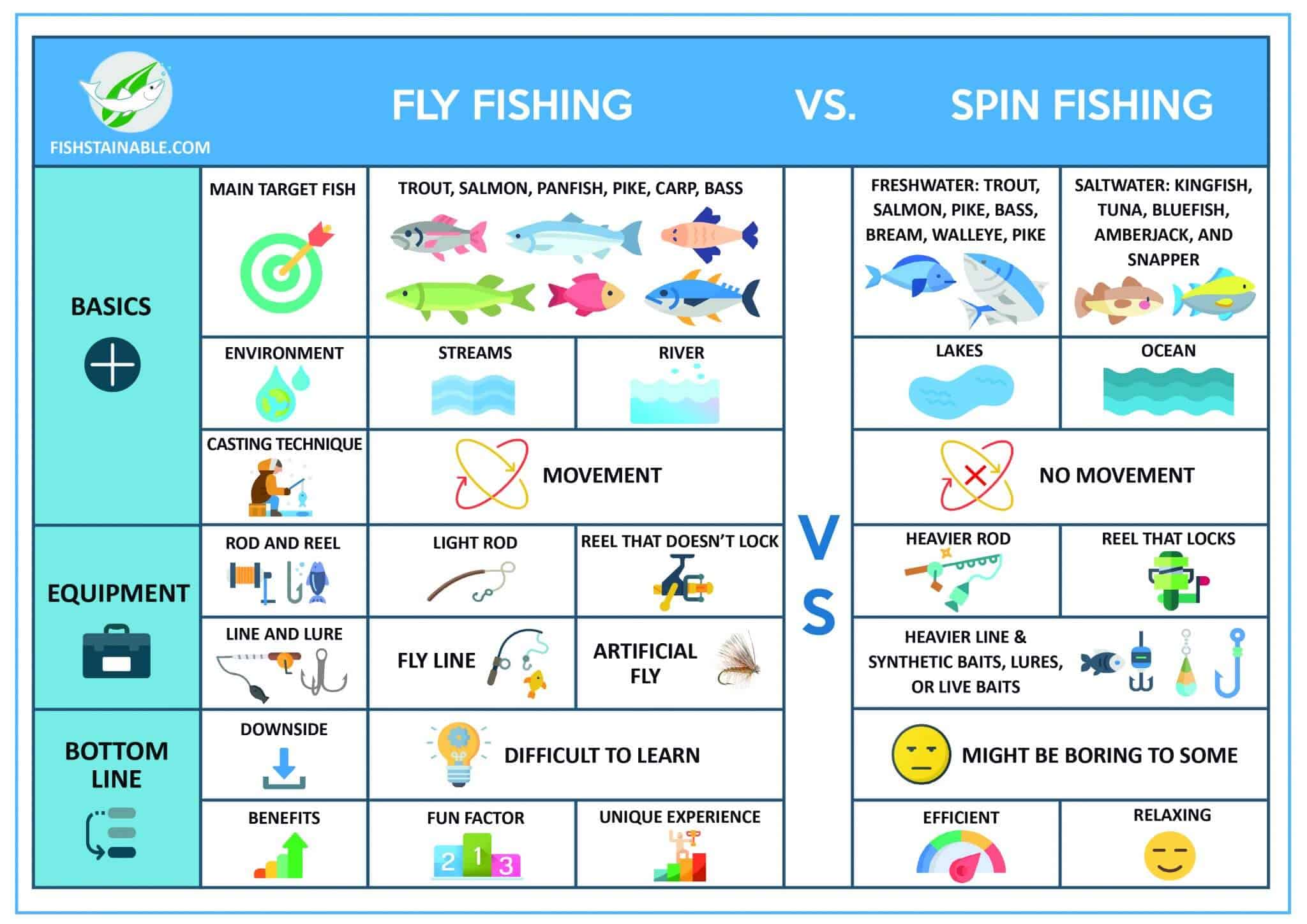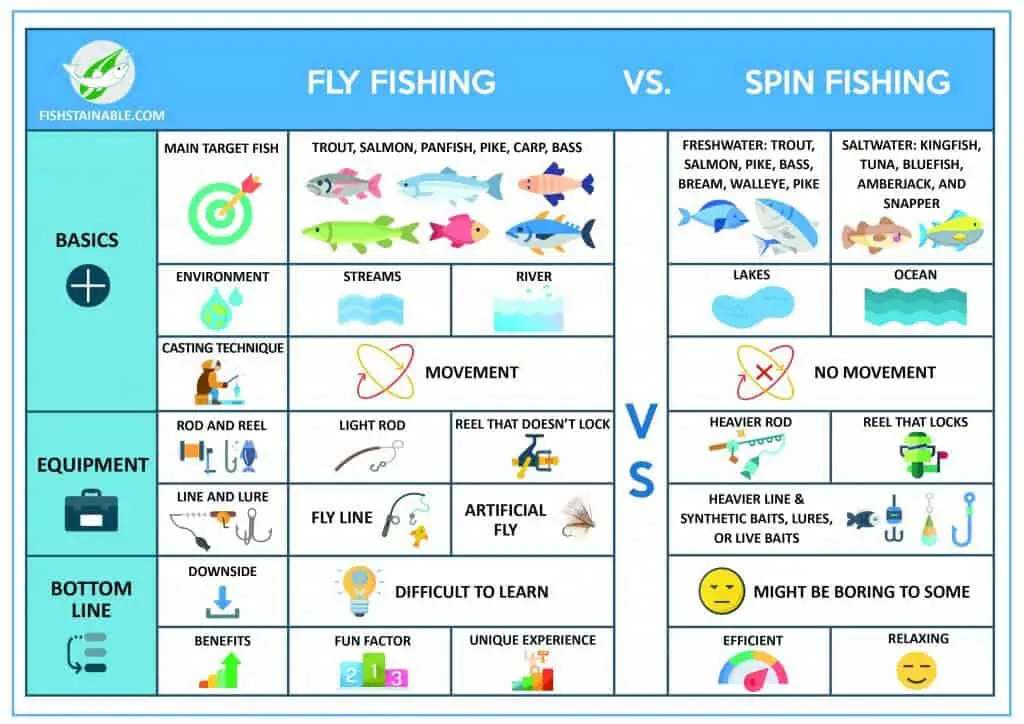 Fly fishing depends largely on your experience as an angler whereas spin fishing is more results driven and is dependent on the number of fish you catch on your fishing spree. If one looks at the technique, fly fishing is tougher to learn and requires more time and experience. Let us first look at what fly fishing and spin fishing is.
Fly fishing is an angling technique that employs a light lure, also referred to as an artificial fly, to catch fish. Fly fishing is a form of light weight casting uses flies such as baitfish, food organisms, and other natural invertebrates. Fishing flies are artfully made and need more practice so that you can tie them on the tiny and delicate fishing hooks.
On the other hand, spin fishing is an angling technique that employs a spinning lure that tempts the fish to bite. Spin fishing can be carried out in freshwater as well as marine water environments. Spin fishing is becoming easier as every year there are new advancements in the lures, tackles, and other spin fishing gear.
Now let's look at the basic differentiating factors between these two types of fishing:
Fly Fishing vs. Spin Fishing Technique
Fly fishing uses the weight of the tapered fly line along with the leader to propel the fly to the intended area. Alternatively, in spin fishing the lure is propelled toward the fish by casting a weighted hook. So, it is understandable that the gear used for these two different techniques isn't interchangeable.
Fly fishing is beneficial in covering a broader range of water. For many anglers, fly fishing is the preferred method because it helps in a better representation of food sources and enables you to get a larger catch.
Let us look at both the techniques in terms of casting and degree of difficulty for fly fishing vs. spin fishing.
Fishing rods and reels comprise the costliest components of a fishing tackle and so one needs to spend some time while searching for the best rod and reel combo. Let us understand the types of rods and reels required for fly fishing and spin casting so that you are able to make an informed decision before making an investment. There is a reason, that there are specialized manufacturers for fly fishing.
The fishing line is a connection between you and the fish and is an important fishing gear. Also, a fishing lure is a type of bait designed to attract a fish. The angler uses a lure's movement, flash and color to bait the desired fish.
The type of line and lure used in fly fishing and line fishing are different. Let us look at the lines and lures in detail.
Frequently Asked Questions (FAQ)
The two ways of spelling can actually be used interchangeably 🙂
Which is better Fly Fishing or Spin Fishing?
Obviously, there is no clear-cut answer to this question. As a seasoned angler, I personally like fly fishing a lot, mainly because it a great hobby that can be pursued all your life once you get acquainted with it. It also helps, if you live close to a great fly fishing area like Redding!
Moreover, fly fishing involves a lot of technique and provides a great scope of learning how to do things right. Though fly fishing is harder at first, it's worth the effort and you can learn a lot by familiarizing yourself with the different aspects of this fishing technique.
The main benefits of fly fishing are that it enables you to cast a light fly over great distances and helps you present the fly gently and quietly. Fly fishing is more effective on a river when the hatch is alive and buzzing. Even if the hatch is not fresh, fly fishing is advantageous when you are fishing in moving waterbodies such as lakes and rivers. 
Also, it gives you a great fishing experience as you get to enjoy nature when fishing in a stream or a river. Make sure to check out these awesome YouTube channels, to get a better impression even.
Spin fishing, as mentioned before, is easier as you just have to cast once and then wait patiently.  It is great for amateur anglers as there is no rocket science to it. The main benefit of spin fishing is that you can cast heavy lures at longer distances with minimal effort. Also, if you are someone who prefers to fish in saltwater then spin fishing is a great choice.
Lastly, if you want to have a meal near a lake then spin fishing will serve you right. But if you are looking forward to an awesome fishing experience then go for fly fishing! Or maybe have a look into mooching, if you want to try something different!