Searching for the best spinning reel under $50? You have come to the right place. Following is a buyer's guide and a few of our recommendations to help you pick the best from these affordable options.
Quick Overview – Best Spinning Reel under $50
Quick Comparison – Best Cheap Spinning Reels
Preview
Best All Around
Best Value
Title
Daiwa D-SPIN1000-B D-Spin Ultralight Spinning Reel, 1000,Black
Pflueger Trion Spinning Fishing Reel
Best All Around
Preview
Title
Daiwa D-SPIN1000-B D-Spin Ultralight Spinning Reel, 1000,Black
Best Value
Preview
Preview
Title
Pflueger Trion Spinning Fishing Reel
Buying Guide
Looking for an ideal fishing reel may feel like an ordeal and might overwhelm you even. There is something for everyone out there, and it might not be easy, but it can be done.
Reels can be pretty expensive. Thankfully, there are a lot of companies that offer the right product at a reasonable price. Due to this, there is a whole lot of competition among different brands and companies to come out with a good quality of product with minimum compromises at an affordable price point.
Even with claims of reasonable prices, there should never be a compromise with the quality of the product. As there are a lot of well-known brands with fantastic reels, there are also a lot of websites with inferior quality reels.
With all of this, there may be a lot of questions regarding what quality to look for? What material to choose? What brand should you pick? All these questions are answered below.
The following are a few things you should make a mental checklist of, to ensure the right product within a $50 price point.
By keeping these little things in mind, you can find the best spinning reel under $50 that fulfills all your requirements and can still be within your budget.
Material
Reels are made up of a variety of materials, each with their own pros and cons. Most common materials are carbon, graphite, copolymer, or non- corrosive metals such as aluminum. What material to choose heavily depends on what type of fishing you will do or what kind of techniques you opt for.
Professional anglers usually go for metal reels. Among metals, stainless steel or aluminum is mostly chosen due to its durability and heavy-duty but lightweight nature. When fishing for larger fish such as catfish, salmon, northern fish, you must opt for stronger material such as graphite or carbon.
Similarly, when fishing in saltwater, one must opt for anti-corrosive material and ideally pair it with a suitable saltwater inshore spinning rod.
Plastic is mostly opted by younger anglers who are learning to fish or for fishing for small fish that don't require a lot of force and effort. Although it won't corrode, plastic is most likely to wear out under pressure and tends to crack and break easily.
For a good reel under $50, you may have to make a compromise or two, but you should never compromise on the material quality of the body.
Gear Ratio
Gear ratio is referred to the number of turns a reel takes when the handle is turned once. Most reels have gear ratios from 5:1 to 7:1, with 9.1:1 being the highest gear ratio. While a higher gear ratio allows you to reel in your fish quicker, a fewer gear ratio means that it would have higher torque and would let you tire out a bigger fish that might fight back quickly.
This means that you should know the type of fish you are going for before buying a spinning fishing reel. If you're a beginner and are just learning, there is a higher chance that you might be fishing for smaller fish like tuna or crappie.
In this case, a gear ratio of 5:1 might be pretty standard as it will help you to get interested and develop fishing skills fairly easily.
Ball Bearings
Ball bearings are placed within the body of the reel to help with the smooth extension of the fishing line. They provide stability and support. Usually, a higher number of ball bearings means more smoothness. At the very least, a reel should have 4 ball bearings for smooth performance.
If within $50, you can find a good reel with a high number of ball bearings, then this is what you must opt for. Not only that, but ball bearings should also be metal-based and should have an anti-corrosion protection so that they don't rust.
Rusty balls tend to hinder your overall fishing experience and will eventually jam your whole reel. Ball bearings that don't have rust protection do come in cheap, but they will cost you a lot in the long run.
They will jam later due to rust formation and will bring you back to point zero, and you will again need to invest in a new reel.
So, it is better to buy the right product one time than buying an inferior quality product over and over again.
Drag Strength
Drag strength refers to how much heavy lifting a reel can tolerate without snapping or breaking. The drag of the reel is also responsible for letting the line flow when a fish has bitten the lure and is struggling.
Again, it is necessary to know what type of fish you will be going for. Either way, it is advisable to look for a reel with smooth and non-hindering drag.
Drags are usually of 2 types divided based on the location of the reel on the fishing rod.
1. Front drag
2. Rear drag
Front drag is often more durable than rear drag, but rear drag is easier to access. However, rear drag doesn't do well with larger fish.
Line Capacity
Larger reel means larger line capacity. If you're going to be fishing offshore, it is best to opt for a reel that has high line capacity so that you can catch a fish that is farther away from you. It is essential to check the line capacity of a reel, be it monofilament, fluorocarbon or braided, before buying.
Line capacity holds a lot of value as it will tell you how much fishing line you can keep in your reel. If you're a professional angler and tend to fish for several fishes in one go, you may need a more extensive line capacity. But, if you're a beginner, smaller line capacities will work just fine for you.
Anti-reverse Switch
The anti-reverse switch prevents the reel from reeling backward and helps to keep the fish in range and not set it loose. It will prevent the handle from jerking left and right when fishing for larger fish that tend to fight back.
There are a few reels that come with an anti-reverse switch that allows the anglers to choose whether to engage an anti-reverse feature or not. So, if that is what works for you, then keep an eye out for that.
Handle
When you fish for a long time, your palm and arm tend to hurt. So, it is necessary to look for a handle that is comfortable and has a wide grip. A comfortable handle for a reel under 50$ may seem like a bit of stretch to ask for, but trust us, it is a deal-breaker.
Cramped hands may cause you to lose a good catch. So, it is necessary to look for an excellent quality handle with a wide grip that provides less slippage even when you have gloves on.
The Best Spinning Reels under $50 Review – Our Top Picks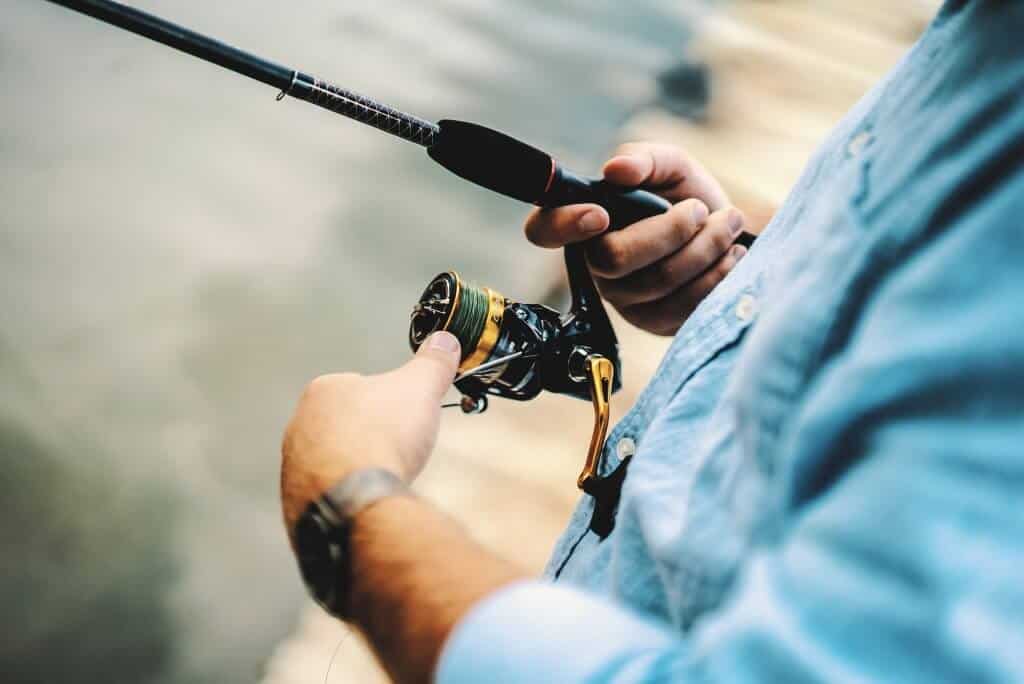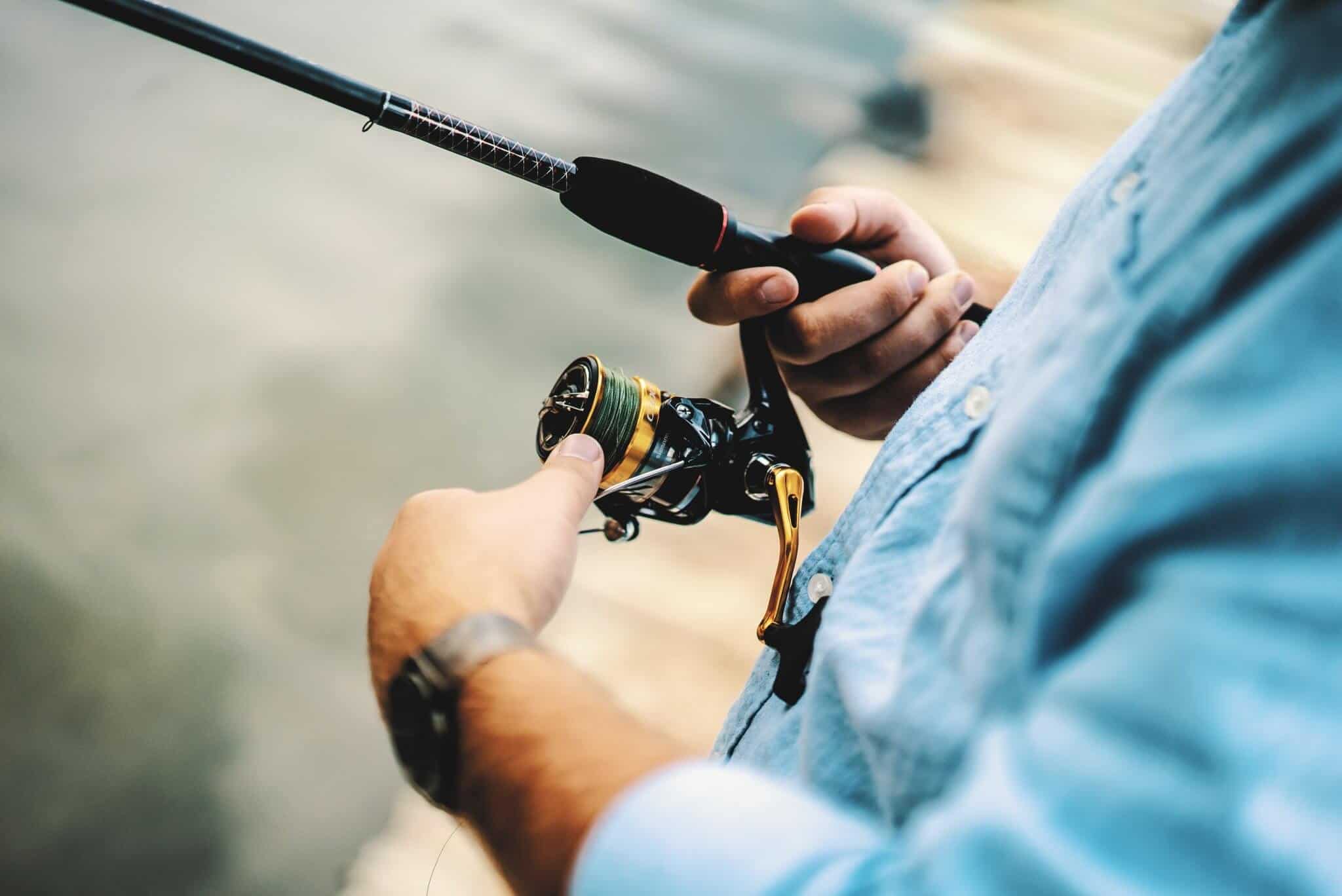 The Best All Around Spinning Reel under $50
Pros
Lightweight
Durable
Variable spool setting
Cons
Doesn't have anti-rust protection
This reel has a unique compact design that offers a smooth experience with less hassle. At a reasonable price, you will have a satisfactory product with a sustainable body structure and exemplary function. The reel is pretty light in weight.
The ball bearings help in smooth reeling and easy pulling of the reel with better control of the fishing line. It has the exclusive "Digigear Design" that allows for smooth performance and more endurance than regular spinning reels.
It also transmits power efficiently from the handle to the rotor. This spinning reel not only has improved power control but also has improved life span. There are 2 commercially available models, D-SPIN500-B and the D-SPIN1000-B.
All these features make this reel unique and also the product with the most pleased customers/buyers. Here and here we have written about some other ultralight options for you to choose from, if you are willing to spend more money.
Amazon
The Best Value Spinning Reel under $50
Pros
Durable
Good for in-shore fishing
Sensitive
Smooth Operation
Cons
Less amount of ball bearings
No corrosion protection
SHIMANO is one of the most well-known companies that make trustworthy fishing gear and fishing equipment, and their reels are no exception. This spinning reel works for both freshwater fishing and inshore fishing.
The spinning fishing reel comes with a lot of upgrades and improvements. It has a compact body that helps in shifting the oscillation gear closer to the rod. This minimizes the effort of the angler and maximizes the balance.
This product is also good at stopping most backlashes and wind knots formation via a new technology exclusive to SHIMANO. The propulsion line management allows anglers to cast farther away. This feature makes it suitable for in-shore anglers who need to catch fish that are further away from the shore.
The spinning reel uses a SS II (Super Stopper II) technology that allows easy and quick back play. This feature also enables anglers to develop a Dyna-balance that minimizes wobble when retrieving the fishing line.
This is done by rotor balancing that ensures sensitivity and smoothness of the function of the reel. This reel has a drag force of about 9 pounds and has a gear ratio of approximately 5.01:1. It is available in different sizes ranging from 1000-4000 and can certainly be considered amongst the best cheap spinning reels.
Amazon
The Best Performance Spinning Reel under $50
Pros
Corrosion resistance
Durable
Aluminum Body
Lightweight
Good Ball bearings
Cons
Pflueger company is known for manufacturing good reels with an amazing drag system that allows you to catch fish quicker and minimize your effort. Pflueger Trion spinning fishing reel is best known for its smooth performing reels at a very affordable price point. This product has 6 ball bearings with anti-corrosion coatings that ensure the longevity of the product.
Not only that, but there are also anti-reverse bearings and a multi-disk drag system that comes with stainless steel and nicely oiled felt washers. This fishing reel also has a double anodized aluminum spool that keeps it corrosion-free.
The body and the rotor of the reel are made of graphite that makes the reel lightweight. The construction of the body allows the reel to be used for several fishing techniques. It also has a long cast aluminum spool with titanium lip and anti-twist titanium line roller.
All of this ensures smooth reeling and efficient performance. The handles of the reel are made up of aluminum that provides a comfortable and soft-touch knob. The reel handles are based on threaded main gear design that allows flowy reeling and smooth performance. A spinning reel with all these features and that too under $50 is definitely worth grabbing!
Amazon
Frequently Asked Questions (FAQ)
Good quality metal is the best option to get instead of plastic ones. Do look for metal with anti-corrosion coatings.
Ball bearings help in the smooth reeling of the fishing line. More ball bearings translate to more fluid performance.
There are various features that you need to look out for, like durable material, higher gear ratio, greater drag strength, and comfortable handle.
A line counter feature might also come in handy.
If you plan on fishing for a larger fish, an anti-reverse switch is an excellent option to provide more drag strength.
Yes, several spinning reels are under 50$ and work perfectly fine. We have given a few examples above, and you can choose from one of them.
If you go saltwater fishing, make sure the reels are corrosion resistant.
We have just the right article for you then, as well as for a cheap rod! If you are looking to do some bottom fishing for the real big catch, also consider conventional reels.
Finally, for a great comparison of spinning reels to baitcasting reels and their differences, check out these Pros and Cons.