One of the angler's most daunting tasks is finding a good saltwater spinning reel at a bargain. Saltwater fishing requires taming bigger and stronger fish as opposed to freshwater fishing, such as fluke. Hence, it is vital to have a premium spinning reel to gain efficiency and skill. It's crucial to know what to look for to make your fishing expedition more complete.
Quick Overview – Best Saltwater Spinning Reels under 100$
Quick Comparison – Best Saltwater Spinning Reels
Preview
Best All Around
Best Value
Title
PENN 1338215 Battle II 1000 Spinning Fishing Reel
KastKing Sharky III Fishing Reel - New Spinning Reel - Carbon Fiber 39.5 LBs Max Drag - 10+1 Stainless BB for Saltwater or Freshwater - Oversize Shaft - Super Value!
Okuma Avenger Baitfeeder ABF-40b Graphite Spinning Reel- ABF-40b
Best All Around
Preview
Title
PENN 1338215 Battle II 1000 Spinning Fishing Reel
Best Value
Preview
Title
KastKing Sharky III Fishing Reel - New Spinning Reel - Carbon Fiber 39.5 LBs Max Drag - 10+1 Stainless BB for Saltwater or Freshwater - Oversize Shaft - Super Value!
Preview
Title
Okuma Avenger Baitfeeder ABF-40b Graphite Spinning Reel- ABF-40b
Buying Guide
The main factors to buying the best saltwater spinning reel are your budget and requirements. The others that follow are the Quality, Corrosion Resistance, Power, Weight, Ball Bearings, and Drag Strength.
There are indeed several utterly cheap reels. But it's better to buy a more durable one that is relatively costlier within your budget.
Material & Quality
A good Saltwater Spinning Reel should be able to withstand exposure to saltwater. It can wear down a reel made of plastic or metal owing to its nature. The materials that make a strong spinning reel are Aluminum, Titanium, and Graphite. Stainless Steel, Carbon Fiber, and Ceramic are also equally sturdy. The crux of the matter is, the quality of materials makes the overall build of the reel.
Ball Bearings
One of the key specifications of a saltwater spinning reel is the Ball Bearings. They help in reducing friction in moving parts and easing performance. Ideally, stainless steel shielded ball bearings does the job just fine. The number of bearings determines the smoothness of performance.
The spinning reel will function more smoothly if it has more ball bearings. That doesn't mean a reel that houses fewer bearings will not perform well. Eventually, it would help if you looked at both quality and number.
Gear Ratio
Gear Ratio is the number of times the spool rotates for every crank. The Gear Ratio is usually wider in baitcaster reels. Most spinning reels feature gear ratios from 5.2:1 to 6.2:1. However, models now also have a 7.0:1 gear ratio. This is for bass anglers who are looking to quickly retrieve lures while deep water fishing.
A mid-range ratio is usually sufficient for most lures and baits unless you need fast retrieval. A higher gear ratio is best suited for retrieving small fish, while a lower ratio may be slow but more powerful in hauling large fish. Check out shopkarls if you want to know more about gear ratios!
Corrosion Resistance
What makes a saltwater spinning reel distinct from a freshwater reel is the Corrosion Resistance feature. Saltwater is corrosive and can damage the reel's gears and mechanisms. It can dissolve the metal reels and impact performance. Components like seals and gaskets shield the internal parts from sand and saltwater. Corrosion resistance and water-proofing features prevent the metal components from oxidizing over time.
The Best Saltwater Spinning Reels under $100 – Our Top Picks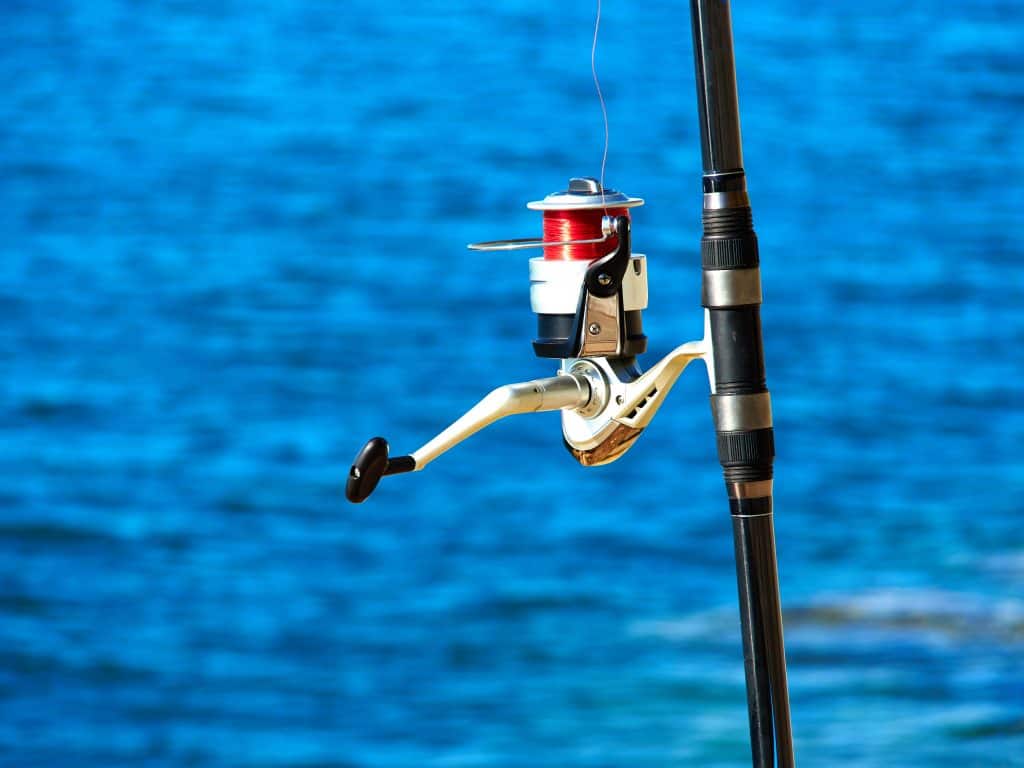 The Best Saltwater Spinning Reel under $100
Pros
Ability to withstand heavy saltwater use
Highly durable to conquer big fish
It can handle several test line
Time tested and sturdy in intense saltwater fish battles
Cons
More on the costlier side
Penn Battle II Spinning Reel has got it all, be it dependability, functionality, or price. It comes with an HT 100 carbon fiber drag system and 5 sealed stainless steel ball bearings. It is made out of aluminum, which is most durable, and boasts a gear ratio of 6.2:1.
Its Superline Spool does not need backing, comes braid ready, and with line capacity rings marked at 1/3, 2/3, and full capacity. A must-buy if you are looking for a saltwater spinning reel that has it all at a competitive price. It will last long without compromising on performance.
The Best Value Saltwater Spinning Reel under $100
Pros
Value for money
Suitable for both beginners and experienced anglers
Quiet and smooth retrieval
Braid ready spool
Cons
Newer version but no extra features
Relatively less durable than other options
This spinning reel Sharky III by KastKing hosts an aluminum frame with a whopping 10+1 ball bearing for smooth action. Its drag system offers up to 39.5 lbs of drag pull. The stainless-steel main shaft with mesh gear drives eases saltwater fishing battles.
The KastKing KISS water protection sealing keeps the water and sand out. This reel has a lot to offer for its price. It is ideal if you have just begun your hobby of saltwater fishing. Amazon
The Best Quality Saltwater Spinning Reel under $100
Pros
Suitable for all fish species
Secondary drag system for bait fishing
Easy drag system for drag switch
Anti-corrosive technology in key areas
Cons
The spool is not braid-ready
The drag click is too silent
If it's a high-quality spinning reel that you are looking for at a steal, Okuma Avenger Baitfeeder is the answer. The highest quality materials go into building this reel, and any professionals swear by it. It houses 6+1 ball bearings with excellent anti-reverse technology.
The On/Off auto trip bait-feeding system and the sealed internal components prevent corrosion. With the price, quality, and the number of features it hosts, the Okuma Avenger Baitfeeder is an absolute must-buy.
Best Saltwater Spinning Reels – Frequently Asked Questions (FAQ)
One should first need to consider the intended purpose of the reel besides the money factor. But as a general rule, the best saltwater spinning reel for the money should be lightweight with a high number of ball bearings, anti-reverse function, and an anti-corrosive feature.
Yes, you can, because the saltwater spinning reel is an upgrade to a freshwater reel. But it cannot be the other way around because freshwater reels do not have the Corrosion-Resistant feature.
You need to clean your reel after every fishing trip against a freshwater reel that needs cleaning once every five trips.
Check out these spinning reels under $50. But be careful, that they are corrosion resistant, if you are going for saltwater fishing!
Then check out these fly fishing reels for saltwater 🙂
Happy Saltwater Fishing!
A good quality fishing reel along with the skills is essential to up the ante every trip. That's why it becomes essential to buy a reel that is durable and reliable. Your budget is indeed a significant factor, but your discretion needs to extend beyond the reel's quality.