Did you know that the best ice fishing is experienced when it is most foul outside? Maybe you should know. Instead of turning into a couch potato, you could have time with Mother Nature's offerings. Ice fishing in Maine has grown rapidly and now that winter is here, Ice fishermen and women are bracing themselves and dusting their gear for a good time.
December to February are months associated with snow in Maine. January and February are the peak of the winter season accompanied by plenty of snow and bitter cold. While this can be poison to others, it is meat to local and international ice fishers.
To be on par with weather forecasting in Maine, the government website details more and often updates on climatic and atmospheric conditions to help you plan your ice fishing trips.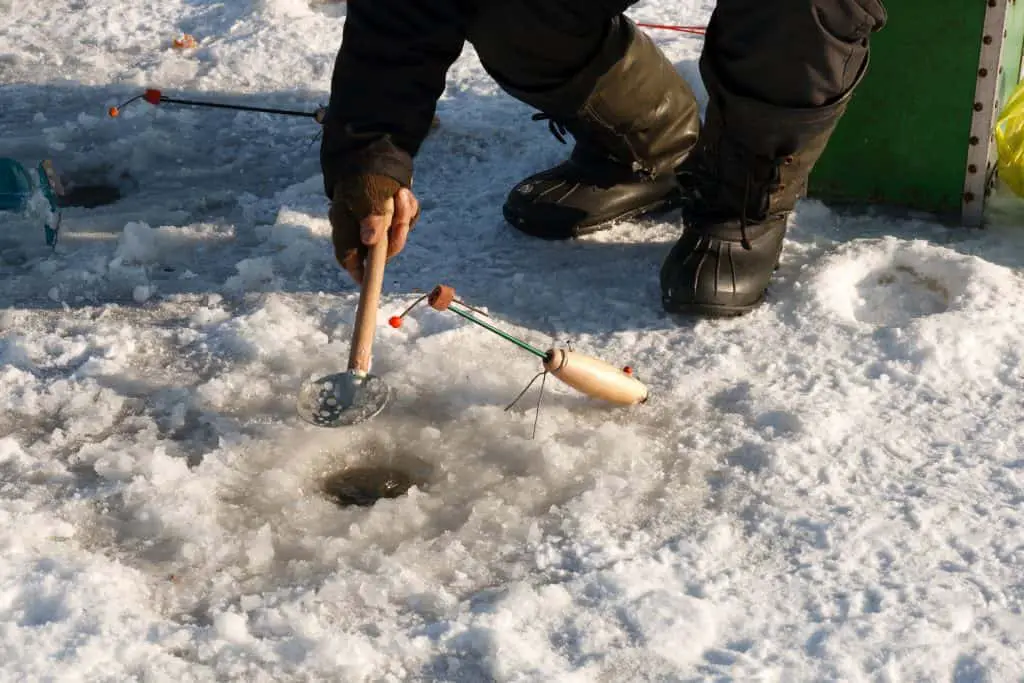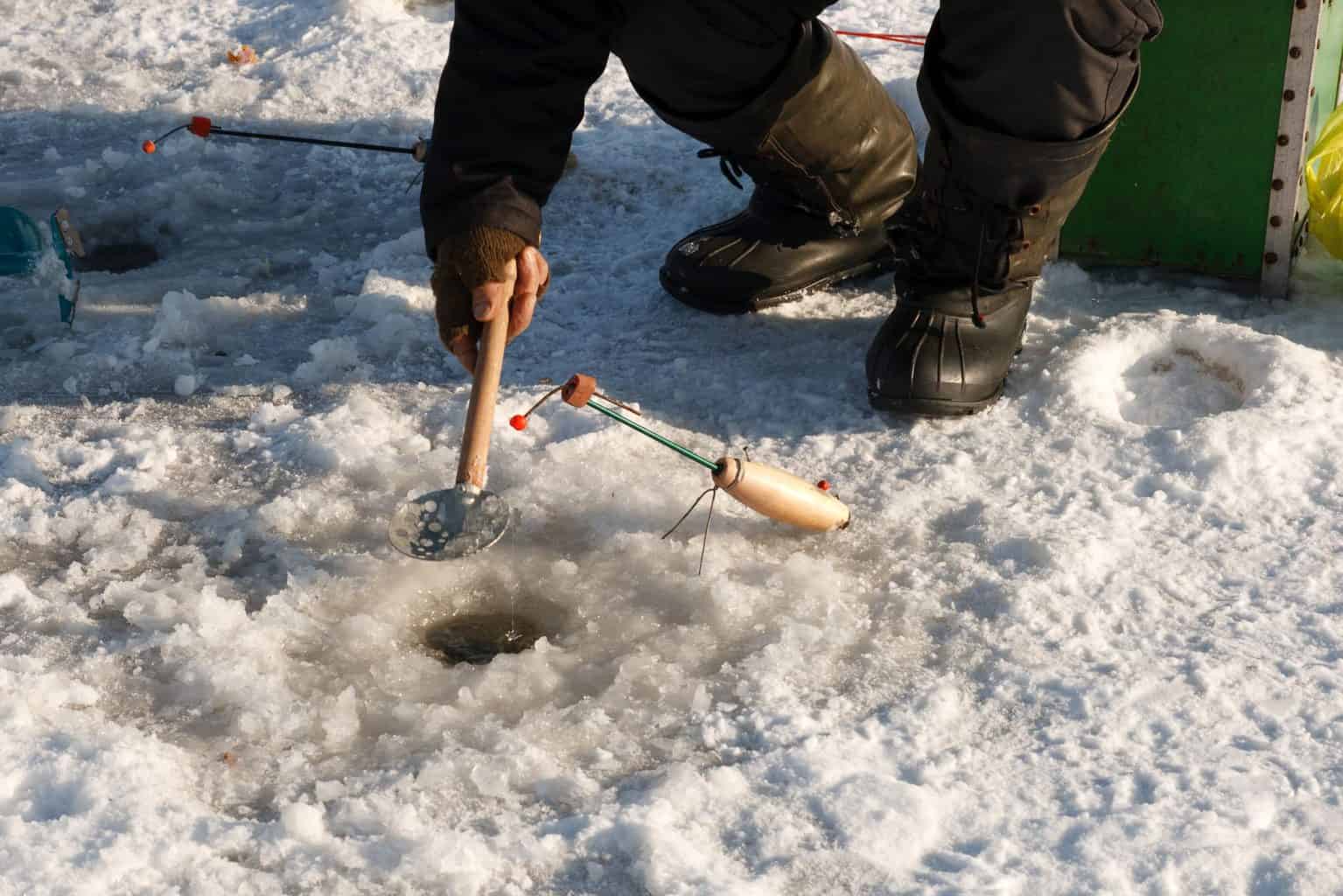 8 Great Lakes for Ice Fishing in Maine
Fervent ice fishermen and women have a grasp of what to do when out on the rocks with their tackle. New fishers or those starting a hobby could have feelings of excitement and intimidation simultaneously. Unlike fly fishing where you need a bunch of gear, you can ice fish with less equipment. But where should you go to get the best experiences?
Our list of 8 great lakes for ice fishing in Maine comes in handy to the rescue. As long as you have your license and all the necessities to access lakes for ice fishing, a map to help you locate your chosen lakes is something you should have.
The listing isn't in any specific order. We have put together locations where previous and current ice fishers have documented the best memories. You too should have even better experiences here.
1. Moosehead Lake
Where is it:
Northwestern Maine homes the Moosehead Lake and it is situated in the Longfellow Mountains. Greenville settlement, which is the largest on Moosehead Lake is the nearest rural town to it.
Fish Species:
Smallmouth bass, brook trout, lake trout, landlocked salmon, cusk, togue, round whitefish, rainbow smelt, white perch, yellow perch, bullhead, sunfish,
About the Lake:
Moosehead Lake runs deep and is a coldwater body. It is the largest mountainous lake in East USA. The lake has its source from the Kennebec River and sits on 40 miles. With a width of 12 miles, there is plenty of waver coverage for you to adventure.
Its popularity is widespread and is among the ice fishing hotspots. A yearly ice fishing derby is held here from 24th or 25th January to 31st January. The top three winners are awarded cash prizes.
2. Wassookeag Lake
Where it is:
In the Northwest of the Spooners Mill is where you can find the Wassookeag Lake. It is closer to Wassookeag Lake Dam in Dexter.
Fish Species:
White perch, brook trout, white sucker, brown bullhead, yellow perch, chain pickerel, landlocked salmon, lake trout, smallmouth bass, American eel, and largemouth bass.
About the Lake:
Lake Wassookeag is a beauty to behold. Besides ice fishing in winter, there is plenty to do. The lake is sectioned into two parts- a larger and smaller lake. These sections are divided by a manmade dam that was put up to regulate the water. The Larger Wassookeag is deeper and gets more population during the season compared to the smaller one. Each section is governed by its different regulations.
3. Portage Lake
Where it is:
Aroostook County in Maine harbors the Portage Lake in a town named after this water mass. The lake dominates this town as it sits in its center.
Fish Species:
White crappie, landlocked salmon, yellow perch, largemouth bass, brook trout, walleye, northern pike,
About the Lake:
Portage Lake is a haven for ice fishers who are looking for solitude away from the crowds in areas like Moosehead Lake. It is famous for its trout numbers in good sizes. Some areas of the lake are extremely slippery and an excellent pair of ice shoes will prevent accidents from occurring.
The Lake has numerous inlets where you can catch more fish before the small lake freezes and fish move to the bigger water masses.
4. Eagle Lake
Where it is:
Situated in the Northern Maine Woods in Aroostook County, Eagle Lake is the deepest and largest lake in the Allagash Wilderness Waterway. The better part of the lake extends to the east of Eagle Lake Township.
Fish Species:
Rainbow trout, landlocked salmon, and brook trout
About the Lake:
Just like Portage Lake, Eagle Lake is surrounded by fewer people. It is another small lake and access to it is straightforward. Because of its size, there are fewer fish species and a lesser population.
However, it has a history of bigger rainbow and brookies. A good thing about Eagle Lake is its geographical surrounding. It is bordered by Cross Lake, Froid Lake, and Square Lake that are nearby. Its position is strategic and if you are looking to try different ice fishing holes, these are close by.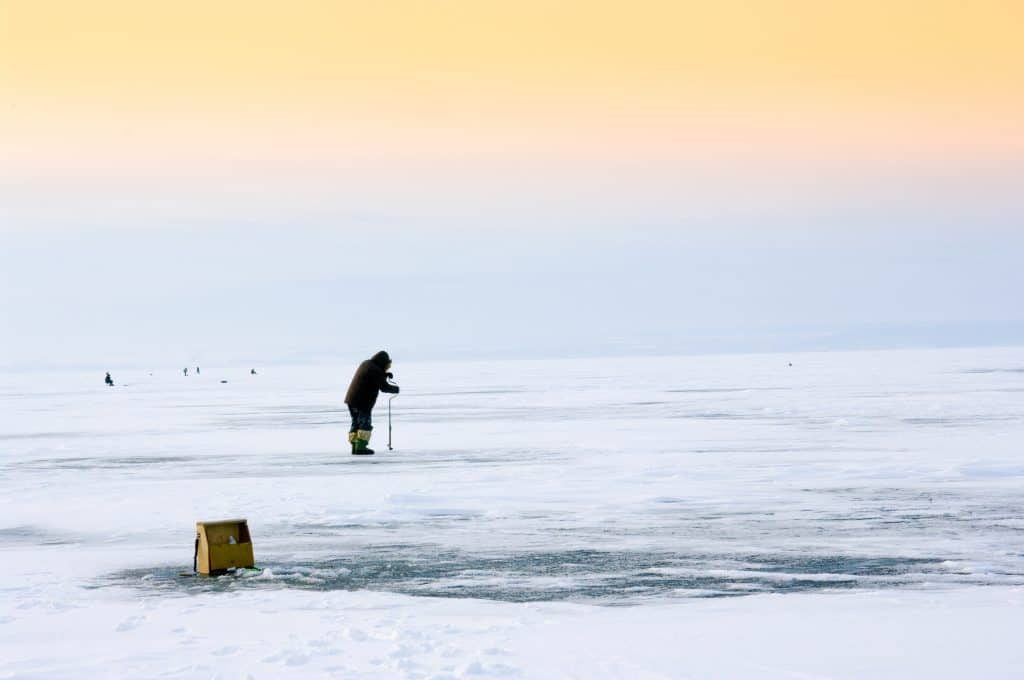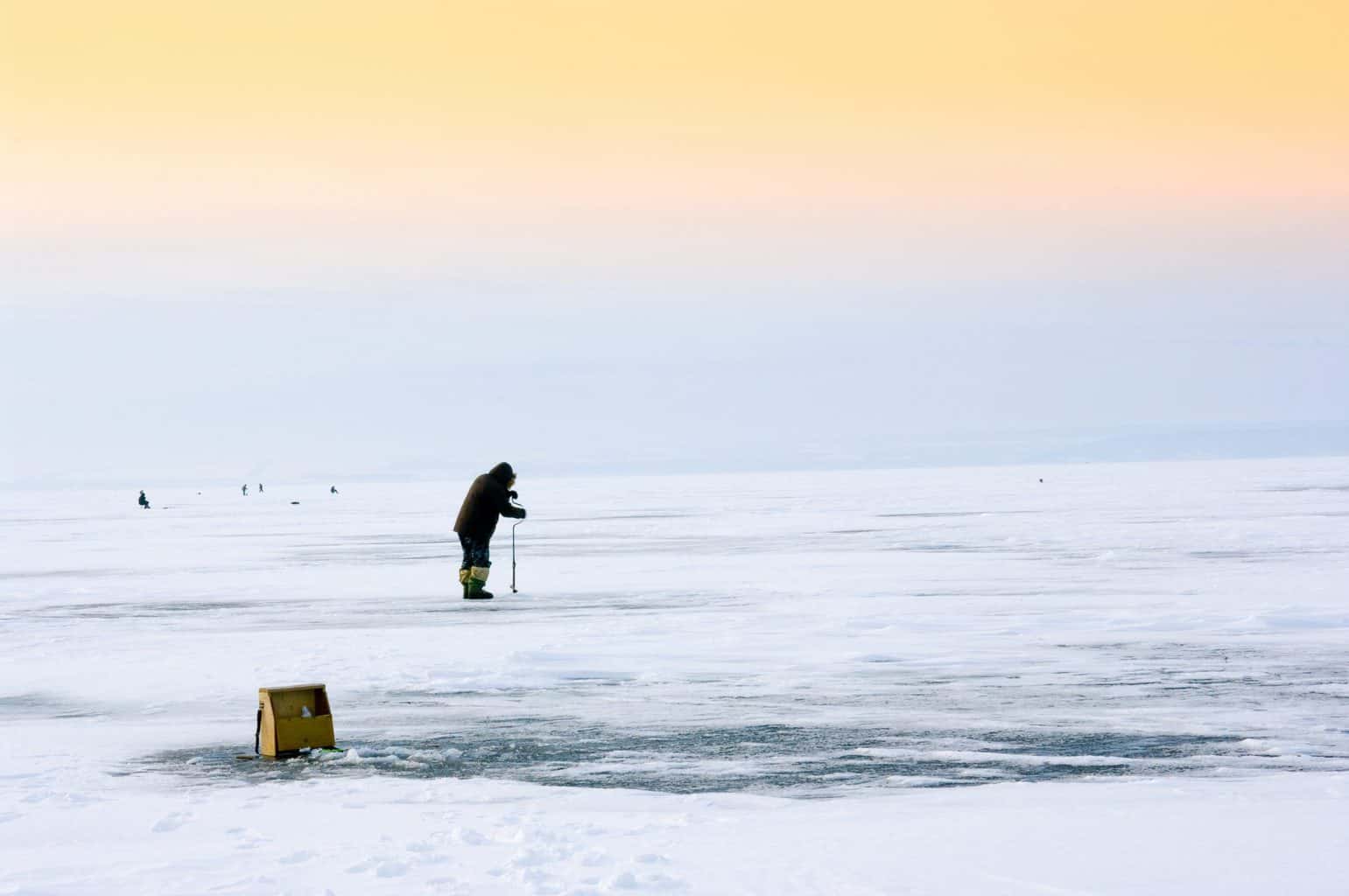 5. Allagash Lake
Where it is:
The Allagash Lake is located in the Northern Maine Woods in Piscataquis County and feeds the Allagash Pond from the Allagash Stream that flows through the Lake's northwest corner.
Fish Species:
Brook trout, lake trout, white sucker, northern pike, salmon, burbot, and whitefish
About the Lake:
Allagash Lake is a gem in the Northern Maine Woods. According to what most ice fishermen and women who have combed the lake, it is among the top trout waters in the region. It boasts beautiful scenery and for brookie hunters, it will be a special time here.
Accessing the Lake is a task. To reach the exact spot, there are more miles of gravel. An entrance fee is required before accessing the North Maine Woods checkpoint. While at the NMW checkpoint you are closer to the lake. Access points from here are the canoe launch on the Allagash Stream and two other points on the southern end of the Allagash Lake.
6. Sebago Lake
Where it is:
Sebago Lake is in Cumberland County and neighbored by Naples, Casco, Raymond, Windham, Standish, and Sebago towns.
Fish Species:
Landlocked salmon, largemouth bass, northern pike, brown trout, lake trout, brook trout, smallmouth bass, yellow perch, white perch, and black crappie.
About the Lake:
The Lake is the second-largest and deepest lake in Maine. It runs 316 feet in the deepest end sits on roughly 45 square miles. The lake is famous for its togue fishing, sudden weather changes due to its closeness to Mt. Washington and the Atlantic Ocean.
Landlocked salmon cruising these waters have their origin from this lake. Some fish species are stocked by Maine State. This could be through direct feeding to the lake or in connected waters. A few species aren't native to the lake and were illegally introduced. This risks disrupting the ecosystem of the lake.
Did you know that the size of the lake sometimes doesn't allow its middle section to freeze in winter? New ice fishermen to this lake might feel intimidated because of these two aspects.
7. Long Lake
Where it is:
Long Lake runs 11 miles and is located between Naples, Bridgton, and Harrison towns in Maine. The Chute River connects the Lake to the Brandy Pool.
Fish Species:
Smallmouth bass, brown trout, largemouth bass, lake trout, brook trout, yellow perch, pickerel,
About the Lake:
Formed as a result of receding glaciers, the water mass has plenty of rocks and coves. It is the second-largest water mass in South Maine and is commonly referred to as the windy lake. The Lake holds a derby on the last week of every January with a population of thousands. There are special regulations to
Landlocked Salmon and trout here measure about 16 inches on average and are over 5 pounds. The access point to this lake is in Saint Agatha specifically on the western shore at the southwest tip in Sinclair or along Route 162.
8. East Grand Lake
Where it is:
East Grand Lake is positioned between Maine and New Brunswick's Canadian Province. The boundary separating Canada and the USA passes through this lake. When it comes to county positioning, the lake passes through York County, Aroostook, and Washington.
Fish Species:
American eel, brook trout, white perch, smallmouth bass, yellow perch, lake trout, landlocked salmon, redbreast sunfish, and chain pickerel
About the Lake:
The 22 miles of the lake are famous for excellent watersports and beautiful scenery. During the ice fishing season, you can succeed without minding the time of the day. However, activities are hyper in the dawn and dusk. Trout and bass cruise these waters in plenty and the best catches are in the Northern of the Work Cave.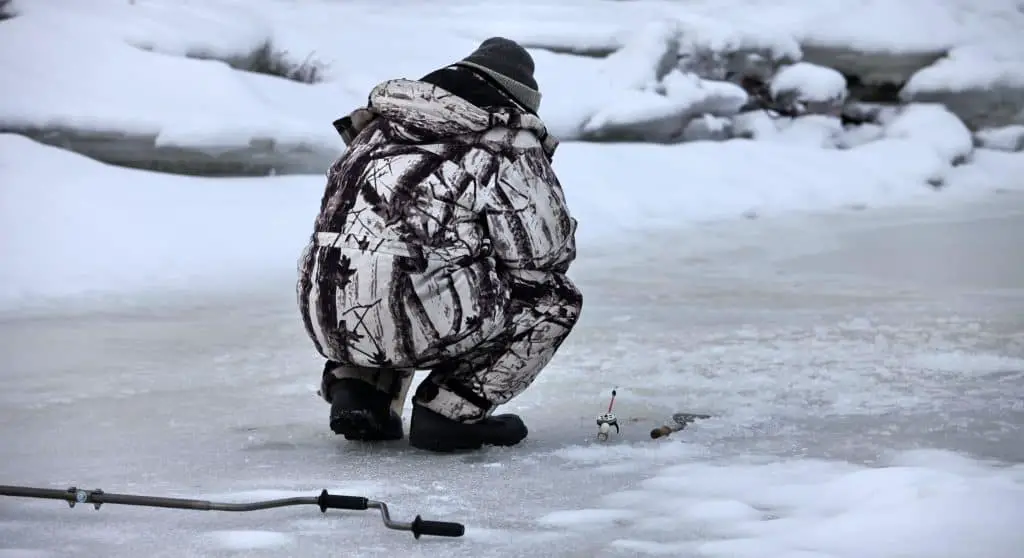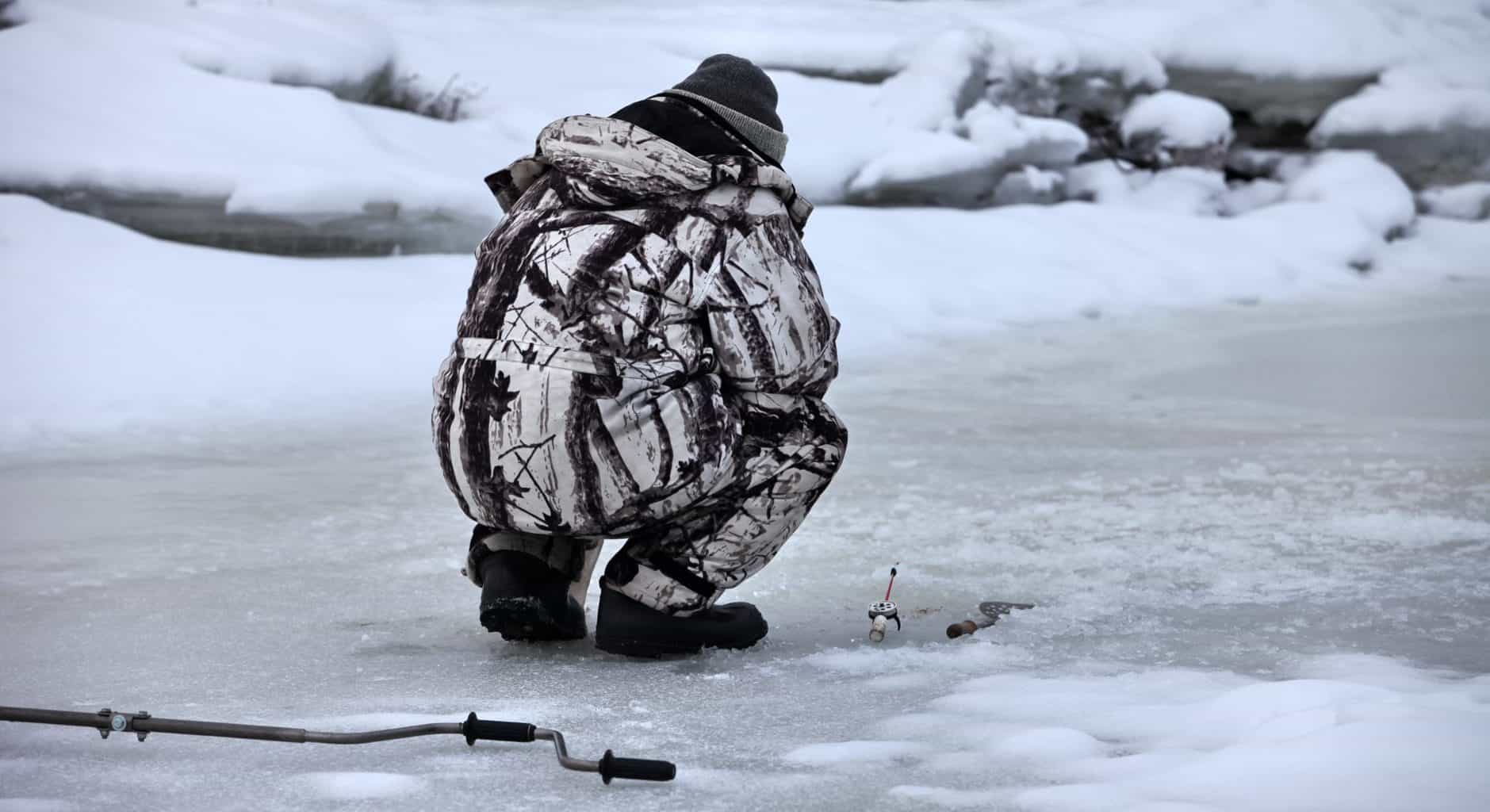 Ice Fishing in Maine Tips & Tricks
Before we can list the tips and tricks for ice fishing in Maine it is crucial to know about the state's fishing licenses, passes, and general regulations to avoid being found on the wrong side of the law. Children below 16 years don't require a fishing license in the state. If you can't access a license for whatever reason, you can take advantage of the Free Fishing Weekend that runs in February.
Dress to the icy conditions in Maine. Have your insulated boots, thermal packs, and layers, waterproof gear, among other winter staples. Carry extras because the temperatures are brutal.
Choose your ice fishing days based on the weather predictions. It might not yield as much if temperatures are below zero and there's too much wind.
It can get heavier as you ice fish. Carry your auger or chisel to make holes in the ice and access the waters underneath the ice. Other necessary tools you will need are a bait net and bucket, sounders, ice fishing tip-ups, pliers, ice safety picks, and an ice skimmer.
The moment your flag trips, it should be a smooth motion and your reel should freely turn.
If you are targeting good togue and brook trout, target the right lakes. Lakes in the Headwaters of the Allagash Wilderness Waterway boast excellent native brookies. Find a good location on the chosen lake, for instance, the gravelly, rocky shorelines of lakes in these waterways that are almost 6'' off the bottom will be ideal.
Jigging will be fruitful when fishing on Lake Sebago. Some of the jig lures to carry here are airplane jig, tube jigs, and Swedish pimple plated with nickel and sweetened with half shiner or sucker belly.
Ice fishing at the night can be tricky. The tactics need to be on the right level. Besides getting the right spot, using the right equipment, and following the right techniques, there is a whole lot you can read here.
Eagle Lake and Lake Portage are small yet yielding gems. They freeze faster because of their smaller sizes. To get the best out of them, fish in the inlets.
The best shot to give at the salmon on the East Grand Lake is by using smelts you can get at the stores in the corner of the Butterfield Landing about 5 miles north of the place. Aim at salmon two to four feet below the ice. Your best gear will be a 4 feet mono leader and a size 6 hook with a red or black Gamagatzu.
Always have a waterproof pair of compass and map.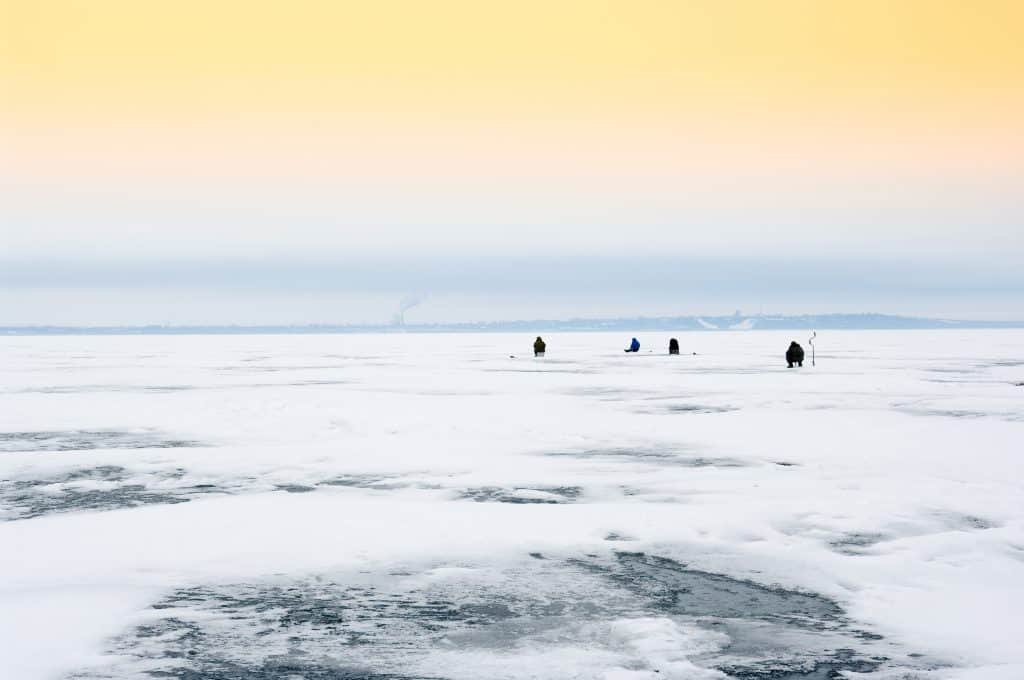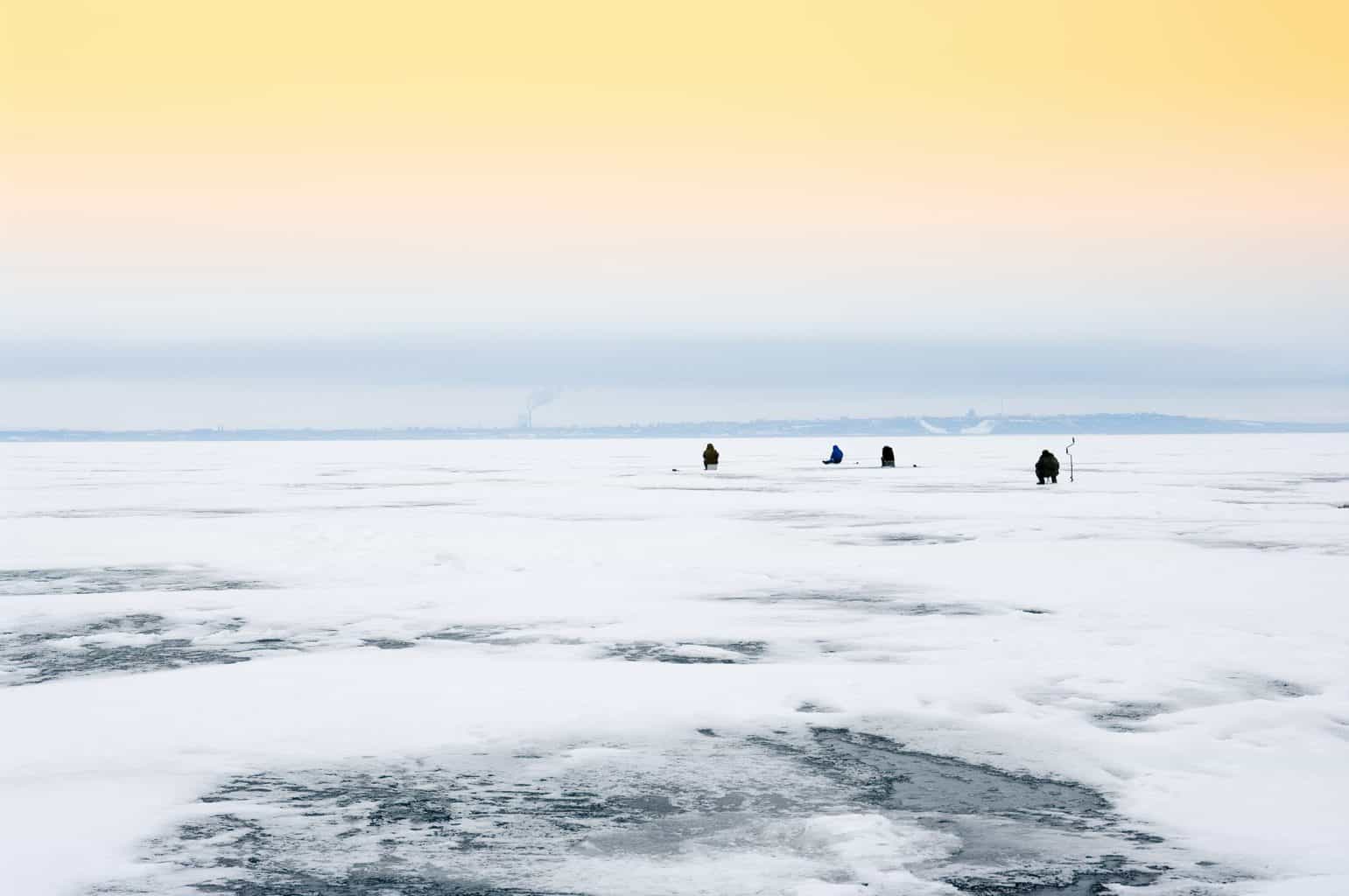 Conclusion
After knowing then the ice fishing commences and the best lakes to comb, the tricks and tips above will come in handy. Some are general tips and others are specific to different water bodies. Get your license, hire a guide service if you need to (very advisable if you have children with you on the excursion or are new to the sport).
If you'd like to test your love for ice fishing, you can take advantage of the derbies on different lakes. Free clinics are often held before the contests to allow participants to hone their skills. Prizes are awarded to the first three winners in most derbies.
For safety reasons, ensure that ice is very thick before engaging your outfit. Don't recreate above your limits to prevent accidents, respect the weather, and carry a first aid kit (just in case). Overall, preserve the environment and most of all, have LOTS OF FUN!