There are hundreds of accessories for the aspiring fisher to get as comfortable on their boats and on the shore as they are on their couches at home. One of these accessories is sunglasses. And yes, they are important if you consider your cornea as a necessary part of your body! 🙂
Looking for the best fishing sunglasses under $50? You have come to the right place!
Quick Overview – Best Fishing Sunglasses under 50$
Quick Comparison – Best Fishing Sunglasses
Preview
Best All Around
Best Value
Title
Suncloud Milestone Active Sunglasses
DUBERY Unisex Wide Frame Polarized Sunglasses UV Protection Retro Rectangular Sun Glasses D912
REKS Polarized Wrap around Sunglasses - Unbreakable frame
Best All Around
Preview
Title
Suncloud Milestone Active Sunglasses
Best Value
Preview
Title
DUBERY Unisex Wide Frame Polarized Sunglasses UV Protection Retro Rectangular Sun Glasses D912
Preview
Title
REKS Polarized Wrap around Sunglasses - Unbreakable frame
Buying Guide
When on the boat under the open sky and glaring sunlight, everyone could use a pair of sunglasses to escape from the misery of squinting eyes. But the sunglasses that help the fishermen might be different than your regular ones because when fishing, people tend to stay on their boats directly under sunlight on open waters for quite a few hours.
So, to protect your eyes from the Ultra Violet Radiations of the sun and to ease the burden of your eyes, you would require a specialized pair of sunglasses made just to withstand those particular conditions faced by fishermen. We have a few examples of such sunglasses in this article and also a buying guide to identify the right sunglasses that would exactly fit your needs.
If you do not know what the market entails and what qualities are absolutely necessary for a pair of sunglasses, then you might end up buying some expensive set with medium-range qualities. But there is a solution to this, we have scrunched the internet and written this buying guide so you can make the right decision.
About Fishing Sunglasses
Almost all of us own a pair of sunglasses, but what sets these sunglasses apart from the rest are the qualities that ensure ultimate protection to your eyes. While fishing, people tend to spend long hours under the scorching heat, and the Ultra Violet rays of the sun are often harmful to your corneas. These fishing sunglasses make sure you don't burn your eyes out while fishing. Some other aspects to consider while buying a set of fishing acquired sunglasses are given below.
Comfort
Everyone knows fishing is a job that requires a certain level of craftsmanship and a lot of time as well as patience. So, to choose accessories for fishing that you feel comfortable in is important. As you are going to wear sunglasses while fishing for the entire day, you must choose something you feel comfortable in.
If the set is too heavy, it might leave a dent on your nose, and if the dimensions are not right to the construction of your face, you might not be able to wear them for a long time. For the best experience, choose a set of sunglasses that is lightweight and be sure to check out the dimensions that fit your face.
Reliability
While buying any product, we consider its reliability, as it determines if the product is worth our money or not; the same is the case with fishing sunglasses. If you have to buy a new pair every time you go vacationing, then you might have made the wrong call while buying them. When looking for fishing sunglasses, be sure to look out the material used in the frame, the more flexible, the better.
Another aspect that adds to the long functioning of the sunglasses is the scratch-resistant coating on the lens that protects the lens when it's not in use. There are also special fishing backpacks, that have a sunglass compartment, which offers additional protection.
Style
Fashion in this age is incorporated in every aspect of our lives, and so it is necessary that these brands must offer stylish options or customizable options for their clients. A lot of the times, in almost every price range, there are options of colored frames as well as colored lenses. Be sure to try out different combinations before breaking out your wallet.
Prescription Ready
A lot of people in this age require prescription spectacles and, at times, feel deprived of the opportunity to wear proper sunglasses and not just the ones with the tinted lens. It is really important to check out if the lens can support your prescription because, at times, these lenses only support a certain number of prescriptions and not beyond that.
If you do not get your prescription number incorporated in the sunglasses, you will not be able to see clearly, and if you don't buy a set just because you require a prescription, you run a chance of seriously damaging your retinas.
UV Protection
The most dangerous wavelength of light that comes from the sun is the UltraViolet radiation. These Ultra Violet radiations are the real super-villains and pose a great deal of harm to your eyes. Most of the time, the sunglasses that support athleticism have UV protection, but just be sure to check in the description.
The best option in the market is to buy UV 400 protection because it covers not only UV A and UV B but also UV C and HEV as well. Be sure to look into getting a fishing face mask, face shield and/or a hat as well, if you are worried about the UV impact on your skin!
Polarized Lens
The polarized lens is often mentioned in the description of sunglasses, but you might wonder what the actual function for it is. A polarized lens is designed to reduce the glare of the sunrays that are deflected from other surfaces such as water. They offer a considerable reduction in glare, which clears out the visual field and helps you see clearer.
In fishing sunglasses, a polarized lens is absolutely essential because a substantial amount of sunlight is reflected from the surface of the water and hence hinders the ability of a person to see clearly.
Tinted Lens
We often see customizable options in these sunglasses; there are different shades of lenses available even in the cheapest of options. We searched a little on these and found out that the grey tint on the lens best supports the requirements of fishers, as it reflects the most wavelengths of light away from the glasses.
Cost
Everything often comes down to just one point, and that is affordability. The features of a product do not matter if you cannot afford to buy it. But there are always cheaper alternatives with good quality in the market, as we have mentioned in our blog.
The Best Fishing Sunglasses under $50 – Our Top Picks
When you are searching for the best fishing sunglasses under 50$, you will find it a bit difficult to choose from the plethora of options already available in the market. It requires a lot of knowledge, time & patience to search through all the available sunglasses for fishing and choosing the best one. We have cut your work short by reviewing the top 3 best fishing sunglasses under 50$.
Are you prepared to begin? Let's go!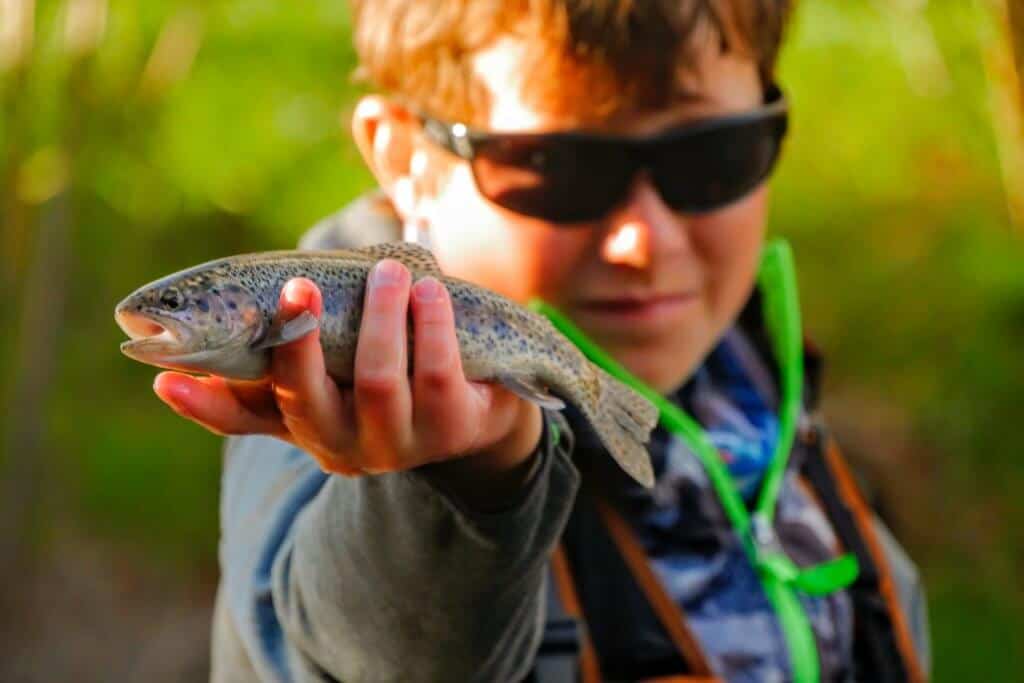 The Best All Around Fishing Sunglasses for under 50$
Pros
Inexpensive
Protection from UV A and UV B rays
Stylish
Lightweight
Anti-Glare
Scratch and impact resistant
Cons
Not clear if prescription lens supportive
Sunglasses are a necessity while one is out in the open waters for long hours. Thus the best polarized sunglasses to fit a fishermen's needs in our view is none other than the Suncloud Milestone Polarized Sunglass with Polycarbonate Lens.
These sunglasses have been rated the best in our list because they take care of every of everything from Ultra Violet Radiations, Extreme Glare from the sun, and comfortability.
The Suncloud Milestone Polarized Sunglasses have a Polycarbonate lens that offers UV400 protection. The polarized lens not only protects against UV A and UV B but also adds protection from the glare of sunlight bouncing off the water.
These sunglasses also took care of your comfort while taking care of the quality, and hence the frame is made of lightweight plastic. The rubber pads at the nose and the custom logo plate at the temple take care of comfort in a stylish way.
The bendable frame adds not just to the comfort but reliability as well, because the chances of these sunglasses coming lose and falling off are pretty slim. The retrograde polarized lens is offered in multiple colors so everyone can have a choice to reflect their sense of fashion.
Features and Specs
Polycarbonate lens in the sunglasses
Ultra Violet Protection
Amazon
The Best Value Fishing Sunglasses for under 50$
Pros
Stylish
Hypoallergenic plastic material frame
Anti-Glare
UV resistant
Great price / value
Cons
Not scratch resistant
Might get damaged on strong impact
The DUBERY Unisex Polarized Sunglasses went all aboard and crashed the market with their UV Protection Retro Square Sun Glasses. These Sunglasses literally take care of all your needs without making a hole in your wallet. While they are cheap fishing sunglasses, their quality is nothing to laugh at!
The Ultra Violet 400 protection covers the UV A and UV B rays, so forget about burning your corneas and start enjoying that sunshine. The Polarized Lens is designed to take care of the glare that reflects off of other surfaces.
The polarized lens doesn't just reflect off the glare but also makes the visual field clearer and thus is essential in locating the perfect spot to throw the bait.
And the retro square design in the PC frame helps you make a fashion statement while onboard your boat.  The plastic in the frame is hypoallergenic and extremely lightweight to create the most comfortable eyewear. The multiple color lens and frame option open the door for customization.
These Dubery sunglasses come with the entire case and materials required to take care of such creative and helpful glasses. The whole set includes Sunglasses, Glasses Cloth, Glasses Pouch, Glasses Case, Polarized Test Card, and all of this in an Exquisite packaging.
Features and Specs
UV Protection
HD Polarized lens
PC Frame
Amazon
The Best Recommended Fishing Sunglasses for under 50$
Pros
UVA, UVB, UVC & HEV Protection
Anti-Glare
Hydrophobic layer to keep water off
Anti-Scratch coating
Flexible Plastic
Cons
More expensive than the other options
Wrap around might be a little uncomfortable
The best-recommended sunglasses for fishing from us is the REKS Unbreakable WRAP AROUND Sunglasses for one too many reasons. First of all, as the safety from glare and Ultra Violet rays is a necessity, REKS took it to another level and even made these HEV protectives on top of being anti-glare and UV resistant.
The Polarized Lens not just takes off the glare but also has multiple coatings, which is why we became a fan of their sunglasses. The Hydrophobic coating keeps the water OFF and thus frees you of the task of repeatedly cleaning the lens.
The anti-scratch coating creates a reliability bubble and proves the REKS are there for you in the long run. The lens and the plastic frame are hypoallergenic and BPA free.
The flexible plastic material is why they show off a lot; it has the tendency to wrap around your temple and never leave your eye unguarded under the scorching heat.
The style statement is made by multiple color lenses and the logo on the temple. The high-grade, flexible plastic also shows for itself. And the one-year Warranty is the ultimate guarantee that REKS trusts their product to be perfect and superior to all.
Features and Specs
Flexible and unbreakable frame
One hundred percent UV 400 Protection
Hydrophobic coating
One-year Warranty
BPA free
Amazon
Frequently Asked Questions (FAQ)
Some of them do offer prescription lenses in their frames, but oftentimes they have a limit; after a certain number, they do not offer prescription lenses.
It depends on the brand; some brands offer scratch-resistant coating, and so their products don't wear off. But some brands do not offer such specs, though they can also be used for a long time if kept properly.
The UV A and UV B radiations are covered when the sunglasses protect against UV 400.
It is not necessary for any lens to be polarized to deflect the glare, but the polarized lens stops 90 percent of the glare from entering your visual field, which is not possible with a simple tinted lens. Plus, it can make driving and being in the water safer!
Check out our fly fishing gift ideas 🙂