A few years back there were limited choices when it came to waders and moreover, they made you sweat extensively. However, these days you have some well-designed models that fit perfectly and are designed according to your comfort and convenience.
When selecting the best wader, you also need to keep in mind the climate, type of fishing, and the types of waters where you fish regularly. The abundance of choices can be overwhelming so we have come up with a small guide to acquaint you with the different factors that need to be considered.
Let's first take a look at the best fly-fishing waders for the money that we have chosen for you.
Quick Overview – Best Fly-Fishing Waders for the Money
Quick Overview – Best Fly Fishing Waders
Preview
Best All Around
Best Value
Most Durable
Title
Piscifun Chest Waders, Stockingfoot Waterproof Waders For Men and Women, Breathable Fly Fishing Waders, 3-Layer Lightweight Polyester Waders S
Compass 360 Deadfall Breathable STFT Chest Wader
FROGG TOGGS Men's Amphib 3.5mm Neoprene Bootfoot Chest Wader
Best All Around
Preview
Title
Piscifun Chest Waders, Stockingfoot Waterproof Waders For Men and Women, Breathable Fly Fishing Waders, 3-Layer Lightweight Polyester Waders S
Best Value
Preview
Title
Compass 360 Deadfall Breathable STFT Chest Wader
Most Durable
Preview
Title
FROGG TOGGS Men's Amphib 3.5mm Neoprene Bootfoot Chest Wader
Buying Guide
There are so many waders out there with different materials and styles. So, we have come up with some parameters that you can keep in mind while shopping for the best fly-fishing wader. Read on to know more about the different factors to be considered before investing in good quality fishing waders.
Type
There are different types of waders such as hip waders, waist high waders and chest waders. Hip waders are meant for fishing in knee high depths. So, if you go for fishing in small lakes and shallow ponds then hip waders work great as they give you the necessary coverage.
The speed of the water where you fish is another important criterion. If the water speed is high then you might want to avoid hip waders as if you take one wrong step you may end up getting wet. Hip waders are generally used in hot weather where you want to wear minimum clothing while staying protected from the water. You will also want to take a hat!
The waist-high waders as the name suggests are great for waters that are thigh deep. If you are fishing in cold mountain streams with freezing water then these waders serve the purpose and provide more warmth and coverage. Also, don't forget to take gloves in this case!
If you want a wader with maximum coverage then go for chest waders as they are popular among professional anglers because of their sheer versatility. The best part about these waders is that they work in different fishing situations and keep you protected from weather extremes.
However, it is advisable to wear a wading belt so that your waders don't fill up with water in case you fall accidentally.
Material
Waders made up of neoprene are highly water resistant and are available in varying thickness from 5 to 35 millimeters. You can choose the thickness depending upon the insulation you need and the weight that is comfortable to carry. Neoprene waders are more suitable if you are fishing in cold climate. Moreover, they are easy to repair and are very durable.
Traditionally waders were made with vulcanized rubber and these continue to sell even today. Although they are relatively inexpensive these waders are heavy and uncomfortable if you want to fish all day. Also, it is better to avoid rubber waders on a hot day as they do not provide breathability and you will end up sweating a lot.
Canvas waders are also relatively heavier and stiffer. They are similar to the rubber ones but are more robust. However, canvas waders are highly durable and last longer than waders made with other materials.
Durability
There are many anglers who are out there fishing for a longer duration and so durability of the wader becomes an important factor. Go for materials that do not wear down easily and are of good quality.
Read product descriptions to find details about the materials and also go through product reviews to know how long a product lasted without any nicks and scrapes. This will make it easier for you to find a durable brand that meets your requirements.
Breathability
Breathability is another crucial factor as the wader material should allow air to pass through so that you can wear it comfortably. Do not compromise on breathability if you are fishing in hot weather as you may end up all hot and sweaty after fishing for a couple of hours.
However, if you are fishing in cold conditions then you need a thicker material that is less breathable.
The Best Fly-Fishing Waders for the Money – Our Top Picks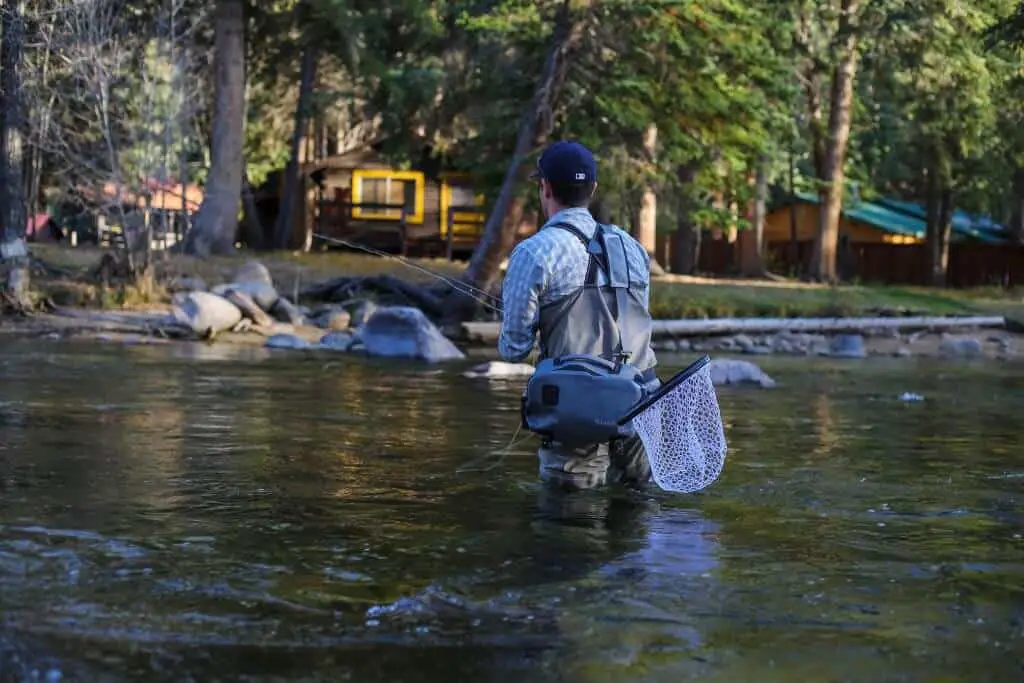 The Best Fly-Fishing Waders for the Money
Pros
Made up of 100% waterproof material
Removable hook keeper
Precise stitching that increases the overall durability
Waterproof phone case
Comes with a mesh storage bag
A repair kit containing super glue and polyester is included in the package
Not too heavy
Keeps you warm
Cons
This wader may leak when not handled properly
If you are looking for a breathable and good quality wader then Piscifun chest wader is a good choice. The reinforced thick nylon suspenders help in providing elasticity so that you can easily move about in the water. This wader is made of three layers of polyester that provide resistance to wear and tear. This wader also features 4mm neoprene booties that have a perfect fit and do not cause bunching.
The polyester material ensures that the waders are 100% waterproof and breathable. Moreover, the moisture wicking technology is helpful in removing sweat so you don't end up spending your day all drenched in sweat. Unlike some of the heavy waders out there the Piscifun® Breathable Chest Waders weigh only 2.53 lb so that you can stay comfortable while pursuing your favorite activity. The light material also ensures that you can move about without any hassle.
This amazing wader has an ergonomic design that is best suited for your requirements. The manufacturers have also included a waterproof zippered pocket and a reversible pocket to protect your phone and other essential items from water.
These waders are accompanied by a storage bag made up of a high-quality mesh so that they can dry out quickly. To make sure the waders fit perfectly, there is an elastic 1.5-inch belt at the waist with a quick release buckle.
The Piscifun® Breathable Chest Waders have a decent price with many features that are found in high-end waders such as belts, straps, breathability etc. Also, it comes with a one-year warranty and if there is any manufacturing defect in this item then you can be assured that the wader will be replaced.
Moreover, if the waders leak within the very first year then they will be repaired without any additional cost.
Features and Specs
Item Weight:1.15 Kg
Parcel Dimensions: 36.7 x 33 x 15.9 cm
The Best Value Fly-Fishing Waders for the Money
Pros
Fully adjustable suspenders
Flip out device safety pocket for storing your essentials
Durable wading belt that ensures a good fit
Reinforced layering in the knees and shins for more durability
Cons
The foot booties in this wader may not hold up for long
The Compass 360 Deadfall Breathable STFT Chest Wader is a dependable outwear that is suitable for different weather conditions. It is made from four-layer fabric that is highly resistant to water and is very breathable. It also provides you double reinforcement in the knees and shins making it extremely durable and reliable. A durable water resistance (DWR) coating is applied to the fabric to ensure that it doesn't absorb water at all.
If you are looking for a wader that provides warmth and protection to your feet then the Compass 360 Deadfall Breathable STFT Chest Wader is a great option as it has 4mm 100% neoprene booties made with contour fit and are double taped. This one also prevents the rocks and debris from getting int your shoes as it has four-layer abrasion resistant gravel guards with lace hooks.
There is a flip-out storage pocket and one zippered front chest pocket to keep your essentials safe. This wader also has a wading belt with quick release buckle that provides a great fit. This wader needs to be washed with cold and soapy water and you should never put in in the drier. To ensure that they as tong you can hang these waders with their feet up in a cool and dry place.
If you find that the wader has any manufacturing defect then you need not worry as it comes with a one-year warranty applicable from the date of purchase. Also, with its reasonable price these cheap fly fishing waders give you the best value for money.
Features and Specs
Shipping Weight: 2.4 pounds
4mm neoprene booties
2-in-1 Chest Pocket
Amazon
The Most Durable Fly-Fishing Waders for the Money
Pros
High-back design for deeper wading
Handwarmer pocket
Reinforced knees
Neoprene suspenders with adjustable hook-and-loop attachment
Cons
These waders have long legs and you may have to cuff them over at the top of the boot
If you are tired of leaking waders and are looking for one that is completely waterproof and durable then Frogg Toggs Amphib Neoprene BootFoot Wader is a great option. Moreover, if you go for deep wading then this wader is equipped with bib-style 3.5mm neoprene upper and high-back design that makes it easy to stay in deep waters without getting wet. This wader is also comfortable for float tube use.
If you are fishing in cold water conditions then you should definitely go for the Frogg Toggs Amphib Neoprene BootFoot Wader as its boot is bolstered with 600 grams of Thinsulate insulation.
Other additional features include hook-and-loop adjustments; fleece-lined handwarmer pockets, reinforced neoprene knee pads; and 3.5mm neoprene booties with sliding gravel guards.
Features and Specs
3.5mm neoprene upper
200-gram Thinsulate insulated rubber boots
Amazon
Best Fly Fishing Waders – Frequently Asked Questions (FAQ)
It depends on the type of wader you have. Bootfoot waders come with attached boots so that your feet don't get dirty with sand and gravel. Bootfoot waders are comfortable when you are fishing in saltwater and have to stand for long hours in the surf. On the other hand, stockingfoot waders have sock-like booties at the end.
So, when you go fishing with stockingfoot waders you need to wear wading boots as well as gravel guards.
When you are looking for the perfect size it is good to consider parameters such as the inseam, the girth of the chest, waist, and hips and lastly, the shoe size. All these factors will help you determine the right size.
Make sure that you go for waders that fit perfectly so that there is no loose fabric. Also, you should dry them out properly when you are back home. Always store your waders on hangers with their feet up and try to keep them in a cold and dry place.
Think about using waterproofing spray on them, in case they are not 100% waterproof. You should prefer to wash them with hands rather than going for machine washing as it will shorten its life. Also, never dry your waders in the machine as it will damage them.
If you are a beginner, check out our beginner's guide to fly fishing! Obviously, take rod & reel, a line and think about taking a vest or sling pack to store your tackle.
Happy Fly Fishing!
We have provided you all the necessary info to choose the best fly-fishing waders for the money and according to your requirements. Keep in mind that if you want something that lasts for more seasons then you need to invest more money.
So, what are you waiting for? Choose the best waders and gear up to have an amazing fishing experience!