Fly fishing is a fun activity and an amazing sport enjoyed by anglers across the world. The best part is that it helps you get close to nature so that you can appreciate the beauty and serenity and catch some great fish such as walleye, crappie, and perch.
For beginners, fly fishing may seem overwhelming as it is not a sport that you can learn in a day and get an amazing catch the very next. However, once you invest some time in learning the required skills it becomes easier.
Let us look at some interesting fly fishing tips for beginners to catch great fish.
As mentioned, amateur anglers may find fly fishing a bit difficult at first as you need to learn about new terms, gears, and the perfect casting technique. However, getting it right takes time and effort.  We suggest you take a few trips down the river to know more about the fishing gear and to know the right spots to get the best action.
Also, you need to go through several trials and errors to learn how to cast perfectly as fly fishing requires you to invest sometime.
Wondering which fish to catch on your fly-fishing expedition? Well, you can catch a variety of fish through this amazing technique. Trout is by far the best freshwater game fish that you can catch as it does not fight as much as the other fish such as bass, northern pike, and salmon. The other targets for fly fishing include walleye, crappie, perch, panfish, and carp.
Basically, any fish that feeds on worms, insects, and other small animals can be targeted for fly fishing. Many anglers have also caught chub and bream on their fly fishing trips.
Fly fishing attracts people due to many different reasons. Some anglers love the challenge of casting perfectly, while others are curious to know about the fish that thrive in beautiful places such as streams and rivers. However, everyone has the same problem which is how to get started with fly fishing?
It is great to have the right equipment to begin with. You will require a decent bowie knife to cut the line and to carry out other tasks. However, that doesn't imply that you can jump into the water straightaway. Rather you should practice if you have never done fishing before.
With the advancement of technology, it has become easier to pick up a rod, learn the basic of fly fishing and catch some fish close to the place where you live. There are ample films, websites, blogs and YouTube channels featuring articles and tutorials that can help you get started.
There are also many books written on fly fishing by seasoned anglers and a visit to your local library would be beneficial in getting the required information. Moreover, you can also look out for fellow anglers and see if there is any fly-fishing club in your neighborhood. You are likely to get a lot of help from anglers and many are keen to share practical tips that will help you go a long way!
Also, you can make use of empty parking lots and fields to try and practice how to cast. It is difficult to learn how to cast when you have trees and bushes around you.
You can also visit your local fly shop as the staff would be very knowledgeable about fly fishing. Though the local fly shops may not always be competitively priced, they carry good quality products and provide all the necessary assistance you need for a successful fly-fishing expedition.
Moreover, these shops provide an important service and they can be sustained only if we help them out.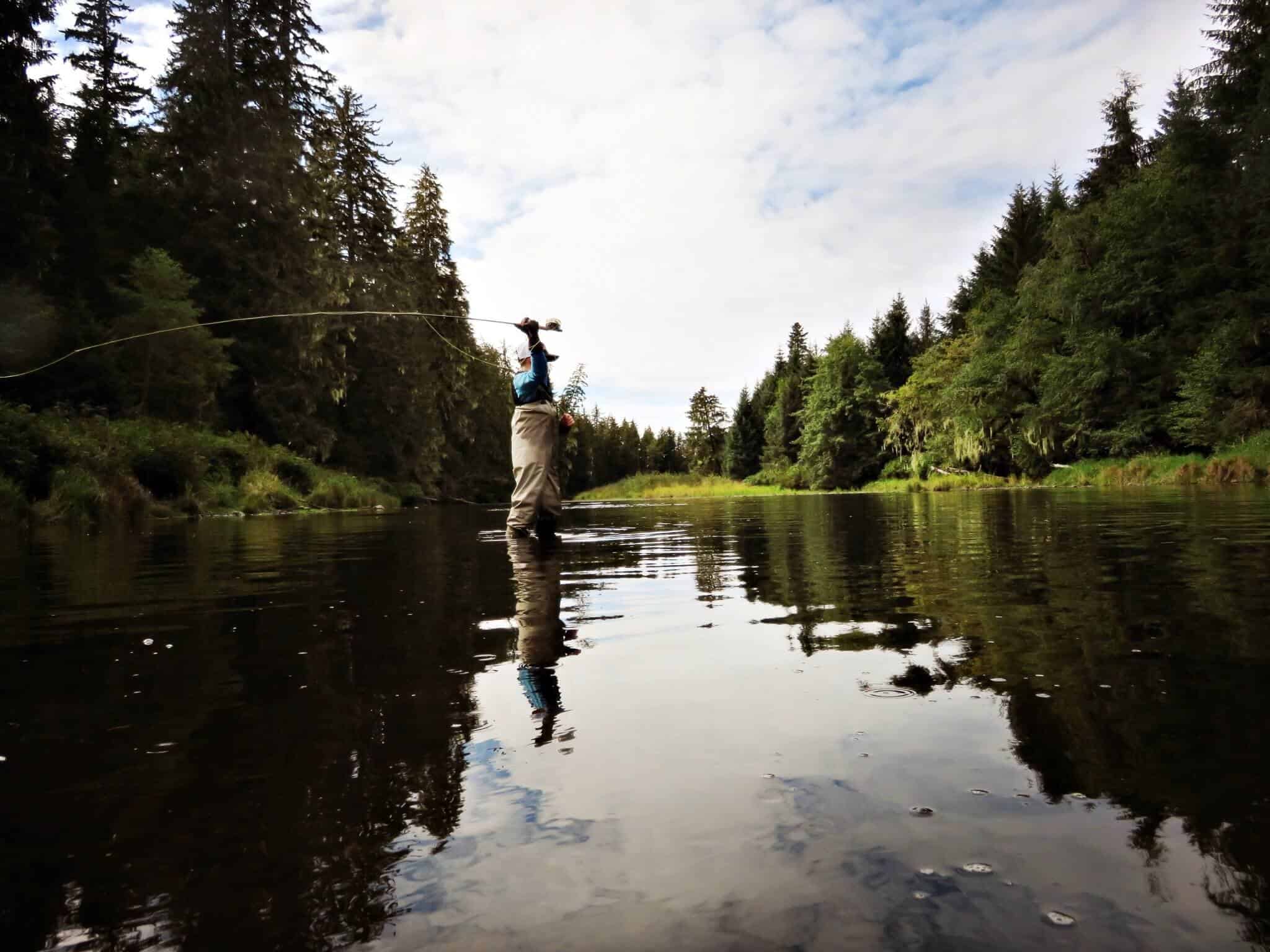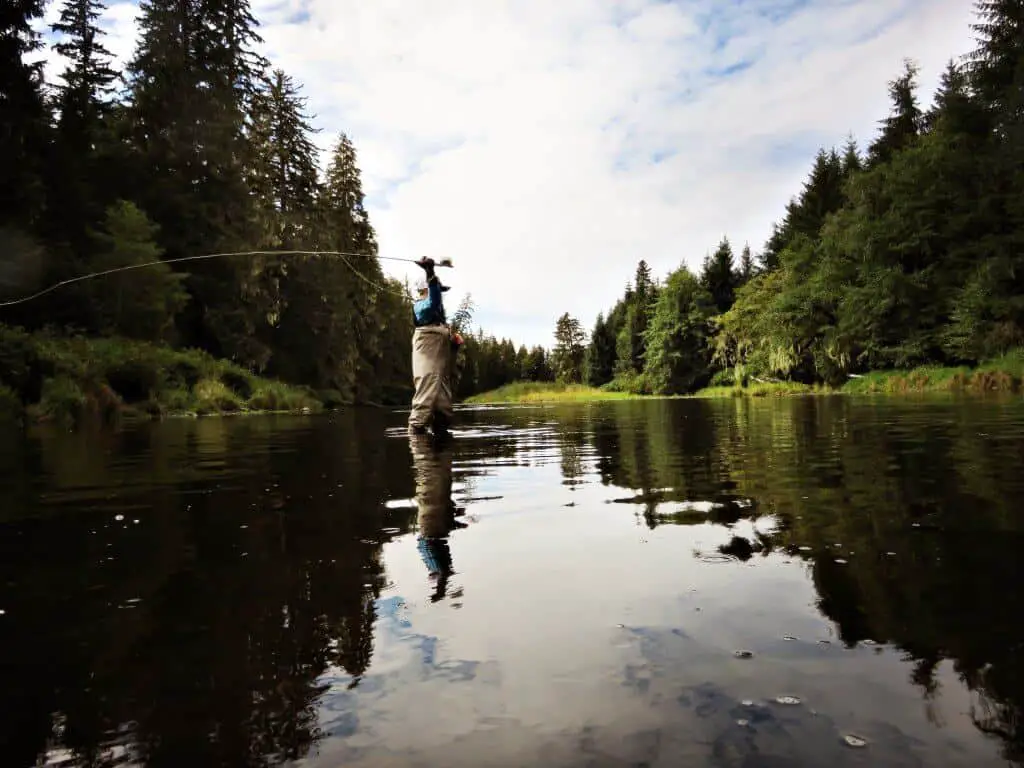 Essential Fly-Fishing Gear
Going through the fly-fishing gear can be a difficult task mainly because of a plethora of options available both in the stores and online. However, we always do our best to make sure you find it easy to get the right product for your need.
Read our article on the best fly fishing brands to get an overview what is out there.
As an amateur angler you might find it all the more daunting to navigate the gear sphere. So, the first step is to know which gear is essential for you as it gives you a direction to shop. Afterall assembling a fly-fishing collection is not an easy task.
To make your job easy we have come up with a list of the most important gear for beginners in fly fishing so that you get to save your time and money.
Take some time out for fly fishing and do not rush through the process. If you are a beginner then it is a good idea to bring a friend along as you will have someone to make your fishing experience all the more fun.
The most important thing is to not feel frustrated if you are unable to get a catch for days or may be weeks. Be prepared for the times when your line might get caught in a tree or when you might slip and fall as all this is a part and parcel of your fishing expedition.
You should know that fly fishing takes time and its only with experience that you get better at this sport. So, enjoy the journey without worrying much about reaching the destination.
Lastly, avoid spending a fortune on fly fishing gear. Getting all the equipment at once might burn a hole in your pocket. So, start with getting a simple graphite rod and reel, a basic line, and some flies. These are all the things that you need to get started.
Once you get acquainted with fly fishing you can purchase more accessories. Or, why not consider asking for a fly-fishing gift from family or friends?
Still not sure if fly fishing is for you? Check out our comparison of fly fishing vs. spin fishing or the great (German-speaking) forum fliegenfischer-forum.
Ready to catch some trout, walleye, crappie and perch? Gear up to have a fun fishing experience and continue reading our special tips for these fish!