Whether you see fishing as a game or a leisure activity, you cannot deny that it requires a lot of accessories to have a complete experience. One of the main tools necessary for fishing is a fishing rod. Looking for the best fly fishing rods for money? Look no more!
Quick Overview – Best Fly Rods for the Money
Quick Comparison – Best Fly Fishing Rods for the Money
Preview
Best All Around
Best Value
Title
Moonshine Rod Co. The Drifter Series Fly Rod with Extra Tip
Aventik Voya Fly Fishing rods Best Value 6 Pieces Travel Rods 8'9" LW4/5, 9'1'' LW5/6, 10'3" LW2/3, Three Fashion Colors, Fast Action, Light Weight, Super Compact Fly Rod
Eagle Claw FL300-7 Featherlight Fly Rod, 2Piece, 7', 5/6 Lbs. Yellow
Best All Around
Preview
Title
Moonshine Rod Co. The Drifter Series Fly Rod with Extra Tip
Best Value
Preview
Title
Aventik Voya Fly Fishing rods Best Value 6 Pieces Travel Rods 8'9" LW4/5, 9'1'' LW5/6, 10'3" LW2/3, Three Fashion Colors, Fast Action, Light Weight, Super Compact Fly Rod
Preview
Title
Eagle Claw FL300-7 Featherlight Fly Rod, 2Piece, 7', 5/6 Lbs. Yellow
Buying Guide
A fishing rod is the most basic necessity to even attempt fishing in the first place. One person's interest in the activity depends upon their first experience in it. And a fishing rod is a strong determinant of a person's likeliness of fishing.
If you end up with a rod that's too heavy or too stiff to let go of the cast, you might not want to have to go at the game again, and a lousy fishing rod can ruin a fishing experience even if the location is perfect. And we understand that there are a ton of scams present in the market ready to loot your money by describing features that are irrelevant.
Here we come to your rescue, in this blog we have everything you need to know before buying a fishing rod and also some affordable and reliable options for you to choose from.
About Fly Fishing Rods
Once the fisherman of an older age used to hunt its fish with a bamboo stick, and since then, evolution hit this department hard. From emerging into fiberglass fishing rods and then using graphite as the primary fishing rod construction material has been the choice of this generation.
The anglers of today's age, who do not have a lot of experience in this aspect, would have their heads spinning if they were to go in the market without a plan of buying a fly fishing rod.
We have explained every crucial detail that is required in a good fly fishing rod, so before breaking out your wallet, just give this buying guide a quick read.
Length
There is a lot of variation in the market with respect to the length of a fishing rod. Today we can choose from 6 feet to 15 feet of lengths in fly fishing rods. The length you end up picking depends upon the fishing you are going after and the water body that you have selected as a fishing spot.
The shorter lengths from 6-8 feet are usually used I streams where anglers don't need to cast their line to long-distance, instead want a useful and accurate casting. Shorter lengths in the fly fishing rods offer higher leverage and hence are perfect for fishing largemouth bass and snook in shorter streams.
The average length of a fly fishing rod is 9 feet, which can be put to use perfectly anywhere with enough skills. So if you do not have preferences in the type of fishing you're going, you probably should go for 9 feet fly fishing rod.
The rod lengths from 11-15 feet are usually made to cast out the line for longer distances; in the hands of a pro, these lines can go up to 60 to 100 feet. They are perfect for fishing in lakes and open waters like the sea where anglers need to cover a larger area. The longer reach aids in reducing unwanted drag and offers effective line control.
Weight
There is as much variety in weights of fly-fishing rods as it is in lengths. The fishing rods are marketed from 0 weight to 16 weight category. Mostly the variations are specific to lengths, with shorter lengths offering lower weight, and they are best for fishing in ponds and streams. The average weight is 5 with a nine-feet length of the fly-fishing rod, perfect for fishing trout.
The 10-15 feet rods support higher weights and are mostly suited for fishing in large water bodies where casting the line in a long-distance is important. The heavier weights are built to support heavier targets such as sailfish, tuna, and tarpon.
So, in the end, if you are a beginner, then go for the 9 feet and five weight category rods, but if you know your way around fishing by now, then choose the kind that works best for your preferences.
Rod Action
There are three types of rod action, which mainly depend upon the flexibility of the fly-fishing rod.
In fast action rods, the tip is slightly flexible, but the lower portion is extremely stiff. This gives the ultimate control in the hand of the angler and offers precision casting. This type of rod offers a greater deal of line control and distance of line casting and is usually a choice of pro anglers.
The medium action rods have a fifty-fifty stiff to flexibility ratio. The top part is flexible to a greater extent than the fast action, and the lower part is stiff. The flexible portion allows increased speed and movement, whereas the rigid portion offers control over the line. Things tend to go out of hands with the medium action rods when placed in the hands of beginners.
Slow action roads offer full flexibility and are often used to cast shorter lines. They only represent a shorter range of fly-fishing rods in the market and are preferred by people who know what they are going to hunt and where.
Material – Fiberglass and Graphite
The materials used in rod construction have varied through time, but none got extinct as the three primary materials, fiberglass, graphite, and bamboo, are still used in the fly-fishing industry as proper rod construction materials.
The first-ever fly fishing was introduced through a bamboo rod, and it has stood the test of time as the best all-natural fly-fishing material. The material that came second in the industry was fiberglass; it is often used in shorter, lightweight, and slow action rods because of its flexibility and durability.
Then came graphite replacing fiberglass, graphite is used today as the primary rod construction material because of the stiffness as well as the flexibility it offers. The graphite rods are durable but are a little heavyweight and are used in longer fly-fishing rods.
Arbor Size
Arbor size refers to the diameter of the spool of the reels, the small arbor is designed to retrieve the spool quickly, and the large arbor size specializes in looser coils that do not tangle as soon as the smaller or mid-size arbors.
The Best Fly Fishing Rods for the Money Review – Our Top Picks
There are hundreds of brands that specialize in fishing accessories and hence have a line-up of fishing rods. But to get a fishing rod that fits exactly your needs, you should have a little knowledge about the kind of fishing you are going for.
A fishing rod is the essential aspect of fishing, and the quality of it decides the fate of your hunt. If you do not have a proper fishing rod that can support the burden of your quest or be launched far away, then you might end up coming back empty-handed from the stream.
We know where there is a quality product in the market; the prices get ridiculously high. But for you, we searched the internet and found some of the best fly-fishing rods that are worth every penny.
Let's get started!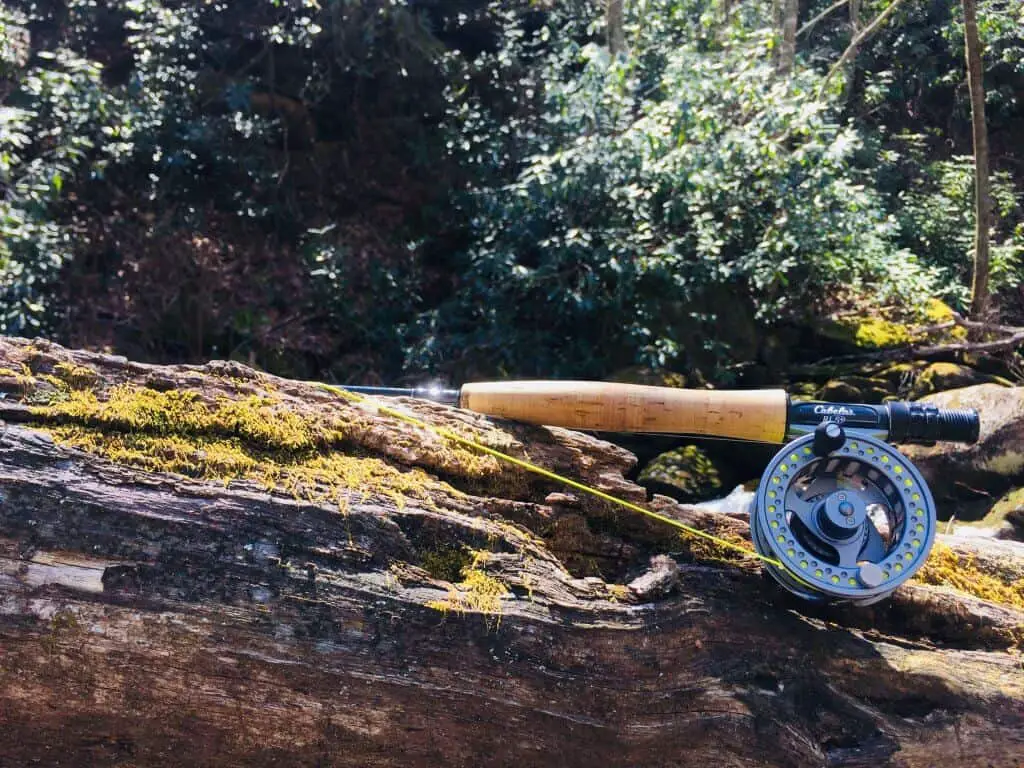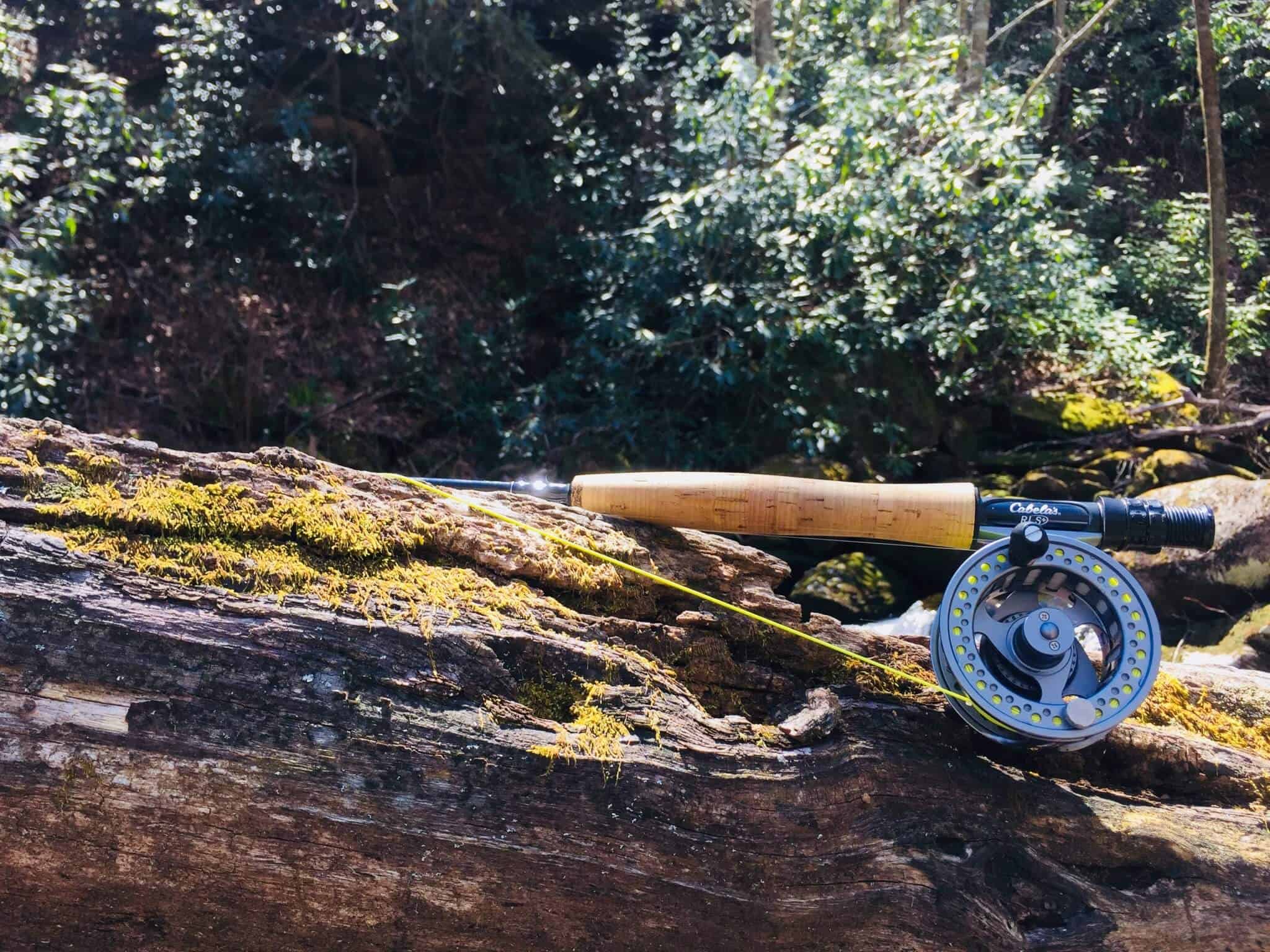 The Best All Around Fly Rod for the Money
Pros
Effortless casting ability
Four-piece rod
Extra tip
Long double hauls
Lifetime warranty
Cons
Considerably heavy
Inconsistent quality of wood
Fishing is not a game that you can play empty-handed when you are out in the water a lot of things are at stake. It is important to buy the perfect rod, especially if you are looking forward to becoming a pro at this game.
The Drifter Series Fly Fishing Rod from the moonshine rod company has got to be the best one for the money for one to many reasons. When in your hand, this exceptionally well-designed rod gives off the look of an elite and expensive material.
If you are a pro, you know the importance of a stiff rod that gets your line shooting to long distances for easy fishing from the shore and at the same time soft enough to create a pleasureful experience.
This rod from the moonshine rod and co gives you the whole package, including the copper anodized hardware and the high-grade AAA cork grips in an affordable range.
Features and Specs
Anodized hardware
High-Grade cork grips
Burled ends
Amazon
The Best Value Fly Rod for the Money
Pros
Corrosion-resistant
CNC machined reel seat
Three stylish shades to choose from.
Cons
Multiple sections can be a little difficult to handle
To find every feature of branded fishing rod in an off-market brand and that too with a whopping twenty-five-year warranty is very difficult. However, with Aventik Z Fly Fishing Rod, you get great quality. First things first, their claim to double-check every rod through the QC system and field casting stand firm behind their long term warranty.
Coming towards the quality of action that the Aventik Z Fly-Fishing rods offer, the fast action is supported by the smooth casting, which is corrosion-resistant. The Chinese home-made stripping guides provide effortless casting in all weathers.
On top of everything, the Cordura rod tubes entirely induce a sensation of a lightweight fishing rod. The Chinese home-made titanium coated tip tops shout about the quality the Aventik Z Fly Fishing rods have to offer.
Last but not least, the Aventik Z Fly Fishing rods made our list for offering so many incredible features and that too in the slickest price range, making it a great cheap fly fishing rod. The three color choices are just the cherry on top and give you a sense of style even while fishing.
Features and Specs
Chinese stripping guides
Asian titanium coated tip tops
Cordura rod tube
Amazon
The Best Quality Fly Rod for the Money
Pros
Updated action
Quicker response
Matched components
Fiberglass rod
Cons
Slightly expensive
Only one color available
Very rarely in the market do we witness rods constructed with fiberglass. Everyone in the fishing game understands the importance of a lightweight rod. You have to hold a fishing rod for hours, and if you do not want your biceps strained to trust me, you need a lightweight rod.
The fiberglass material used in the construction makes the Eagle Claw Featherlight Fly 4-5 Parab Fishing Rod incredibly lightweight, as its name suggests. This feature does not just add up to the weight of the rod but also adds style to it. The fiberglass looks incredibly slick when molded into a fishing rod.
The stainless steel guide and the hand-selected cork handles perfectly fit each and every aspect of the rod. Every part of the rod is placed and selected in such a way that it complements each other and function for a smooth action.
The quick response action is the duty of the rod, and as the fiberglass makes it the lightweight, it also generates a stiff rod, which is perfect for shooting your line faraway.
Features and Specs
Stainless steel guides
Specially selected cork handles
Fiberglass construction
Amazon
Check out these fly rods in action in New Zealand!
Frequently Asked Questions (FAQ)
If you are not sure, check out this detailed article over on globalflyfisher!
The weight and length of the fly-fishing rod determine your control over the rod at the same time is the determinant of the distance your line will cover.
So, yes! They matter.
Anglers often prefer 9 feet and weigh five category rods because they offer versatile action, it can be used to fish in streams as well as larger water bodies.
Is the person in need of a rod? Then sure! For beginners, you coud also go with a rod and reel combo then.
If not, check out these other fly fishing gift ideas.