Would you love to learn how to tie killer patterns for trout, bass, pike, salmon or any other species? Besides watching educational and practical videos, you could get some punchy information from the best fly tying books online. Most of us spend bucks on flies because of the convenience of ready-made options.
Anyways, flies don't cost as much as waders or bots would so a dollar or two on one won't hurt. For those with the zeal to craft and a dire need to save some coins, investing in the best fly tying books will be resourceful.
There is so much to learn from them starting with the different types of flies, choice of material, tying techniques, and more. This guide contains various books on how to tie flies and are suitable for tiers of all skill levels.
Quick Overview – Best Fly Tying Books
Quick Comparison – Best Fly Tying Books
Preview
Title
The Orvis Fly-Tying Guide
The Feather Bender's Flytying Techniques: A Comprehensive Guide to Classic and Modern Trout Flies
The Book of Fly Patterns: Over 1,000 Patterns for the Construction of Artificial Flies
Essential Trout Flies: Step-by-step tying instructions for 31 indispensable pattern styles and their most useful variations (Step-By-Step Tying Instructions for 31 Indispensible Pattern)
Preview
Title
The Orvis Fly-Tying Guide
Preview
Title
The Feather Bender's Flytying Techniques: A Comprehensive Guide to Classic and Modern Trout Flies
Preview
Title
The Book of Fly Patterns: Over 1,000 Patterns for the Construction of Artificial Flies
Preview
Title
Essential Trout Flies: Step-by-step tying instructions for 31 indispensable pattern styles and their most useful variations (Step-By-Step Tying Instructions for 31 Indispensible Pattern)
Preview
Four Benefits of Fly Tying Books
Why would you purchase a fly tying book? The same way you'd pick up a novel to pass time, improve your grammar, or creativity, there are upsides to choosing one whose content revolves around fly tying. Here are its gems:
1. Books are a Knowledgebase
Fishing is continuous as various species have different season opening dates. As you advance your skills in fishing, you might think that what you have gathered is enough knowledge to make you a pro. Until you grab a fly tying book and indulge, then you will agree that there is much you are unaware of.
These books have fishing information in abundance. You will learn about the elements of artificial flies, their construction, the
right tools and the best materials to use, and why. Crafting artificial flies helps you to understand the correspondence of fish to natural feeding systems and habits.
2. You Understand How to Get Things Right
Commercial patterns exist in thousands but sometimes, a customized option is needed for your favorite fishing spots. If you fish in rivers where the fish are well responsive to shrimp patters, then soft hackles or Caddis might not perform well for you.
Some fast glides with excellent depth will look extremely yielding but it might take longer to get something out of them. Understanding the right patterns for such spots that you have fished before and mastered will make your sessions more successful as you know what flies to use.
3. The Books Improve your Crafting Creativity a Notch Higher
Just like the world is competitive, so is fishing. Everyone wants to have a good time and tidings. Your creative skills begin to manifest when you are knowledgeable about flies. Find your friends that shoot as they have access to varieties of feathers and fur. These are some of the best fly tying materials and you might land a free pack.
With such materials, your creativity scope is higher and you can create wonderful patterns. For instance, pheasant feathers from hens make great oversized spiders that might work well on the Stillwater for you. Now that Christmas is wrapped, Christmas tinsel and crisp packets can be good materials. Most materials around the house are usable what could limit you is your imagination.
4. Get Involved and Reap from a New Skill
Different fish opening seasons commence on different dates. Once you have the knowledge and are confident in your skill, you could create a hustle out of it. Get connected with tying flies if it is an activity that you love.
This piece comes to you in the middle of a pandemic but you could join a fly tying group, create meet-ups, and engage. This allows you to connect with other fly tiers of different skill levels. You could land a partner and make it a business.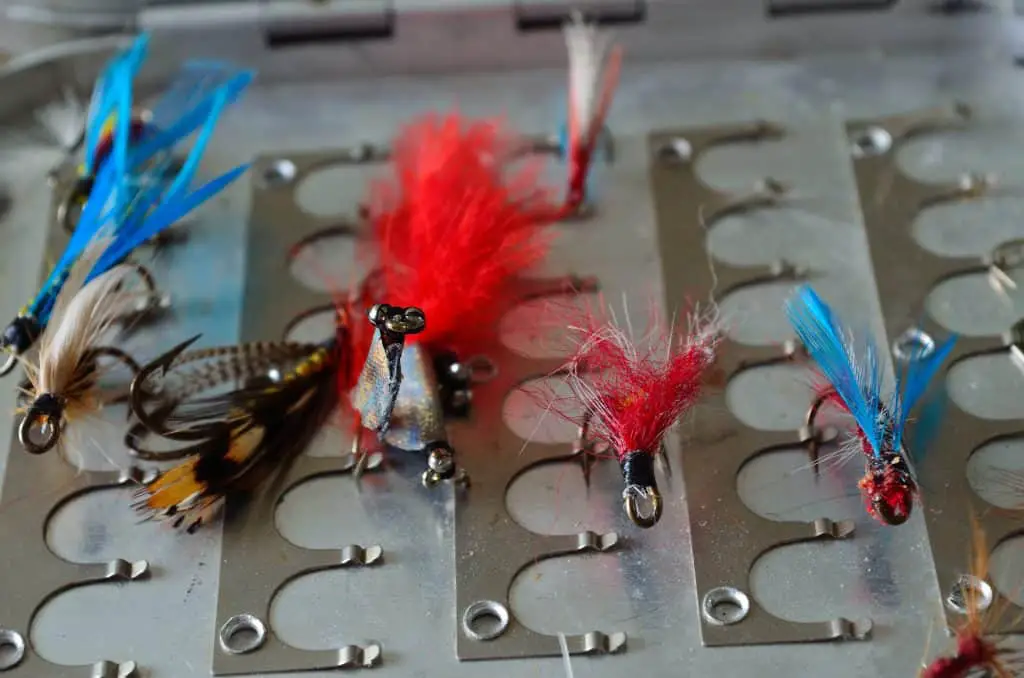 What to Look for in a Good Fly Tying Book
Here are some of the considerations before purchasing a fly tying book. These pointers will help you get content on the right areas of fly tying that you require:
Skill Level
Anglers are categorized from novices to pros. Some guides are past the pro level and are considered trainers to help you achieve your angling goals. Fly tying books range from beginner to expert level.
Each skill category has a different content. Beginner fly tying books (e.g. The Benchside Introduction to Fly Tying) focus on introducing a tier to the basics of the skill while expert levels (e.g. Advanced Fly Tying) help you polish up your crafts.
Types of Flies
Some books are centered on specific flies and give detailed information and photographs on the same. There are fly tying books specifically for trout, salmon, pike, or some have a combination of two or three species. For instance, Trout Flies by Dave Hughes talks about trout flies only while The Fly Tying Bible by Peter Gathercole is on trout and salmon flies.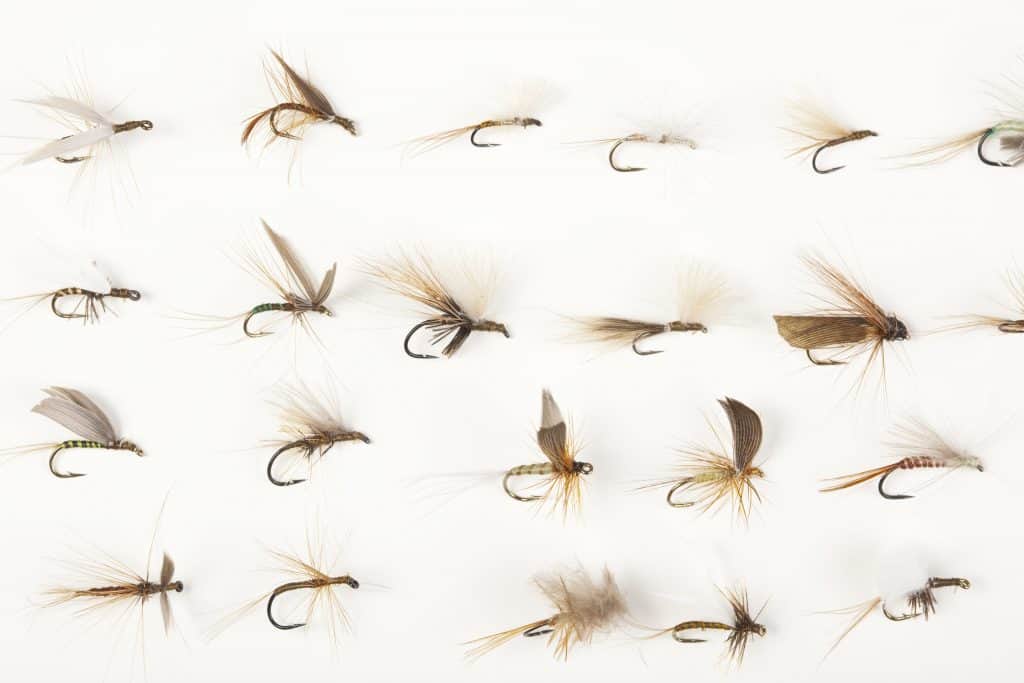 Core Reason for the Book
Fly tying books are numerous and some are for patterns only while others talk more about tying techniques. Others are for sheer aesthetics while a good number is for priceless knowledge. Reading the book summary is a good way to find out the core reason for your fly tying book.
N/B: We will not have the book's age as a consideration because regardless of when it is published, it could have useful information for an angler that could change their fly tying and fishing life.
How best can you Use a Fly Tying Book?
Books don't expire neither does the knowledge in them-at least, not on fly tying. The best way to use these books is for reference. Master the vital aspects you need to and get back to the book when you need more info. Once you feel like the pages are stuck in your head, you can pass it to a fellow tier.
Do Self-made Flies work as Good as Store-bought Ones?
Yes, and No! Self-customized flies will work well, even better than store-bought ones if they are correctly made with the right material, equipment such as a fly tying vise and field-tested for performance. They also will not work if they are poorly done.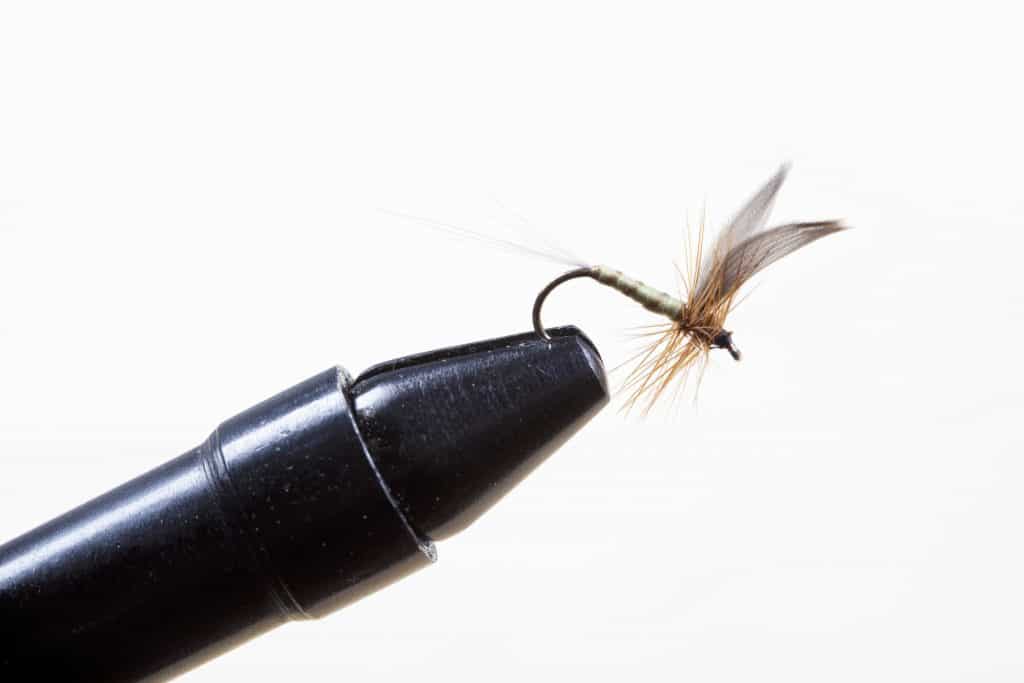 The Best Fly Tying Books – Our Top Picks
Here is brief information on different fly tying books depending on the categories they fit well. To know more about the content in them, you can visit a library with a fishing section to see if you can get one to read or make a purchase if you are interested in any of them.
The Best Fly Tying Book for Beginners
Pros
Easy to read and comprehend
Clear pictorial illustrations
Covers the basics of fly tying that an angler needs to know
Cons
Some instructions and illustrations aren't well-detailed for a fresh novice i.e. the whip tying tool section hasn't been well explained
We all love a timeless reference even as we are kick-starting the fly tying journey. We find this a favorite and highly rated by novice and intermediate anglers. Tom is Orvis's marketing manager at Vermont and started fly tying at 14. With all his years invested in the craft, he thought it wise to document his valuable knowledge in this book.
The book covers the basics of tying flies and has lots of illustrations in colored pictures to make the learning process clearer and easier. It further explains all the vital tying techniques and gives steps to follow when using each of them. You will learn the right materials to use when making various modern fly patterns.
The fly pattern catalog is mostly drawn from Orvis but you can advance to making your customized ones using the same techniques the author explains. With the help of this book, you can move from being blank to an advanced fly tier of dry flies, streamers, and nymphs.
Amazon
The Best Classic Fly Tying Book
Pros
A video link is available for better reference of pattern designs and assembly
Excellent for tiers of all skill levels
Cons
A few parts on some sections are missing though you will watch them on the videos
Intermediate fly tiers or those with some experience and advanced guys will appreciate this book. Barry focuses on vital fundamental techniques and shares his tips and tricks. A generous section of the fly patterns in the book are made from his techniques.
Having tied flies for over thirty-five years, he has sectioned the book well to allow tiers to easily access the information they need to know. Unfortunately, patterns are grouped by technique and not alphabetical order. The book has a mix of introductory lessons and those for intermediates to advance to the expert level.
You will love how well each pattern comes with a recipe. He also recommends the hook size, style, and correct materials to use. Images illustrate the procedure step by step to allow an easier time for material assembly. Barry includes a link to a video that explains all patterns in the book. You can watch the video while referring to the book for quick mastery.
Amazon
The Best Fly Tying Patterns Book
Pros
Numerous variations of fly patterns
Covers classic and contemporary patterns
Outlines solutions to different problems in fly tying
Cons
Individual patterns don't have tying procedures or instructions
Some patterns don't have pictures of what the result should look like
How long can you take to fish 1000 patterns? Eric in his book gives you information on over 1000 fly tying patterns. The book covers mostly contemporary and classic patterns as he states the right hook materials and sizes to use. How well you dress a pattern will determine its success on the water. Problems occur while tying or using self-tied flies. The book addresses solutions to these problems and how to avoid reoccurrence.
You will find patterns for any kind of fly you want to craft from stoneflies and terrestrials to emergers and attractor patterns for any fish species. The book further explains the latest innovations in fly tying materials for different patterns. Silhouette drawings come in handy when understanding fly proportions.
However, most of the patterns are only variations of a fly. A smart tier will find it helpful as they can learn numerous variations of each pattern in the book.
Amazon
The Best Fly Tying Book for Trout
Pros
A well-sectioned book
Numerous variations of trout patterns
Flies here can work for panfish and some warm water fish
Cons
Focuses more on classic patterns and not the new ones like Clouser minnows, and the likes
The Portland author in his book nailed at photography and image compilation. You will love the color-filled pages describing in detail the 31 patterns of flies for trout and their variations. There is a whole section on fly tying techniques and materials.
When describing the flies, he categorizes them into nymphs, dries, and streamers, and wet flies. He explains the history of each pattern and gives entomological data. Below will be a photo of that pattern and clear instructions on how to tie it. There are pictures of at least six variations and tips on how to fish the patterns. You need to know when to use a caddis, Wulff, or hopper.
You will love how detailed and clear the book is. In total, there are over 200 trout flies that have proven to be successful. It will be easier to identify trout flies, know their lives, categorize them, and know what to pack for a trout session depending on the season and type of water you intend to fish in.
Amazon
The Best Salmon Fly Tying Book
Pros
A valuable gem for original salmon patterns
Excellent recipes for the salmon patterns
Cons
Doesn't cover modern salmon patterns and their variations
Fly Tying for salmon was one of the things that Mikael loved. He goes deeper into the history of salmon flies and their nature before dressing them. This mostly consists of a classic collection of flies for salmon that have been used in the 19th and part of the 20th century.
There are over 165 salmon flies discussed in the book. The author explains the types of materials needs and alternatives that work best for salmon. He refers to other knowledgeable salmon fly tiers like Pryce Tannatt, Kelson, and Blacker. This made him maintain the originality of the flies making the book a gem. If you are drawn by the classic patterns and would like to get a few favorites, you might find this book helpful.
Amazon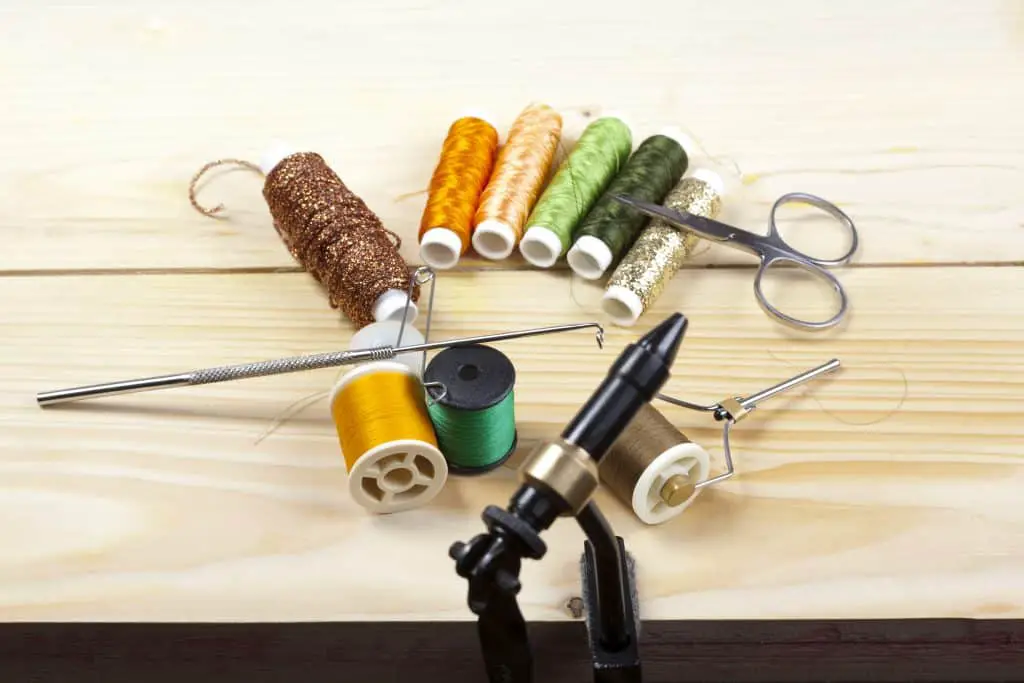 Happy Fly Tying
After keenly assessing all the books, the Best Classic Fly Tying Book – The Feather Bender's Flytying Techniques by Barry Ord Clarke takes the crown for being a comprehensive piece that covers almost all sections of fly tying. Most importantly, the links to relevant videos by the author are very resourceful in understanding fly tying techniques and instructions of different patterns.
Whether you prefer going fly fishing with a bamboo, fiberglass or other fly rod, the book allows you to acquire knowledge on various fly tying aspects. Besides, you will know the right flies for different seasons, fish species, and water bodies. If you feel like it can pay off as a hobby, why not take on a project?