Fishing is a hobby that can be enjoyed in various types of bodies of water. You can practically hunt for different species of fishes in a multitude of areas. It is only logical that the pole you use when you go fishing in the ocean is not the same as what you cast while you are on shallow creeks. Not to mention the differences between ice fishing, fly fishing and spin fishing.
As the list of fishing destinations goes on, so does the number of rods and reels you may own and use. And just as there are different kinds of poles, there are also various ways to store them. Therefore, it is crucial to pick the best fishing rod rack that depends on your circumstances and available storage space.
Quick Overview – Best Fishing Rod Rack
Quick Comparison – Best Fishing Rod Racks
Preview
Best All Around
Best Value
Title
Rush Creek Creations Round 16 Fishing Rod Storage Rack
Berkley Fishing Rod Racks & Rod Holders (All Models)
Rush Creek Creations 11-Rod Wall or Ceiling Fishing Rod Storage Rack, Vertical or Horizontal Fishing Rod Holder with 11 Rod Capacity, American Cherry
StoreYourBoard Fishing Rod Storage Rack, Holds 24 Fishing Rods and Reels, Weatherproof, Indoor and Outdoor Storage Stand
Best All Around
Preview
Title
Rush Creek Creations Round 16 Fishing Rod Storage Rack
Best Value
Preview
Title
Berkley Fishing Rod Racks & Rod Holders (All Models)
Preview
Title
Rush Creek Creations 11-Rod Wall or Ceiling Fishing Rod Storage Rack, Vertical or Horizontal Fishing Rod Holder with 11 Rod Capacity, American Cherry
Preview
Title
StoreYourBoard Fishing Rod Storage Rack, Holds 24 Fishing Rods and Reels, Weatherproof, Indoor and Outdoor Storage Stand
Why You Should Purchase Fishing Rod Racks
Fishing rods come in different lengths, with 24 inches as the minimum and 20 feet as the maximum, but they are all built slender and long. They can sustain stress and substantial weight while fishing, but they are unexpectedly delicate. Therefore, if you want them to last long, you must take care of them. While cleaning and damage inspection are important, keep in mind that proper storage is just as essential.
Rod Racks Can Save Preparation Time
You can either purchase fishing rod racks from your local shop or an online store. Nowadays, there are many convenient options. Some rod racks are mounted, while others are movable, and you can either store your poles vertically or horizontally. Naturally, not all kinds are applicable for use to everyone. For instance, if you don't have extra space to keep the rack, then don't use the transportable ones. So make sure to consider your situation first before going out and buying one.
I also advise you not to have just one rod rack if you're an avid angler and to station them in different areas for convenience. If you have a lot of rod racks, then you can certainly use them for different purposes. So having more than one can allow you to organize your rods conveniently. However, purchasing many of them can be quite costly. But if you want to minimize the expenses, you can actually make rod racks on your own as a much cheaper alternative.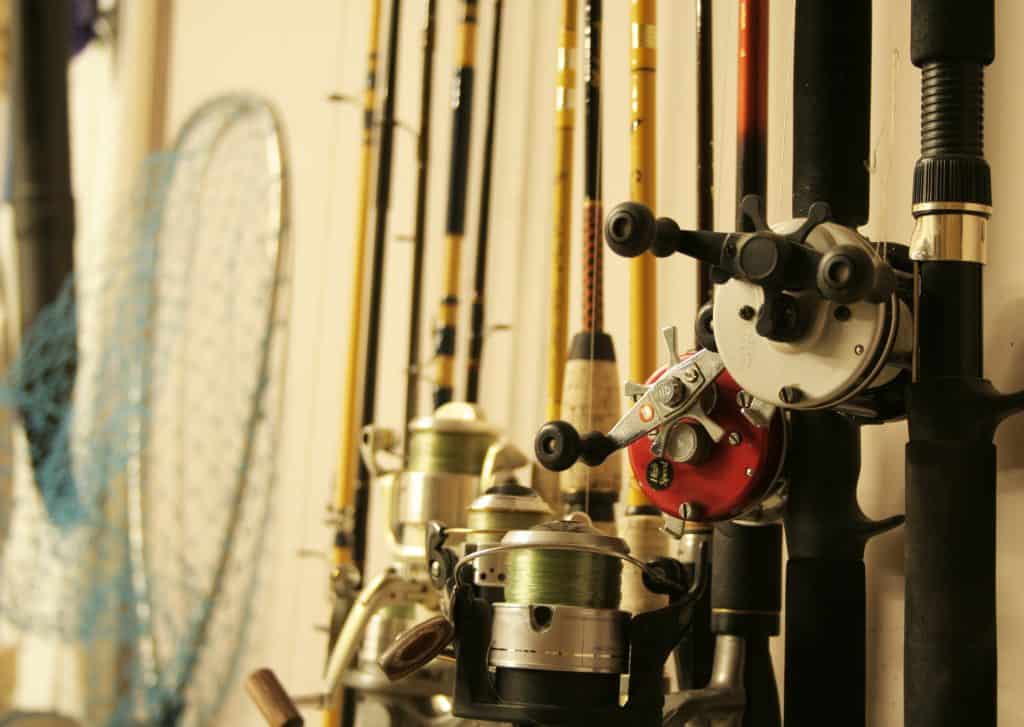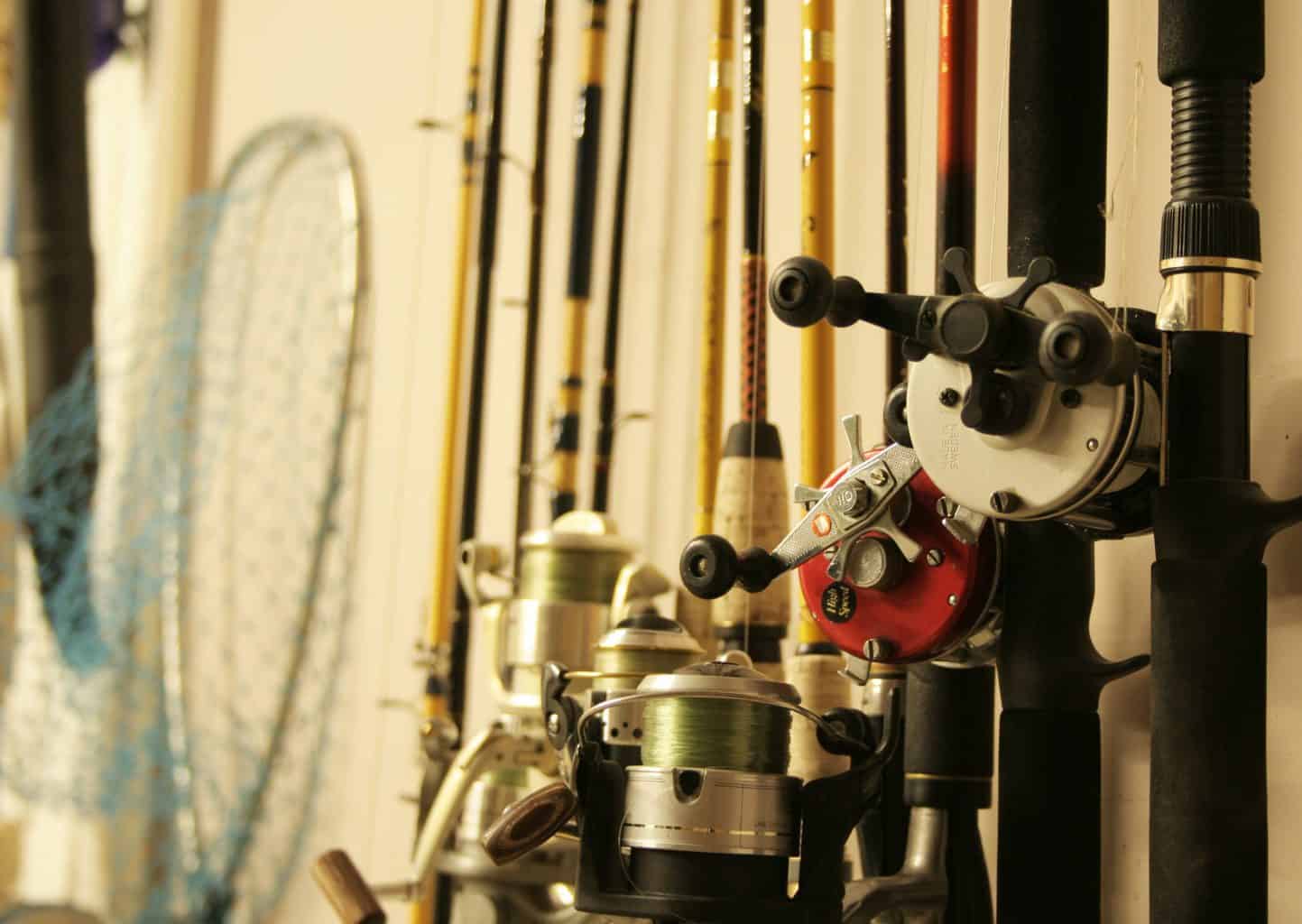 Rod Racks Can Prevent Damage
You are not advised to let your fishing rods lay on the ground as this can cause damage from getting wet, stepped on or crushed by other stuff you keep in your storage area. Likewise, they can fall off if you merely lean them against the wall. The best way to get around these issues is to make use of rod racks. Rod racks are made to cater to the standard length of fishing poles so that you can set them straight and avoid getting them bent, or worse, broken.
If not stored correctly, this fishing equipment would be all over the place, leaving them vulnerable to damage. For the same reason, I use racks even if I have to bring along only one pair of rods and reels while traveling. Furthermore, without an assigned space for my fishing tools, accessibility will be an issue as well. I might end up having to spend some time looking for them in my house, garage, or boat when I could have utilized those extra minutes or even hours to prepare the bait instead.
Nevertheless, whether you bought pre-made rod racks or made them yourself, remember to keep the area dry. They will get wet at some point while you are using and cleaning them, but storing them is a whole different thing. Prolonged exposure to moist can lead to damage in various ways, such as rust and mold, depending on the materials to manufacture them. To eliminate the chances of getting the rack damp, avoid storing your fishing rods and reels if they have not dried up yet.
The Best Fishing Rod Racks – Our Top Picks
One of the hardest things about shopping for any kind of product is the wide variety of options on the market. This is precisely why I'm going to share with you four rod rack products that each have great qualities in a certain area. That way, not only do you have some options to begin with, but ones that can cater to your specific needs.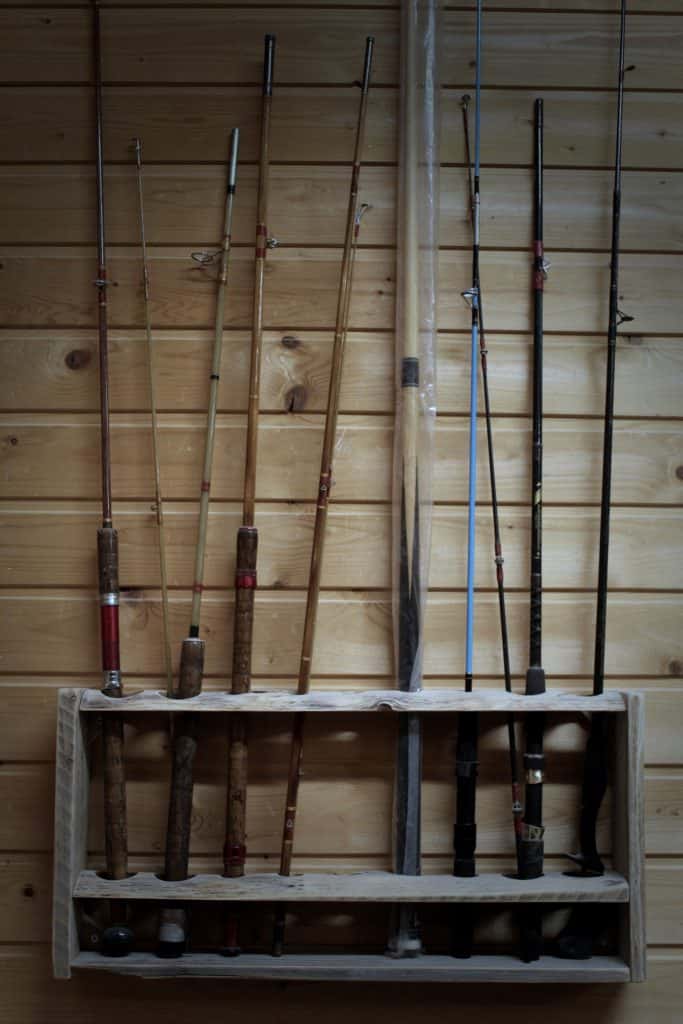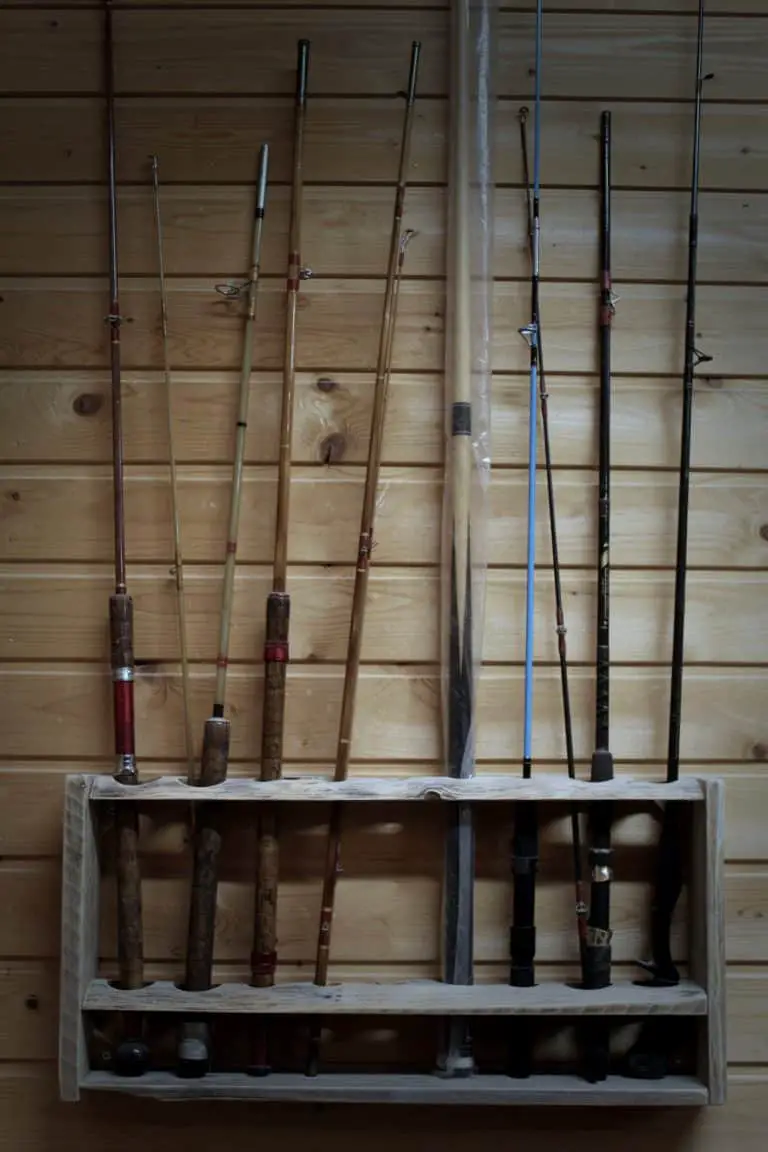 The Best All Around Fishing Rod Rack
Pros
The height is perfect for the standard length of rods
Takes up very little space
The slots in the base for the fishing rod handles are waterproof
As it is lightweight, transporting it would not take too much effort
There are leveling supports on the bottom of the base plates to avoid direct contact with the ground
Cons
Very thin rods may shift in their slots since the clips cannot be tightened enough to secure them in place
The soft rubber clips in the top plate are susceptible to high temperatures
Narrow space between each rod when full
Manufactured by Rush Creek Creations, this cylindrical fishing rod rack can store up to 16 pairs of fishing rod and reels in just a limited space. As a matter of fact, after assembling the package, it only takes up 13 inches of free horizontal space, and it is precisely 30 inches tall. Putting the pieces together is not tricky at all either, since it needs no tools whatsoever. Also, as it is not meant to be permanently attached, you can place it in your storage area, boat and even bring it with you to a different location if you have to.
For its price, it can boast excellent durability as well. The center pole is crafted out of two-piece solid wood that is 30 millimeters in diameter. Meanwhile, the round plates for the base and the top are made out of 13-layer plywood. The holes or slots are padded to provide maximum comfort to the fishing rods. The round clips on the top plate are adjustable and can accommodate from regular to thick rod tapers.
Amazon
The Best Value Fishing Rod Rack
Pros
It keeps your fishing rods neatly arranged and away from the ground.
Plastic is a non-porous material, which means that getting it wet will not be an issue.
You can get the fishing and boating license resource from the Recreational Boating & Fishing Foundation, which comes with many benefits, for free
Cons
The spaces between the individual bases are not adjustable
The foam used has poor elasticity, which means that it can break when too much stress is applied
For a low price minus the shipping fee, Berkley's mounted vertical rack can neatly store six combos of rods and reels. It is 15 inches wide, and you can adjust the assembled height depending on the length of your fishing rods. Before using it, though, you must first follow the recommended installation steps. Be advised that this requires tools and equipment, along with a bit of skill.
The bases and supports are made out of plastic, making the set weigh only 0.53 pounds. Despite this, it is durable and can carry hefty weights. The grip pads are made out of foam so that the rods will be firmly attached to the rack. When it comes to saving up space, mounted vertical pole storages, such as this one, are recommended. It can be installed on the walls inside or outside houses, garages, boats, or other available spaces. It is a great option for a cheap fishing rod rack, that still accomplishes what it needs to.
The Best Fishing Rod Rack in Terms of Adjustability
Pros
You can use it to store your fishing rods indoors, even if they are longer than your ceiling height
It can be installed on nearly any flat surface, such as the wall or the ceiling, just as long as it fits
It is lightweight and compact
Cons
As it is made out of laminated wood, it will easily deteriorate when it gets damp. Therefore, using it outdoors or keeping it in a moist area should be avoided
The length and size of the fishing rods are some of the biggest issues in storing them. Some racks cannot hold long poles, and since the individual bases are leveled, the reels end up colliding against each other, especially if there are not enough spaces in between. However, for Rush Creek Creations' horizontal rod, this becomes no longer an issue.
You can install the two pieces of the holder away from each other, depending on how long your fishing rods are. That way, it would not be an issue for you if your poles are longer than the standard length. The problem with the clashing of the reels is solved as well. This is because the round spaces for the handle and the rod rests are placed alternatively. Therefore, the reel attached near the base would be aligned only in every other slot.
It also boasts excellent capacity as it can hold as many as 11 pairs of rods and reels. It is ideal if you are minimizing the space as it is meant to be mounted. If you don't have any available space on your walls, you can instead install it on the ceiling. It is made out of laminated wood and comes in different styles, such as American Cherry, Barnwood, Camouflage and Wood Grain.
Amazon
The Best Big Fishing Rod Rack
Pros
Its quality is topnotch, so you won't have to worry about it getting broken sooner than most rod racks
Upon purchasing it, you get a free 25-year warranty
Cons
It requires a lot of free space on its own
If you own numerous fishing rods, buying lots of racks to store them all will not only cost much but also take up space. Therefore, it may be better to buy storage that can hold as many poles as possible without taking much more room than necessary. If that is your target, then this rack manufactured by StoreYourBoard may be ideal for you. After all, this 16.5 pounds and 32.5 x 17.5 x 32.5 inches storage stand provides you with 24 free slots for your fishing rods.
As it is built to cater to a large number of poles, durability is one of its best assets. Another good thing about its stainless-steel hardware is its resistance to varying weather conditions. It is rustproof, therefore, bringing it outdoors or getting it wet should not be an issue. It is also freestanding, and there is even a handle so that you can easily move the rack in different areas if you have to.
Amazon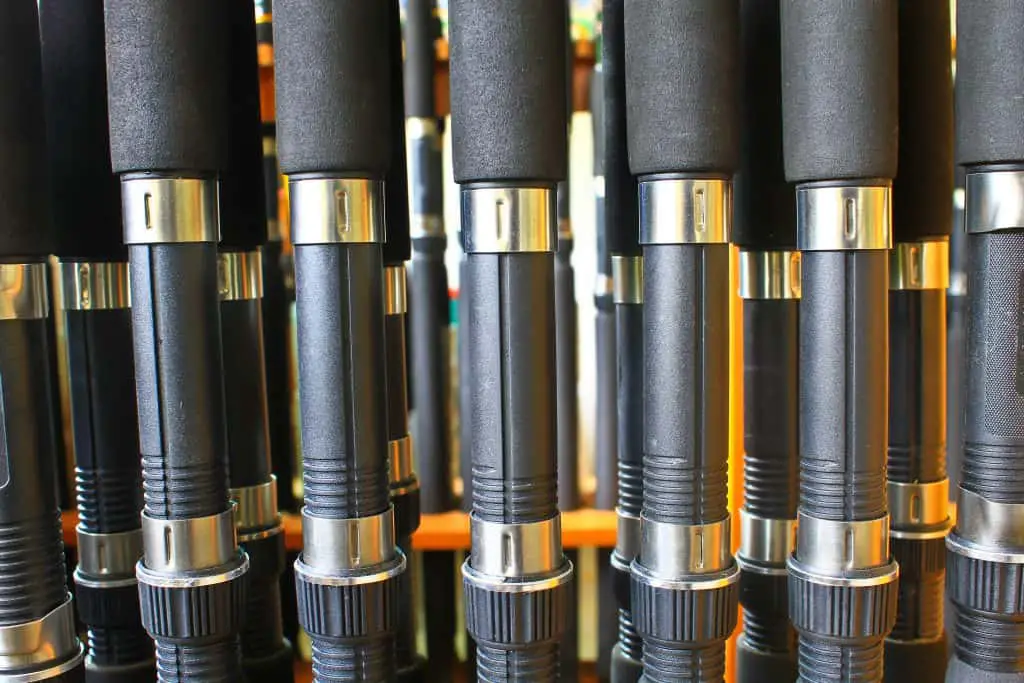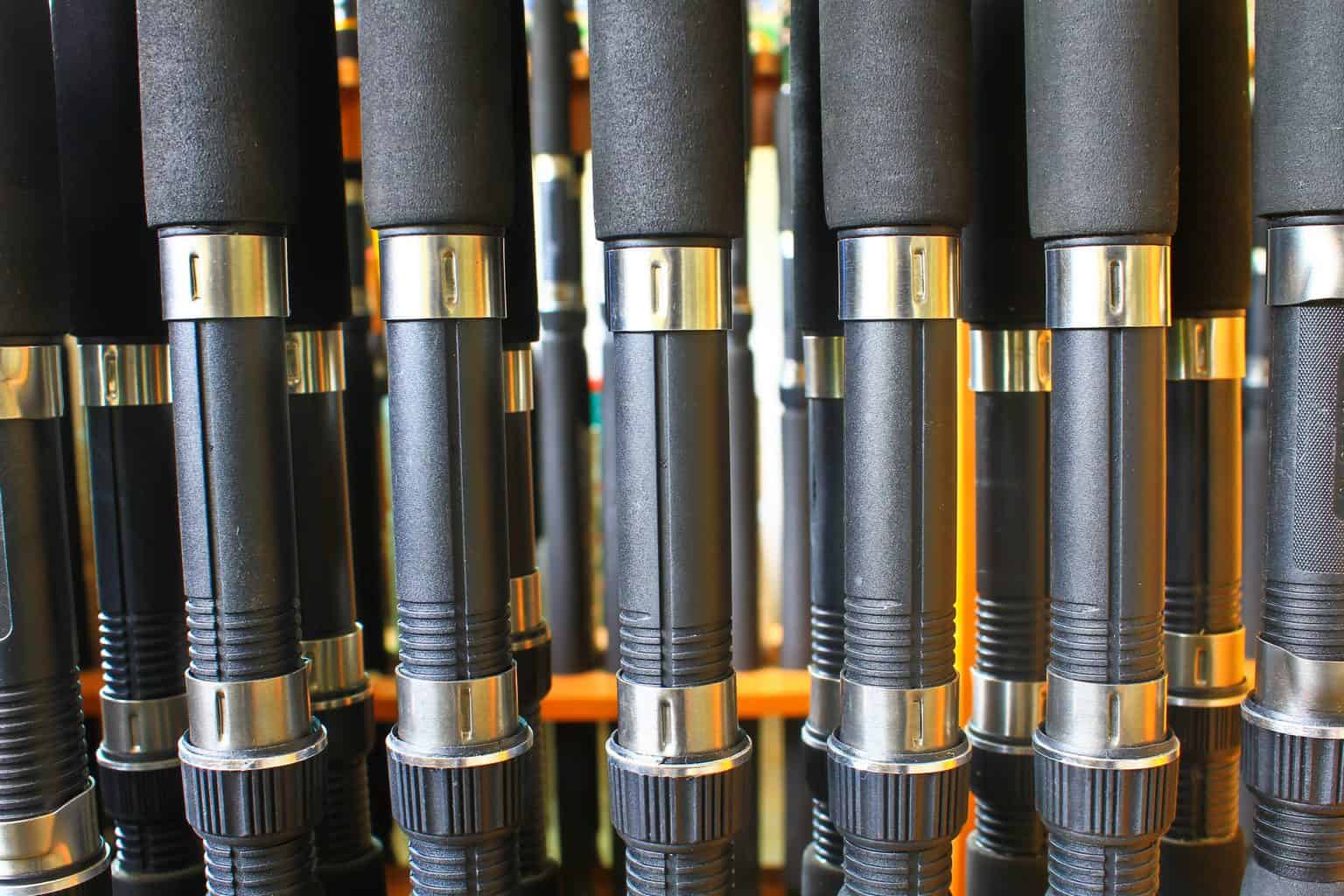 Happy Fishing
Many people think that the type of fishing rod rack is not of great importance. If you thought that your tools would be in their best condition as long as you have an area where you can safely place them, then it may be time to change your ways. If you buy a low-quality rack, it won't last long.
But it is safe to say that there is no perfect pole organizer for everyone, so choose the best fishing rod rack for your situation and needs.
If you want a rod rack  for beginners, then the all-rounder might be the right choice as it requires no tools to set up; among many other features.
For a cheap option but one that can still hold a considerable number of rods for the average angler, then the "best value" is the choice to go for.
On the other hand, whether you have a lot of rods or not, if close quarter impacts are a common problem for your rods, then you may want to go for the Rush Creek Creations that gives each rod enough personal space.
But I would have to say, as an experienced and long-time angler, the StoreYourBoard rod rack is my go-to piece with a rack space of 24 slots.
With many fishing rod racks out there, keep in mind what you're looking for to find the right one, whether you want to store your fly rods, spinning rods or ice fishing rods. And as always, if you have any remarks or inquiries regarding the subject, don't hesitate to leave a comment below!