Are you looking forward to catching some fish after a long day's work? Ice fishing at night is a great way to spend your winter evenings as it is both rewarding and relaxing.
If you are well prepared, ice fishing under the stars is a great opportunity to catch several species of large fish that have adapted to low temperatures. There are a variety of nocturnal fish such as walleye, crappies, and trout that feed in the dark and you can take advantage of this time to catch more fish.
Let's take a look at some tips that will help you catch more fish.
Tips for Catching Lots of Fish on the Ice at Night
Go for the Right Spot
The lake area gets deserted after the sunset and so it is generally quiet on the ice. The best spot for fishing can vary from one lake to another. Reefs, bars, and offshore humps surrounded by deep basins are generally the places where ample of fish can be found.
The fish are constantly moving around to find their food and so they are often seen in spurts. Many fish such as crappies, walleyes, and trout come up from the bottom of the lake at the night-time to feed on worms and larvae.
Carry the Right Ice Fishing Equipment
You need a shelter to protect you from the cold winds. Along with the shelter you also need a good lantern and an
ice fishing flasher equipped with a GPS that helps you find the correct spot for fishing. Many a times the fish are located at the bottom of the lake and so the sonar comes in handy when you are trying to locate the right spot. Also, don't forget to carry both horizontal and vertical jigs.
Finally, consider taking tip-ups if you are planning on working multiple holes or are looking to kick it back and grab a beer while fishing.
Use Bright Lures
Most of the time anglers use bright vertical jigs that move up and down as you move the rod. However, horizontal jigs are great at presenting the baits in different ways and are quite useful in catching more fish.
Use bright colored jigs to ensure that the fish can see your bait and lures in the dark. Some lures glow in the dark and the fish can see them from a long distance bringing them closer to the hook.
Another option is to bring e.g. crappie lights for night fishing, to improve visibility further and increase your chances for a big catch.
Ice Fishing at Night for Walleye
Walleye is one of the most popular fishes in North America. Walleye can thrive in the dark and feed more in low light conditions.  They are an aggressive species and thus are exciting to catch for many anglers.
Here are a few tips that would come in handy as you fish at night for walleye:
Where to Find Walleye
Walleye are generally found just a few feet from the ground as they swim in shallower waters. Set up a tent near river mouths and rock piles as these places are good to catch walleye.
Some areas, e.g. red lake are also known for being especially great spots for walleye. See if there are any like this close to you!
How to Catch Walleye
You need to lure the walleye with the bait on your line so drilling 10 to 15 holes in a grid works better than having a single hole. Put the line into different holes and try different angles to attract walleye as they are not an easy fish to catch.
Walleye Ice Fishing Technique
The most common technique for catching walleye in ice is vertical jigging where you make a jerky vertical motion to lure the fish and there are more chances that it will bite the bait.
Between one jig and the other one should wait for 3-10 seconds and then drop the fishing line in order to provide time to the walleye so that it can spot the lure.
Ice Fishing at Night for Crappie
Crappies are one of the most common game fish and thrive in freshwater. One can make use of some good ice fishing crappie lures, lines, rods and reels to get the best out of this sport. Here are some crappie ice fishing tips:
Where to Find Crappie
The key to catching any fish is selecting the right location. Crappies generally sail suspended from bottom and move about in areas with green vegetation, mud transitions, brush piles or docks and dock pilings.
Crappie Ice Fishing Technique
It is important to know how the crappies feed so that anglers can position themselves accordingly. The eyes of crappie are located on the top of the head and their mouth are positioned to pull their prey from below.
As crappies move upward when they feed on the prey, one should drop the bait down and try keeping it over their head.
When to Go for Crappie
The number of fish you will catch also depends upon the time that these fish are active. Crappies feed from midnight to 2 am and so it is the best time to go after them.
For more crappie fishing tips for spring, summer, autumn and winter read here.
Ice Fishing at Night for Trout
Just like walleyes and crappies, trout are also active at the night-time and are a good species to catch for anglers who go for ice fishing at night. Trout are cold water fish found abundantly in the cooler water bodies. At the onset of the winter these fish begin to move into shallow waters such as mountain streams and lakes.
Use the following tips to help you get started with ice fishing for trout:
Where to Find Trout
Trout move around small shoals with drop off ledges in the lakes as they are looking for insects and smaller fish to feed upon. If you know the lake in the summer months, it would be easier to locate where the drop offs are. Having a contour map of the bottom of the lake further helps in locating the breaks where trout can be found.
How to Catch Trout
Depth is another crucial factor while looking for trout as fishing at the wrong depth for hours can be frustrating. As mentioned before, trout are found in shallow water, it is good to target the area 4 to 10 feet under the water.
However, the depth may vary according to the temperature of the lake and its size. Many anglers use a couple of fishing rods so that they can target trout at different depths.
Trout Ice Fishing Technique
Use a bait such as a night crawler at around 3 to 4 feet underneath the ice and start jigging at different depths from 3 feet onwards. This technique helps in covering the full water column beneath you.
Avoid Making too much Noise
Before you start fishing, drill all your holes and avoid drilling new holes throughout the night as the fish might get startled. Trout can get scared by any loud movement on ice.
So, it is good to be committed to fishing in the holes you drilled before. Also consider using a manual or battery powered ice auger instead of a gas/propane powered one for the same reason!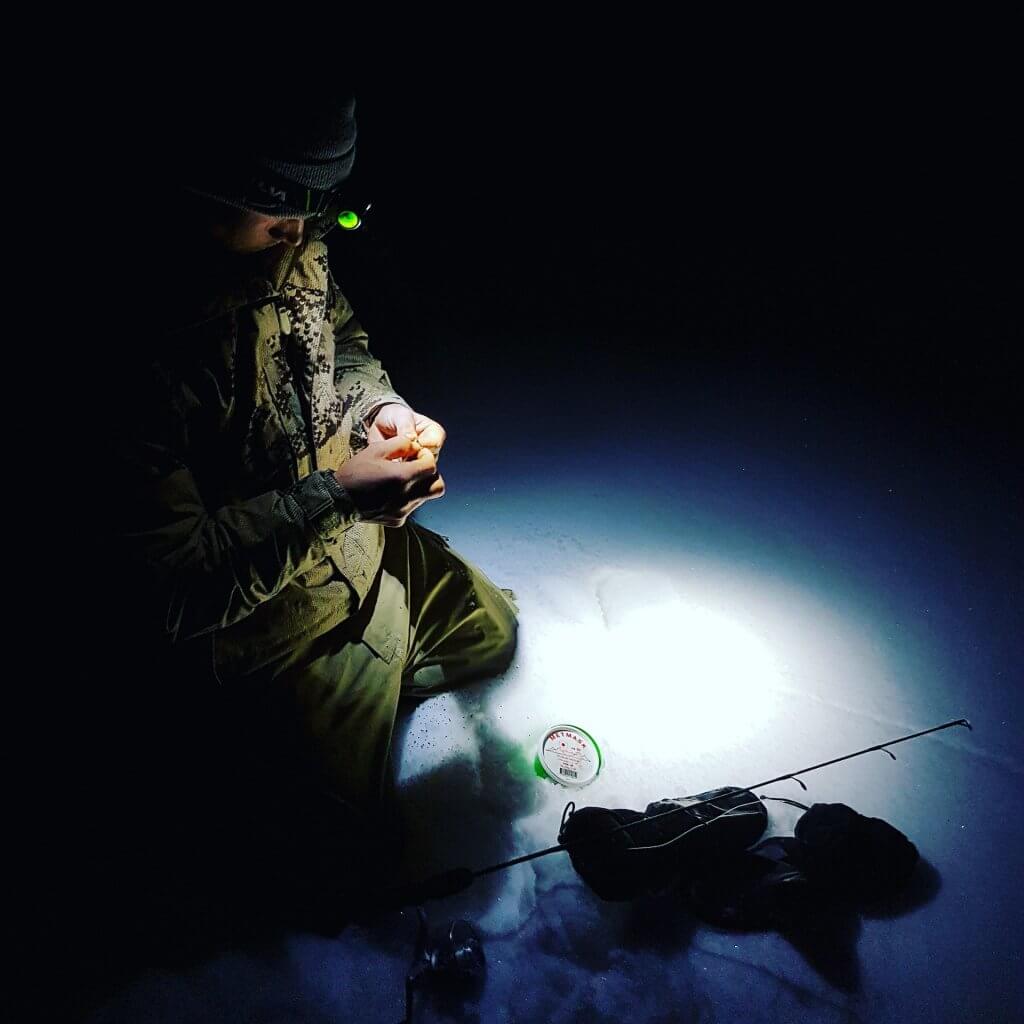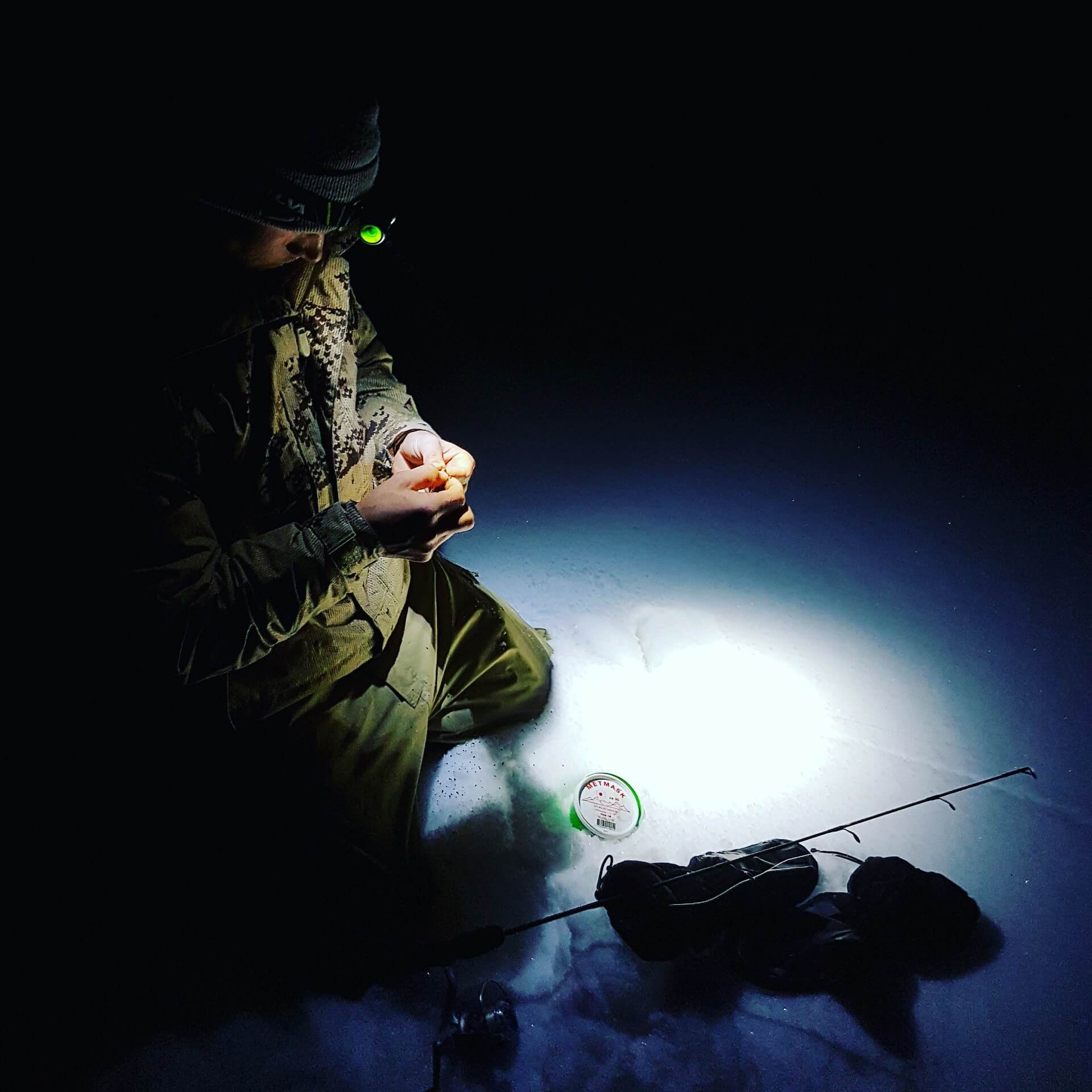 Safety Tips for Ice Fishing at Night
Did you know that every winter on an average four or five people die across North America while they are fishing on ice? The reasons behind these deaths include a combination of factors such as venturing into an unfamiliar area, fishing on thin ice, and heavy drinking.
The right knowledge and common sense help a great deal in preventing a fun sport from turning into a tragedy. Here are some tips that are useful for anglers ice fishing in the dark.
Be Aware of the Weather Conditions
Ice fishing at night can be a risky venture if you are not aware of the weather conditions. It is a safe bet to avoid fishing on warm and stormy days. Apart from consulting the weather apps, get in touch with your local snow mobile clubs and city staff to know the ice conditions.
Follow all the ice warning signs as you venture in the dark. Otherwise, worst case you could fall into a frozen lake.
Carry a Tent or an Ice Shelter
As you constantly move around for ice fishing, a portable shelter helps to protect you from the wind. It is good to drill holes in clusters that can fit within the shelter. This will help you stay warm and prevent hypothermia.
Wear Bright and Reflective Fishing Suits
While you are busy catching fish there may be other anglers on the lake who might be using snow mobiles and other fishing gear. To avoid being hit with their snow mobiles and cars it is good to wear clothes that can be seen from a distance.
You can easily get fishing suits that have reflective strips so that people can see you from a long distance.
Keep a Personal Safety Kit Handy
A small personal safety kit helps a great deal in case of an emergency. Assemble a small kit that includes a fire starter, waterproof matches, lighter, whistle, and a compass.
Stay Warm
It is essential to stay warm if you want to enjoy a safe and enjoyable ice fishing trip at night. Be especially careful about your hands and feet and get good quality gloves, boots and a pair or two of special socks.
Additionally, make sure to have sufficient traction or get yourself some ice cleats to avoid the danger of slipping and hurting yourself.
Sustainable Night Fishing
As a recreational angler one should not only appreciate the sport but should also be equipped with awareness about the environment and our responsibility toward it. Sustainable night fishing is instrumental in maintaining the health of the fish living in our waterways and this in turn contributes to our good health.
Follow these simple tips to ensure sustainable night fishing.
Identify the Fish Properly
It is difficult to identify the fish at the nighttime but with the use of proper lights you can identify the different fish species in your local waterways.
Proper identification ensures that one can follow their state's fishing regulations that include the size limits and bag limits for each species.
Follow the Catch and Release Technique
Sometime you will need to return the fish to the water because of the size, bag limits, or because of other fishing regulations The catch and release technique helps a great deal in sustainable fishing. Ensure that your hands are wet while handling a fish so that its slimy coat is not removed, and the fish survives after the release.
It is good to handle the fish horizontally as it is the natural way in which it swims. Also, ensuring that your fingers do not touch the gills or eyes of the fish also helps in increasing the chances of survival once the fish is returned to the water.
Carry the Used Fishing Line Back with You
There have been many instances where anglers leave the fishing line at the lake after their trip is over. Birds and fish end up getting entangled in these fishing lines and this harms the environment.
It is a good practice to dispose the used fishing line into a dumpster or a recycling container.
Frequently Asked Questions (FAQ)
You can use artificial light for your own safety. Whether or not you can also use it to attract fish depends on the state. For instance, using artificial lights to attract fish is illegal in Minnesota.
You will be able to catch almost all the species available in the lake during the nighttime. However, there are many fish that feed more during the night.
Apart from walleye, crappie and trout you can also find bass, pike, catfish, and muskie as these fish are more active in the dark.
It is good to fish in a lake that you are familiar with. Some suitable areas include weeds, and weed beds close to the drop offs, humps, major points, and areas where there are many permanent ice houses.
Apart from the normal fishing tackle you should also include LED lights that can be put up inside the tent. These lights will help you see everything that you need. Get head lamps that help in easy movement while setting up the tent or when you are moving back and forth on ice.
Make sure that your tent has reflectors so that people can see you from a distance and you are not accidentally struck with a snow mobile or a car.
Ice fishing at night-time is legal across the 50 states in America. However, you should be familiar with the fishing regulations that may vary from one state to another. Make sure that you stick to the same fishing regulations that you follow during the day.
Happy Night-Time Ice Fishing!
When you go for ice fishing at night ensure that you have all the right safety gear and inform your family beforehand.  Follow the tips and tricks shared here to catch more fish and make the most of your winter nights. But don't forget to clean the fish when you get home.
Finally, read here if you are in Maine! Good luck and always remember: A bad day of fishing is still better than a good day at the office! 🙂