We all love ice fishing, but when the wind picks up and your clothes have gotten wet, it can become uncomfortable fast if you are not well prepared. With the help of the best ice fishing bibs, you can fish while staying safe and warm!
Quick Overview - Best Ice Fishing Bibs 2021
Quick Comparison - Best Ice Fishing Bibs 2021
Preview
Best All Around
Best Value
Title
Striker Ice SI HardWater Bibs, XX-Large
Arctix Men's Tundra Ballistic Bib Overalls With Added Visibility, Black, Small
Stormr Strykr Bib, Smoke, Small – Fishing, Fly Fishing & Ice Fishing
Outer Shell Material
Ballistic oxford with W/R + W/P 5000mm thermalock coating
Best All Around
Preview
Title
Striker Ice SI HardWater Bibs, XX-Large
Best Value
Preview
Title
Arctix Men's Tundra Ballistic Bib Overalls With Added Visibility, Black, Small
Outer Shell Material
Ballistic oxford with W/R + W/P 5000mm thermalock coating
Preview
Title
Stormr Strykr Bib, Smoke, Small – Fishing, Fly Fishing & Ice Fishing
Many people do not put enough consideration in the right clothing for ice fishing. Only to regret it later. Ice fishing bibs are considered an innovative way to protect yourself against cold weather conditions, keep you warm, dry and insulated. They let you fish the whole day while keeping your body temperature stable.
There are a few factors that you should consider before investing in an ice fishing bib, including the insulation of the bib, waterproofing, padding, pockets, and material. This guide will help you choose the best ice fishing bibs with the best features!
The Best Ice Fishing Bibs – Our Top Picks for 2021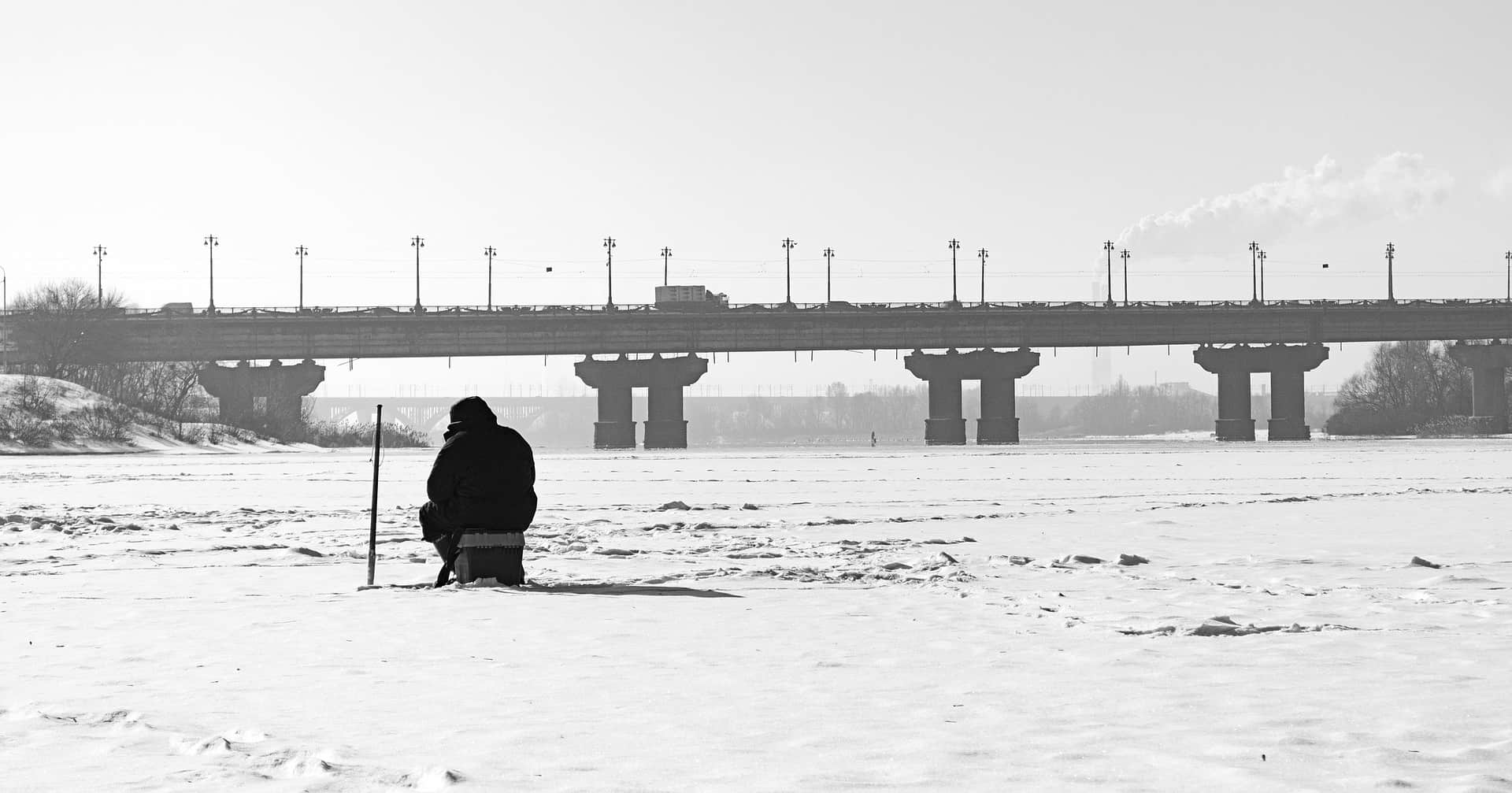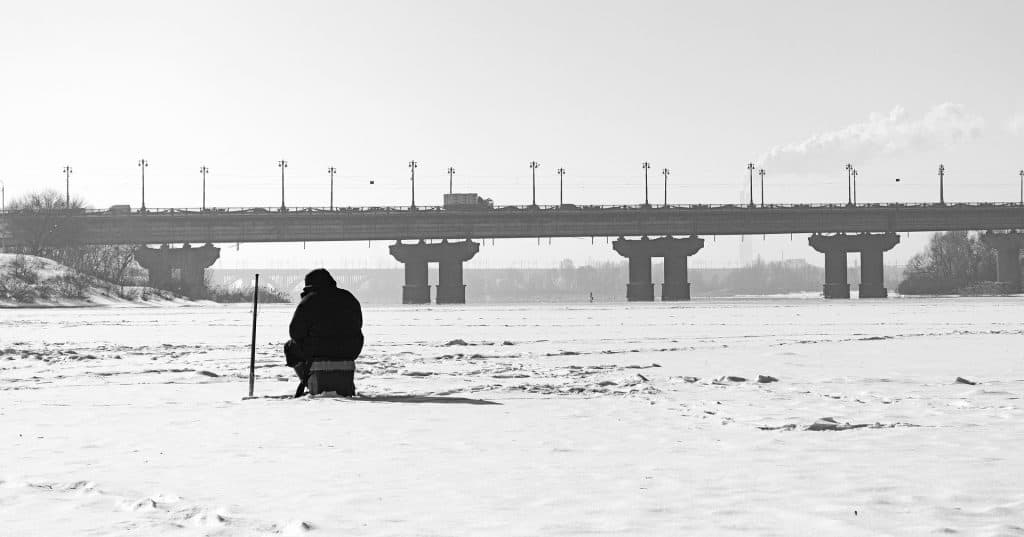 The Best All Around Ice Fishing Bibs
Thermal insulation
Extra knee padding
Water resistance
Breathable
Windproof
Hydra pore mechanism
Perfect fit
Durable
The Striker Ice Fish Bib is of premium quality. It has  several advanced features  compared to any other high end engineered ice fish bibs. The flotation-assist feature prevents you from drowning. Striker manufactures ice fishing suits in different styles and sizes for men, women and children.
Striker is considered as one of the leading brands in manufacturing  ice fishing clothing and bibs in particular. The suit is made in the USA. It has breathable and waterproof material, so it keeps your clothes underneath the suit dry. The build of this ice fish bib is exceptional and provides unmatchable benefits to you.
It keeps you safe and protected against harsh cold weather. Moreover, the knees of the bib are improved and provide more comfort and flexibility to your suit.
The Best Value Ice Fishing Bibs
Thermatech insulation
Lightweight
Boot zipper
Knees, seat, friction guards
Water-resistant
Many Pockets
Insulation for warmth
Great value
It does not have variety in sizes
The Arctix Tundra Ice Fish Bib promises the next level of safety against cold and harsh weather. It will not get damaged even after years of rough usage. The bib is waterproof as no moisture gets inside and protects your skin from burns as well.
There are a few extra pockets to keep small stuff like keys. The reason for this ice fishing bib to stand prominent against others is the premium-quality and heavy-duty multi-layers that provide insulation and keep the body temperature warm and cozy.
The material is also breathable so that the body moisture evaporates and does not disturb you. There is a guard on the ankle and scuff made of ballistic nylon that makes the bib flexible and tear-resistant. The bib is warm and has multi-layers yet lightweight.
It is made of 100% Polyester Ballistic and contains Therma Lock coating and insulation for extra protection. The bib also has a 20" zipper that makes putting off the bib far more relaxed and more comfortable. The bib further has extra hand-warmer pockets and a reflective feature that makes the bib visible at night.
The Best Bibs for Fly Fishing
Lightweight
Water repellent
Windproof
Non-abrasion zippers
Flotation
Insulation
Breathable
Adjustable straps
Chest lining
Durable
Not necessarily made for the extreme cold
The Stormr Strykr ice fish bib is made from 100% polyester and has plenty of amazing features. The bib has adjustable shoulder straps. You can adjust them according to your ease and comfort level. The bib is widely used during fly fishing, ice fishing and hunting.
It has insulation that keeps the anglers warm and cozy against cold weather. At the same time, it offers great flexibility and movement and features a vented back panel for breathing and evaporation of body moisture. This makes it a great choice for fly fishing i cold temperatures as well.
It is water repellent and will not get wet. The bib is also windproof as the material has a high stretch level and will not get damaged. The fleece-lined chest area keeps the chest warm and safe from getting sick. The bib is combined with a matching jacket for additional protection. The non-corrosive zippers made the bib easy to remove and wear.
It features 3M reflective graphics so that the anglers can enjoy flotation, warmth, and durability all in one bib. The extra insulation and exceptional features such as positive buoyancy make it stand out against others.
Best Ice Fishing Bibs - Frequently Asked Questions (FAQ)
The ice fishing bib keeps the anglers warm and cozy in the cold weather. They will keep them dry and prevent pneumonia and other problems. When you are out in the field for ice fishing, you have to keep your health and comfort level the top priority. The padding saves you from injuries, and insulation keeps you warm. Check out this article if you want to get more attuned to how ice fishing works and what's important!
Ice fishing bibs provide warmth against cold temperature. They are designed with insulation and padding that keeps your body temperature moderate. You will be able to perform all the activities without getting cold. Also, the waterproof feature keeps you dry.
At the very least, you will want to bring a rod, reel, lures, some line, an ice auger to drill some holes and probably a tip-up. To stay warm and comfy, don't neglect dressing in warm socks, boots, gloves, a hat, face shield and some thermal underwear to wear under your bib! Optionally, consider getting cleats for more traction, a flasher to find the best spots and a shelter for those longer trips!
The best ice fishing bibs have all the necessary features like insulation, flotation, zippers and padding. Avoid going for cheap materials just to save a few bucks in the short run.
It is better to invest in a better product once, rather than spending on a cheap one twice or more. If you want your ice fishing experience memorable and comfortable, buy a premium quality ice fishing bib!
Have fun out on the ice and stay safe!