The creeks, streams and rivers in Redding attract thousands of anglers from all walks of life annually. It isn't because the catches here are all trophy sizes but these water buddies bite throughout the year. Gaining a mention on the Forbes Magazine for being part of the 10 topmost trout angling towns in the Northern USA, it is also the only mentioned city on the Western Coast.
Volcanic activities happened in the town many centuries ago creating porous landscapes and aquifers that have fresh cold waters flowing through the mountainous area. The waterways here are clean and numerous species find them suitable homes. Rivers and streams are very healthy and make the town a renowned fly fishing area. Where to go fly fishing in Redding might be a bothering question to many anglers who have heard the town is mentioned by other fly fishers.
We have put together this guide to explain what makes the area fruitful, briefly describe the popular fly fishing spots, hidden gems, species you can catch here, and tips for a successful experience.
The 11 Best Fly Fishing Spots in Redding
The list of places to comb for fish on the fly in Redding isn't in any particular order. Choose any that matches your angling needs and share with us your experiences in the comment section. Let us know how you packed for your trip and new areas you found more yields.
1. Trinity River
Location:
Northwest of Redding
Fish Species:
Steelhead, Coho salmon, Chinook salmon, smallmouth bass, brown trout, sea-run browns, and local rainbows
About the Waterway:
The Trinity River runs 165 miles and has been designated as a National Wild and Scenic River. It branches off from the Klamath River as a tributary. Steelhead and salmon runs happen here from late spring to the peak of winter. The steelhead runs will arrive in winter and fall. Coho and Chinook salmon of this region have their runs from late spring to mid-fall and can be spotted under the Lewiston Dam. For access points and lone fishing, Highway 299 which is parallel to the river is the best option.
2. Hat Creek
Location:
Neighbors Burney and Lassen Park
Fish Species:
Brown trout, rainbows
About the Creek:
Hat Creek is among the popular spots as it a tributary of the River Pit. Feeding from one of California's premier waters, it is a healthy creek and the 3.5 miles from upstream has been set aside for the CDFW's Wild Trout Water Program. The creek can support huge wild rainbow and brown trout numbers.
3. McCloud River
Location:
Parallel's the Upper Sacramento River to the East
Fish Species:
Salmon and trout
About the River:
California's first federal hatchery was built on McCloud River's tributary in 1877. Eggs and trout hatched here were stocked into waterways and other hatcheries across the USA and six other continents. The river has its mouth from numerous spring-fed rivers and streams of the Cascades hence its cool and clean waters.
The peak of fly fishing happens from May to November. There is also reasonable activity in the spring, summer, and fall. The river isn't prone as much to rises and falls during autumn rains and winter runoffs because of the control of the water levels by the McCloud Reservoir.
4. Upper Sacramento River
Location:
Between Mount Shasta and Lake Siskiyou and runs through Castella, Dunsmuir, and Gibson
Fish Species:
Chinook salmon, steelhead, striped bass, sturgeon, American shad, and resident trout
About the River:
The Upper Sacramento that runs between the Shasta Dam and Lake Siskiyou has no controls to maintain water temperatures throughout the year. For a more tranquil experience in the remote areas, the Upper Sacramento is a deal. It has lush forests, vegetation, and canyons. Only 40 miles of this river are accessible to anglers.
5. Lower Sacramento
Location:
From Shasta Lake to Keswick Dam
Fish Species:
Smallmouth bass, steelhead, largemouth bass, strippers, Chinook salmon, and rainbow trout
About the River:
The Lower Sacramento is famous for some of the best trout angling experiences. This is enhanced by the controlled water temperatures of the waters by Shasta Dam. For downstream angling, it will not disappoint.
Warm waters are released in the winter season and the cold in summer. The water cycle creates stability and a perfect home for the fish species cruising its waters. You can fish the river throughout the year and still land trophies.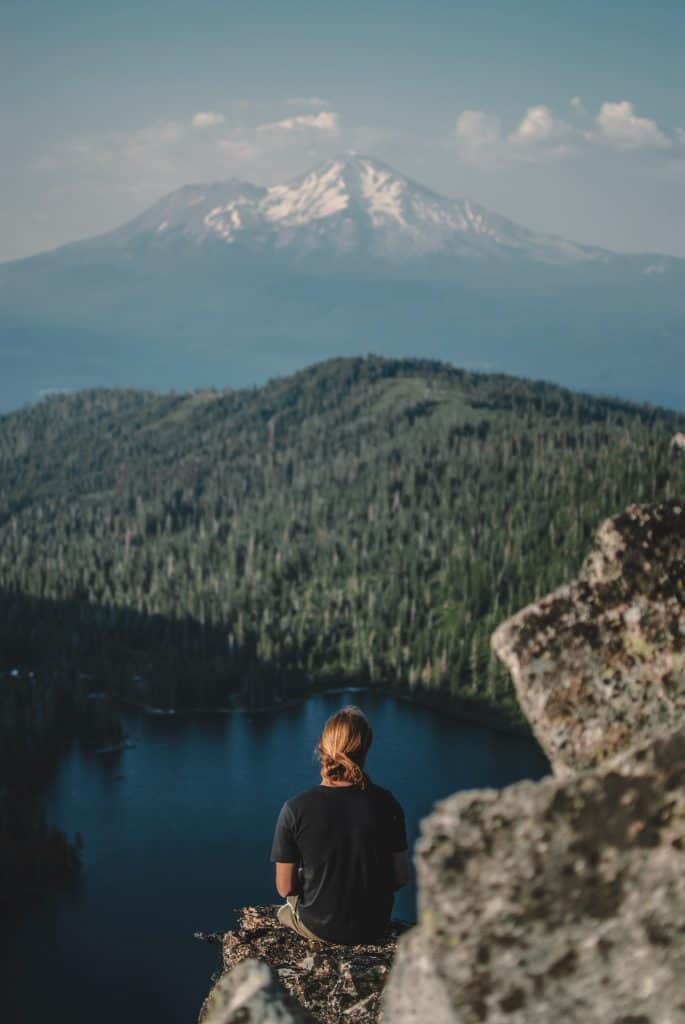 6. Pit River
Location:
Modoc and Lassen Counties to the Fall River Mills
Fish Species:
Sea-run bull trout, smallmouth bass, spotted bass, brown trout, and steelhead
About the River:
Pit River is the longest-running tributary of Shasta Lake. The waters flow sluggishly from the forks that feed it in The Modoc and Lassen counties through to the Fall River Mills.
You will catch trout in the section from the Fall River Mills to the Canyon above a Powerhouse at Pit 1. The river is used as an electricity generation point and you need to be careful when fly fishing on it.
7. Clear Creek
Location:
Near Win-River Casino and is parallel to the Clear Creek Road and flows into Whiskeytown Lake
Fish Species:
Coho salmon, Chum salmon, Atlantic salmon, Sockeye salmon, Chinook salmon, Pink salmon, Resident browns, and rainbows
About the Creek:
Most parts of the creek are very deep that wading is difficult but the yields are remarkable. The creek flows in the middles of a ranch and anglers have about 7 miles of pristine freestone waters to comb for trout. Salmon cruise the waters in large numbers and variety that anglers coming here always have something to speak about them.
8. Antelope Creek
Location:
North East of Mt. Shasta
Fish Species:
Resident brownies and Rainbow trout
About the Creek:
Antelope Creek is located in the Antelope Creek Ranch and boats cold waters pouring out of the alpine aquifers. From Mount Shasta, it flows and snakes through the ranch and is controlled by basic irrigation diversions.
Visit from May to early September for a trout fishing experience. The two miles are less but have more that you can't exhaust in a day. The fish might not be as large as those in the Sacramento River but the numbers are commendable.
9. Keswick Reservoir
Location:
Between Keswick Dam and Shasta Dam above Redding
Fish Species:
Brown and Rainbow trout
About the Reservoir:
Flowing nine miles only, Redding residents flock here for trout fly fishing. The upper section of the reservoir two to three miles from the Shasta Dam yields more. To access it, drive over the Shasta Dam then pack around the campground area.
Unfortunately, there is very minimal shore access to the area. Fishing from a kayak, a canoe or a float tube will be ideal. Fish downstream and enjoy the freedom of using flies, baits, or lures as there are no special regulations for angling on these waters.
10. Squaw Valley Creek
Location:
On the western side of McCloud Lake
Fish Species:
Spotted bass
About the Creek:
Squaw Valley Creek is a beauty in North Shasta County. To access it, you can drive to McCloud Town on 89 Highway. Turn Southwards onto the Squaw Valley Road and proceed 6.1 miles ahead. Turn right onto the Creek Road and head 3.1 miles straight. Cross the bridge and park in the lot. The stream is cool and shady and regulations allow you to fish using flies, lures, or bait. An angler has a maximum harvesting limit of two trout.
11. Lake Britton
Location:
Northeast of Redding
Fish Species:
Smallmouth bass, black crappie, largemouth bass, and trout
About the Lake:
Lake Britton is subtle but very gorgeous and sits 70 miles in the northeast of the town. A section of it is in the McArthur Burney Falls Memorial State Park. Trout and bass are in plenty. There is a beach, fishing pier, and a boat marina in the section that sits in the park. You can access the spot from the roads that branch off the CA-299 and CA-89.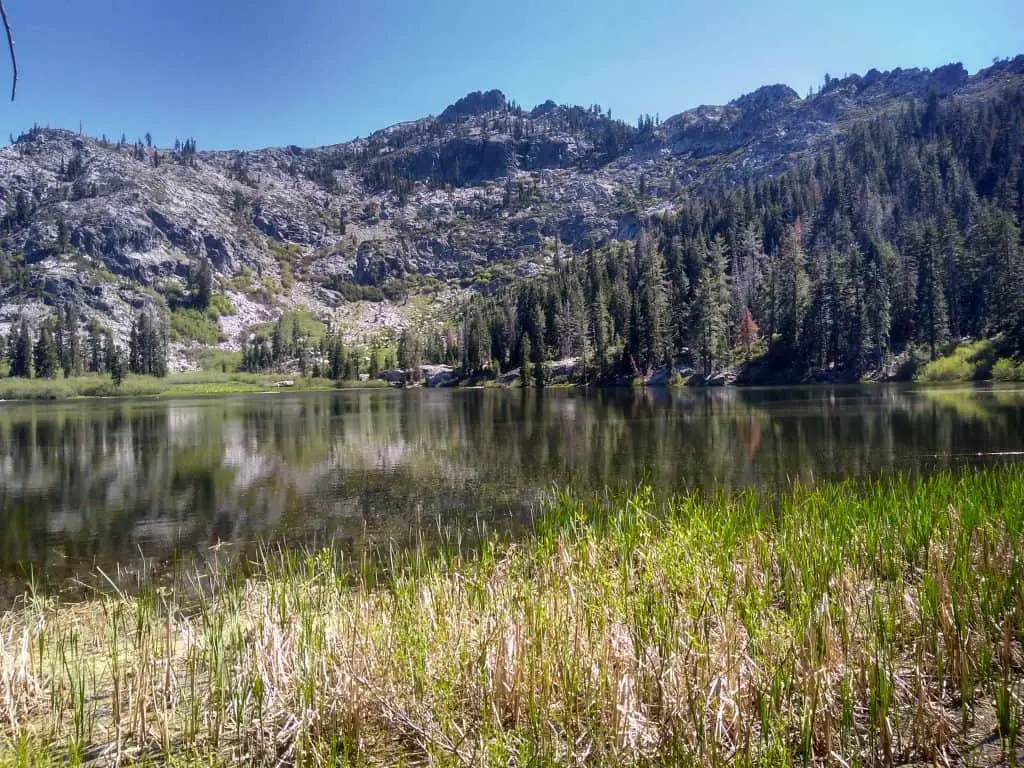 Best Time and Seasons for Fly Fishing in Redding
Redding offers fly fishing opportunities all year round. However, the peak seasons start in May and run through to October. Months from October to March also yield well but not as much as the peak seasons because of the water temperatures and weather conditions.
Numerous hatches are also prolific during the peak season and landing fish with the help of the right skills won't be difficult. You can combine trips to various locations when you visit Redding to see what can be caught and to help plan out your next trip.
All You Need for Fly Fishing in Redding
The California Department of Fish and Wildlife requires every one of 16 years and older to have a valid fishing license. This applies to both residents and non-residents.
Some of the flies to pack include Tricos 18 to 22, Little sister caddis 16 to 20, Tunghead stonefly nymphs 12 to 16, Elk hair caddis 14 to 20, bead-head stoneflies 12 to 16, rusty October caddis, blue-winged olives, pale morning duns, spotted sedges, golden stoneflies.
Pack tactfully depending on when you will be traveling and the duration you will spend in Redding. Have winter gear if fly fishing in winter and pack light in summer. Have good-quality waders as you can get points that need you to love some mud.
If you are a rookie and traveling alone to Redding, you might have to seek the services of a fly fishing guide for help around the waterways. Guides help you sharpen your angling skills, teach a few tricks and tactics, and are a backup in case you need rescue when fly fishing.
Tips for Fly Fishing in Redding
Have a five-weight fly fishing combo to handle fish on the Upper Sacramento River. Anything more will be bulky and hectic-most probably not as yielding as the required size.
The Pit River is known for slippery bottoms and wading can be daunting if you aren't properly outfitted in the right wading boots. The combo to be used should be similar to what you would opt for the Upper Sacramento. Your leader should be between 3 and 5X.
On most of the waterways, anything between the 5 or 6 weight fly combos will work. For the Pit and Sacramento, stick to the 5-weights. However, areas with salmon, steelhead, and sea-run trout like the Trinity River will require a heavier combo. Pack a 7 or 8 weight and you won't regret it.
For trout creeks, target the brush areas that line the banks for rainbow and brown trout. These species love to hide in these areas.
Larger rivers, streams, and lakes need you to have fly rods of 9 to 9.5 feet. Pick shorter rods for smaller waters. Ensure that you adjust the reel weight to achieve the perfect balance.
Take into account areas that you can fly fish from the shores, wade, or fish afloat before planning your trip. Get the special regulations of each spot that you would like to visit to avoid getting into trouble with the angling authorities. Know the fish limits, the bag limits, and the types of lures to carry.
The water in Redding is between warm and cold and very clear. Dry fly fishing will be a good bet with your stonefly, terrestrial, mayfly, or caddy.
Fly fishing in the lakes will need lines that go to the bottom. Pack a weight forward or a sinking tip line when pursuing fish species in lakes.
Go through the stocking schedules of waterways in Redding before planning your fishing trips. As always, freshly stocked waters will need time off any activities to give the fingerlings and fish time to adapt and adjust to the new waters.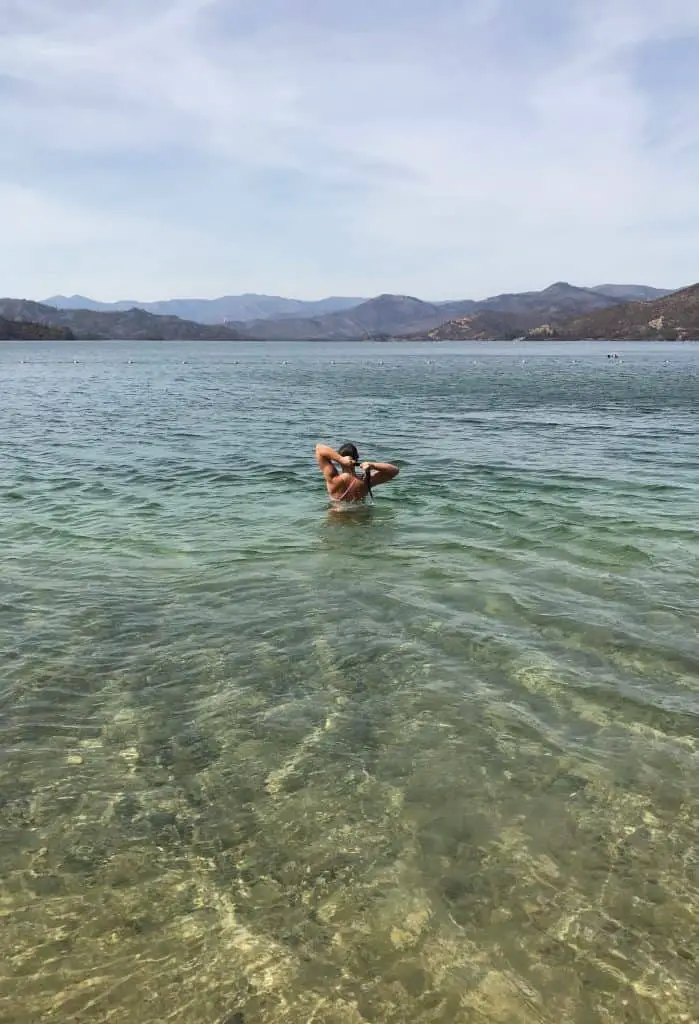 Fly Fishing in Redding – Conclusion
Redding is mostly referred to as the trout town in the USA. Resident anglers benefit from the pristine waters close-by. There are plenty of waterways to land fish on the fly across the town. While some fisheries are dense and largely populated in the peak seasons, others are silent, cool, shady, and hardly visited.
The town has proven to be the mecca of fly fishing in California, Redding is at the center of Sacramento and the border of Oregon along Interstate 5. You can access Redding using a private plane, public airways, or by car. If you can't make it there soon, consider watching a fly fishing film or some youtube clips to get in the mood!
Nearby facilities include the Gaia Hotel & Spa, Oxford Suites, Sheraton Redding Hotel, Hilton Garden Inn, and La Quinta for hotel and motel accommodation, Durango RV Resort and JGW RV Park for camping, View 202, Jack's Grill, Day Creek Station, C. R Gibbs, Nello's Place, and Peter Chu's Skyroom for dining. With all you need around you, what's left is to have a tankful of patience and the fish will love your flies.